Blue and gray are gorgeous complementary colors that work well together. They're close in tone and create a beautiful harmony with cool, relaxing vibes. And there are many ways you can incorporate a blue and gray color scheme into your home.
Blue comes in every shade, from pale pastel to deep navy. It's a calm, tranquil color that makes you think of the sky and the sea. And gray is a soft neutral tone that will complement almost any color. But it works particularly well with blue as these colors are close and both on the cool side.
The Blue and gray color schemes are a match made in heaven. But how can you pair these two colors together effectively in your home?
So, I've created this guide on how to use a blue-gray color scheme. You'll find ideas to appeal to everyone, no matter what design style you prefer. And there are suggestions for every room in your home, too.

Keep reading to find all the best ideas for a blue-gray paint color palette!
Blue & Gray Paint Color Ideas
Here are some ideas for creating a blue and gray paint color scheme in your home.
This stylish color palette will look amazing in any kitchen. Navy may be an unusual color to use in a kitchen, but it works well – especially when paired with gray.
Choose a dark navy paint for your walls and a light gray marble for your countertops. This deep contrast is eye-catching, while the colors complement each other.
If you're not ready to remodel your kitchen, you could opt for gray accessories and hardware instead. For example, gray handles will look eye-catching against your darker blue cupboards.
Light Blue Walls and a Charcoal Gray Sofa
Your living room is one of the easiest places to use a blue-gray paint color scheme. You can experiment with different shades and combinations to see what you like best.
The good news is that almost any blue and gray shade will look fabulous together. So you don't need to worry about the colors clashing.

But my best advice is to go for a blue and gray with a higher contrast. So that would mean a dark gray with a lighter blue (or vice versa).
You could opt for sky-blue walls and a deep charcoal-gray velvet sofa. The light blue walls will create an airy and fresh feel in the room. While the sofa will add some visual weight and interest (and it won't show up stains, either!).
Or Gray Walls and Deep Blue Furniture
Another option is to reverse this color scheme and use gray on the walls. As it's such a neutral, minimalist color, that allows you to play around with the blue shades you use.
You could layer in a few different shades of blue. Or you could add a fun accent color – for example, pink or yellow could work well. These colors will give the room a pop of color and make the room feel a little warmer and more inviting.
Teal and Gray Color Scheme
Teal is close to blue on the color wheel, so it's a nice alternative to pure blue. And as teal has strong blue undertones (mixed with a little green), it deserves a spot on this list.
Gray and teal is a gorgeous combination. It makes you think of the sea waves, with a tranquil yet slightly moody atmosphere.
You can use teal and gray to great effect in the bedroom. It's perfect for creating a little haven from the world. Look around for rich, luxurious teal bedding and opt for a mid-gray on the walls. You'll feel cozy, warm, and relaxed in your teal-gray bedroom. 
Neutral Color Palette – Gray, Blue, and Brown
If you prefer to stick to a neutral color palette, you can add some brown to the mix. Not only will it complement your gray and blue shades, but it adds an earthy, natural vibe.
So, it's well suited to a Japanese-style minimalist home. You can opt for wood furniture, house plants galore, and organic fabrics. And you'll have an inviting and cozy nook – a fantastic option for the bedroom or living room.
But if you go for darker shades of brown and gray, you can create an industrial style. So, it all comes down to the colors you use and how you combine them.
Blue-Gray Wall Paint & Orange as an Accent Color
Orange is a fantastic color to combine with your blue-gray color scheme. It brings energy and freshness into any room. So, this color combo is excellent for children's bedrooms or a shared space like the den.
You can start by picking a soft, neutral bluish-grayish color for your wall paint. In this way, you'll create a simple and minimalist backdrop for your room.
But you can make it feel personal by adding fun accessories in bright colors. Look for a cushy orange rug and cushions for the sofa. Or you could add little touches like an orange desk lamp or blanket in a bedroom.
The trick here is not to overdo the orange. But repeat it a few times throughout the room, so it's a clear and intentional design choice. It will stand out and look amazing against your blue-gray paint.
Blue, Gray & Purple Color Scheme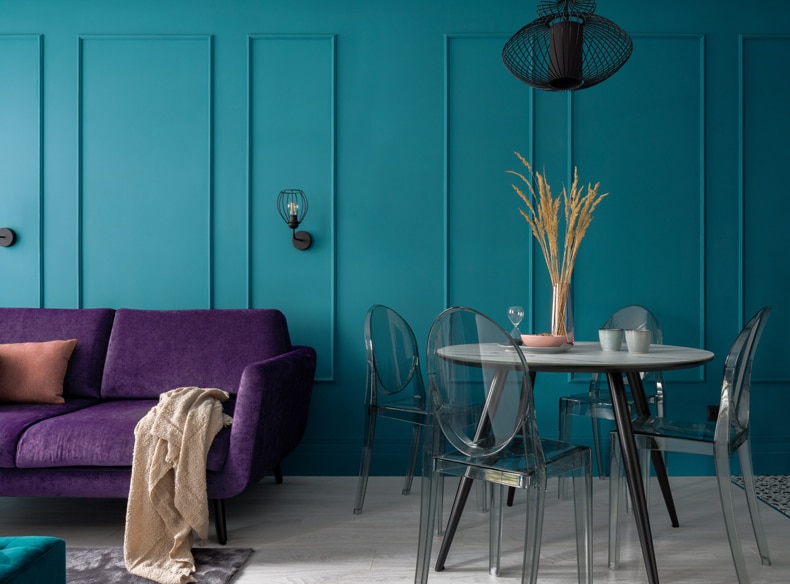 If you choose softer, light gray and blue tones, you might want to add another color to spice it up. Bluish-gray paint is a great backdrop, but it can look a little dull on its own.
Purple is an excellent choice to add to this color palette. It's another cool color on the color wheel and looks gorgeous with grays and blues.
I recommend going for a deep purple to create some contrast. For example, opt for a royal purple sofa or bedding, depending on which room you're decorating.
Cool Blues & Warm Berry Tones
Blues and grays have many advantages in interior design. But you do run the risk of them appearing too cool and clinical if you're not careful.
One way to counteract this effect is by pairing these colors with a warmer shade. For example, rich berry tones contrast nicely with pale blues. And as an added bonus, they'll brighten up your room and make it feel more inviting.
So, consider using this color palette in your living room. You can keep it mostly neutral and minimalist – gray paint on the walls and a pale blue sofa. But then, source some pretty berry-toned accessories. For example, a beautiful raspberry rug and sofa cushions in a range of shades.
And you'll have the best of both worlds, using cool and warm shades to create a harmonious look.
Beachy Tones – Gray, Blue, and Sand
You can take inspiration from the seaside – whether you're near or far from the closest beach!
This color palette uses a light steel gray, sky blue, and soft sand colors. These neutrals have enough contrast to look interesting while creating a modern feel.
You can get creative and use these shades any way you like. That's the best thing about choosing softer, muted colors! Go for gray walls, a sky-blue sofa, and a sand rug – or switch it up. Layer up the colors and use different shades; you don't need to worry about them clashing.
The Wrap Up
So there you have plenty of inspiration for using a blue-gray paint color scheme in your home!
Light blue-gray tones are soft, gentle, and reminiscent of the sea and sky. They're ideal if you want to create a relaxing atmosphere at home. But sometimes, they benefit from a pop of color or a considered color palette to bring out the best of these colors.
You can experiment with these suggestions in your living room, bathroom, or kitchen. Feel free to mix it up or get inventive!
Let me know which of these ideas appeals most to you – share in the comments below. 
Follow Quiet Minimal on Pinterest for more interior design and minimal living tips.