If you're stuck knowing how to arrange furniture in an awkward living room, read on! Having an odd-shaped living room can be a pain, but don't worry. There are some smart ways to style your room, no matter how awkward its shape.
In this guide, you'll find tips and ideas about awkward living room layouts. We'll look at all sorts of rooms, from a split-level living room layout to an awkward L-shaped living room.
And I've even created some small living room floor plans for every shape and size room. You can copy these plans or tweak them to suit your home.
So, don't let your odd-shaped living room layout defeat you! You can still have a cozy, stylish, and welcoming living room, no matter its shape and design.
Difficult Living Room Layouts – Tips & Ideas
Awkward living room layouts can vary a lot from home to home. It might be down to the shape, length, or size of the room. Or it could be the age of your home that makes it tricky, with uneven walls and fiddly spaces to fill.
But these three rules will help you to furnish your odd-shaped living room with flair.
Pick Your Shelving & Furniture Carefully
You want to make sure that you select furniture that works with your room specifically. For example, if you have any nooks, you can use them for storage. But if you have a narrow room, you may need to select slim shelving or have it custom-made.
With a keen eye for detail, you can make the most of the space available to you. But you'll need to work with your room, rather than against it. So, think carefully about how you can use the space in your living room.
Get the Lighting Right
Lighting is such a critical aspect when it comes to interior design. When you get the lighting right, any space can feel warm and inviting. But equally, harsh or misplaced lighting can highlight any awkward areas.
Aim for a mix of pendant lights and table lights at different heights around the room. You want to get a glowing look, so you could even add some candles or twinkle lights if that suits your style. If you have a low ceiling, you may find that recessed light fixtures work best.
Select a Focal Point to Draw the Eye
When you have an awkward living room, you want to distract people from its quirks. So, I would recommend picking out an eye-catching accent piece to draw the eye. It could be a gorgeous piece of vintage furniture or a beautiful artwork that takes center stage.
Whatever you choose, it will divert attention from the awkward living room design.
Free Floor Plans – How to Arrange Furniture in an Awkward Living Room
Long and Narrow Living Room Layout
A long and narrow living room can be a tricky space to furnish. One tip is to use sofas and chairs that aren't as deep, so they have a smaller footprint. Club chairs do the trick without losing out on any comfort. You could add a small side table next to each chair to break up the space and as an alternative to a larger coffee table.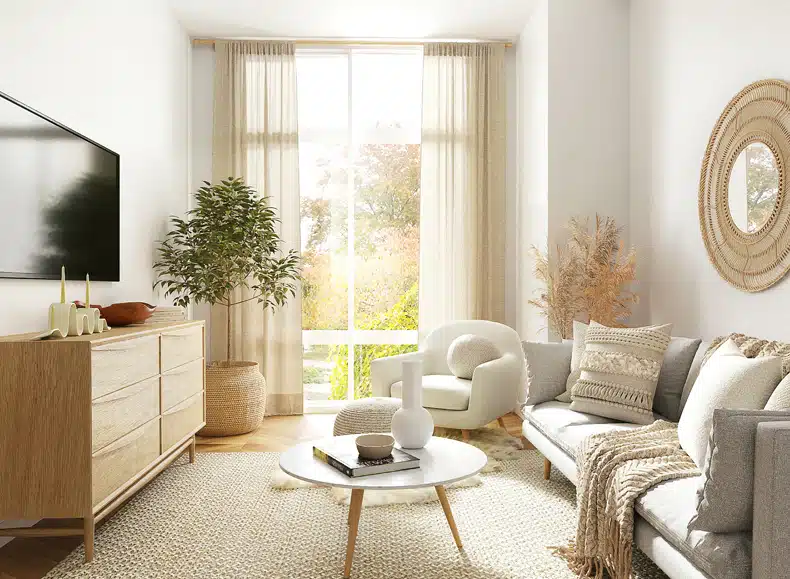 With a long and narrow room, you need to cut the clutter. Don't feel like you need to fill the room – that will just make it seem smaller and more disorganized. Instead, make sure that you have some white space in your room to let it breathe.
But with a long living room layout, you also have the option of setting up different zones within your room. For example, you could have a reading nook at one end with a comfy chair and your bookcases. You can use rugs to denote the separate zones while creating consistency within the room. So, it should all come together and flow nicely.
Tiny Living Room Layout
You might be stuck on how to arrange your tiny living room. But with a few tips and tricks, it can be just as welcoming and cozy as a larger room.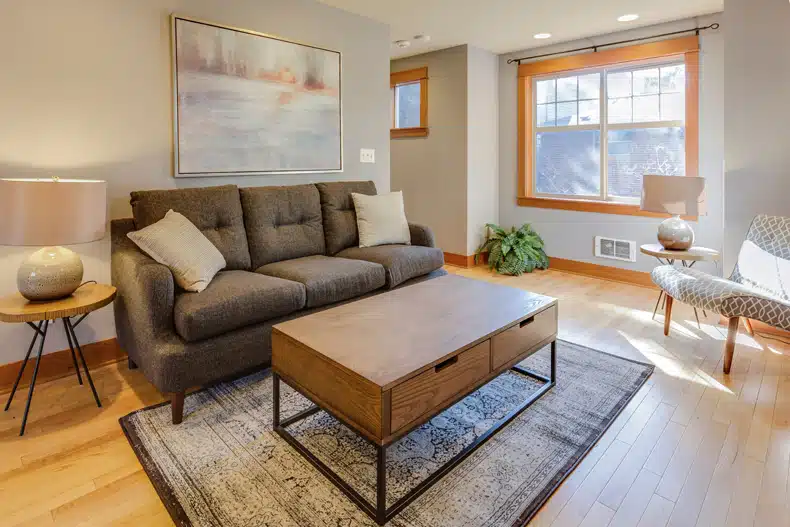 First, I would recommend choosing your furniture carefully. Only buy the absolute essentials for your tiny living room, so it doesn't become too crowded. (Take a look at my minimalist apartment checklist for the essential living room items).
Opt for minimalist pieces that are practical, comfy, and multipurpose. For example, you could add an ottoman with internal storage as another seating option. Using mirrors and a glass coffee table can make your living room seem more spacious.
L-Shaped Living Room Layout
An L-shaped living room can look beautiful if you know how to furnish it. If it's larger, you could have different zones within the room. For example, you can use the protruding section on the room for a dining room area. Then, you can have your seating area in the rectangular section.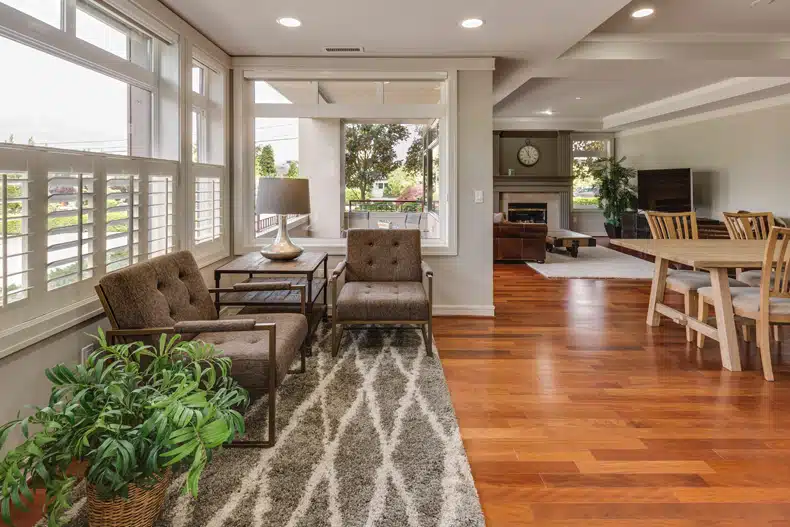 The trick is to have certain pieces of furniture that help the room flow and feel consistent. You can also achieve this through a common color scheme and decorative touches.
Try to arrange the furniture in a more laid-back way, with plenty of space to walk around. That will allow you to move smoothly from one area of the room to another. And it won't feel so formal or sectioned off, instead, making the room feel airy and inviting.
Angled Fireplace Layout
So, you have an awkward living room layout with a fireplace, especially if it's a corner fireplace. In that case, there are two ways you can arrange your furniture.
You can either ignore the fireplace completely and arrange your room like it's not there. That works best if you want to create a modern home and don't plan to use the fireplace.
Or, you could make the fireplace a feature of the room and arrange the furniture around it. If you don't spend much time watching TV, this layout creates a cozy room. Also, it's easier to connect when you're gathered around a fireplace instead of another screen.
But don't fall into the trap of placing your furniture directly opposite the fireplace. That will waste too much of your precious space. Instead, you could try angling your sofa and chairs towards the fireplace. They could be perpendicular or diagonal to it, making space for a side or coffee table.
Narrow Rectangular Living Room
A narrow rectangular living room is another challenge for any interior designer. The shape of the room limits what you can do with it. But you still need to make the room comfortable and purposeful.
A corner sofa will maximize room for sitting without taking up too much floor space. You can pair it with a chair or two opposite around a smaller coffee table.
In a narrow room, you may need to look for custom-made or slim-fit shelving. For example, Billy bookshelves are only eleven inches deep. And that means they can fit almost anywhere.
Split Level Living Room Layout
A split-level living room has its own challenges. You'll have two different areas to furnish while still making them flow together. Plus, you'll need to decide what to do about the steps. They could become a safety hazard if you place any furniture too close.
In this case, each level could be its own zone, with a slightly different feel. For example, you could set up a dining area on one level and a seating area on the other level.
But you still want some common features running through both. You could use similar types of furniture and an overarching color scheme to achieve this.
For example, you might use dark wood elements for your dining table and chairs. Then, you'll need to incorporate the same style into your split-level living room, e.g., with a wooden coffee table.
Pitched Roof Living Room
A pitched roof living room has sloping ceilings on each side. So, you have less space below them, and you might be at a loss for how to arrange your furniture.
You won't be able to place any taller items below the pitched roof. Instead, you can start by placing your taller items at the center of the walls, where they are tallest.
That leaves the space below the sloping roof to create a cozy little seating area. You'll just have to make sure that you don't bump your head when you stand up.
Open Plan Living Room Layout
An open-plan home means that your living room space is next to your kitchen. That can create a very spacious feel, but you might still struggle to know what to do with your living room.
In an open-plan home, you want to create a cozy seating area. I would recommend having a sofa and chairs opposite each other. Or, you could opt for an L-shaped configuration to make it feel more welcoming and accessible. You could position them around a coffee table or add a TV on the wall.
This setup will separate off a section of the larger, open-plan room. So, it creates a dedicated space for relaxing or entertaining guests.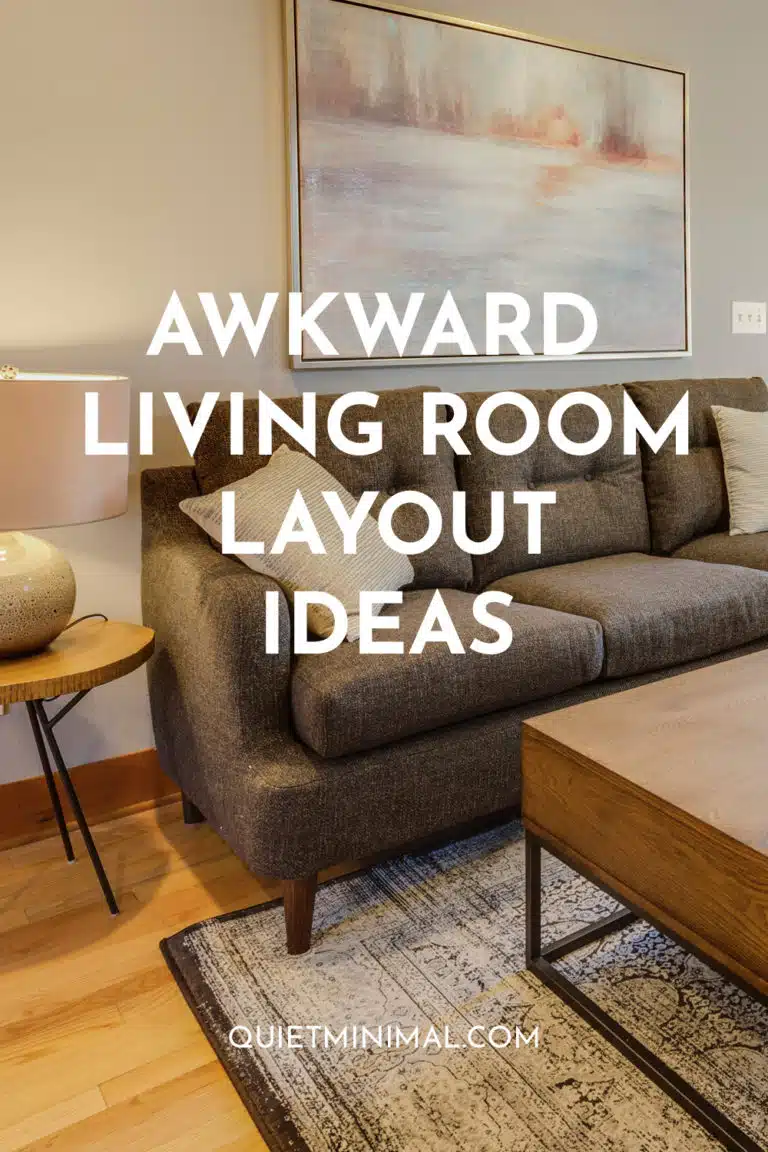 The Wrap Up
Now, you should have lots of ideas for your odd-shaped living room layout. Whatever the shape and design of your living room, you can make it feel cozy and welcoming. But it can also be practical and fit for purpose with these helpful tips.
Make sure to follow Quiet Minimal on Pinterest for more interior and minimalist design content!