If you have a small home, you might need to put your bed in front of a window. Generally, it goes against design principles and feng shui rules. It can block the sunlight and any view from the window, and you might think it won't look like an ideal layout.
But don't worry – it can look stylish when done well! So, read on for some ideas and tips for a bed in front of a window.
7 Suggestions for a Bed In Front of a Window
Here are some tips and ideas for placing a bed in front of a window.
Choose the Right Window Treatment/Curtains
When you place your bed below a window, you might get woken by the light coming in. Plus, there could be cold draughts making you chilly at night.
The solution is going for the right window treatment or type of curtains. I recommend picking a thicker fabric, ideally a blackout curtain. Not only will it block sunlight, but it should keep the room warm in winter and cool in summer.
Pick a Sturdy Headboard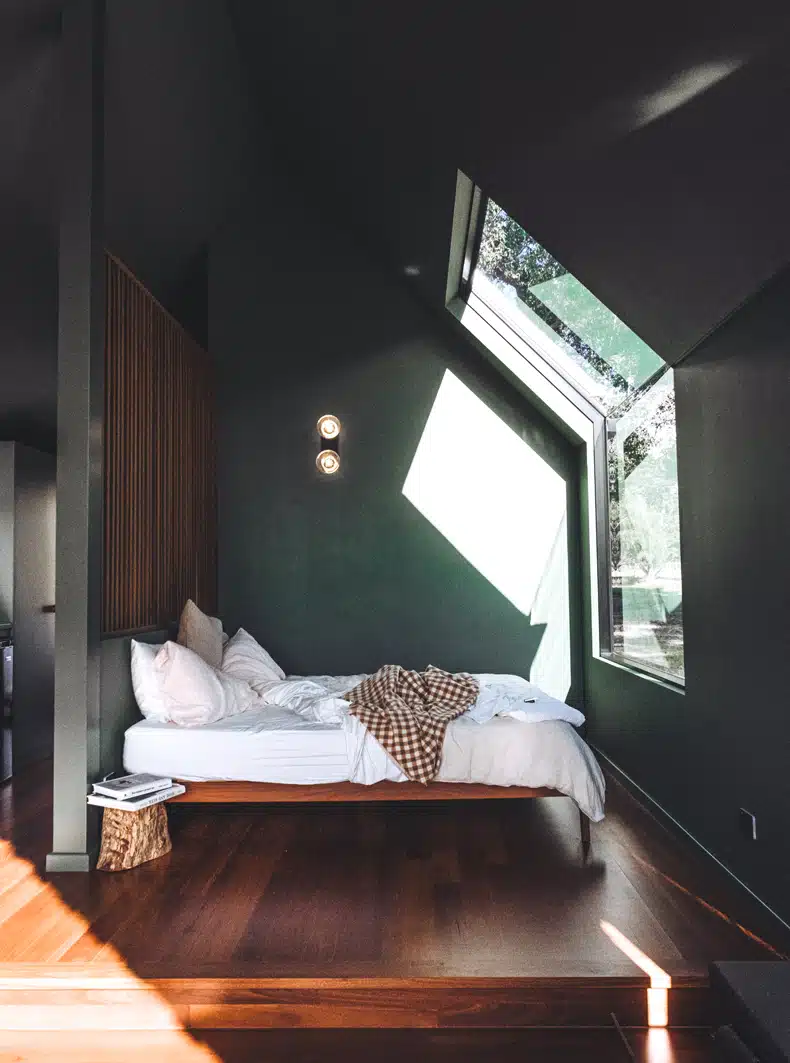 If you put your bed in front of a window, you want to make it look like an intentional decision. The best way to do that is with a bold, sturdy headboard.
Not only will it look stylish, but it can protect from draughts, dampness, and cold air. Another tip is to move your bed forwards a few inches to create a gap between the window and the bed.
Place Your Bed Centrally Below the Window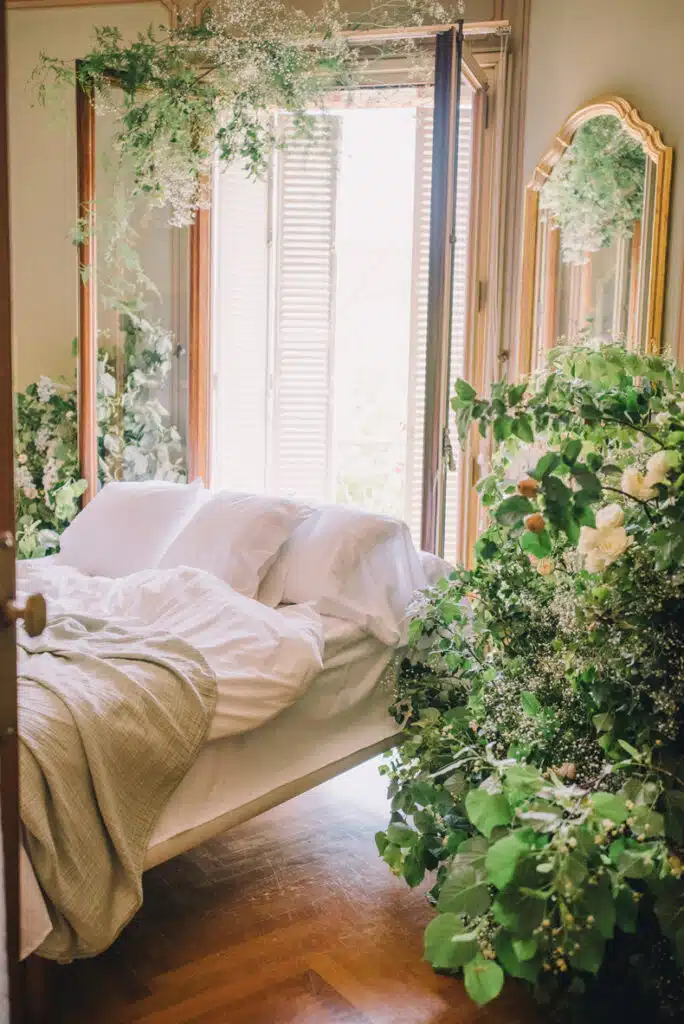 Another crucial decision is where to put the bed in front of a window. The best layout is to have the bed centrally below the window to create a symmetrical layout. This way, it will make an impact and become the focal feature of the room.
But that might depend on your home's floor plan, so don't worry if it's not possible. You could try turning your bed sideways instead. This way, you can see through the window right from your bed.
Keep Your Bed Area Clutter-Free
When placing a bed in front of the window, you want to keep the area around it neat and tidy. Otherwise, the room will look messy, cluttered, and claustrophobic.
A bed in front of a window can look stylish if you remove other distractions. So, don't store items beneath or around the bed. Opt for a closet or chest of drawers on a separate wall instead.
Choose a Pretty Bedspread and Cushions
You want to make your bed the center of attention. So, dress it up with a luxurious bedspread in a bold color or pretty pattern. Then, add throw cushions in a complementary color for the finishing touch.
Convert the Window Ledge Into Your Nightstand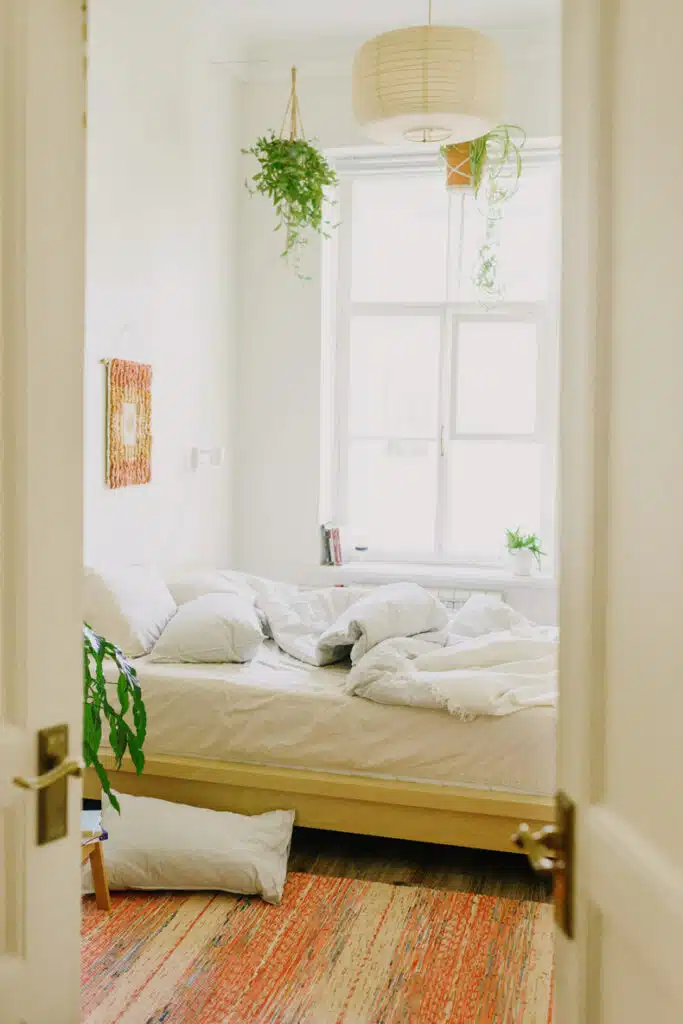 You might see the bedroom layout as a drawback, but you can use it to your advantage. If you have a long window ledge behind your bed, use it as your nightstand.
Not only will it save you from buying more furniture, but it will look chic and stylish! Add a small plant on each side to balance it out and for a decorative touch. Then, all you need is your essentials, like a clock and your latest read.
Hang a Lampshade Above the Bed
If you want to draw attention away from the bed, go for a statement lampshade instead. For example, a chic rattan chandelier will draw the eye if you have a boho bedroom. Or, if the style is more minimalist, a glass lantern will have the same effect.
The Wrap Up
You might have wondered how to make a bed in front of a window look good. But by now, you should have plenty of ideas for making it work!
As you can see, a bed in front of a window can be a stylish design choice when done carefully.
Let me know which of these suggestions you like best in the comments below. And follow Quiet Minimal on Pinterest for more home design tips and inspiration!