Boho curtains are the perfect accessory to brighten up your home. They add style and flair to any room and are much more eye-catching than a boring pair of curtains.
The right boho curtains could be the final touch to your boho bedroom or living room. Or maybe, you want to add a bit of boho-chic to your home.
I've got tons of boho curtain ideas to share with you. And I've hunted down the best boho chic curtains for your perusal. So, you can browse them and see which ones appeal most to you.
And if you're confused about what bohemian curtains are, don't worry. I'll also share my boho curtain buying guide to walk you through the key elements of the boho style. (And if you want an overview of the different types of curtains, check out my detailed guide here).
So, read on to find the perfect bohemian-style curtains for your home.
What Is Bohemian Style?
Before we take a look at the various boho curtain options, let's take a step back. First of all, we should define the boho style, because it can get pretty confusing.
The bohemian style is heavily inspired by the free spirits in Paris in the 19th century (among others). They favored freedom and lack of rules, rebelling against the way things were done at the time.
And so, this style is blissfully eclectic and joyful. There are no strict rules or guidelines to follow.
It's more about creating a feeling of belonging and making a cozy and welcoming space.
But it still incorporates elements of vintage period furniture. For example, you may find brocade curtains or embroidered chairs in a boho-style home.
Rich, jewel tones are often used in the bohemian style. Fabrics and textures are often layered together, even creating clashing looks. But that's all part of the fun of the free-spirited boho style.
If you want to incorporate the boho style into your home, try not to overthink it. Instead, go with your gut on whether something looks right – follow your instinct.
But you don't have to go the whole hog. You can add a touch of boho here and there – and your curtains are one of the best places to start.
Buying Guide to Boho Curtains
Before you start shopping around for the best boho curtains, hold on. There are a few things you should know to help you make the right decision!
So, here's my quick but detailed guide to boho curtains for the bedroom, living room, etc.
Colors
When choosing a color (or colors) for your boho curtains, there are a few things to consider. But firstly, you can stop worrying about having too many different colors. In the boho style, it's the more, the merrier when it comes to colors (or patterns, textures, fabrics, etc). Boho homes are rich, eclectic, and buzzing with life.
But you want to choose colors that will complement the other shades in the room. If you've chosen jewel tones, you could opt for a contrasting color. For example, you could add teal if you have a lot of purple in the room. Don't be afraid to go for colorful boho curtains!
Earthy tones such as browns, oranges, and reds also work well on curtains as they help to ground the room. They make it feel warm, welcoming, and inviting.
And of course, you could always go for classic cream or white curtains. But make sure to look out for some nice boho touches such as pretty embroidery or sparkly sequins.
Patterns
Boho chic is all about the patterns. From paisley to botanicals, anything goes. Botanical or flowery prints work well, as they bring a natural feel to any room. House plants are popular in the boho style. So, you can continue the nature theme with some nice botanical curtains.
And don't worry if you have other patterns in your room. You can play around with different designs without worrying about them clashing. It's all part of the fun!
Material
Next, you should think about the right kind of material for your curtains. Do you want floaty, lacey curtains that will billow in the breeze? You could go for boho sheer curtains made from gauze or a similar material.
But heavy boho curtains add a nice weight to a room and can help balance it out. Fabrics like velvet, silk, and thicker satins work well. And then, when evening falls, you can draw the curtains and make the room feel cozy and comforting.
Not to mention that they're much better for blocking light and keeping in the warmth. So, they make a good option for your boho bedroom, especially in the winter months.
It all comes down to your preference and the look you'd like to create in your home.
Best Boho Curtains
Now, you have a good idea of what to look for when choosing boho curtains. And you may have an idea of the different options available to you.
I've hunted down some of the prettiest boho curtains to save you time. There are all types, with something for every style and budget. Some of these will work well in the bedroom, while others will look fantastic in the living or dining room.
So, browse through and pick out the perfect boho curtains for your home!
White-Gold Floral Ombre Mandala Curtains Tapestry
These white and gold curtains are eye-catching and beautiful. The mandala design is gorgeous, inspiring peace, mindfulness, and a meditative state.
Each pattern is painstakingly hand-crafted by an experienced artisan. So, you know you're getting something special if you go for these curtains.
And while the pattern is big and bold, the neutral color scheme will suit any room. You can add in other rich colors without the room feeling too busy and overwhelming.
These Indian-style mandala curtains are perfect for any boho home. They are elegant and reach down to the floor, providing full coverage for your windows.
And at the same time, they're not too busy. They don't have extra features like bobbles, sequins, etc. So, if you prefer to keep things simple, they tick all the right boxes. They would work well in a minimalist boho living room or bedroom.
And they're made from high-quality 100% cotton material, so they should last a long time. But at the same time, they're low-maintenance and easy to machine wash.
---
Lush Décor Ivy Tassel Window Curtain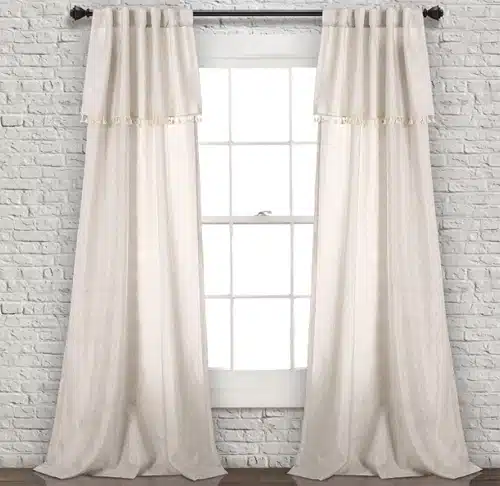 If you prefer the classic stylish look, you'll love these curtains. They are simple yet deceptive.
At first glance, they look like basic white curtains. But the fabric has an exquisite, detailed pattern that you'll notice if you look closely. Plus, they have an adorable row of tassels hanging from the ruffled layer.
These stylish white curtains are made from a practical linen and polyester mix. So, they're lightweight yet easy to care for, and they won't crease like 100% linen curtains do.
So, these could be a perfect choice if you're looking for boho linen curtains.
---
White-Gold Floral Ombre Mandala Curtains Tapestry
These luxurious white-gold curtains ooze boho flair. They are stylish but simple enough to suit any home and color scheme.
The pattern is gorgeous and intricately finished. And the golden pom-pom tassels are the perfect touch, creating a relaxed, lived-in vibe.
You could hang these curtains on your windows or use them as a room divider. The rod pocket design is quick and easy to install, and they're made from quality 100% cotton material.
These curtains are durable but lightweight and quite thin. So, they do offer some privacy. But they're not the best choice if you're looking for blackout curtains for your bedroom.
Instead, they are ideal boho living room curtains. And they would work equally well in a dining room or even a boho kitchen. Or, you could pair it with a blackout blind if you like this style for your bedroom.
---
Indian Mandala Tapestry Room Curtains
These beautiful ivory curtains are perfect for any boho home. They have a detailed mandala design, but the white and silver fabric is subtle and sleek.
At 82 inches in length, these curtains drape elegantly to the ground. They're equally suited to a bedroom, dining room, or living room.
The mandala design incorporates natural elements that are calming and relaxing. And as they are made from pure cotton material, you can be sure of their quality and durability. Plus, they're machine washable for easy maintenance. There's no need to handwash them.
The stylish pattern and sophisticated color scheme make these curtains special. They also provide privacy and block some light from coming in. But they're not so thick as to stop all the natural light, which is helpful if you want to maintain your sleep routine.
---
MIUCO Moroccan Embroidered Semi Sheer Curtains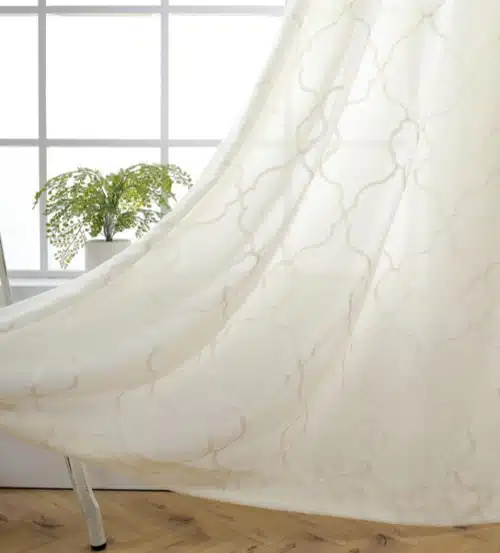 If you're looking for boho sheer curtains, you'll love these. They're sleek, stylish, and have a gorgeous geometric pattern on them.
And even better, they come in a range of different colors to choose from. So, you could stick with the classic white drapes that will go in any room. Or, you could go for bold burgundy, teal, or navy blue.
If you prefer an earthy color palette, the brown, rust, or taupe shades may appeal. Whichever color you prefer, these curtains are a great addition to your boho home. They attach easily to the curtain rod with metal grommets. So, they're quick to install and take down if you need to.
These curtains are sheer enough to let in lots of natural sunlight. But they also provide you with plenty of privacy, so you can relax and feel at ease in your home.
If you're looking for modern boho curtains, these fit the bill. They blend the best of boho and minimalist interior design styles.
---
LIVALAYA Macrame Curtain Large Wall Hanging
Macrame is all the rage (like the macrame hanging plant pots featured here!). And these curtains tick all the right boxes. It's hard to get more boho than this!
These natural cotton curtains are unique and sure to become an accent piece in your home. You may have seen macrame hanging decorations, but a full-sized macrame curtain? So, as you can imagine, it's sure to draw everyone's attention.
But it also has an earthy, relaxed feel to it. These curtains are made from natural materials and channel a beachy vibe.
It's handmade by craftswomen in India who take painstaking care of every detail. So, you can be sure that it's made to the highest standards. And at the same time, it's environmentally friendly, biodegradable, and sustainable.
You could use this macrame curtain on your windows or as a decorative wall hanging. Either way, it will look fabulous.
---
ColorBird Geometric Semi-Blackout Window Curtains Bohemian Style
Next is another stylish bohemian curtain, this time with a bold black and white pattern. It's finished off with cute little black tassels to perfect the look.
The curtains themselves are made from a natural linen-cotton mix. As a result, they are low-maintenance and easy to wash if necessary. And the sewn-in pocket makes it quick and easy to hang these curtains.
The semi-opaque design is ideal as it provides privacy and allows you to darken the room if you like. But you don't block out all the natural light, either.
These geometric boho window curtains are an excellent addition to any room. They're subtle enough to complement your design style rather than compete with it.
So, if you're after some black and white boho curtains, look no further. They will look fantastic whether you lean towards a minimalist or eclectic style.
---
DriftAway Boho Velvet Handmade Tassel Curtain
These bright yellow velvet curtains are simply divine. If you want colorful boho curtains, you won't go wrong with these ones!
They're simple yet eye-catching, thanks to their sunny yellow color. But they're also practical, as they can darken the room and keep in the heat. So, they're the perfect choice for a boho bedroom.

And if you're not into yellow, don't worry. There's a range of other colors to choose from, including navy blue, peacock, or red ochre. And if you prefer white drapes, go for the white curtains with the cute little yellow tassels! 
These boho velvet curtains feel soft to the touch and hang nicely. While the tassels are hand-made and special addition to make your curtains look unique.
---
Macrame Boho Wedding Kitchen Curtains
Macrame is the epitome of boho style, so you're sure to love these natural boho curtains. They're lovingly handmade, and attention to detail goes into every pair of curtains.
These curtains are made from natural cotton fiber, carefully woven and knotted together. And they're also versatile to hang in any home.
You can tie them to the curtain rod or nail them in place. But that does make it a little harder to draw this drape. So, you may want to install it as a permanent feature – a focal piece for your home.
But if you're after curtains that are easy to draw back, check out the other suggestions on this list!
---
Bohemian Geometric Semi-Blackout Curtains
Last but not least are these beautiful boho curtains in a rainbow of bright colors. The cream fabric is the perfect backdrop for the colorful geometric pattern.
Its blue, yellow, and orange colors bring ancient Aztec and indigenous art to mind. These curtains take inspiration from these important art traditions. And the tiny little pompoms around the edge add the final touch.
So, if you're looking for boho patterned curtains, you won't go wrong with this cheerful design. It will brighten your home and warm your heart with its rich colors.
---
The Wrap Up
Now, you have a good idea of what boho curtains can look like. (Although, as you've seen, they vary a lot in style, color, pattern, and more!)
Maybe you've even picked out some curtains that have caught your eye. I'd love to know which ones you choose for your boho home! Let me know in the comments below.
Make sure to follow Quiet Minimal for more interior design tips and reviews.