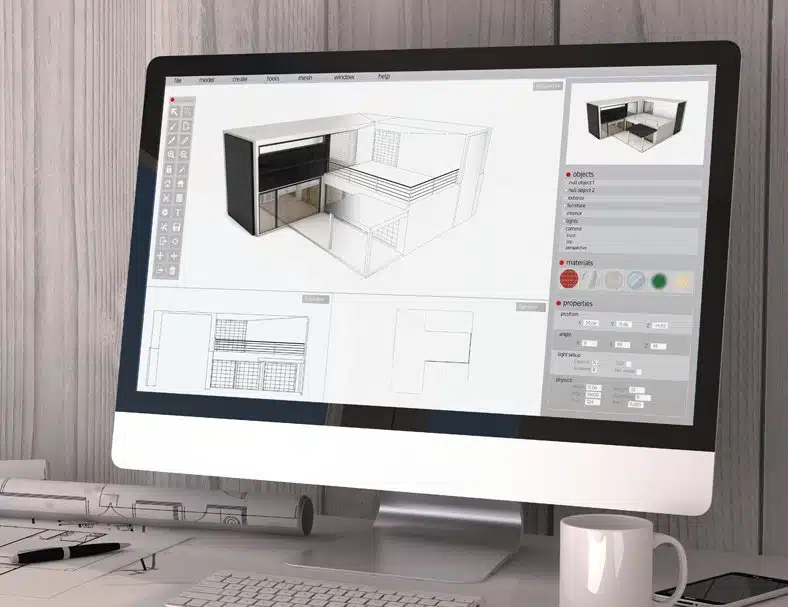 There's nothing more exciting than designing your own home. But knowing where to start is challenging! The good news is that there are loads of free and cheap design software to give you a headstart.
I've rounded up the best free and paid interior and exterior software for you! I had great fun testing out these apps, and here are the best options out there.
With these apps, you can play around with the design, layout, and furniture of your home. It helps to visualize what your house will look like, and you can test different styles.
Whether you're buying a new house or renovating, these apps can come in handy. You can plan out your interior floor plans or decide on the best style for decorating. Want to move walls around or design a swimming pool outside? A home builder software can do it for you!
So let's take a look at the best free interior home design software. Plus, some affordable paid options too!
The Best Exterior & Interior Design Software (Free & Paid Options!)
SketchUp (Best Free 3D Architectural Design Software)
Image / SketchUp
SketchUp is a smart software you can use to build your house from the ground up. This 3D design software allows you to create models of your house and move the walls around. It's ideal if you're going to build your home from scratch!
You can use SketchUp to design both the interior and exterior of your house. It also allows you to price up different features like windows. That's very helpful when you're planning your renovation!
This 3D rendering software is easy to use, so even beginners can have a go. But it's powerful enough that a professional architect can use it to design a new building. So if you're working with a pro, it's a great tool for collaboration and planning.

Where it's a bit limited is that you can't add furniture within the rooms. It's not ideal for planning out your interior decoration. Instead, this free 3D house design software focuses on building construction and architecture.
SketchUp has a free personal plan you can use on the web. No downloads necessary! There's a 10 GB storage limit, but you probably won't need more than that anyway.
Software Features:
You can design the interior and exterior of buildings
Suitable for beginners and professionals
Create 3D floor and building designs
Produce detailed documentation
Estimate the cost of materials
The paid plan includes pre-built 3D buildings
---
Looking to bring your design dreams to life? Cedreo: 3D Home Design Software is the tool for you. With its powerful features, you can easily create stunning 2D and 3D floor plans and impress your clients with photorealistic renderings.
Say goodbye to wasted time and effort with the vast library of pre-existing floor plans and materials. Share your creations on social media and attract more clients.
Cedreo is the ultimate solution for all your interior and exterior design needs.
With Cedreo's lighting feature, you can bring your 3D constructed rooms to life by adding light sources and adjusting their intensity. This allows you to create realistic lighting effects and showcase how different light sources would impact the ambiance of a space.
Whether you want to simulate natural sunlight streaming through a window or experiment with different types of artificial lighting, Cedreo provides you with the tools to achieve your desired look.
By utilizing this feature, you can enhance the visual appeal of your interior designs and give your clients a more immersive experience.
Cedreo: A comprehensive tool for designing interior and exterior spaces in 3D with stunning photorealistic renderings.
Say farewell to manual designs with Cedreo's extensive library of ready-made floor plans and high-quality materials.
Easily share your design masterpieces on social platforms, showcasing your skills and drawing in potential clientele.
Dive deep into interior design with Cedreo's advanced lighting feature, simulating everything from natural sunlight to various artificial light effects.
Elevate your presentations with lifelike renderings, offering clients a captivating and immersive view of their potential spaces.
---
HomeByMe (Best Design & Interior Decoration App – Free)
Image / HomeByMe
HomeByMe is another excellent software you should try out! It's perfect if you're planning out your home decoration or renovation. But you'll also love it if you just like to experiment, design, and decorate homes. (It's a lot of fun!)
First of all, you can use this free app to draw your house in 2D. You'll create individual rooms and add in details like doors and windows. The software is simple and straightforward – no experience is needed!
Then, convert it into 3D and have fun furnishing it with items from the catalog. Finally, you can create detailed images to use for inspiration. You can share them online or export them and get feedback from friends. HomeByMe also has a friendly community where you can ask for help or ideas!
If you're short on time, HomeByMe offers an affordable floor plan conversion service. They will turn your simple floor plan into a detailed and accurate 3D project. Although you may not need this service, it's good to know it exists!
While you can start using HomeByMe for free, you only get three 3D floor plans. You also get three photorealistic images when you sign up. But beyond that, you'll need to pay.
Software Features:
Draw a 2D floor plan and convert it into a 3D project
Furnish and decorate from the catalog
Create photorealistic images of your house plan
Share and export your work
Get feedback from the HomeByMe community
A paid floor plan for 3D project service
360-degree HD views & a virtual tour of your designs
You can download the app from the App Store
---
Floorplanner (Best Software for Interior Designing – Free)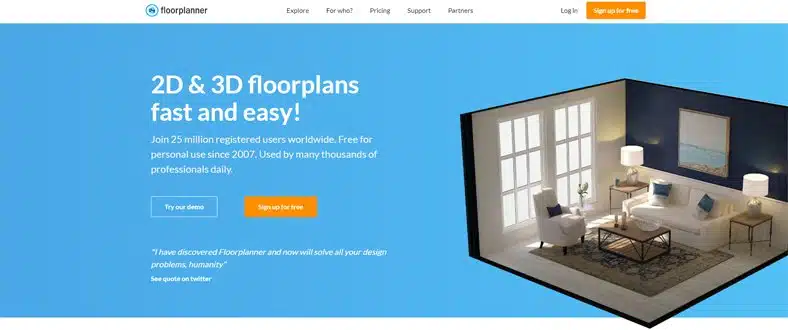 Image / Floorplanner
Floorplanner is an amazing app you can use to design your home interior. It's super simple and a lot of fun!
This software allows you to create 2D and 3D home designs and floor plans. Then, you can add in any items from the extensive catalog to make it look how you'd like it.
With 150,000 items to choose from, you can replicate your home. That makes it easy to customize it, try out different looks, and see what you like best. You can even upload your blueprints to give you something to save time!
The best part is that Floorplanner is available for free! You get access to the full editor features and library without paying anything. It's no wonder that millions of people use this software around the world!
The only downside is that there's a timelock when you export your designs. If you want to avoid that, you can sign up for the affordable $5/month plan.
Floorplanner does allow you to explore your designs in a 3D tour, but you'll need to upgrade for this paid feature. It's a neat tool that allows you to walk through your home and see how everything looks – just like in real life!
The option to upgrade a single project makes it cheaper than an ongoing subscription. So, it's worth considering if you want access to the premium features.
You can use Floorplanner on any tablet or laptop and in all browsers. So, it's quick and easy to get started and access your designs from anywhere.
Overall, Floorplanner is one of the best free interior design programs out there.
Software Features:
You can create 2D and 3D floor plans
The catalog has thousands of items to decorate your home
Export images in 2D and 3D
Plan out what your rooms will look like
Browser-based software that works on all browsers and devices
---
Planner 5D (Best 2D & 3D Interior & Exterior Design Software – Free)

Image / Planner 5D
If you've ever wanted to design your dream house, now you can! Planner 5D makes it easier than it's even been – and you can use this app for free!
It's available on Google, Mac, and Apple Store, and very quick to get started. Plus, it renders your home in amazing and realistic detail!
You can create your 2D floor plan and add furniture from the vast library. Prefer to see your designs in 3D? You can switch with just a click to see how it looks.
While the catalog only has 5,000 items, every single one looks true-to-life. You can even select colors and patterns to customize it even more. So, you get a clear idea of how it would really look in your home.
Want to test out different color palettes? Try out new flooring or materials? It's all possible within Planner 5D. And if you're stuck for inspiration, you can browse other users' designs.
This smart software even creates photorealistic images. You can use the Snapshots feature to see what it would look like in real life, shadows, colors, and all!
You can use Planner 5D on your smartphone or tablet and switch between them. That's useful, as you can work on your plans wherever you are.
Planner 5D is one of the best interior decoration programs, as it's so very user-friendly and fun to use. You can create floor plans, design your kitchen or living room, and test out new styles.
Software Features:
Available for download from Google Play, Mac, and Apple Store
You can use it on any tablet or smartphone and switch between devices
Access a catalog of 5000 items
Draw 2D floor plans or switch to 3D designs
Select colors, furniture, materials, and more
Capture 3D photorealistic images of your designs
Browse other users' designs
Learn more
---
Roomstyler 3D Home Planner (Best Free Kitchen & Home Design Software for Beginners)
Image / Roomstyler
If you've dreamed of being an interior designer, here's your chance! Roomstyler gives you all the tools to create amazing designs!
You start by creating a floor plan using the drag-and-drop builder. It's as simple as choosing a room shape.
Roomstyler is easy to use and lets you get as detailed as you like! You can play with every item from wallpaper to flooring and more. The catalog is huge and covers almost any kind of item you could ever imagine.
There's furniture from top brands, so you can use real products to make your home as realistic as possible. That's ideal if you want to put your plan into action in your own home.
What's more, Roomstyler is perfect if you need a burst of inspiration! You'll find gorgeous designs from other users of this app.
Although you can't design in 3D mode, it's still a great app for home design.
Want to find out how to use Roomstyler? Watch this quick video tutorial to see how to design a room! As you can see, it's a powerful, customizable app but also very easy to use.
Roomstyler is the best free design software out there for beginners. It's so easy to use that you can enjoy it. Although the catalog is a bit limited, you can have fun and design your ideal home.
Software Features:
Design and customize 2D floor plans
Furnish and decorate your rooms
Select items from the catalog
Use it in a web browser on most devices- no downloads are necessary
---
DFS Room Planner (Best Free Living Room Planner)
Image / DFS Room Planner
If you're buying furniture, you want to visualize how it will look in your home. That's why DFS Room Planner has come up with this great free room planner.
You can use this free online software to design and decorate your dream living room. Just select the room size, choose your wall colors, and add in your furniture. Then, you can take your pick from DFS's range of sofas and see what looks best in your home!
There are handy features like rotating items, zooming, and panning. If you find an item you love, you can add it to your favorites list.
This app is designed specifically to test out DFS's products, so it's not as customizable. You may find the selection a bit limited. But if you've been looking for a new sofa or want to try out different looks for your living room, it's helpful.
While the DFS software has some limitations, it's great if you need to update your living room! This app isn't for professionals or architects, but it allows you to test new looks for your home.
Software Features:
Free online cloud-based software
Choose your room size
Add in furniture and fixings
Select a sofa from DFS's product range
Zoom, pan, and rotate items
Save products to a favorites list
---
Carpetright Visualizer (Best Free Software for Flooring Design)
Image / Carpetright
Buying a new carpet is one of the biggest decisions you'll make for your home. So, you don't want to rush into it or regret your choice!
Carpetright Visualizer will help you choose the best carpet for your house! You can also test out how vinyl, wood, and laminate flooring would look in your home.
This clever software allows you to choose an image or upload a photo of your own room. Then, it detects the floor for you and can switch out different looks.
You can choose from all the options in the Carpetright product range. There are lots of options out there, so you can try them out and see how they look. (Even if you don't plan on buying from Carpetright!)
This free software is the best out there for choosing new flooring for your home. It's amazing that you can upload your own photos and see them transform before your eyes! The detection technology is smart and seamless, so you get a good idea of how your room will look.
Software Features:
Free online cloud-based software for any device
Upload photos of your home or select from the library of images
Try out different flooring options from Carpetright's catalog
Rotate the flooring to see how it would look
Change the room wall colors to find the best color palette for your home
Save, share, or export your designs
---
Provia Visualizer (Best Free Exterior Home Design Software)
Image / Provia Visualizer
The exterior of your home is just as important as what it looks like inside. It's what people will see first and makes that initial impression. You want your home to look stylish and attractive, inside and out. That's why the ProVia Visualizer is such a helpful tool!
You can use it to try out different looks on the exterior of your home. Within the Visualizer, you can customize the doors, windows, roofing, siding, and paint.
There are two ways to use this visualizer. You can upload a photo of your home or pick from a selection of sample homes to work on. Then, you can test out all sorts of design variations on the exterior.
You'll also find designer collections that include all the details done for you. These collections combine roofing, siding, and brickwork in a stylish ready-made style.
The ProVia is so simple to use and only takes seconds to get started. It's all cloud-based, so you access it on any device, anywhere you have internet access.
It's the best free tool for exterior house design. You can use it to choose the style, materials, and colors you want in your home. If you want to renovate or freshen up your house, check this tool out today for free!
Software Features:
Free online software for exterior house design
Upload a photo and customize your home
Or choose from sample homes and try out different looks
Test out siding, roofing, windows, doors, paint, and brickwork styles for your home
There are done-for-you designer collections you can try out
---
DreamDesigner (Best 3D Exterior House Decoration Software)
Image / DreamDesigner
Imagining changes to your exterior home design can be challenging. But this simple, free software makes it easy to test out different siding, color, and trim styles.
Just upload a photo of your house, and you can start designing! You'll need to sign up for a free account at first, but it takes seconds, and then you're good to go.
If you don't have a photo you want to use, you can select a home from DreamDesigner's library. There are all sorts of houses to choose from
Once you've selected it, you're taken to a simple, user-friendly interface. You can swap out different siding and window and corner trim from the product catalog.
Want even more control? You can go back to the drawing board and choose the masonry and roof design. Take your pick from the various doors, windows, and shutters within the app, too!
If you need more direction, there are popular palettes to choose from. It's also easy to order a free sample so that you can see it up close in real life, too!
Using this excellent software, you can create your dream exterior within minutes.
Software Features:
Swap out different exterior decoration and finishing styles
Choose the door, window, trim, siding, and roofing design
Use your own photo or choose from the library of sample houses
It renders the photo into a 3D design
Quick and easy to use with no downloads necessary
---
SmartDraw (Best Floor Plan Software – Paid)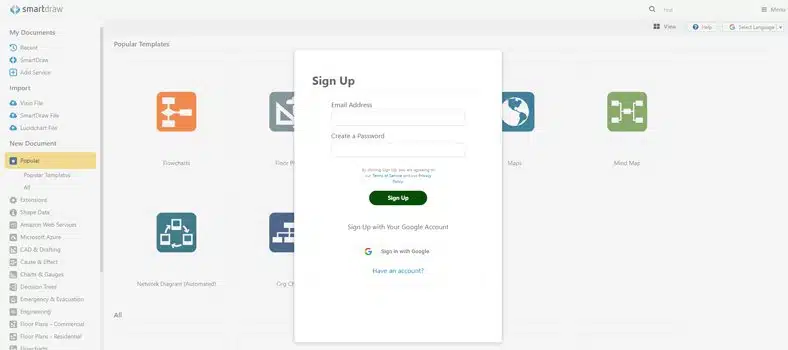 Image / SmartDraw
If you need to make professional-looking floor plans, SmartDraw is the tool for you! It's a powerful software that professionals use to create detailed designs.
It comes with tons of different building outlines to get you started. Or, you can create a custom outline and go from there. So, if you need to map out your space, SmartDraw can do it for you.
You'll find everything from office and exterior plans to individual rooms. If you geek out on floor plans, you'll love SmartDraw!
This floor plan software is ideal for architects and professionals. There are templates for healthcare facilities, restaurants, schools, and stores.
SmartDraw is a paid software with an ongoing subscription. It's quite expensive, so it's best for professionals or anyone who will use this software a lot.
You can try out all the SmartDraw features for free with the 7-day trial. That's a great way to decide whether it's the right tool for your needs.
If you just need to create a floor plan for your home, check out some of the free options on this list instead.
Software Features:
Create a floor plan from scratch
An extensive library of floor plan templates
You can also create all sorts of documents and diagrams with SmartDraw
Integrates with most tools like Microsoft and Google Suites
A paid subscription with a free 7-day trial
---
Tip:! save the image above to your Pinterest to re-read this article later!
The Wrap Up
If you've been wondering how to design your dream house, these programs are the best place to start. Whether you want to renovate, build from scratch, or move home, these apps are there to help!
You can freshen up your interior, choose a new color palette, or re-arrange your furniture. Or maybe, you need to create a floor plan for your new build. Either way, you want your home to look beautiful. And home design software makes it so much easier!
Take your pick from these free and affordable apps, and let me know which one you liked best!
Then, follow me on Pinterest to stay up to date with all the latest tips for creative professionals!