Choosing the right color for your front door is essential for creating a cohesive look. You want your home to look attractive from the front. But what are the best front door colors for a tan house?
Whether you're moving home or redecorating, choosing the color for your front door is always fun. But picking out the right color scheme isn't always easy.
Your front door color could be the final piece in the puzzle of your home design. So, I'll share some of the best front door colors for tan house and homes.
Read on to find the perfect front door color for your home!
12+ Best Front Door Colors for a Tan House
You want to choose a front door color that will complement your tan house. But not every color will look great with your house color. And you want a color scheme that fits with your style.
I've carefully selected some great front door colors that suit your tan house.
So, browse these suggestions and pick your house's best front door color.
Blue
You can pair almost any blue with tan for a gorgeous color combo. Tan will work with sky blue, pale blue, dark blue – you name it.
This color scheme channels earth and sky vibes with natural tan and blue shades.
Plus, the high contrast will draw the eye and grab people's attention.
Pairing blue with tan is a timeless choice without risking looking too bold or flashy.
Yellow
While tan can look a little dull on its own, yellow is sure to brighten it up.
You'll struggle to feel down with a cheerful, sunshine-yellow front door. It will perk you up every time you come home.
But at the same time, yellow and tan complement each other well. They are warm colors that will contrast rather than clash. So, this color combination is an excellent choice.
You can take your pick from the various shades of yellow. But I recommend going for one that's neither too dark nor too neon – something in the middle is a safe bet.
Brown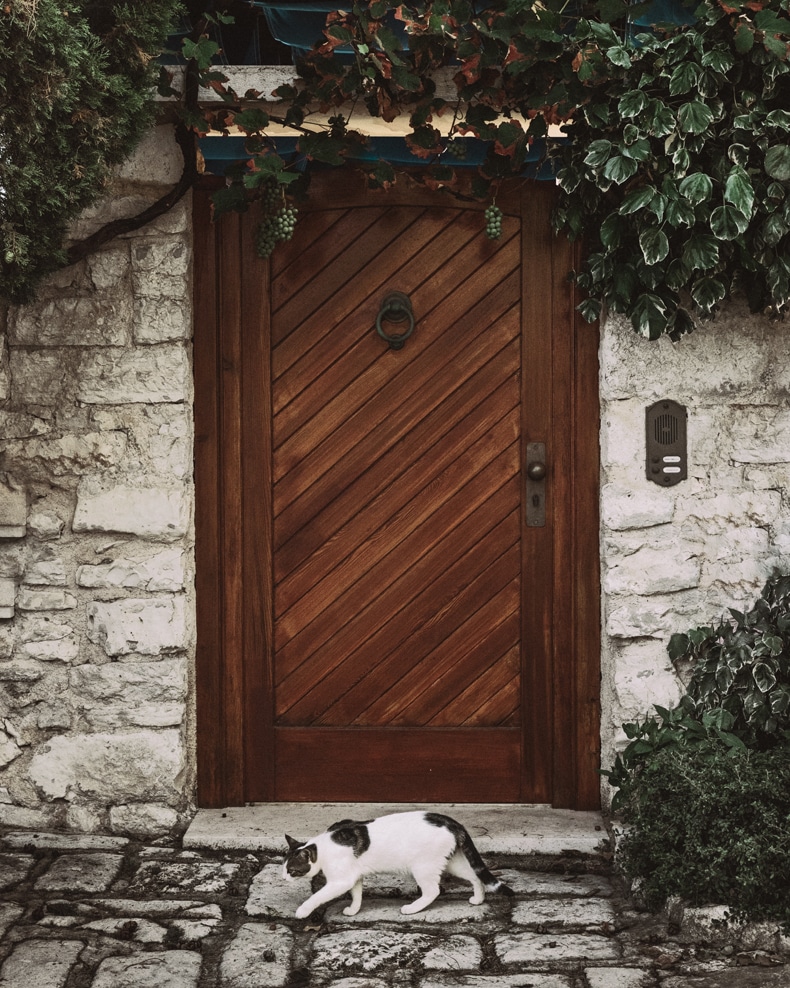 If you prefer an earthy, natural color scheme, a brown door could be just what you need.
A brown and tan color combo will channel rich nature vibes. But it will also look warm and welcoming, inviting you home at the end of the day.
And these two colors have a nice contrast, especially if you opt for a darker brown. They will play off each other and create an interesting look for the eye.
You don't need to worry if you're not into bright, primary colors. Brown and tan create an effective, earthy color palette that will look amazing.
White
A white front door is a clean, minimalist look. It's long been a popular choice for front doors.
And while it may be a safe choice, white will always look elegant. Plus, it will contrast nicely with the darker tan shade.
But bear in mind that a white door could get grubby over time. So, you may need to repaint it more often than with other colors.
Black
At the other end of the color spectrum, black is another excellent choice for your front door.
Black front doors will never go out of fashion, as they're a classic look. It's also perfect if you prefer a minimalist look instead of bright colors.
Plus, you won't need to worry about this color clashing with your home (even if you repaint it at some point). Black goes with every color, so it should always look stylish.
Tan
On the subject of simple, sophisticated looks, let's talk about a tan-colored front door.
You might not think of pairing a tan door with tan walls. But this monochrome look can be stylish.
It's ideal if you prefer a simple and low-key look for your home.
Not into bright colors and bold color schemes? Then, consider going for a tan front door.
You won't need to worry about colors clashing. It might not be inventive, but it works. So, why overthink it?
Red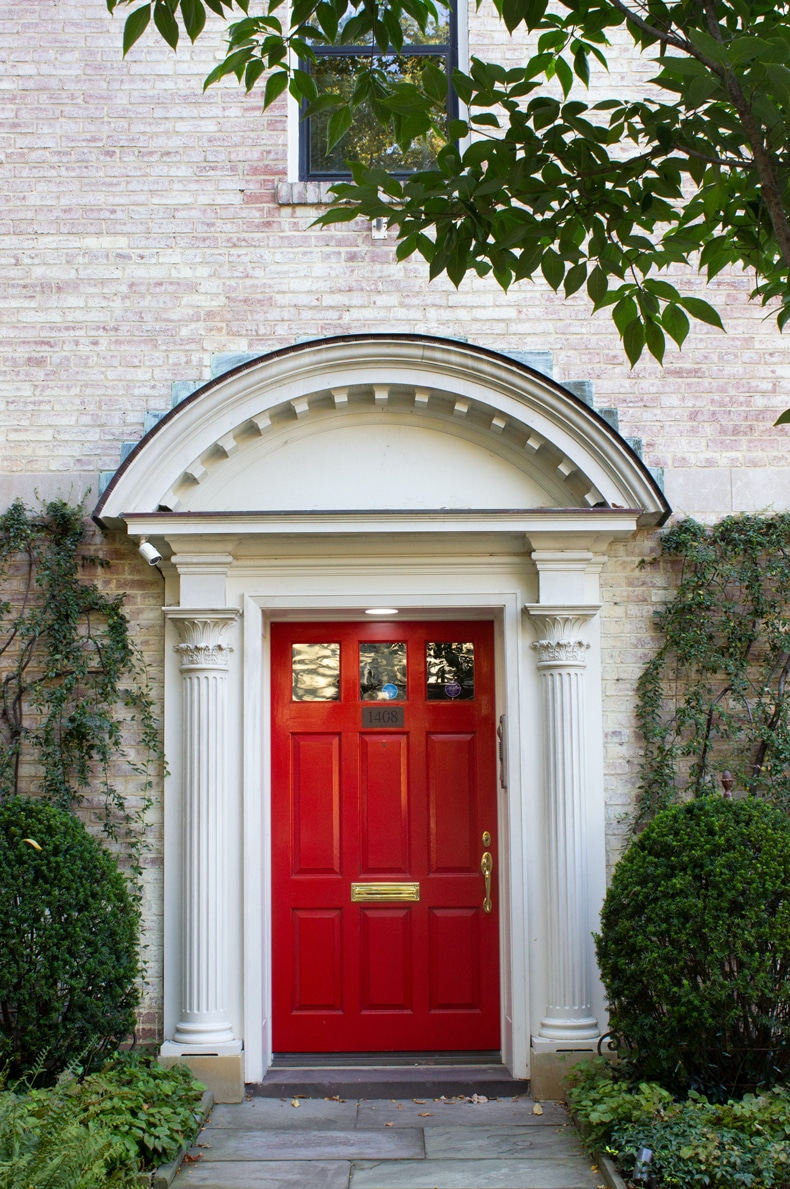 If you prefer more of a pop of color, consider going for a red front door.
This look is both classic and eye-catching, with a cheerful vibe. So, you'll feel happy coming home every day and seeing your bright red front door. 
Red pairs wonderfully with tan, as they are both warm temperature colors. So, you can create a cohesive and welcoming color palette with tan and red.
Teal
Teal is a gorgeous, jewel-toned color that pairs nicely with tan.
The vibrant teal plays off the earthy, toned-down tan shade. So, this could be the perfect combination for your house.
Teal can also have a natural, earthy undertone, depending on the shade you use. Especially if you choose a teal that leans towards green on the color wheel.
So, teal and tan create a cozy, rustic vibe, channeling the feel of a rural farmhouse.
Burgundy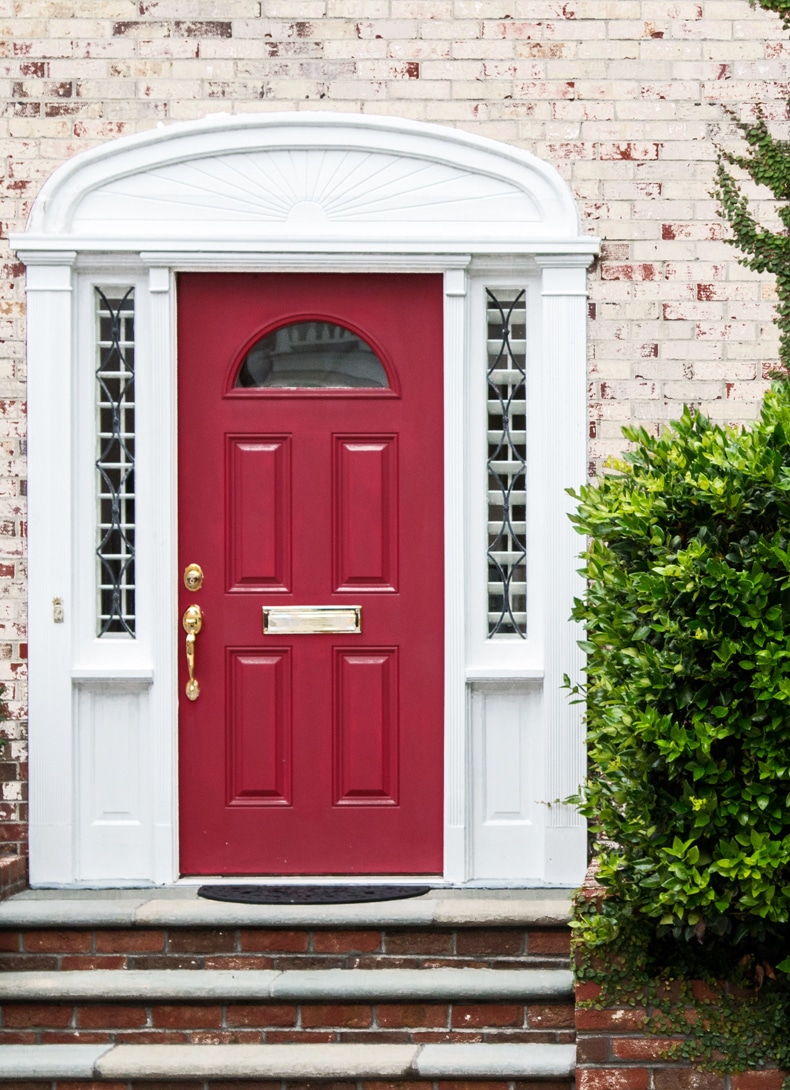 Burgundy is a rich, deep shade of red, similar to maroon. You can make burgundy by mixing red and black paint.
I've already mentioned that red and tan go well together. The same goes for burgundy and tan.
But burgundy is an even richer color and has a greater contrast with tan. So, these colors look gorgeous together, creating a cozy and welcoming vibe.
Gray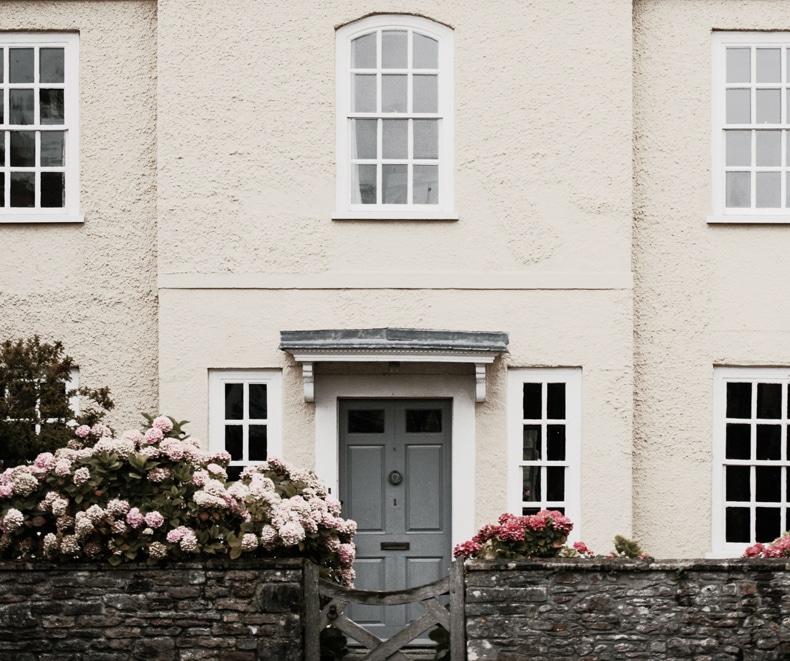 Gray is another achromatic shade that will suit any color. You can count on the color gray to complement and enhance your color palette. But you don't need to worry about it clashing.
So, you can't go wrong with gray. It's a little understated but will look classy and sophisticated in a subtle way.
The best gray to pair with your tan house is a darker shade. That will stand out more and avoid a monochrome look that could be considered dull.
A dark gray front door will complement your tan house. And at the same time, it will create enough contrast to look interesting. Plus, it's more modern and follows recent home decor trends.
Deep Violet
Combine tan and a deep violet shade for a rich, warm look.
Violet is a secondary color made by mixing red and blue. Both these colors look good with tan, but violet is even more eye-catching.
You can enhance this style by adding flowering plants in lighter pinks and purples. That will provide some contrast and create an eye-catching color scheme.
Lilac
If you prefer lighter, brighter colors, switch violet for lilac. You'll create a vibrant and fun color scheme that will brighten your home.
While you might not love your tan walls, that doesn't mean you can't brighten the mood. Using a cheerful color like lilac will do the trick.
Lilac is a whimsical and cheerful color. So, it will make you excited to come home at the end of the day. Plus, this fun choice will make your home stand out from other houses on your street.
Orange
Orange is full of vivacity and liveliness, so this color is sure to bring a smile to your face.
Tan and orange have some similarities and an earthy tone. So, they work well together.
But orange will help to brighten the look of your home and make it more uplifting and unique.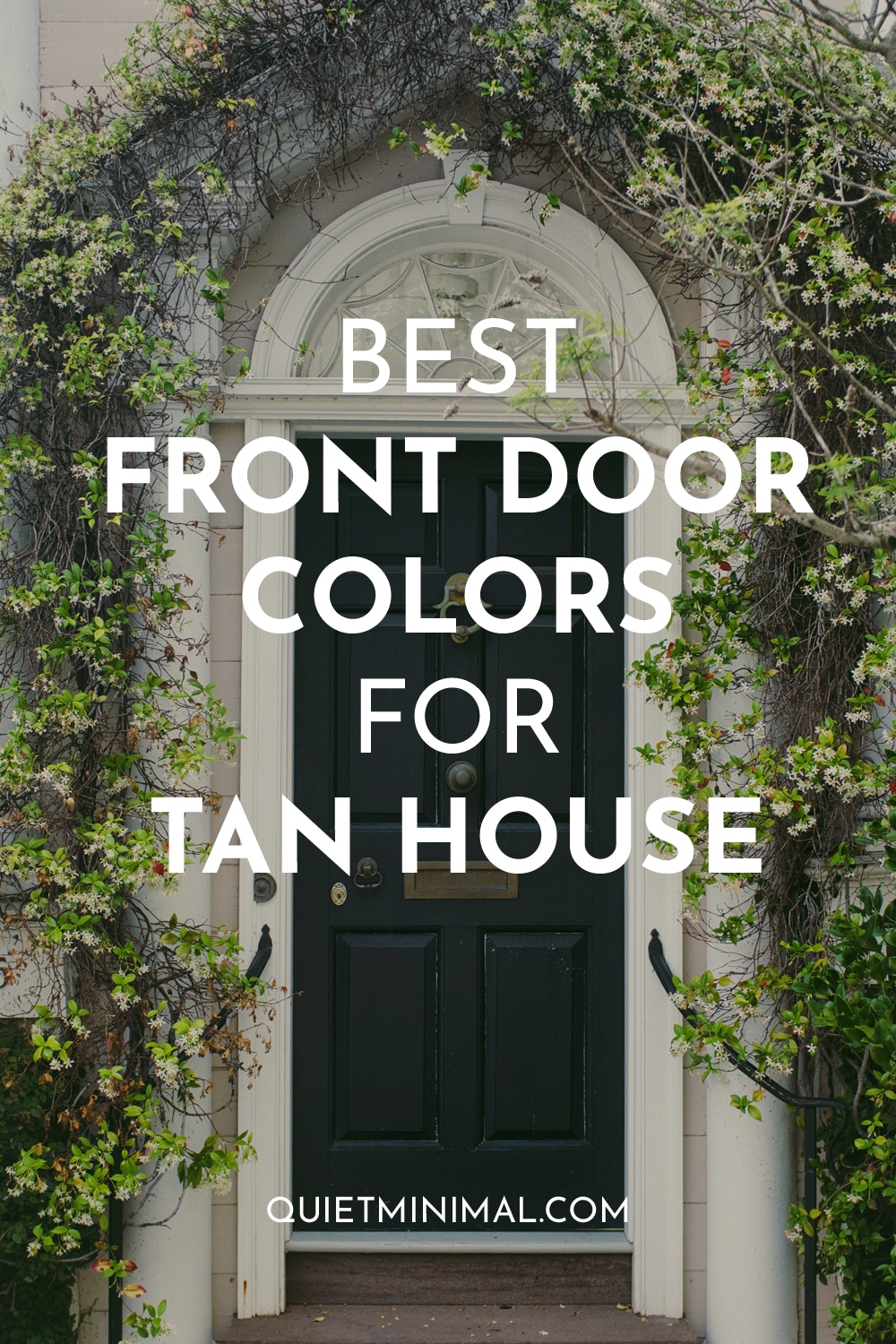 The Wrap Up
There you have a wide selection of front door colors to choose between. So, you're sure to find the perfect front door color for your tan house.
The options range from bright and colorful to cool and sophisticated. So, there's something for everyone on this list, no matter what style you prefer.
Let me know which color you choose for your front door in the comments below.
And follow Quiet Minimal on Pinterest for more home decor and minimalist living tips.