So you're looking for a minimalist bed, but you're not sure where to start. Choosing a new bed frame is a huge decision, as it's the focal point of most bedrooms.
You want a minimalist bed frame that will look elegant in your bedroom. But choosing the right bed is essential to ensure you get a good night's sleep.
You could easily spend days shopping around looking for the best minimalist bed. There are so many different options out there – it can be overwhelming to sift through them.
To save you time, I've created this list of the best minimalist beds around.
Using my experience as a designer, I've picked out the most stylish yet minimalist bed frames. There's something to suit every bedroom on this list.
Don't worry if you're on a tight budget, either. There are some great affordable beds around for your minimalist bedroom, too.
First, I'll share what to look out for when choosing a minimalist bed. Then, we'll get onto the reviews.
Buying Guide to the Best Minimalist Beds for Your Home
If you're not sure how to choose the right minimal bed frame for your bedroom, here's everything you need to know!
How to Choose a Suitable Minimalist Bed Frame?
When we talk about minimalist beds, we're taking it back to basics. No unnecessary details or decorative touches. It's all about clean lines, quality materials, and a sleek silhouette.
You also want the bed to look consistent with the room decor and the rest of your house. It should all flow in a calm and cohesive style.
You should look out for excellent workmanship, ideally using eco-friendly materials. You want a simple yet sturdy bed that will stand the test of time.
Let's get into the different factors you should consider to help you choose
Structure and Design
You might be surprised to discover how many different types of minimalist beds there are. You'll find platform beds, frames that sit directly on the floor, and more.

There are different materials to consider, from wood to metal or a combination. Then, you should also consider the style and color so that it suits your room.
Many minimalist beds are inspired by Japanese minimalism. So, you'll find many options for a Japanese-style bed frame with a low profile.
Often, these Japanese-style beds won't have a headboard or tailboard either. They aren't entirely authentic, as most Japanese people sleep on mats on the floor. But they do create a similar style.
You can also find minimalist beds with simple headboards if you want something to lean on.
Tailboards provoke many opinions. Some people like the look of a nice tailboard, while others find them restrictive. The good news is that there are tons of options for you to choose between.
You should also look at the slat design and see whether it requires a box spring. Most beds place the mattress directly on the slats, and that works best for a minimalist bedroom.
Sometimes, you'll need to buy the slats separately. So, ensure they are included in the frame before you buy!
Materials
Most minimalist beds are made from wood or metal. But even within these categories, you'll find a lot of variety.
If you're looking for a minimalist wooden bed, find out whether it's made from solid or manufactured wood. You might also want to look for eco-friendly or sustainable wood. [1]
A solid wood bed will be sturdy, stronger, and more durable than a particleboard bed.
For this reason, solid wood tends to be the best material. But that still gives you lots of options!
You can choose between everything from pine, cherry, acacia, and more. Each type of wood has its own characteristic, shade, and look, so it comes down to personal preference.
Some styles look more rustic, while others will look fresh and modern.
Metal might appeal more if you're not into a wooden bed frame. It can look very understated and minimal and is very strong.
There are other options too, like an upholstered bed or a combination of materials. Take a look at the beds reviewed below and see what appeals most to you!
You should also look at the materials and construction of the slats. These are an essential part of the bed frame and should be robust to support you as you sleep.
Ease of assembly
The ease of assembly is another essential factor. Some beds will need at least two people to assemble them, and it may be complicated.
Most beds will come with all the tools required and detailed instructions. It's a good idea to double-check whether you need any specific tools for the setup.
Reviews are an excellent place to find out how tricky the assembly is for any bed. If you're not into DIY, you'll want a simple and straightforward bed.
Extra features
Depending on your needs, for example, storage, may be other things to consider.
Most minimalist beds won't have integral storage due to the clean lines and simple design. But some beds will have drawers within the frame.
Another option is to add under-bed storage if there's space. So make sure to check what the clearance below the bed is.
Some companies offer warranties on their bed frames. That can be a helpful feature, as they should repair or replace the bed for you if there are any defects. It could save you money in the long run.
Gorgeous Minimalist Beds: Take Your Pick
ZINUS Suzanne Metal and Wood Platform Bed Frame
Image Credit: Zinus
Image Credit: Zinus
This gorgeous ZINUS Suzanne minimalist bed is made from solid pine wood and steel. If you can't decide which material to go for, this wood and metal bed frame has the best of both.
It's simple yet stylish, with clean lines and an elegant design. It will fit in any bedroom and doesn't feel too masculine or feminine.
The combination of the natural wood grain against the dark steel is a bold look. You can make a statement with this bed while keeping it minimalist.
It's extremely sturdy and comes in twin, full, king, and queen sizes. The wooden headboard looks attractive. And with no footboard, there's plenty of space to stretch out.
With close slats, it provides excellent mattress support, and you don't need a box spring. There's no excess noise or squeaking for a peaceful night. Plus, non-slip tape prevents any mattress movement.
The setup is simple and should take less than an hour, but you will need two people. You'll get everything you need from tools to instructions in one box with the frame.
This attractive metal and the wood bed is sturdy and eye-catching, yet minimalist
Excellent craftsmanship comes with a 5-year warranty
You can't put it together single-handed
---
Parthenia Low Profile Platform Bed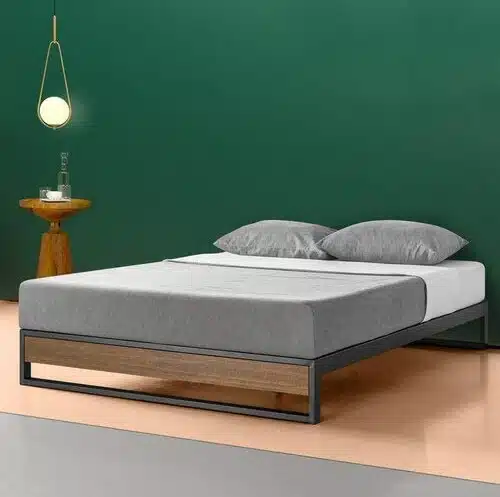 Image Credit: Gotical
This modern, Parthenia Low Profile minimalist bed is about as simple as they come. With its low profile, it's inspired by Japanese beds. It's the perfect bed for your minimalist bed frame.
This queen-size metal bed frame is robust and built to last. The dark metal complements the pinewood in the footboard to add some interest.
There's no headboard, keeping it very minimal. It comes with durable wooden slats with no need for a box spring, so you'll lay close to the ground.
This bed eliminates any visual clutter, so you'll feel calm and relaxed in your bedroom. It holds your mattress securely and will look great in any room.
This minimalist wood and metal bed frame has a sleek silhouette and low profile
It's sturdy and durable and doesn't need a box spring
There's no headboard to lean on
---
Zinus Mia Modern Studio
Image Credit: Zinus
Minimalism beds can come in different forms and materials. Zinus Mia Modern Studio bed frame is an excellent example of a minimalist style that isn't made from wood.
It's very affordable yet has a high-quality finish. You can buy the Zinus Mia in twin, full, queen, or king-size models.
It has a simple headboard with three strips of black metal for a clean and stylish look.
At 14 inches from the floor, it's high enough to lay down easily. Yet, it's still minimalist and won't dominate the room.
Image Credit: Zinus
The sturdy wooden slats are topped with non-slip tape to reduce noise and ensure a firm mattress hold. And with no footboard, it provides more space for your feet, no matter how tall you are.
Image Credit: Zinus
This bed is straightforward to put together, taking minutes. The 5-year warranty provides peace of mind and could save you money in the long term.
This stylish, understated metal bed frame is easy to assemble
It has a simple headboard and non-slip wooden slats
It doesn't have any storage
---
Tara Low Profile Platform Bed
Image Credit: Gotical
If you're looking for a minimalist wood bed frame, you'll love this Low-Profile Tara bed. It's made from solid wood with a rustic look. You can buy this bed in twin or queen size.
The beautiful wood grain headboard will look perfect in a room with natural accents. It fits perfectly with minimalist decor and a focus on sustainable materials.
It looks sturdy and durable. There are several extra legs to provide even more stability. Each leg has a unique shape, adding to the fresh yet traditional look.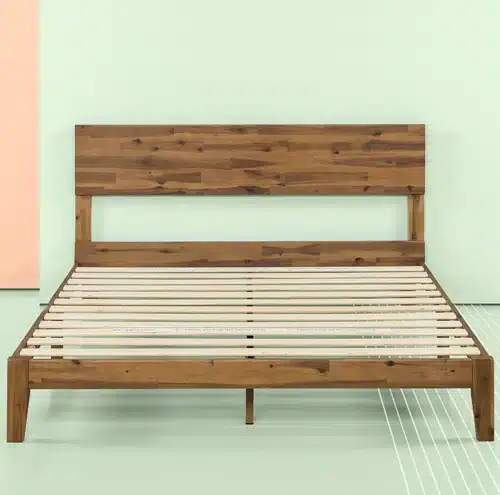 Image Credit: Gotical
An interior metal frame makes it very robust, providing hidden support. The wooden bed slats have non-slip tape, and it's suitable for most mattresses – no box spring required.
The rustic look is perfect for nature-inspired minimalist rooms
Extra legs and a hidden metal frame provided support
It might not suit every modern minimalist rooms
---
Zinus Trisha 7
Image Credit: Zinus
Zinus is well-known for producing high-quality minimalist beds. This sleek metal frame bed is high-quality yet simple.
It comes with no headboard or footboard, so it's a very clean, minimal look.
The steel frame can support heavy weights with ease and sits 7 inches from the floor. So, if you love low-profile beds, this one is for you!
Image Credit: Zinus
Little touches like non-slip tape on the frame and slats make a big difference. It means that you won't have any movement or excess noise to disturb you as you sleep.
The Trisha is available in all sizes, from twin to full, queen, or king-size. So, you can find the right size for your space.
Plus, it comes with a 5-year warranty to prevent any worries.
Image Credit: Zinus
You can also buy the Trisha minimalist bed with a matching metal end table. This combination will complete your minimalist bedroom with style.
This simple metal bed is ideal for a minimalist room
It's sturdy and hard-wearing yet easy to assemble
There's no headboard or footboard
---
Zinus Tosha 12 Inch Wood Platform Bed
Image Credit: Zinus
If you're looking for a simple yet modern wood bed frame, you'll love the Zinus Tosha.
This bed frame stands 12 inches tall and is made from solid acacia wood. It looks robust and rustic yet minimalist.
If you like darker wood tones to warm up your bedroom, grab the Zinus Tosha. For a solid-wood bed, it's affordable and offers excellent value for money.
Sturdy wooden slats support the design and are finished with non-slip tape. Your mattress will sit snug and secure on top, with no box spring necessary.
Image Credit: Zinus
You can find the right Tosha bed for any bedroom, as it comes in twin up to king-size. And as with all Zinus beds, you get that generous 5-year warranty.
Gorgeous, warm wood metal bed with a modern minimalist design
It comes in 4 different sizes
You don't need a box spring with this bed frame
---
Zinus Paul Metal and Wood Platform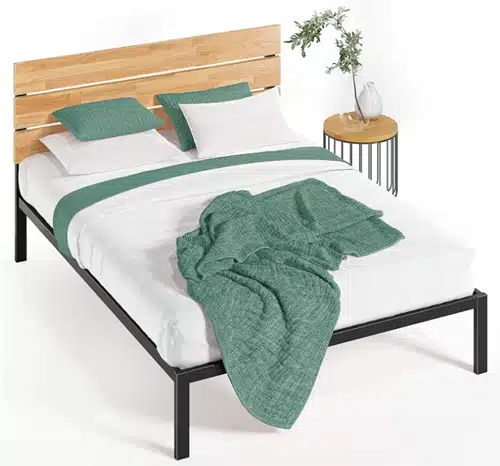 Image Credit: Zinus
If you like a combination of metal and wood, check out this elegant Zinus Paul Metal bed. It has the sleek, clean lines of the metal frame, combined with a simple wooden headboard.
It's minimalist, without being austere or stark. The solid wood headboard is constructed of three natural grain planks.
Altogether, the look is fresh, stylish, and warm. The steel frame is supported by four strong legs and sits 14 inches from the ground, making it accessible.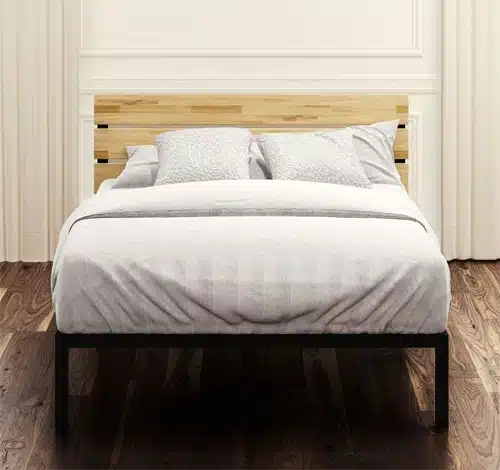 Image Credit: Zinus
There's also room for under-bed storage if you want to make the most of your space. You can tuck away items below the bed and keep your room free of clutter.
The Zinus Paul has a robust wooden slat system to hold your mattress. Non-slip tape ensures that it won't shift an inch, no matter how much you toss and turn.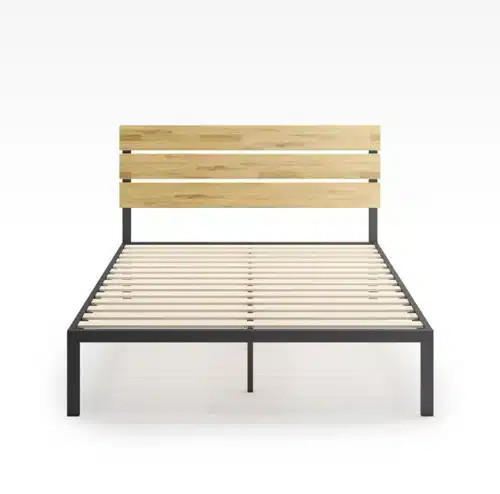 Image Credit: Zinus
You can buy the Zinus Paul in any size from twin up to king-size. It's easy to assemble and comes with a 5-year warranty.
A simple yet sturdy minimalist bed with room for under bed storage
It's quick to put together and backed by a 5-year warranty
It combines metal and wood for a unique look
---
Mellow Naturalista Grand
Image Credit: Mellow
Here is another simple yet modern wooden bed frame by Mellow Naturalista Grand. This minimalist style cuts back on visual clutter in the bedroom, with clean lines and a low profile.
It's constructed from solid cherry wood, and the warm tones will make any room feel cozy.
This bed frame takes inspiration from mid-century design, simplified for a minimalist look. So, you get a fusion that melds the best of both styles.
Sturdy wooden slats support your mattress, so you won't need to buy a box spring as well.
Image Credit: Mellow
Plus, it comes in one small box for easy installation. All the tools and materials are included, with simple instructions and minimal assembly.
You can buy the Mellow Naturalista in any size, from king right down to a twin bed. It would look great in your master bedroom, guest bed, or even in a child's bedroom.
This wooden bed frame will make your bedroom feel warm and cozy
It's simple with clean lines and solid, durable wood
There's no lip around the edge to hold the mattress from moving sideways
---
ZINUS Brock Metal and Wood Platform
Image Credit: Zinus
If you admire Japanese beds on the floor, you'll love this unique wooden bed by Zinus. It sits directly on the floor rather than being raised.
It has a simple yet eye-catching design and also prevents any dust from collecting below the bed. So, cleaning your bedroom will be quick and efficient.
The frame is made of acacia wood with some metal and brass highlights. This creates an interesting style that is sturdy and can hold up to 350 lbs.
Image Credit: Zinus
The finish is impeccable and high-quality, while assembly takes less than an hour. All the parts come in one box delivered right to your door.
There's no need for a box spring, and you can use most types of mattresses. The support slats provide a firm and durable base for your mattress.
Image Credit: Zinus
The wood surrounds your mattress, holding it firmly in place and looking stylish. Just make sure that you don't bump into those angular corners in the dark!
This unique and minimal wooden bed looks great
It's made from sturdy solid acacia wood and makes cleaning easy by preventing dust
The corners are quite angular, so make sure you don't bump into them!
---
Zinus Trisha 7 Inch Platforma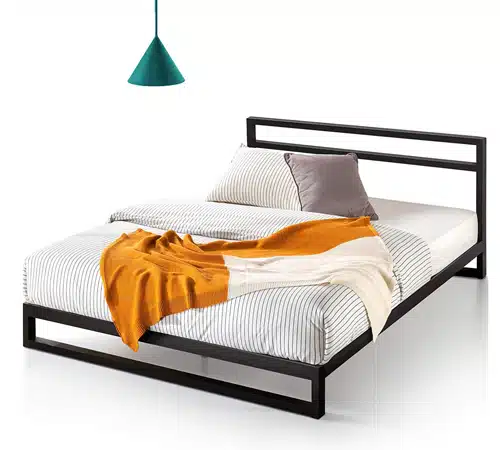 Image Credit: Zinus
Here, we have the classic Trisha bed, now with a minimalist headboard. It offers all the benefits of the standard Trisha, with the advantage of a stylish and bold headboard.
The metal frame is strong and sturdy, with clean lines and a simple silhouette. But the steel headframe creates an accent for your bedroom, drawing the eye.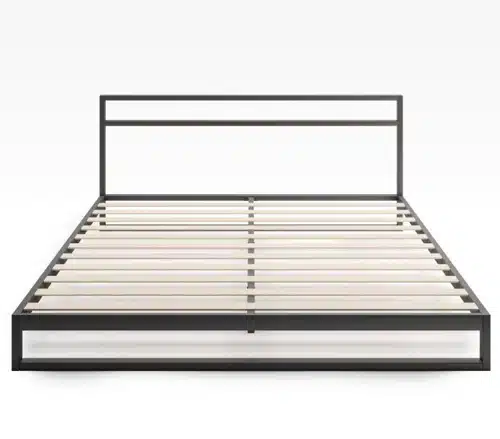 Image Credit: Zinus
The two straight metal bars of the headboard enhance the minimalist bed frame design.
You can buy this model in any size from twin up to king-size to suit your room. It also comes with a 5-year warranty.
Stylish metal frame minimalist bed and eye-catching metal headboard
It's strong and sturdy with a 5-year warranty
It will look best in a monochromatic bedroom
---
Final Thoughts
Here, you have a selection of gorgeous minimalist beds. There's something for every style, bedroom, and budget.
Whether you prefer wooden, metal, or a mixture of both, you'll find the right minimalist bed on this list. Take your pick and let me know which one you chose in the comments!