The key to creating a Bohemian living room on a budget is shopping wisely and matching seemingly random furniture, furnishings, and accessories to create a space inspired by comfort and nature.
Bohemian décor on a budget can be made from existing items or sourced from secondhand stores.
A Bohemian style is one of the more accessible looks to incorporate into your living space since there are no strict guidelines. The art of Boho lies in combining elements in a room that don't necessarily match but still work together to create a comfortable area with lots of colors, textures, and patterns.
Using secondhand items and giving them new life in your living room is cost-effective. You can buy them at a fraction of the price at pawn shops, consignment stores, yard sales, and online.
Bohemian Living Room Décor
Since a Bohemian look lacks a set structure, it allows you to include elements of more than one style. For example, you can pair traditional accessories with Scandinavian furniture and contemporary light fittings and fixtures.
A Bohemian style might sound easy to accomplish since there aren't many limitations. Yet, it can be challenging to master. There is a fine line between a successful Bohemian-style living space and a room that looks cluttered.
Bohemian Decorating On A Budget
Bohemian décor is all about different:
Textures: think Rattan furniture and wicker lampshades with macramé wall decor
Colors: monochromatic or multicolored if you want a psychedelic Boho look
Patterns: a mixture of organic and geometric shapes
Keep these characteristics in mind when you search for, make, or purchase your living room décor.
Furniture
Furniture is arguably the most expensive element in most rooms, except for the kitchen, where appliances reign supreme. If you already have furniture, half the decorating battle is won. If not, it is time to start shopping.
Depending on the size of your living space, you would need basic seating and a coffee table. A television stand, side tables, a bookshelf, and so forth are extras that you don't necessarily need. Your TV can happily live mounted on a wall, saving you from purchasing more furniture.
Keep your furniture simple. It will be gentle on your wallet and help bring your Bohemian look to realization. Get a used off-white material sofa, rattan chairs, or even a few poufs for a more relaxed Boho vibe.
If you do not have family acquaintance with used furniture they are willing to part with, browse for secondhand furniture at your nearest thrift store or online. Besides Facebook Marketplace and Craigslist, you can also access these sites to look for living room furniture at a lower rate:
Nextdoor
Furnishly
Chairish
Material Finishes
Material or soft finishes are perfect for 'finishing' a room. Each of the following play a crucial role in achieving a Bohemian style and are worth considering.
Flooring
Redoing your flooring would be very expensive. Instead, you can significantly impact your living room by adding an area rug to the center.
If you're feeling adventurous, choose a colorful, patterned rug that juxtaposes your furniture. It will instantly brighten an otherwise dull space and add character. Geometric patterns are incredibly trendy for a Bohemian look. For a safer approach, opt for a monotone rug.
However, these rug options depend on what you can find on a dime. So don't be too set on a specific style. Try thrift stores or online stores like eBay, Kaiyo or ABC Oriental Rug for used vintage rugs.
Wall Coverings
Instead of repainting your living room walls or using wallpaper – which can be costly – style it up with inexpensive décor. Rather than mirrors or expensive paintings, you can use what you have or purchase items from a thrift store as wall accessories.
One décor option is to use a sarong wrap as a wall hanging. It is cheap, will cover ample space on a bare wall, and a Bohemian motif (or just a colorful pattern) would be perfect for the style you're going for.
You can also cover your walls with your own art (e.g., sketches, prints, etc.) or crafts (e.g., macrame). Old pictures you can find at yard sales or pawn stores will also do the trick. Even a mismatch of patterned plates or framed material offcuts would suit the Bohemian look perfectly.
Window Treatments
If you style a room correctly, window treatments don't have to be the focus. You can even leave windows bare in a Bohemian living room if you prefer. So, to stick to a budget, you can either
Keep your current window treatments
Remove them completely
Get used window finishes that match other elements in the room
You can pick up secondhand curtains or material blinds for a few dollars at a charity shop or yard sale. Your options online are also endless, with Facebook Marketplace, Craigslist, and eBay being the go-to sites for used homeware.
Accessories
Accessorizing is where the real fun lies when decorating a room. It would be best if you considered some or all of the following to bring your Bohemian-style living room together:
Cushions
Throw
Plants
Decorative ornaments
Cushions
Cushions are a great way to add color, patterns, and texture to a room. You can quickly and cheaply swap out cushion covers for new ones once you get tired of them or want to update your living room's look.
Be daring and use brightly colored cushions you already have or can get your hands on at yard sales or thrift stores. Please don't overthink this part of the decorating process: mix and match different patterns, colors, and even shapes to give it a natural Boho feel.
Throw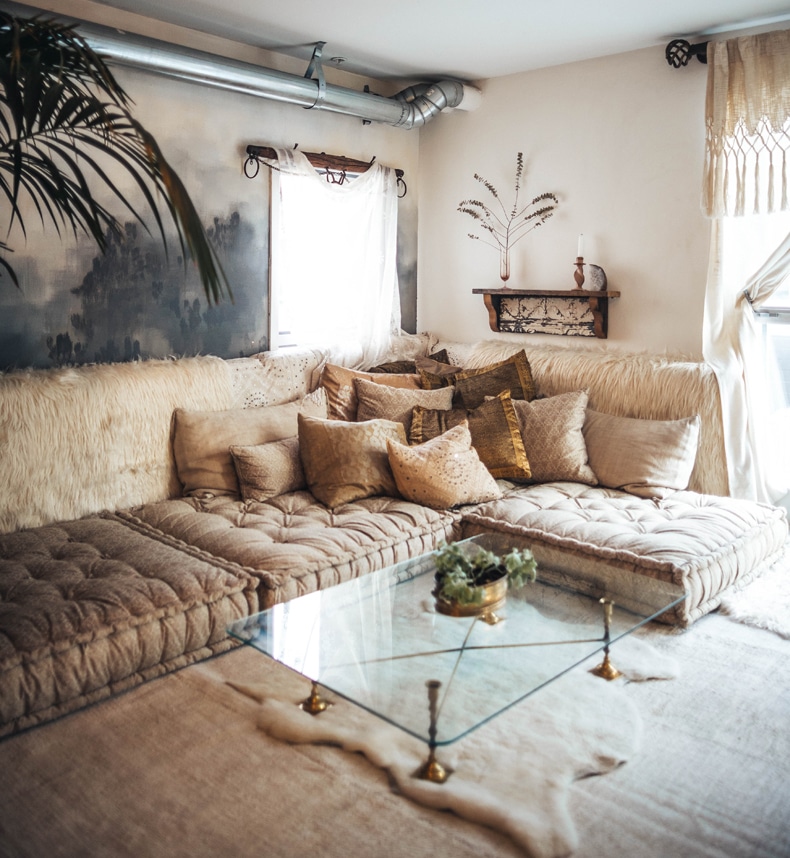 Like cushions on a sofa or chair, a throw is a decorative item that adds a nice touch to a seating area. It's practical in winter and can add a pop of color and texture, which is vital in creating a Bohemian-style living room. However, throws can be surprisingly pricey, so look for them at secondhand stores or online. If all else fails, use a blanket to create the same casual, warm, and inviting feel.
Plants
One can never have enough plants in a Bohemian living room. If there are too many, add one more! Yet, natural plants can add up quickly, so if you're open to the idea, you can use fake plants. They are cheap and last practically forever.
If you're too ashamed to go down the artificial route, one or two natural plants will do. Get plants with large bright leaves that take up as much space as possible to make your room feel cozy. Hang them from the ceiling, or place them on a side table or the floor—the more haphazard the placement, the better.
Decorative ornaments
Place some books on the coffee table, or display precious mementos (e.g., collectibles from your travels, small sculptures, family heirlooms, etc.) for people to see. You can get away with spending $0 on this part of the room if you've already got captivating items to show off.
However, if you have a few dollars to spare, you can also get some candles in different shapes, sizes, and colors to place around the room.
Conclusion
When choosing used furniture, finishes, and accessories, ensure it ties in with your intended look. Yes, a Boho style doesn't have strict rules, but be careful not to overdo patterns that clash or be too safe to the point where the Bohemian style doesn't shine through. It's all about finding the right balance.
Follow Quiet Minimal on Pinterest for more home inspiration and tips.