A boho living room is creative, free-spirited, and relaxing!
You can combine the boho look with minimalist, mid-century styles, and more.
Here are some ideas to create the perfect boho aesthetic living room for your home.
If you're a free spirit, you'll feel right at home in a boho living room! The boho style is creative, bursting with colors, textures, patterns, and accessories. But it can be tricky to know how to start designing your own boho aesthetic living room.
This article is full of tips, ideas, and inspiration to help you create a gorgeous boho living room in your own home. So, let's get started!
How to Create a Boho Aesthetic Living Room: Tips, Ideas & Inspiration!
Have you been dreaming of a stylish boho living room? Then, here's what you need to do. Read on for easy, practical tips to make your living room a stunning boho space.
Relaxed Low Seating for Your Boho Living Room
The boho vibe is all about feeling relaxed and free to be yourself. So, ditch the stuffy, old-fashioned couch and go for comfy low seating.
You could opt for fun bean bags or floor cushions so you can kick back and relax. Make sure to downsize the coffee table and other furniture, so it all works well together. You could add a floor vase or a plant in a jute basket at floor level to accessorize.
This look instantly feels more welcoming and less uptight. Plus, it allows you to go all out on the walls and decorate them however you like. For example, you could hang tapestries or huge canvases or create a feature wall. And then, the walls become a focal feature of the room.
Patterns, Patterns, Patterns
One thing's for sure about the boho style – you can go all out with your decor! This rich and eclectic design style lends itself to a maximalist approach. So, play around with different patterns in your rugs, curtains, and cushions.
You can use contrasting patterns to create a bold and exciting boho aesthetic. Don't be afraid to use designs that don't go together; you might be surprised by the result.
Go for Bold Wallpaper Designs
If you're into rich patterns, consider going for wallpaper on at least one wall. There are gorgeous options to choose from, including florals, geometric styles, and more.
You could go for wallpaper inspired by William Morris' vibrant patterns. The iconic designs are lively and dramatic, making your living room truly unique. Pair these classic wallpapers with contemporary furniture to create a modern boho look.
Pick Your Color Scheme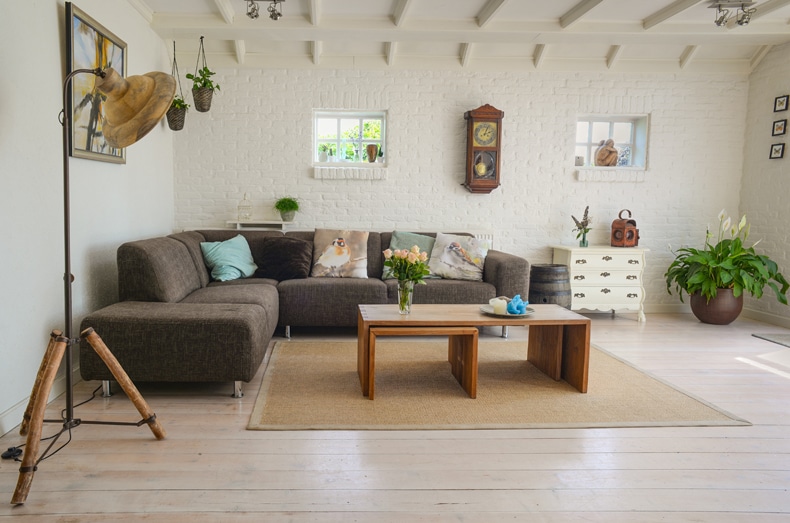 Color is another crucial element in any boho living room. You could go bright and beautiful or more mellow and neutral; either look will work well.
Jewel tones work well in boho living rooms. For example, a rich teal sofa or plum velvet curtains would look gorgeous in your living room. Or you could even combine both for a luxurious color palette!
But neutral colors work just as well with the boho look, which is good news for minimalists. (More on that below!) You can team gentle colors like sage, brown, cream, and blush pink for a soft neutral color scheme.
The Minimal Boho Aesthetic Living Room
You might wonder if it's possible to mix and match boho and minimalist design styles. But this fusion can look incredible when done well.
You can add boho elements to your living room while balancing them out with lots of white space. In this way, you also keep that fresh, airy, minimalist feel.
The key is not to overdo any of the elements in your minimalist boho living room. So, you can layer patterns and textures – but stick to a minimalist color palette. Use lots of neutral shades and natural elements to combine these two gorgeous styles. And you'll have a beautiful boho living room that is calm and clutter-free.
A Woven Basket Wall
Natural materials like bamboo, wicker, and rattan are popular features in boho design. So, you won't go wrong when you use them in your boho aesthetic living room. But why not get creative and think outside the box?
One interesting way to use these materials is by creating a feature wall. You can source a range of baskets in different sizes and colors and hang them on your wall. The result will be an eye-catching display that will fit perfectly in your boho living room.
Invite Nature In
As I've mentioned, natural materials are essential for a boho living room. But you can take it to the next level by inviting nature in with lots of house plants.
Decorating with plants is a lot of fun, and there are many ways to do it. For example, you could hang trailing plants from a high shelf or opt for floor plants in woven containers. You could even handcraft some macrame pot hangers to up the boho feel.
And in my opinion, it's the more, the merrier when it comes to plants. You'll create a vibrant, lively look that will refresh your home and purify the air!
Mid-Century Boho Fusion
Mid-century and boho looks are both popular design styles, but you might not think to combine them. However, a mid-century boho fusion provides the best of both worlds.
You can blend these design styles by going for a more muted color palette. Choose a main accent color and a couple of neutral shades. As a mid-century living room uses a lot of wooden furniture, simply add some plants to complete the look. The result will be a sophisticated, classic look mixing boho and mid-century elements.
The 70s Look: Patterned Rugs, Warm Colors & Leather Sofas
Take inspiration from this 70's-inspired boho living room! With an intricately patterned rug and a warm color palette, this room is bold and beautiful. But the warm neutral tones are also soothing and help to balance the room. The focal point is the huge leather sofa. Add a few contrasting throw cushions as the finishing touches!
Go for Boho Lighting
The lighting can make or break a room. Ideally, you'd have lots of natural light in a boho living room. So, pick your window treatments carefully and try not to block any natural sunlight. Instead, opt for light, gauzy curtains that will look gorgeous and let in plenty of light.
Then, you can invest in some pretty boho light fixtures. There are tons of options, including rattan chandeliers, woven light shades, and more. You can even DIY your own boho lampshades to keep your budget down!
Black and White Boho Living Room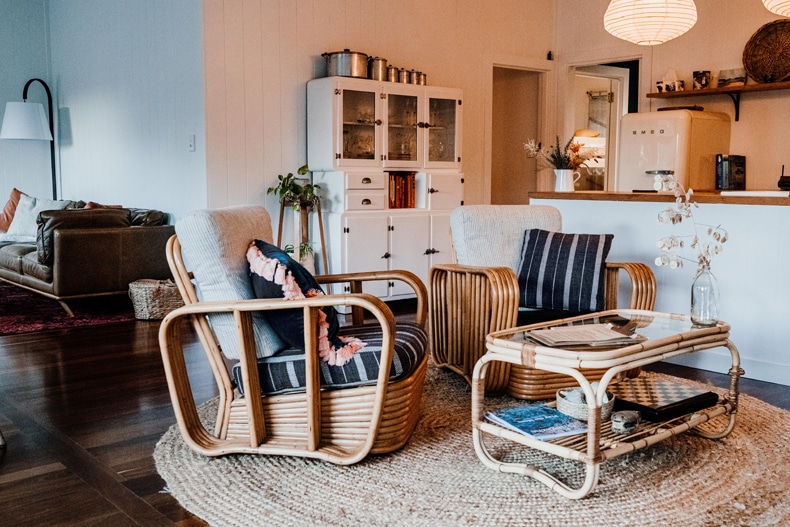 You don't have to be into bright colors to appreciate the boho look. The positive news is that you can create a stunning black-and-white boho living room, too.
Keep the color palette minimal with white, cream, and grey shades. Then, add some carefully chosen black elements to make it feel modern and a little edgy. Monochrome art prints on the walls will complete the look. Find more tips for creating a black-and-white boho room here!
The Wrap Up
A boho aesthetic living room is the perfect space for hosting guests or simply relaxing. It's a carefree style where (almost) anything goes!
So, you can have plenty of fun decorating your boho aesthetic living room. You don't have to abide by strict design rules. Instead, you have the freedom to make it unique and suit your personal design style.
With these suggestions, you should be bursting with inspiration for your boho home. Let me know which the above ideas for the boho-style living room stands out most to you!
Follow Quiet Minimal on Pinterest for all the latest content and tips for home decor and minimal living.