Are you dreaming of creating a beautiful bohemian-style balcony? Here are some simple ideas that are easy for you to use in your home.
We often overlook our balconies, but they can be gorgeous little nooks with a few helpful tips. And if you're in a small apartment, you'll want to make the most of your space.
So, in this guide, I'll share how you can continue the cozy boho style on your balcony. You can make your balcony a relaxing, comfy space without breaking the banks.
Read on to learn how to transform your balcony into a stylish boho space!
How to Create a Bohemian Style Balcony
Bohemian style brings to mind bright colors and an inviting, eclectic style. But as there are no firm rules, you can make it suit your style!
You don't want to neglect your balcony. However, knowing what to do with such a small space can be tricky.
But with these tips, you can create a magical, romantic area for rest and relaxation.
Plus, if it's your only outdoor space, you want to make the most of it.
So, here are some boho balcony ideas for your apartment. Browse through and take your pick!
Choose Your Color Palette
The first step is to decide what kind of color palette you want to go from on your boho balcony.
Traditionally, bohemian style featured lots of bright jewel shades. So, if you're into color, you could go for a bold color scheme featuring reds, purples, and teals.
But if you prefer a calmer look, you can still make it boho chic. An earthy, natural color scheme is a great alternative with browns, cream, and greens.
Or you could go for a classy monochrome look with lots of neutral colors. Using different shades of white, cream, and beige will add some visual interest.
Finally, if you go for a minimalist color scheme, it doesn't have to be boring. Consider adding a fun accent color like yellow to make it pop.
As you can see, there are loads of options for your boho balcony color palette. But it's a good idea to decide on your color scheme first. It's a foundation you can build upon to ensure your balcony looks consistent and balanced.
Choose Boho Seating
Next, you'll want somewhere to sit on your balcony. So, you need to weigh up the seating options.
You could keep it simple and go for some rattan chairs or an outdoor sofa. Low seating is in keeping with boho vibes as it feels more relaxed and informal.
But you can also have fun with your seating. You could add a swing chair or a hanging egg chair if you have enough space. Not only do they look funky, but they are comfy to sit in.
Or Ditch the Seating Altogether!
Alternatively, you might decide to forgo formal seating options altogether. Instead, you can spread a cozy rug and add some floor cushions to lounge on.
This tip will not only save you money, but it can create a perfect little nook. Boho style is all about breaking down rules and living a free-spirited life. Who says you need chairs anyway?!
You can find woven cushions that would look perfect on a boho balcony. Or opt for cushy patterned cushions – even better if they feature mandalas or similar designs.
Play with Patterns
Another common feature of boho interior design is the combination of patterns. You might have heard that you should never mix patterns as it can look overwhelming.

Well, here's your permission slip to do just that!
You don't need to limit yourself to one pattern only. Instead, channel an abundant mindset with fun combinations that delight the eye.
Try layering different patterns to see what effect it creates. For example, you could mix and match stripes, mandalas, and Oriental patterns.
These layers of patterns can look eclectic and interesting. But remember to use your color scheme as a guide, so they don't clash too much.
Use Natural Materials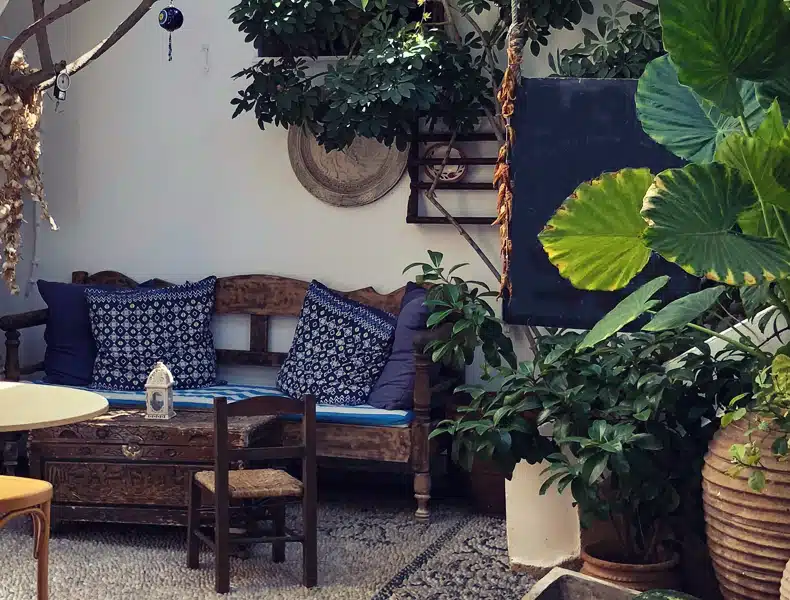 Natural materials are a mainstay of the boho style. They will accentuate that earthy feel and look great alongside your plants!
The good news is that you have loads of options for natural materials. There's wood, rattan, hemp, wool, cotton, and bamboo, among others.
Where possible, avoid man-made materials like plastic and channel a rustic vibe instead.
Go Crazy for Tiles
Tiles are an excellent option as they are low-maintenance and weatherproof. Plus, they come in a wide range of styles, patterns, and colors.
If you want to keep it simple, opt for terracotta tiles. But if you're feeling brave, you could go out with some funky Moroccan patterns and mix and match your colors.
It takes a bit of work to lay your tiles – or you can outsource that to an expert. But once they're in, your balcony will look effortlessly stylish, and they will last for years.
Add Some Greenery!
Plants are a must-have for your bohemian balcony. They will make your space lush and lively while adding a pop of color.
Plus, having plants around you benefits your mental health and wellbeing!
If you're not particularly green-fingered, check out this list of low-maintenance plants.
You should also consider how much sunlight your balcony gets. That will help you select the best plants for the conditions.
Spread a Cushy Rug
A thick, cushy rug is essential for your balcony. It will add to the decor, but it's also practical. It will provide padding and keep you warmer on cooler days. 
An Oriental carpet is a good choice – keep your color scheme in mind when picking one. Or you could opt for a thick wool blanket to lay out on the floor.
But you should ensure your rug is weatherproofed, so it doesn't get ruined by the conditions. Otherwise, you'll need to take it in every time it rains.
Use Whimsical Lighting
The lighting can make all the difference to your balcony space. If you want to use your balcony night and day, you need to get the lighting right.
First, you can add some twinkle lights for a light sparkle and a warm cozy feeling.
You could also invest in pretty lanterns to brighten the space. These environmentally friendly solar lanterns will create gorgeous patterns on your balcony.
With the right lighting, you can use your balcony all year round and long into the night.
Rattan Accessories are a Must-Have
When you think of boho, rattan probably comes to mind.
There's no end to what you can do with rattan – from chairs and tables to light shades and more.
However you use rattan on your boho balcony, it's sure to perfect the look!
Think Outside the Box
Get creative with what you use as furniture on your bohemian-inspired balcony!
For example, a pouf could double up as a table. Or you could experiment with reclaimed wood or turn a crate into a side table.
Another affordable option is to make your furniture from pallets. Not only is it cheap, but it's eco-friendly, and you can even DIY it. Check out this DIY pallet chair for inspiration!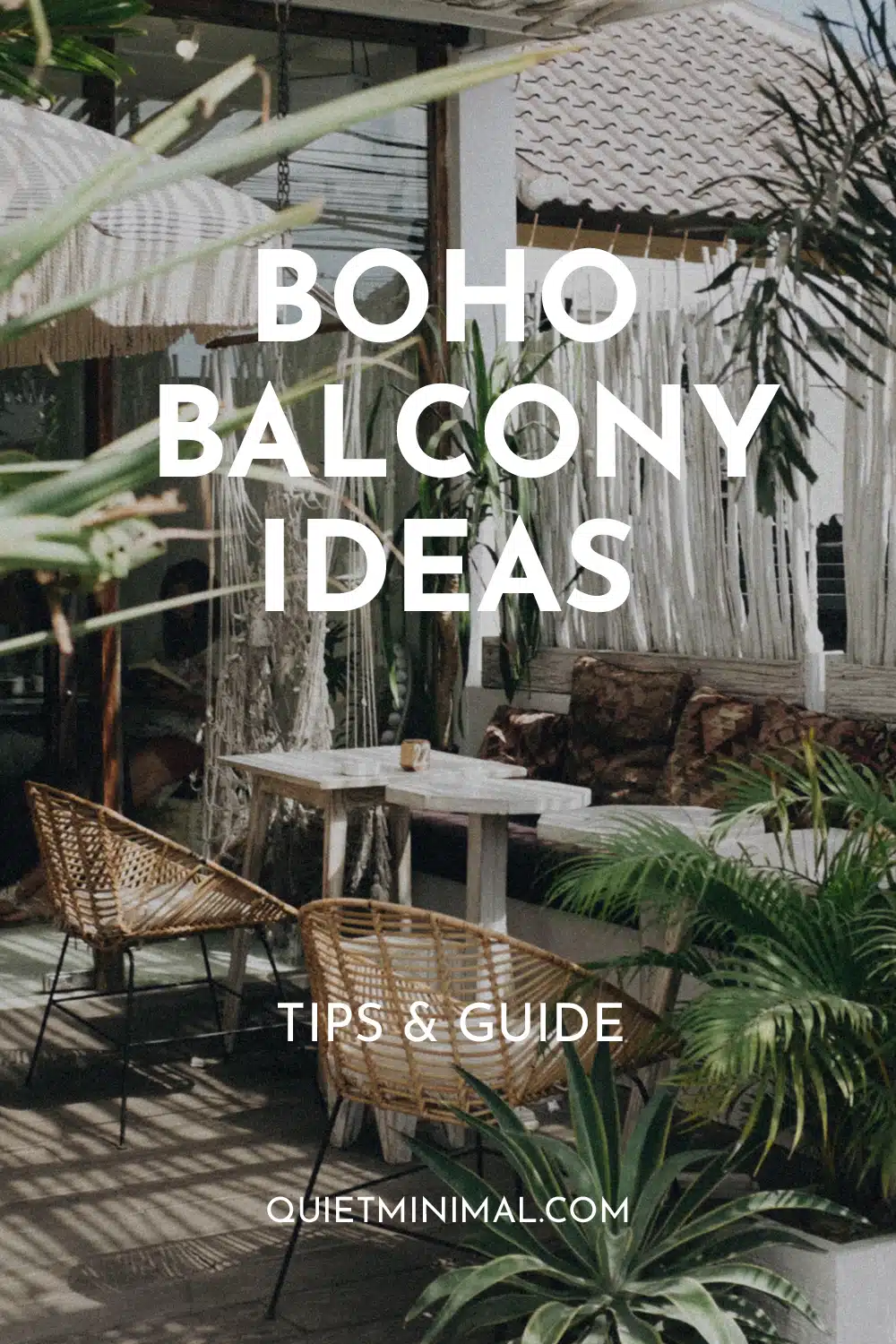 The Wrap Up
Now, you should have tons of ideas for what to do with your balcony. So, what are you waiting for? Go ahead and transform your balcony into a beautiful boho space.
You can do it simply and without spending a lot of cash. And then, you'll have a cozy little space for relaxing, entertaining, and getting a breath of fresh air. Let me know how you get on in the comments below.
And make sure to follow Quiet Minimal on Pinterest for more home design and minimalist living tips!