If you're anything like me, you love the boho style. So, it makes sense that you want to create a dreamy boho bedroom. And in that case, you'll need some boho bedroom light ideas to perfect the boho look.
A boho bedroom is a relaxing, cozy place to be. It features natural materials, fun color combos, and an earthy feel. Plus, it's all about the patterns and textures.
But I've found that getting the lighting right will make all the difference to any room. When I chose the lamps and lights carefully, it made my home feel much more stylish. And it literally brightened up the rooms.
The lighting is especially important in the bedroom, where you want to create the right mood. You need to be able to relax and destress, so you get a sound night's sleep. But you also need enough light for activities like reading in bed.
So, here are some of the best boho bedroom light ideas for your boho bedroom.
You need a few options when it comes to bedroom lighting. Of course, overhead or wall-mounted lights are essential. But you should also have a bedside lamp or a softer option for late-night reading or meditating.
So, you'll find all sorts of boho bedroom lights on this list. You'll have overhead and wall-mounted boho bedroom light ideas to choose between. But I've also got suggestions for lamps, floor lights, and mood lighting too!
Read on for all the best boho bedroom light ideas!
Boho Bedroom Light Ideas
Here are tons of gorgeous light options for your boho bedroom! Browse them and see which ones appeal most to you.
Rattan Pendant Light
You can't go wrong with rattan in a boho bedroom (or any room, for that matter). Rattan features heavily in my boho home, and rattan lights come in all shades and forms.
But a rattan pendant light is a real show-stopper and a focal point for your boho bedroom. 
Macrame Pendant Light
A macrame pendant light is the perfect addition to your boho bedroom. These often come with adjustable heights so you can make sure it suits your room.
I prefer using natural materials where possible. And the good news is that macrame pendant lights are often made with organic cotton. So, they tick several boxes for your boho bedroom!
A Traditional Chandelier
Chandeliers ooze luxury and sophistication. Who hasn't dreamed of having a castle with a chandelier at one point or another?
And while most of us can't stretch to the castle, there's no reason why you can't have a chandelier in your bedroom.
You might think a chandelier could be a safety hazard – all those candles. But modern chandeliers use electric lights while still looking authentic.
So you get all the glamour and none of the fire risks. A chandelier will create a stylish boho bedroom suitable for a queen.
Macrame Chandelier
A macrame chandelier is an excellent alternative to a pendant light. It's fun, whimsical, and in keeping with the relaxed boho look. This is the definition of shabby chic.
Shell Chandelier
Following the theme, a shell chandelier is another great option for a boho bedroom. This style works especially well if you're going for a beachy boho look.
It uses natural materials sustainably sourced to create a cute, authentic style. So, you'll feel like you've been transported to the beach (perfect for relaxation!).
Gold Pendant Light
Gold light fixtures match perfectly with the warm boho style. They add a touch of luxury without looking garish. Especially when paired with an earthy color palette.
I would recommend looking for Moroccan-inspired metal light shades. You can find gorgeous metalwork pieces with detailed patterns. As the light shines through the holes, it throws intricate designs onto the walls. So, you'll have a unique look and a cozy, warm atmosphere in your boho bedroom.
Rattan Overhead Light
I've already mentioned rattan above – it's a mainstay of the boho style. As well as rattan pendant lights, you can find simpler overhead lamp shades made of rattan.
These gorgeous boho lights are often hand-crafted for a unique style. A rattan overhead light will look fantastic in any boho or rustic bedroom.
Feather Ceiling Light
Feathers fit right in with the eclectic boho look. So, browse online for some feather-decorated light pieces. The way the feathers light up looks incredible and perfectly boho.
I've had great luck picking up bargains at vintage shops and antique stores. So, make sure to check out any local shops near you, too!
Or you could have a go at DIYing it as a crafty project. Check out this tutorial for inspiration:
Wall-Mounted Rope Light
This is a great option for wall-mounted boho lights! A rope light is a simple style with a bulb or light shade suspended from a macrame rope. It's practical as you can hang it from a rafter, beam, or metal bracket.
Macrame ticks all the right boxes for boho chic and suits a minimalist boho room. It's simpler than some of the other, more extravagant lights on this list. So, it's ideal if you prefer a sleek, low-key style.
A Beaded Light Shade
Wooden beads are gorgeously boho. They are stylish and earthy, natural and eye-catching – all at the same time.
So, if you find a beaded wooden light shade, you're in luck. It's just the thing for any boho bedroom. It will draw your attention and become a focal piece in your bedroom.
A Lamp with Tassels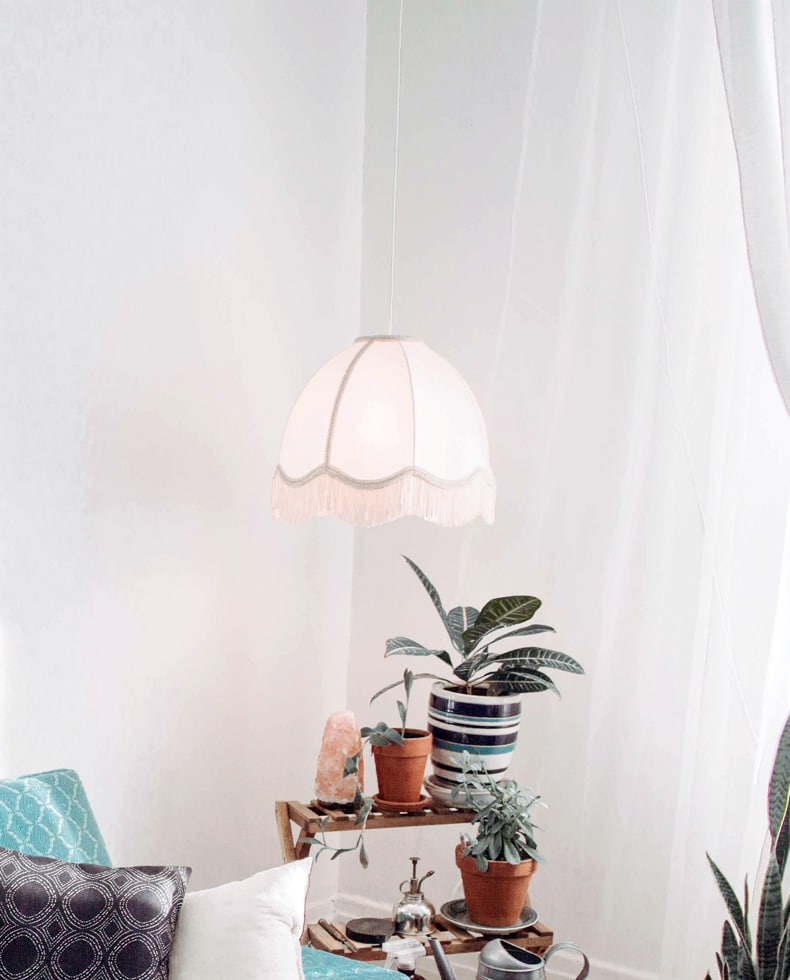 Tassels are another common boho element, along with rattan, feathers, and beads.
So, a tasseled lamp shade is a strong contender for your boho bedroom. It feels fun and whimsical while fitting in seamlessly with the rest of your decor.
A Wooden Floor or Table Lamp
Wooden materials pair well with the boho style. Look for a floor or table lamp with an elegant wood stand in a lighter shade. Avoid dark-brown tones as they can seem too formal for a boho room.
You can find some gorgeous wooden lamps with a canvas light shade. These simple yet chic lights will complete the boho look.
Twinkle Lights
You can't go wrong with twinkle lights in a boho bedroom. In fact, they are an essential piece in my boho bedroom. They're perfect for when you don't need the overhead lights but don't want to sit in the dark.
Twinkle lights feel a little magical and enchanting. Plus, they don't have the safety risk of a candle, which could be forgotten or knocked over.
So, make sure to buy some cute twinkle lights for your boho bedroom.
Candles
One of my favorite ways to relax in the evening is by lighting a scented candle and curling up in bed. It sets the scene perfectly, whether you're reading a good book or watching your favorite series.
A candle creates a gentle light and a different atmosphere than an electric light. And it's even better if you pick a candle with a scent you love. The sense of smell is powerful, evoking memories and promoting relaxation.
So, you can count a candle or two as an essential self-care purchase!
The Wrap Up
Lighting is essential in any room, especially in your boho bedroom. And now, you've got a whole range of options to choose from for your room.
Let me know which of these suggestions you love in the comments below! I'd love to hear which ones you go for.
And follow Quiet Minimal on Pinterest for more interior design and minimal living tips.