So, you've been dreaming of creating the boho farmhouse look in your home. But you're not exactly how to combine these two design styles. Does that sound familiar?
In that case, you're in the right place! Boho farmhouse decor is a hot trend right now in the interior design world. But the good news is that you can easily recreate the look in your own home. And I'll walk you through some gorgeous boho farmhouse decor ideas to do that.
Read on for plenty of boho farmhouse tips that are both simple and accessible. So, you can use these ideas in your home to make it stylish, welcoming, and relaxed.
What is the Boho Farmhouse Look?
Boho farmhouse is an interior design trend that's fast growing in popularity. These two design styles have similarities that make them work together well.
For example, the farmhouse look uses plenty of natural materials and rustic pieces. And that translates well to the eclectic boho style.
And while farmhouse design tends to use lots of neutral colors, you can add a brighter accent color. So, you still get that pop of color associated with a boho home.
Both interior design trends lean towards using natural materials and plants in abundance. The farmhouse look tends towards a more traditional aesthetic. And while boho is a more relaxed style, you can incorporate them with ease.
10+ Boho Farmhouse Decor Ideas
Here are some ideas and inspiration for boho farmhouse decor you can use in your home!
Choose Some Neutral Base Colors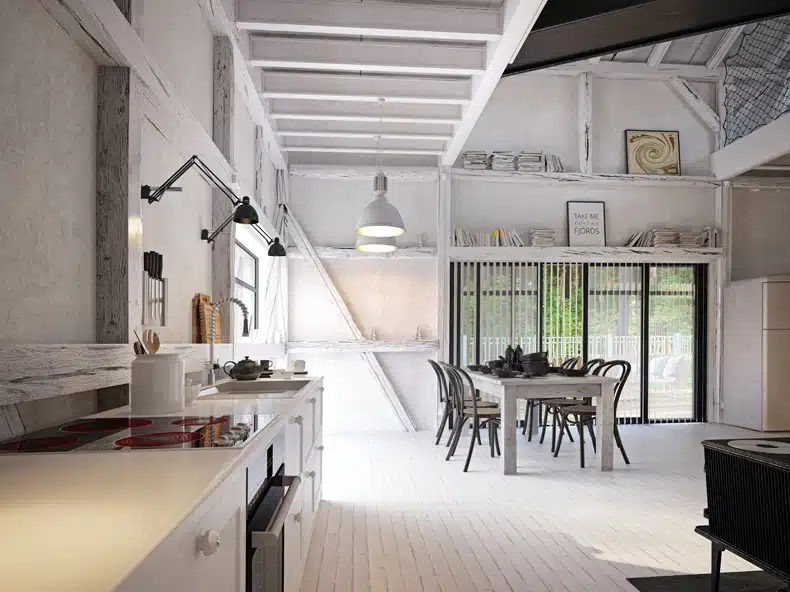 The farmhouse look is well-known for its bright, airy aesthetic. It's one of the reasons it's so popular right now! By using lots of light neutral shades like white, cream, and beige, you open up the space. So it feels much more spacious and fresh.
And that's why I would recommend choosing one or two pale neutrals for your walls and large areas. They will provide the perfect backdrop for creating your boho farmhouse interior. If you like more color in your home, you can opt for a pale yellow or pink – a color that's bright but not too dark!
Choose Your Accent Colors
Next, it's time to add some more color to your home! A safe bet is to follow the 60-30-10 rule when it comes to using accent colors. As mentioned above, stick to neutrals for large areas like the walls and flooring.
Then, you can layer in a secondary color like sage green or light blue. Finally, you could add a bold accent color like mustard yellow. Use this color in just a few places to add a real pop of color (without it becoming overwhelming).
Opt For Warmer Tones
The farmhouse and boho styles have in common their love for warm, rich colors. You'll often find warm colors in any farmhouse like brown, tan, yellow, and orange. These shades are natural and inviting and match perfectly with wooden furniture. And these colors also look amazing when combined with boho elements!
Make it Cozy for a Family Boho Farmhouse
Both boho and farmhouse interior designs are warm and inviting. They aim to create a space where you can relax and feel at home. So, it goes without saying that your boho farmhouse should be cozy and comfortable!
You can achieve this by looking for practical and comfy furniture. For example, choose a cozy sofa you'll love snuggling up on. Make that the priority over one that looks gorgeous but has no cushioning.
Another idea is to add simple, personal touches. You could throw a crocheted blanket over the armchair for those cool nights. Or go for poufs and beanbags on the floor for a laidback, relaxed feel.
Source Rustic Furniture
I've already mentioned how important your furniture is! But it needs to not only offer comfort but look right in your boho farmhouse living room.
One way to find amazing pieces is to look for vintage or secondhand pieces. Not only can you find gorgeous items, but you could score some real bargains too.
So, hit your local antique stores (or shop around online). Look out for rustic wooden furniture like sideboards, cabinets, and coffee tables. You can find beautiful rugs and other items that would look perfect for your boho farmhouse look.
Go For Natural Materials
An affinity for natural materials is common to the boho and farmhouse styles. In traditional farmhouses, you'll find raw wood tables and open stone fireplaces. And they fit right in with the boho look, which also favors organic materials.
Rattan, raffia, and wicker are other great options you could consider. And for your textiles, go for wool, cotton, linen, or hemp. As you can see, the options are endless, and it will create a cozy, rustic look.
Rugs, Rugs, Everywhere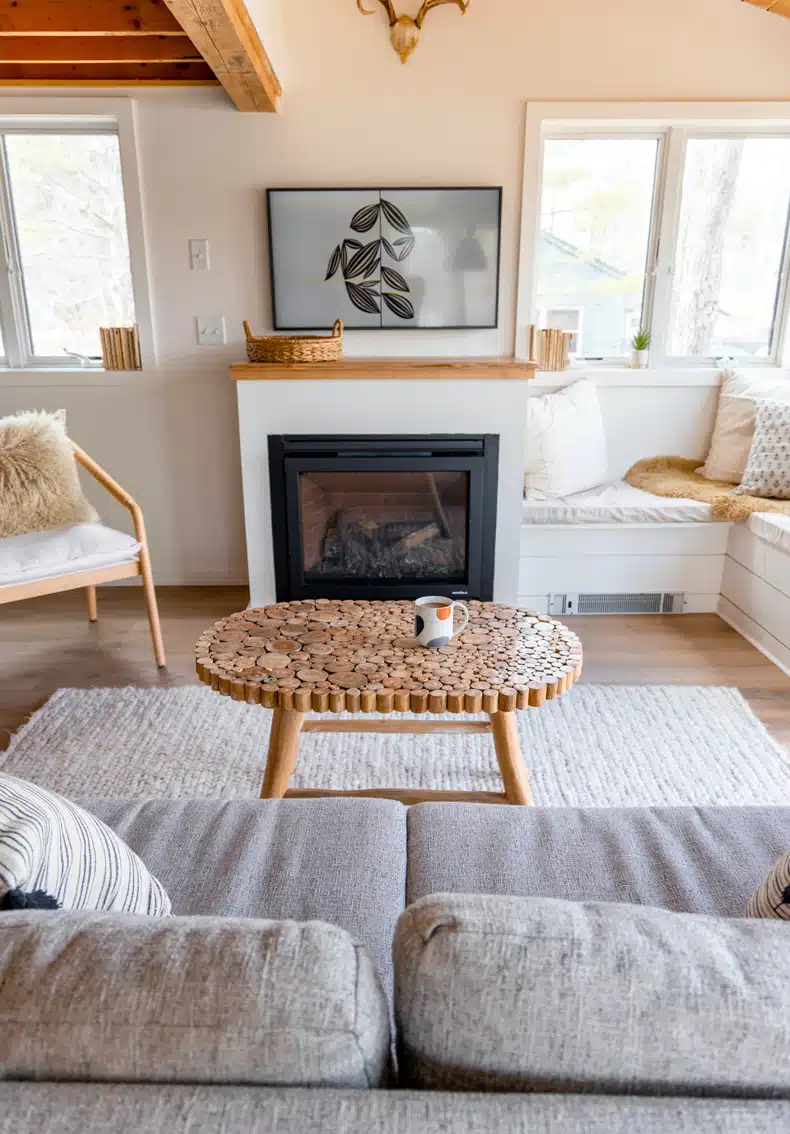 One way to add even more comfort and coziness to your home is by going all out with rugs. In any boho home, you'll find gorgeous rugs with funky patterns. They are soft and warm underfoot, and they add an extra pop of color to the room.
And as the farmhouse look traditionally has wood or stone floors, you'll need something to soften it. (You can also recreate this look with tiles or lino if you don't have an original wood or stone floor). So, layering up with rugs has practical as well as aesthetic reasons!
You can go for bold colors and contrasting patterns if you're feeling more daring. Or opt for more minimalist styles while still making your home feel warm and welcoming.
Have Fun With Textures
Traditionally, the farmhouse look has a simple color palette. It prefers lots of light neutrals like white, cream, and beige to open up the space. But even if you have a minimalist color scheme, you can still play around with texture and layering!
For example, add a chunky cable knit blanket to the back of the sofa. Or choose throw cushions with different textures like tassels, pom-poms, or sequins.
Even if you don't want to use bold, bright colors, don't go too minimalist. You can create that rich, sumptuous boho look by layering rugs and textiles.
Use Hanging Plants to Decorate
You can't have a boho farmhouse living room (or kitchen) without some house plants. They are the perfect final touch to complement your fusion style.
And there are many ways you can add plants to your home. For example, you could create a hanging shelf or hang your plants directly from the ceiling. (Here's a guide showing you how!)
Or you could pick some bigger plants like ferns and place them in handwoven wicker baskets. They add some rich greenery to the room and continue the natural, organic feel.
Create a Feature Wall
You can continue the farmhouse boho look by creating a feature wall. For example, you could source a tall mirror with a chunky wooden frame. Then, hang it or opt for the free-standing option and decorate the space around it. Some ideas include a collage of eclectic art prints or a display of woven baskets of all shapes and colors.
Continue The Look Outdoors
The look doesn't have to end inside. If you have an outdoor space, you can also carry the look over to the outdoors! You can make a gorgeous outdoor sitting area with boho-style low wooden seating. Add some rattan baskets and a reclaimed wood coffee table for that rustic feel.
It can be a little rough and ready and still look elegant at the same time! String some twinkle lights or solar lanterns for cozy evenings outside!
Boho Farmhouse Meets City
If you find this is too much for your interior design style, tone it down a little. Using some elements, you can create a boho "farmhouse meets city" look. This is a great way to make this design trend work in a small city apartment.
You'll create a stylish, modern style by keeping it more minimalist. It's inspired by the boho farmhouse look but only uses the elements you want in your home. You can pick what you like and leave the rest!
The Wrap Up
If you love the boho farmhouse look, you have plenty of inspiration for your home! You can use these ideas in any room, from the bedroom to the living room. And soon, you'll have a gorgeous and inviting home with a boho farmhouse feel.
Which of these ideas is your favorite? Let me know in the comments!
And follow Quiet Minimal on Pinterest for more minimalist design and home decor tips!