Meditation is an amazing way to calm your body and focus your attention. If you've discovered the beauty of meditation, you may want to create your own boho meditation room!
But now, you're wondering how to make a meditation corner. Then, you're in the right place. I'll share tips on creating a meditation room or nook, no matter how much space you have.
You'll soon know how to turn an unused corner into a dedicated meditation space. So, you'll find it easier to stick to your habit and practice meditation on a regular basis.
Why Create a Bohemian Meditation Room?
A meditation room is a perfect addition to any home. It's a space where you can focus, destress, and practice some much-needed self-care.
We all know the toll stress can take, but meditation is an excellent antidote.
And the good news is that anyone can practice meditation and mindfulness. You can find free meditations online, and you need very little to get started.
But having a dedicated meditation room or corner will make it much easier and more enjoyable. You'll concentrate better when you have fewer distractions and the right atmosphere.
And that's why I recommend creating a boho meditation room. The boho style is perfect for meditating, as it's calm, relaxing, and inviting.
So, let's look at how you can create a bohemian meditation room in your home.
Meditation Nook Ideas
Here are some tips and suggestions for making a boho meditation space.
Select a Spot in Your Home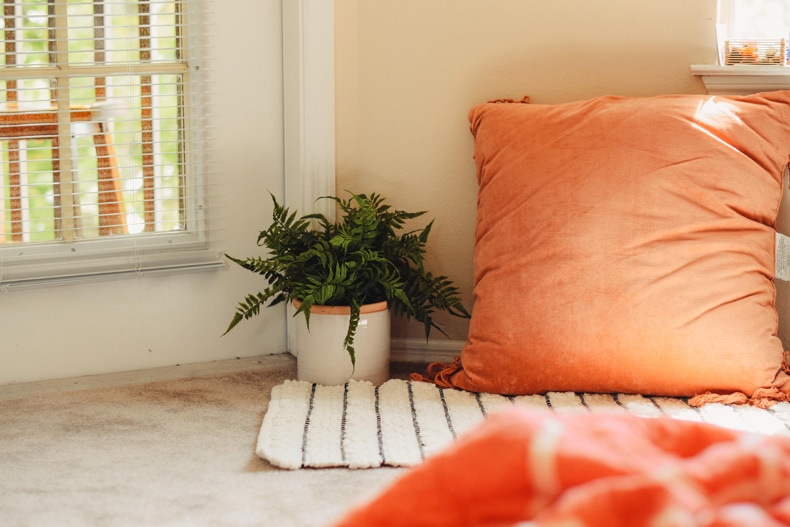 First, you'll need to choose the right spot for your meditation nook in your home.
If you have a spare room, that's an obvious place as it will be quiet and spacious.
But you can create a gorgeous little nook, even if you don't have an extra room for meditation.
See if you have a corner you don't use very often. Maybe, you're currently using it for storage and could free up some space for your meditation nook.
A corner of your bedroom will also work well – even better if you've already decorated it in the boho style! A sunny spot facing away from distractions (like your TV or laptop) will help you to focus.
A perfect space for a meditation nook could also be outside (depending on the weather). So, if you have a balcony, patio, or garden, consider setting up an outdoor meditation space. 
Ideally, the meditation nook is a space where you won't be disturbed. So, a busy living room or hallway isn't ideal.
Declutter to Remove Any Distractions
Now, you've chosen your meditation corner. So, it's time to set up your meditation space!
An essential step is to declutter and clear away any distractions.
You need to be able to focus and relax in your meditation room.
So, that means no unnecessary clutter. No distracting devices or things to make your mind wander.
And no mess that will remind you of all the chores on your to-do list.
Your meditation practice is a time to step away from everything waiting for you.
It's a moment to simply be in the present and stop worrying about the past and future.
Select a Calming Color Palette
Before you start decorating, you'll need to choose a color palette for your boho meditation room.
I would recommend going for a calm palette with soft shades and neutrals.
For example, you could choose a warm, inviting cream color as your backdrop.
Then, you can layer in some soft, pastel shades or earthy neutrals to add some interest.
Pale pink and blue will create a calm, feminine feel. Or, you could opt for brown, blush, and beige for a natural and clean look.
You don't want too many bright shades that can inspire strong emotional reactions. Equally, you should avoid clashing colors or anything neon in your meditation corner!
You'll find these colors too harsh and distracting. They're likely to stop you from entering that relaxed state of meditation you'd like to achieve.
So, play it safe and choose a stylish yet soothing color palette. Check out my guide to minimalist color palettes for some inspiration.
Choose Your Boho Decor Carefully (Keep it Minimal!)
There are so many cute boho accessories you could add to your meditation nook. For example, macrame wall hangings, woven baskets, and mandala-patterned curtains.
But you should remember the purpose of this space.

It's designed to help you focus on the present moment.
It should look pretty, but you don't want to get distracted from your meditation.
So, pick out a few items carefully, and don't overdo it.
While it's tempting to add more accessories, you'll defeat the object of your meditation space.

Embrace the boho minimalist style and remember – less is more.
Make it Cozy & Comfortable
Your boho meditation room needs to be accessible and comfortable. Although you'll often see people sitting on the floor to meditate, that doesn't mean you have to.
If you struggle to sit on the floor, there are other options. You could add a cozy floor pillow for extra comfort.
Or, you could have a cozy armchair or daybed in your meditation spot.
There's no right way to meditate – you can sit, lie down, or take up any position that suits you. But most importantly, it has to work for you and your body.
Inspire All Your Senses
You could – and should – add some sensory richness to your meditation corner.
For example, make sure you have a soft blanket handy. Not only will it help you relax, but you don't want to feel cold while you're meditating.
But you can add other sensory items, too. Scents are powerful and can help us to destress or evoke certain feelings.
One idea is to use a lavender-scented eye pillow. Or you could add a scented candle or an essential oil burner and your favorite oil blends.
Finally, you could have a speaker nearby, so you can turn on some gentle background music. Or you might prefer a soundscape, like rain or wave sounds.
Introduce Some Natural Touches
Many of us venture out into the natural world to destress and enjoy the great outdoors. But you can also add some natural touches to your meditation corner.
House plants have many benefits for our mental and physical health. Plus, they help to brighten up a space and make it feel fresh and full of life.
So, find a spot for a house plant (or two or three) in your meditation nook. A fern in a woven basket, a spider plant, or a shelf full of succulents – anything goes.
Or, if you're short on space, you could hang them from the ceiling. (Check out my how-to guide here!).
Make it Your Own
Even a minimalist meditation room should feel unique and personal. So, consider how you can make your boho meditation room your own.
The best way to do this is by adding some meaningful items to your space.
It could be a cozy blanket a friend knitted for you or a soft scarf you picked up on holiday.
Or you could incorporate your favorite colors by going for a cute rug or throw cushions.
Make sure to design a boho meditation room that appeals to your personal style. Then, you'll feel much more comfortable and relaxed in your new space.
The Wrap Up
Creating a boho meditation could transform your home and your life. With a dedicated meditation nook, you'll find it easier to stay on top of your habit.
And as a result, you should feel calmer and more relaxed and enjoy life more!
Plus, you'll look forward to coming home to your peaceful and intentional space.
Let me know if you have any other tips for creating a meditation area at home! Share them in the comments below.
And follow Quiet Minimal on Pinterest for more home design and minimal living content.