Looking to spruce up your home with boho wall art ideas? The Boho style is a great way to bring vibrant colors and textures into any house room. It adds visual interest, and boho decor can provide comfort and warmth for the family.
This article will help you with some great tips and ideas for boho wall art that can transform any room in your house! Have fun and get creative with it!
"Boho" comes from "Bohemianism," an artistic movement from 19th century France. It is all about freedom of thought and expression.
This style has lots of bright colors and vintage prints. It also has rustic accessories and natural materials such as wood and rattan.
People are now adding bohemian chic elements to their homes, making them look beautiful!
Bring a bohemian touch to your home! You can add boho-style artwork to your home spaces with so many options. It's a great way to give your home a unique and stylish look.
Read on to learn more about incorporating inspiring boho wall art ideas in every corner of your home.
Boho Wall Art Ideas For The Living Room
Regarding the living room, wall art is essential for making a boho statement.
Many options are available if you're looking to spruce up your walls. You can choose from vibrant tapestries, dream catchers, macrame hangings, and canvas paintings.
Hang a single large piece of artwork to make a statement, or create a gallery wall with smaller pieces. To make it more unique, combine wood, metal, and fabric. This will give you an eye-catching look.
Incorporate plants into your decor to add vibrancy and create a boho atmosphere. Cacti and succulents make for easy maintenance and stunning decor! Add dimension and texture to your walls by placing them in woven baskets or containers.
If you're feeling creative, why not make some plant holders out of twine and driftwood? This would look stunning hung up against bohemian wallpaper or colored paintwork.
Let your creativity show! Mirrors, string lights, rugs, and lanterns are all great ways to showcase your personal style and complete the look of your living room. With all these options, creating a cozy and stylish space is a breeze!
Boho Wall Art Ideas For The Bedroom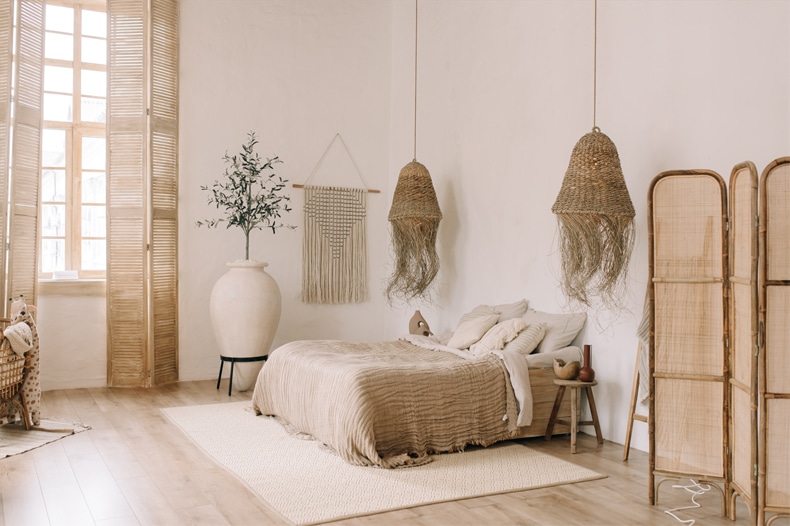 Boho wall art ideas can be as creative and inviting in the bedroom. Create an eclectic touch in your home by hanging dreamy tapestries or macramé pieces on the walls. Add nature-themed paintings like flowers, birds, and other elements to create a vibrant look.
You can also look for vintage frames to showcase photos of family members or meaningful artwork that will add personality to your space. For added texture and warmth, try installing floating shelves.
Fill them up with potted plants or trinkets from around the world – they'll become conversation starters!
Plenty of ways to decorate your bedroom with boho wall art ideas exist. It takes inspiration and creative imagination to get started.
Discover the perfect items to express your unique style! From textiles to framed prints, create the look you want to achieve and bring your vision to life.
Boho Wall Art Ideas For The Kitchen
In the kitchen, boho wall art ideas can become a fun and creative expression of your personality.
Boho style is a way to make a space feel eclectic and inviting. It combines colors, textures, prints, and shapes to create a one-of-a-kind look.
In this room, you have plenty of space to add artwork as accents or feature pieces on any blank walls.
Begin by introducing bright and cheerful colors like blue, pink, orange, and beige into your artwork.
Consider adding geometric shapes, lines, and plant-based designs such as leaves, flowers, and vines to your project.
This will help create a stylish yet calming environment while bringing some life into the area.
If you're looking for something bold and eye-catching, why not try 3D sculptures made from wood or metal? These pieces will add texture and depth to your walls.
Make sure it speaks to you no matter what boho wall art idea you display in your kitchen.
Incorporate meaningful keepsakes into your décor to reflect your unique tastes. Hang a canvas painting, tapestry, or any other item that reminds you of a special occasion or travel experience in your kitchen. This will create a cozy atmosphere full of character!
Boho Wall Art Ideas For The Bathroom
Are you looking to create a bohemian look in your space? There are many options to choose from! You will find something to complete your look, from ornate tapestries to dream catchers to more subtle prints and paintings. Let's explore some ideas!
An easy way to bring a bohemian vibe into your bathroom is with tapestries. You can hang them on the walls or drape them over towel racks – depending on what kind of effect you're going for.
Tapestries are the perfect choice to add a bold and exciting look to a room. Find one with bright colors, intricate patterns, and fringing around the edges for extra eye-catching detail.
Not only do they look visually appealing, but they also make great conversation starters – transforming any room in seconds!
You could also invest in a few pieces of furniture with a unique design. Or color scheme to make your home more inviting.
Incorporating plants into your design is a great way to add a boho touch. Hang potted plants from shelves, hooks, or pegs on the wall to bring a natural element to the room.
No matter what kind of wall decor you pick for your bathroom, it'll help make it feel more comfortable and homey. That'll make taking care of your hygiene more enjoyable.
Creative Ways To Feature Boho Wall Art In Any Room
Why not take a unique approach when decorating your home and opt for boho wall art? It can add a touch of style and personality to any room.
To start off, consider adding some special pieces that stand out in each room. For example, hang up a large canvas piece with bold colors if you have an accent wall in the living room. This way, it will draw attention from anyone who enters the space.
If your house has smaller walls, try hanging several small frames together on one side. This will create a gallery-style artwork effect!
Think about leaning pieces against shelves. Or dressers in bedrooms and kitchens for a cozy feel. You could also use them as a centerpiece by setting them atop tables or mantels.
Try framing fabric scraps above furniture if you want a more subtle decoration. This will add texture and color to a room without taking up too much space.
When featuring boho wall art in your home, these ideas barely scratch the surface. To give an area in your home some pizzazz, you have plenty of options! Use pieces to create exciting focal points or boost existing elements. There's no bad way to make these items stand out.
Conclusion
The possibilities for adding boho wall art to your home are endless! Make a strong impression in the living room or find something calming for the bedroom. You'll be able to find something perfect for you.
I love how easy it is to incorporate this artwork into any space. From the kitchen to the bathroom – as long as it reflects your style. You can create a unique look with boho-inspired decor with a few simple touches.
One of the best things about boho wall art is that it is incredibly affordable. You don't need expensive prints or artwork. All it takes is creativity and imagination to make a stunning display.
Are you looking for ways to get creative without breaking the bank? There are lots of cost-effective do-it-yourself projects you can try.
Boho wall art adds character and charm to any interior design scheme, so why not try it? Looking for inspiration? Look around your home or online for unique items that work well together. Once you find something that speaks to you, get the supplies and start crafting!
Follow Quiet Minimal on Pinterest for more home inspiration and ideas.