If you want to add some unique flair to your boho-style kitchen, you've come to the right place!
Adding bright and vibrant accessories to your kitchen can give it a cozy and inviting vibe. Add rugs, plants, and other decorations to show your style and make your kitchen unique.
This article will share our favorite ideas for accessorizing a bohemian-inspired kitchen. So if you're ready to get creative with your home decor, let's get started!
It pays to think outside the box when accessing a boho kitchen. Instead of the standard cookie-cutter look, why not try something more unique?
Make your space unique with a few statement pieces. Try patterned wallpaper or vintage art prints to add color and personality.
You don't have to be an interior design expert to create a beautiful boho-style kitchen. With a few simple touches and accessories, you can transform your space into something one-of-a-kind.
So if you're feeling inspired and ready to start accessorizing, keep reading. These ideas will help bring life back into your kitchen!
Embrace Wall Art
When accessing a boho kitchen, embracing wall art should be on your list. Not only is it bold and colorful, but it can also reflect your unique personality.
From hand-painted signs to framed prints and even hanging plants, there are plenty of ways to make a statement with your walls.
Plus, you don't need to break the bank to get creative; secondhand stores and thrift shops are full of fabulous finds that bring life to any room.
Adding a few vibrant accents throughout the space can also be a great way to up the ante on style. Or how about something more eye-catching?
Whatever you choose, these accessories will help create an inviting atmosphere for family and friends alike.
Accessorizing doesn't have to cost an arm and a leg; even small changes can impact style and comfort.
Hang fairy lights around the windows or cast scented candles to fill the room with pleasant smells. A few plants here and there can also breathe life into any room while adding a nice pop of green color too!
Incorporate Natural Elements
The second way to accessorize your boho kitchen is to incorporate natural elements. This might include adding wooden furniture, like a dining table or chairs, woven baskets, and pottery pieces in warm earth tones.
You could even hang up a macrame wall hanging for an added touch of texture. Natural elements add a relaxed, rustic vibe to any space.
Besides, incorporating plants into your kitchen decor can add life and color to the room. You could display potted plants on the countertops or shelves or hang them from the ceiling using macrame hangers. 
Use dried flowers or eucalyptus branches in glass jars as centerpieces on your dining table for a more subtle look. These natural elements help give your boho kitchen a cozy atmosphere.
Consider introducing some patterned rugs and cushions to take things up a notch. Inject some personality into your kitchen with these pieces, and switch up the style later if you want.
Make your kitchen a tranquil and stylish bohemian retreat with simple additions and changes!
Invest In Colorful Textiles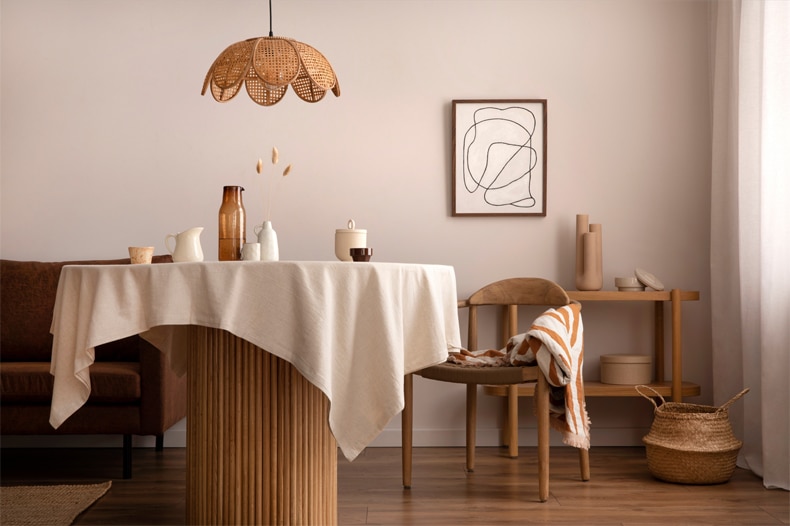 Add a pop of color to your boho kitchen with a vibrant rug and patterned curtains.
Fabric can make this style bolder by introducing various textures and hues. These elements can create a statement that stands out from the rest.
Adding textiles with bright colors can give you lots of options when decorating your room. This could include a vintage kilim or a cotton curtain.
You can use these fabrics in various ways in your kitchen, from knitted blankets to upholstered chairs.
Not only do they bring coziness and warmth to your home, but they also help create a unified look in your decor.
Velvet, wool, silk, and linen can give your boho kitchen a unique feel. Their inviting look allows you to express yourself through color and texture.
So why not invest in some colorful textiles? They're sure to upgrade any bohemian kitchen!
Hang Wall Hangings
As an accessory for your boho kitchen, wall hangings can add a bold and colorful flair. Wall hangings come in many forms and styles; this stylish decor aesthetic brings your kitchen to life. 
From macrame to tapestries, these decorations can bring a unique touch of personality to the walls in your boho kitchen.
When selecting a wall hanging for your boho kitchen, consider the colors and patterns that will fit the rest of the design elements in the space.
If you have natural wood furniture and neutral colors in your home, you should choose a wall hanging with subtle colors and designs. This will create a more muted look.
If your kitchen has many bright colors and patterns, look for something with more brilliant colors and intricate designs to tie it all together.
Introduce Colorful Furniture
Adding furniture with a splash of color is a great way to accessorize a bohemian kitchen. It's a simple way to add extra color and personality to the room.
You could add a cheerful yellow chair, a patterned armchair, or a cushioned bench seat to make your kitchen unique and eye-catching.
When selecting, consider the colors that will work best in the space and how they will fit the room's aesthetic.
It may be helpful to take some time to consider which shades and patterns you like most before you start shopping for pieces.
You can make a bold statement in your boho kitchen without going overboard on expenses. All it takes is a little creativity! Plenty of budget-friendly furniture options can bring life and vibrancy to your space.
Explore different shapes, styles, and colors until you find something that speaks to your style and completes the look of your kitchen.
Use Colored Kitchenware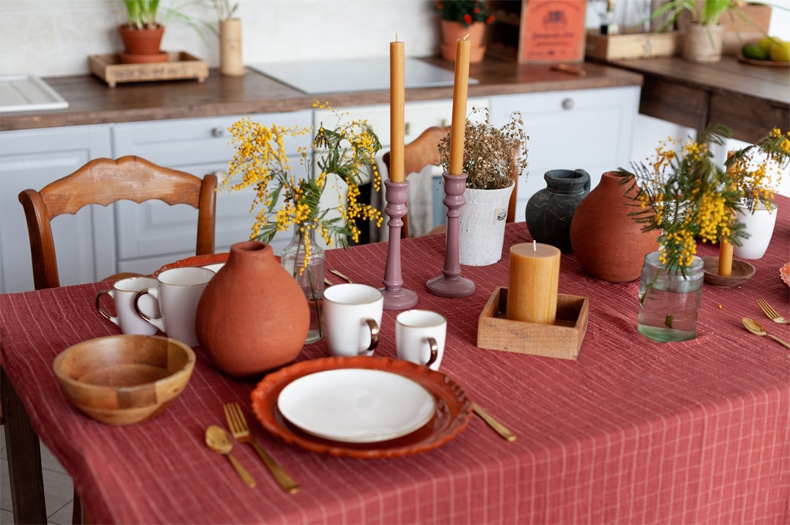 Utilizing colored kitchenware is a great way to add vibrancy and style. You can add fun colors to your kitchen, from mugs and plates to cutlery and cooking utensils.
You could choose bright blues or greens for an aquatic feel, or warm oranges and yellows for a cozy atmosphere.
Using colorful kitchenware also provides practical benefits. For example, if you have a big family or often host guests, you can use different colors of dishes to identify which items are yours.
This is useful when hosting potluck-style dinners or during big family gatherings. Additionally, having vibrant kitchenware makes the process of washing up more enjoyable!
If you want to give your boho kitchen a unique and eye-catching look, adding some colorful kitchenware is a great way to do it! Go for bold and creative colors to make your kitchen stand out.
No matter what color scheme you choose, you can be sure it will be a great addition to your space.
Add Patterned Rugs And Pillows
 Add patterned rugs and pillows to a boho kitchen to make it bold and colorful. Rugs create an inviting atmosphere and pillows add comfort and style.
The great thing about this type of decor is that you can find pieces with any color or pattern imaginable. Whether you prefer bright, vibrant colors or more subtle designs, there's something for everyone.
You don't have to stick to one style when accessing your space. Blending various prints and shades can create an exciting look full of personality.
Consider adding a few unique items, such as vintage rugs or handmade pillows. This will make your kitchen eclectic while staying within the boho theme.
Adding patterned rugs and pillows to your kitchen can turn it into an inviting space for friends and family. So don't be afraid to be creative – you won't regret it!
There are endless options to find pieces that fit your style and bring life to your home.
Place Bold Lighting Fixtures
Lighting fixtures can be a great way to bring life and flair. You can create a dramatic effect by adding bold lighting to your boho kitchen.
Lighting can add a stylish touch to any space. The right lighting piece will bring not only light but also a statement. A classic chandelier or modern sconces can provide illumination and an attractive look.
When selecting your lighting fixtures, consider the size of the room and what type of mood you want to create. Opt for softer tones and shapes if you want something more subtle and relaxed.
If you're looking for something more vibrant, look for bright colors or geometric patterns. Mix and match various styles to create a unique look!
No matter what type of lighting fixture you choose, it's sure to add a special touch to your boho kitchen. Let your personality shine through with bold colors and exciting shapes to give the room character and charm.
With these tips in mind, you'll find the right piece to make your boho kitchen stand out from the rest!
Add Colorful Window Treatments
Adding window treatments is another way to spice up a boho kitchen. It can be a great way to bring in bold colors and patterns while keeping the space airy and light.
They are a stylish way to filter out the sunlight and add privacy when needed.
When selecting window treatments for a boho kitchen, it's essential to consider the room's theme. Consider fabrics that offer vibrant colors and floral prints. These ensure your windows are as eye-catching as possible.
Sheer curtains with embroidery are famous for this kind of kitchen. They let in natural light and still provide privacy.
Mix and match various fabrics for an eclectic look for an extra special touch. You could even layer different types of curtains together for a unique texture.
Be sure to pick shades or patterns that complement each other for the most significant visual impact! With a few simple touches, you can give your kitchen windows an exciting new look that transforms the entire space.
Make Use Of Wallpaper And Wall Decals
Wallpaper and wall decals are great ways to add a bold, bohemian touch to your kitchen. You can use these vibrant pieces to create a statement wall or brighten an entire room.
With so many styles and colors available, you can find something that fits the aesthetic of your space. Plus, wallpaper and wall decals are easy to install and remove if you want to switch things up later.
Wallpaper and wall decals are great for accessorizing a boho kitchen. They bring a unique look compared to regular paint, and you can customize the design.
You can even find pre-made designs that fit the vibe of your kitchen. From geometric shapes to floral prints, there's something for everyone.
Wallpaper and wall decals provide an inexpensive way to make a big impact in your boho kitchen. So don't hesitate – to get creative with these bold and colorful accessories today!
Conclusion
To finish, you can give your boho kitchen a splash of color and pizzazz. Hang art, put up wallpaper, or apply decals to walls for a stylish transformation.
Introduce colorful furniture. Start with small changes like investing in colorful textiles or hanging wall hangings. And use patterned rugs and pillows. This will also give your kitchen a boost of color.
Finally, add some bold lighting fixtures or window treatments for a unique look.
With these easy tips, you can create a beautiful and inviting boho kitchen!
Follow Quiet Minimal on Pinterest for more home design tips and inspiration.