Every home needs plenty of storage space, and for most, that means lots of closets.
Closet doors can look a little boring – but there are many ways to decorate or replace them.
You can also look for the right kind of closet door for your bedroom for practical and aesthetic reasons.
Nearly every bedroom has a closet – it's essential for storing clothes and other accessories.
But closet doors can look pretty boring – they don't add much to your room. The good news is that there are many ways to update your closet doors and make them look amazing.

Firstly, closet doors come in various shapes, sizes, and functions. And with a few helpful tips, you can upcycle or customize your closet doors to suit your style. Or you could even tear down the doors and replace them with something else entirely!
Read on if you're looking for ways to jazz up or replace your closet doors! You'll find suggestions for replacement ideas for old closet doors for bedrooms. And I've also got some ideas for your wooden closet doors to make them look fresh and new again
10 Closet Door Ideas & Inspiration for Replacement Closet Doors
Here are some tips, inspiration, and closet doors ideas for bedrooms.
Go Doorless
A quick and easy trick is to take the doors off your closet! This minimalist solution lets you see all the items in your closet, making it easy to find what you need.
And there are tons of effective ways to organize your closet space. From hanging compartments to storage boxes, you can maximize the space and make it look great!
Having an open closet can also help you to stay neat and tidy. It makes putting everything away easier, so you develop a consistent habit.
And with your closet becoming a display case, you can take pride in what you own. Plus, you won't forget what you already have tucked away in your closet.
Swap Your Doors for Curtains
Another beautiful solution is to swap your doors for curtains. This smart idea is both decorative and practical. Plus, it's customizable to match your bedroom color scheme and design style. With hundreds of options available in the shops and online, you can shop around for the perfect look.
Curtains are cheap and easy to install yourself – you just need a curtain rod. You could also add ties to hold the curtains open for easy access. And you can close them when you want to separate your closet from your bedroom (or hide the mess!).
Or a Macrame Hanging Design
You'll love this idea if you're crafty and adore the boho look! You could make a macrame design to fit your closet opening and hang it from a curtain rod. It will look gorgeous, relaxed, and perfect for your boho bedroom. (If you don't have time to DIY it, you can find macrame hanging designs online or even at Target. Or get it custom-made to fit your closet on Etsy!).
French Doors for Your Closet
If you're looking for a stylish alternative, consider going for French doors. The glass panels will make your room feel more spacious and bring sophistication to the room.
French doors are easy to open, making it easy to find what you need. But as they have glass panels, you'll need to keep your closet neat and tidy! Otherwise, the clutter can easily distract from an otherwise stylish bedroom.
But if that worries you, opt for frosted glass in the doors instead. The translucent glass hides the clutter, but you still get the gorgeous aesthetic!
Mirrored Doors
Mirrored doors are a great option if you have a smaller bedroom. They will make your bedroom feel more spacious and airy, maximizing the space and light in your room.
Plus, they're super handy for getting ready. You can do your makeup or a quick outfit check before heading out!
You can buy full mirrored closet doors from most furniture stores. But if you're on a budget, you could buy a cheap mirror and attach them to your closet door. And you'll create a brand-new, stylish look for your bedroom!
Pocket doors
Pocket doors are a less common option, but they're an innovative solution for small bedrooms. They work by retracting into the wall instead of swinging open into your bedroom or closet. So you can maximize the space available to you.
As pocket doors are more complicated, you'll need a professional to install them. But they're well worth the investment for their clean look and the space you'll save!
Sliding Doors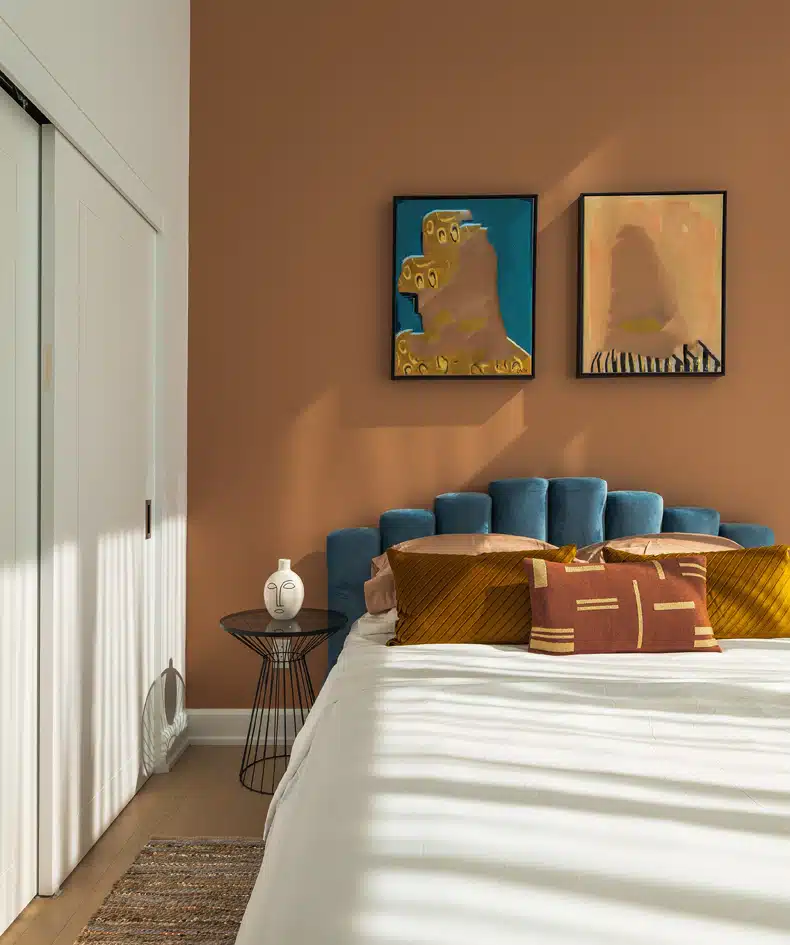 Sliding doors are stylish and much easier to install than pocket doors. But at the same time, they won't take up extra space in your bedroom. And that makes them a popular choice for closet doors in bedrooms.
The downside is that you can't see the whole closet simultaneously. So, it's not always easy to find what you need.
You can find ready-made sliding doors in most stores or get them custom-made to fit. If you like the cozy farmhouse vibe, you could install a sliding barn door. It captures that rustic look but is also practical, so it's a win-win.
Folding Doors
Folding doors are one of the most common types of wooden closet doors. They have a clean, neat design and don't take up much space. So, why not opt for folding doors if you're looking for simple yet effective closet doors? They're also easy to remove when necessary. Just watch out for trapped fingers when opening or closing them!
Painted Doors (Or Apply Wallpaper!)
This idea is for you if you want to create a gorgeous, arty bedroom. If you have a large closet with boring wooden doors, you could spice them up with a pretty mural.
For the arty folks, all you need to do is grab your paintbrush and get painting! But if you're not artistically inclined, you could commission a mural from a local artist (or art student).
A simpler option could be to apply a wallpaper pattern to your closet doors. But make sure that it will stick well – wallpaper doesn't adhere to all materials. Do a spot test first before you commit to the whole door.
Hanging Beads
Hanging beads are an eclectic and unique option to suit a boho bedroom. They're quick, easy to put up, and an easy way to separate your closet space from your bedroom.
The downside of hanging beads is that they can get in the way when you need to grab something from the closet. While they're not the most practical idea, they come with a relaxed, retro look guaranteed. And if that's the style you're going for, it might be just what you're after.
Skip the Door, Use a Screen
Channel 19th-century vibes with an antique dressing screen. (Or if you can't find an antique, recreate the look with a modern version instead!).
A screen will divide your closet from your room, creating a dedicated dressing area. You'll feel like a princess while getting ready for the day!
This idea is simple and gorgeous, with no installation necessary. It will look best in a more traditional, feminine room than a modern, minimalist bedroom.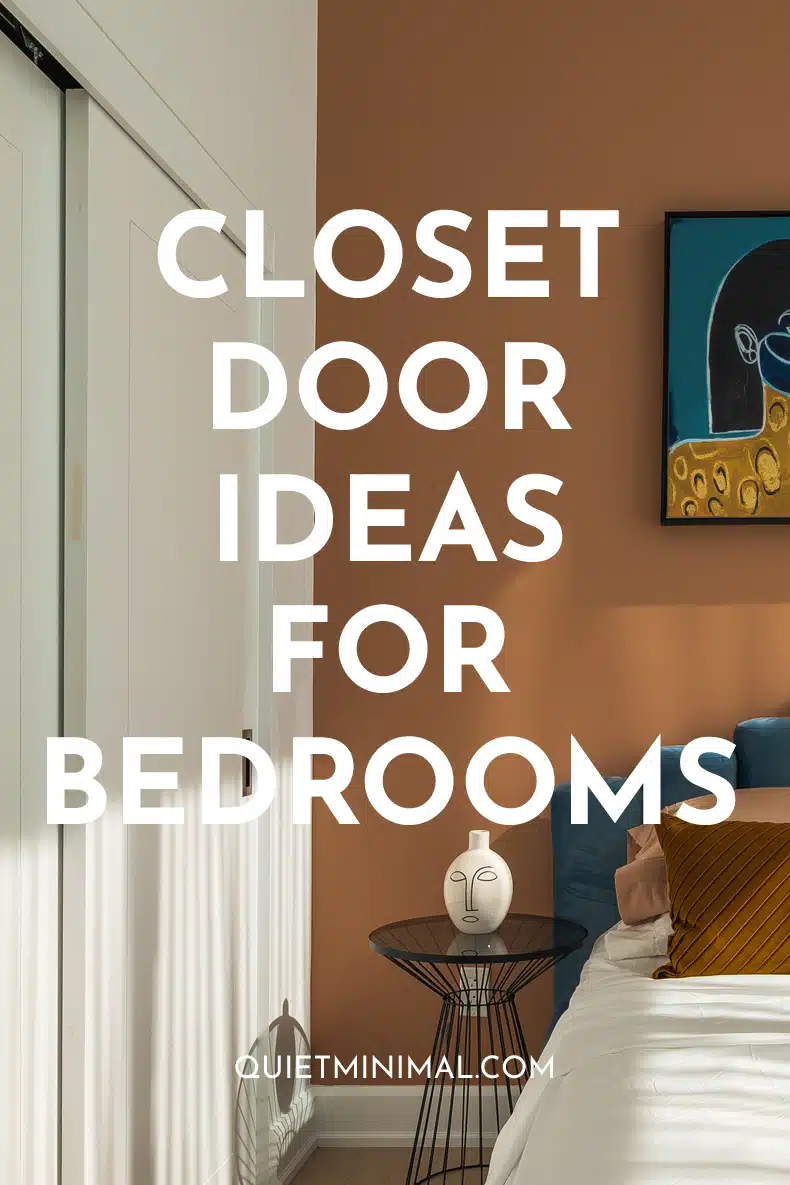 The Wrap Up
So, there you have tons of ideas and inspiration for modernizing your closet doors. You can customize (or replace) your closet doors to take your bedroom to the next level.
Which of these wooden closet door ideas for bedrooms is your favorite? Let me know in the comments below!
And follow Quiet Minimal on Pinterest for more home design & decoration tips and inspiration.