Beige is a popular choice in interior design as it's neutral yet warm and inviting
Choosing the right accent color to go with beige will ensure your home looks stunning
You can create different looks depending on the color you pair with beige – from warm and cozy to simple and minimalist or calm and soothing
Beige is a neutral color that is a great choice for interior design. It's a simple yet beautiful backdrop upon which you can design a gorgeous home. But what colors go with beige walls?
I've put together this list of accent colors that go with beige for your inspiration! Choosing the right colors to pair with beige walls isn't always easy.
So, here are some stylish color palettes using beige that will work well in your home. You'll find something for every style and room. And you'll avoid the mistake many make with beige – of playing it too safe and creating a boring space.
Colors That Go With Beige Walls
Beige gets a bad wrap as a dull, boring color. But when you have beige walls, there's so much potential for what you can do with a room!
Choosing the right accent color(s) will brighten up your space. You'll set the scene for yoru perfect interior design look.
So, browse these suggestions for colors that go with beige walls – and take your pick!
Beige + Blush Pink
Let's start off with blush pink. The warm tones of this color pair perfectly with beige for a romantic and feminine feel. The result is a room that is soft, inviting, and a little sensual.
A blush pink velvet sofa will look gorgeous against beige walls. And it's one of the best colors that go with kilim beige rugs. So, this is a fabulous choice for a luxurious living room or bedroom.
A pink and beige color palette is gentle on the eyes. You can play around with textiles in different textures and shades. Then, it will be an oasis for all the senses.
Beige + Teal
A rich jewel tone like teal can spice up your beige walls. It adds style and elegance, while the two colors balance each out to create a harmonious look.
You can add touches of teal for a sophisticated look. Or go all out with a teal feature wall or a rich teal velvet sofa.
Teal adds a hint of boho style – and even more so if you add another rich jewel color like amethyst. So, you can style this color any way you like, knowing it will look amazing against your beige walls.
Beige + Black
For a simple and classic look, go for a beige and black color scheme. Black can make any room feel modern and timeless, but it can also look a little harsh. But the beige walls will tone it down and add some warmth to the room.
In my opinion, the best way to use these colors together is to add small touches of black. For example, black and white artwork or photographs on the walls is a smart design choice.
You could also add black lamps or accessories. This color combination also works well in the bathroom or kitchen. For example, black tiles and hardware will stand out against neutral beige walls. And you'll have a practical yet stylish look!
Beige + Burnt Orange
What makes beige so popular as a wall color is its versatility. It matches with almost any shade, from neutrals to bold colors. For example, beige and burnt orange is a match made in heaven.
Burnt orange has a richness and warmth to it that is cozy yet a little spicy. It adds visual interest and contrasts with your neutral beige walls. For example, a burnt orange sofa or rug will lift a living room and make it feel more inviting.
Beige + Bright Red
Are you a lover of all things bold and bright? Then, consider choosing postbox red for yoru accent color. It's sure to add a pop of color to your room and make it feel more dynamic.
Red is a rich color – it's warm, inviting, and energetic. You can use the color red to brighten your beige room and make the space feel more personal.
One way to do this is to add little accent pieces throughout the room. But if you're feeling brave, you could go for red furniture – a sofa, armchair, or cushy rug. That will draw the eye and become a focal point in your room.
Beige + Forest Green
You can combine beige and forest green for a lively and exotic feel. Forest green is a deep, dark green shade that contrasts nicely with beige.
In the bedroom, you can go for luxurious forest green bedding. Or, if you want to use this color scheme in the living room, a velvet or cord sofa in forest green is a great choice. Add some leafy ferns or a spider plant to complete the look!
Touches of gold or orange also look incredible in this color scheme. They continue the rainforest feel while adding a little pop of color and brightness.
Beige + Gold
Adding gold accents is a great way to glam up your beige room. The metallic sheen will look amazing against a warm beige backdrop.
As beige is such a neutral color, it will let your gold accessories shine. Look for small touches like a mirror, vase, or lamp in gold tones.
Using notes of gold will make the room feel luxurious without overdoing it. So, the space should feel relaxing yet sophisticated rather than garish and flashy.
Beige + Sky Blue
This color combination is about as calm and soothing as they come! The gentle beige tones combine beautifully with the tranquil sky blue color. It's perfect for a dreamy bedroom – but works just as well in the living room or bathroom.
A beige and blue room has relaxing coastal vibes. The beige is reminiscent of a sandy beach, while the blue color brings to mind the sea and sky.
So, you can't help but feel calm and relaxed with this color palette. If you like this look, find more tips for creating a beachy boho bedroom here.
Beige + Peach
Peach is a subtle yet warm color with orange and pink tones. It blends beautifully with warm beige tones for a fresh and inviting look.
As beige and peach are warmer colors on the color wheel, they look great together. And peach adds a sense of liveliness without being too bright or flashy.
The result? A chilled, comforting and stylish room!
Beige + Neutral Gray
If you prefer a minimalist look in your home, you can't go wrong with gray and beige. Both are soft neutrals that create a cool, clean backdrop for your room.
These colors will make your room feel more spacious, with plenty of white space. I recommend using a range of different shades of gray and beige to give the room some definition.
For example, you can use lighter grays and beiges. But adding a few details in charcoal gray will create some contrast and visual interest. All while sticking to the color palette.
For a minimalist look, check out these inspirational beige bedroom styles here.
Beige + Sage Green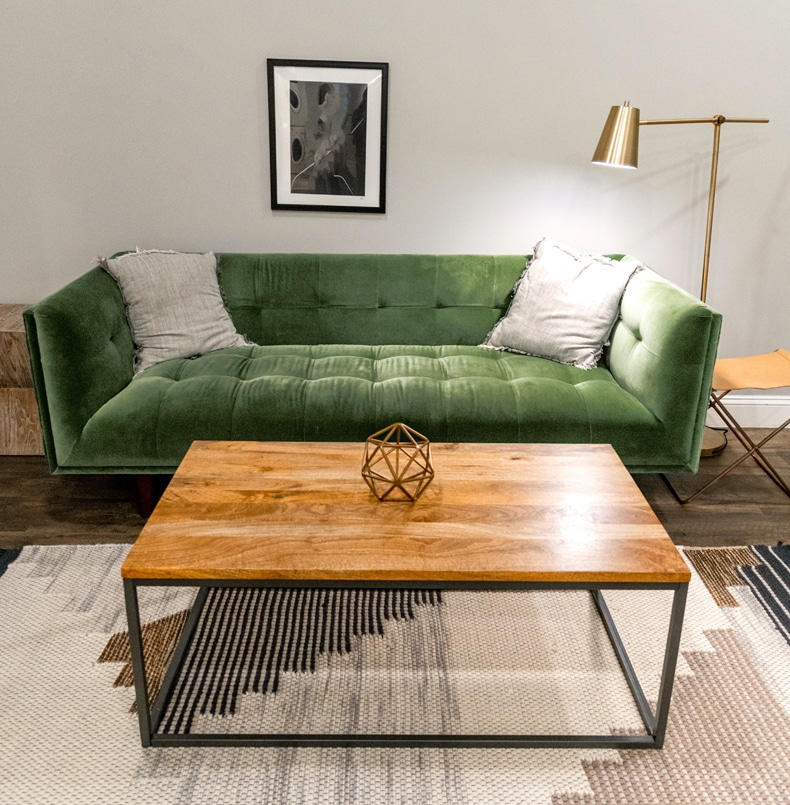 Do you want to invite nature into your home? Then, beige and sage green is just the color palette you need for a natural, earthy feel.
Sage green is a cool, calming green color. It's neither too vivid nor dark, and the tones look wonderful with beige. Add wooden furniture and some pot plants, and you'll have an effortlessly stylish space.
Beige + Patterns & Motifs
Don't be afraid to use fun patterns in a room with beige walls. You can go for small or large motifs in any style you like. Beige walls are like a blank canvas inviting you to get creative and infuse the room with your sense of style.
You can also combine different colors so long as they complement each other. Navy and peach or sage green and brown are some excellent examples. Choose one stronger color and one lighter or more muted shade, so they don't compete with each other.
The Wrap Up
Beige walls are your canvas, allowing you to create a gorgeous space that suits your style. You have the freedom to create something bold and eye-catching or soothing and gentle. It all depends on what you want for each room in your home.
And with beige walls as your backdrop, the options are almost limitless. So, embrace your creativity when choosing colors that go with beige! You can have a lot of fun decorating your home, and you'll create something beautiful.
Let me know which of these color combinations you like best!
And follow Quiet Minimal on Pinterest for more home inspiration and design tips!