Are you struggling to find colors that go with peach? Peach is a beautiful color, but it can be challenging to design a room with the color peach. Fortunately, many fantastic colors go with peach. So, what colors match peach?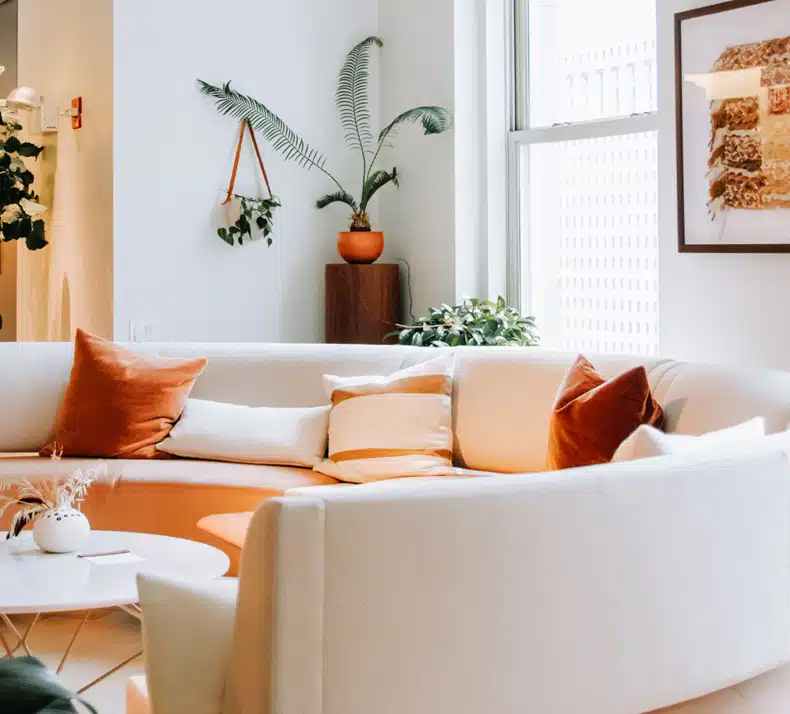 Depending on what atmosphere you want in a room, you can match peach with bright colors, such as blue, yellow, orange, and green. Gold and black are also great peach matching colors for a modern look. On the contrary, burgundy, beige, and white create a neutral room if matched with peach.
We've seen people struggling to find the perfect complementary colors to complete a room with peach walls. However, once you know which colors match peach and how you can use these colors to tie a room together and create the perfect atmosphere, your peach room won't give you as many sleepless nights. Therefore, we will discuss each color that compliments peach and how you can use it in your home.
Colors That Compliment Peach
Peach isn't the easiest color to work with, especially if you don't know what atmosphere you want to create in a room. But did you know you can have a modern, neutral, or moody room with the color peach?
The secret lies in the colors you add to compliment the peach, whether it's part of the walls, furniture, or décor. With the right color combinations, you can ensure a stylish and finished room that highlights the peach details without drowning you in pink. These are the colors that best match peach.
Gold
Gold compliments peach excellently in a room with a lot of natural light and soft fabrics. Gold-trimmed mirrors and photo frames will add a sophisticated touch to peach walls. It also makes a room feel bigger.
In addition to adding gold décor, you can opt for gold cutlery in a dining room or hang curtains with gold accents in front of the windows to tie the room together. Gold works well when paired with peach and neutral or darker colors, depending on the atmosphere you want to create.
Beige
Peach and beige are a match made in heaven if you want to create a neutral space that gives you coastal vibes. A beige rug or scatter cushions compliment a peach couch perfectly, while beige artwork and décor is the perfect way to compliment peach-colored walls.
Adding beige vases and wheat ears to a living room will create the perfect coastal atmosphere. Beige and peach are perfect if you want a calm, clean, and quiet room. In addition, you can add other neutral colors, such as cream, tan, and sand, to the room to add more depth and dimension.
Green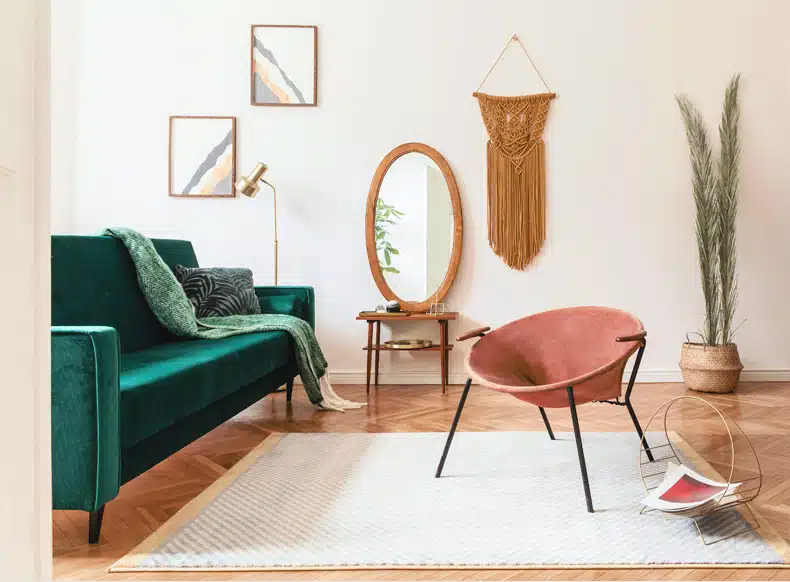 When we say green, we don't mean lime green. Instead, mint green and sea green are excellent complimentary colors for peach if you want to stick to a coastal and understated look. In addition, you can pair peach with emerald green or sage green for a more dramatic contrast.
Adding artwork to a room with green and peach accents helps to tie the theme together. Also, a peach and green color pallet is the perfect excuse to invest in your succulent obsession. For example, a bookshelf with various plants in peach pots will create the perfect accent wall.
Blue
Peach pairs exceptionally well with blue. Again, depending on the room's atmosphere, you can opt for light blue or pale blue or go in the opposite direction with navy blue. Adding blue glass accents, blue art pieces, and a rug with a blue pattern will perfectly tie a peach and blue room together.
If you settle on using navy blue, add pieces like scatter cushions and throws with blue and white patterns to break the monotone look. Light blue and peach are another coastal combination that works fantastic with neutral furniture and wood accents.
Yellow
You might feel a little uneasy when you think of yellow and peach together. However, under the right circumstances, these colors work great together. Although this color combination is for the more artistic designer, peach and yellow are the perfect color combination for those who want to bring a little retro chic into their living spaces.
You can opt for bright canary yellow if you want to create a fun and expressive bathroom or select a mustard yellow couch to compliment a peach living room. When pairing peach and yellow, we recommend using restraint when mixing different shades of yellow and peach in the same room to prevent it from becoming too busy.
White
Peach and white is a color match made in heaven. You may in go one of two ways with this color combination. Either opt for crisp white and solid lines to create a modern look or settle for subtle white tones and abstract forms for a more neutral look.
Whichever design you decide on, the peach and white color combination is sure to impress. Peach and white make you feel calm and clear-minded, making it the perfect color pallet for a study or kitchen. When using only white and peach in a room, feel free to experiment with different shapes and textures to add depth to the design.
Brown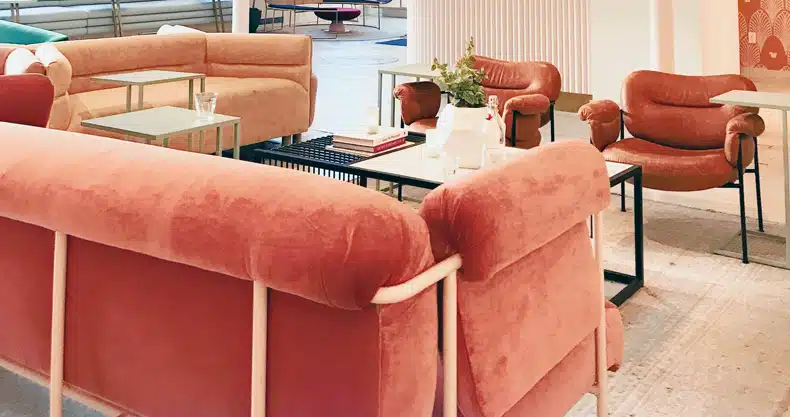 Brown and peach are yet another perfect color combination if you want to create a neutral paradise within a room. You can add shades of brown to a peach room to create a rustic and calming space.
Adding various wood textures, a brown leather sofa, and tan-colored curtains help complete the brown and peach color pallet. Furthermore, adding beige, white, and cream further accentuates the neutral tones in a room.
This color combination is perfect for any room in the house, including the bedroom, study, or living room. You can also introduce soft blues and greens to touch on the coastal feel of the brown and peach color combination.
Black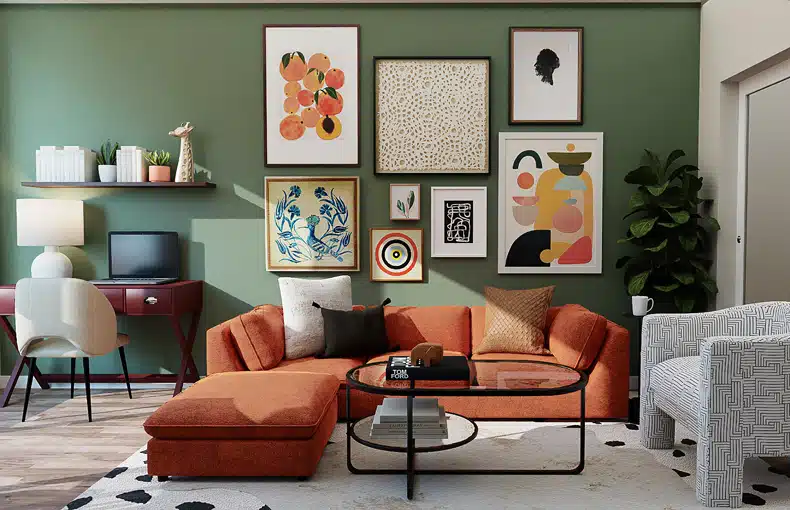 Black is another color that perfectly matches peach if you wish to create a modern room. Hanging black and white photos in black frames on a peach-colored wall creates the perfect contrast that instantly draws one's attention as they enter a room. For the truly bold, you can also paint a black and peach geometric design on the walls to enhance this color combination further.
You can also experiment with different textures using only black and peach in a room. Gold accents also tie a peach and black room together perfectly. While this color combination might be too busy for a bedroom, it is perfect for a modern bathroom or living room.
Burgundy
You can also opt for a burgundy and peach color combination. When paired with peach, burgundy adopts a more neutral color pallet. However, unlike beige and white, burgundy helps to add more contrast to the peach, making the room feel more risqué and complete.
You can add burgundy accents to a room through scatter cushions, carpets, and artwork. Also, feel free to add other darker tones, such as browns, to a room for a moodier appearance. Burgundy mutes the peach color and makes it look more neutral than pink. Therefore, burgundy is the perfect color match if you don't particularly like the pink tones in peach.
Conclusion
We've shared our favorite color combinations that compliment peach and how to use them in a room for a complete and sophisticated feel. Colors that pair well with peach are gold, yellow, burgundy, blue, green, beige, white, brown, and black. Each color creates a different atmosphere when paired with peach.
You must first decide on the atmosphere you want to create in a room. Then, you can select a color to match the peach elements in that room. For example, neutrals create a coastal atmosphere, while black and gold make a peach room feel modern and edgy.
Follow Quiet Minimal on Pinterest for more minimalist and home design tips and reviews!