If you've decided on a white and blue interior, you've made a solid choice! Blue and white look gorgeous together in any room of the home. You can create a classic and timeless look or something more modern and minimalist.
But you might be wondering, what colors match with white and blue? For sure, you'll want to add some accessories or accent colors to your room. And that's where this article comes in!
I'll share some of the best colors that go with white and blue interior design. You'll find ideas for every room and design style, so browse and take your pick!
Colors That Go With White and Blue
Here are some suggestions to pair with your white-and-blue color scheme.
White and Blue + Gray
If you want to keep things neutral, gray is an excellent color to add to your palette. It is a versatile color that will look great with white and blue without outshining them. So, you can add another color without it clashing or competing for attention.
White, gray, and blue are a match made in heaven. Gray and blue are similar in tone, so they complement each other. And they're both cooler colors, so you'll have a calm and soothing color palette.
You can choose a stunning blue shade like cornflower blue and make it a focal point. For example, you could opt for a gorgeous velvety blue sofa, white walls, and gray accessories.
Another idea is that if you have a dark blue, you could go for a light gray, and vice versa. That will create contrast and draw the eye in a simple yet stylish way.
White and Blue + Tan
Tan is a lovely neutral that you can pair with white and blue. Unlike gray, it's a warm color that will make your room feel naturally inviting and welcoming. So, it balances out a cooler color scheme and creates a classic look.
It's easy to incorporate tan into your blue and white living room. You could go for a thick rug, throw cushions or curtains, or add a woven basket for storage. This color also works well if you have wooden flooring or furniture to make it all feel cohesive.
White and Blue + Orange
If you want to add a bright color to your white-and-blue room, why not go for orange? This rich, bright color looks fantastic with blue and white! Orange is a complementary color to blue, according to the color wheel. So, these colors have a strong contrast and stand out against each other. They look even more vibrant and eye-catching when used together.
An orange sofa will look gorgeous against a blue accent wall. Or, you could go for all-white walls, a blue armchair, and orange accessories. Throw cushions and or a beautiful orange vase will complete the look. This color combination also looks wonderful in the kitchen or bathroom.
White and Blue+ Light Pink
Pale pink is an excellent color to pair with blue and white. As it's a pastel shade, it's not too bright or bold. So, the colors don't compete with each other for attention. But the pink color also adds some warmth and femininity to the room. As a result, you get a calm and soothing atmosphere, perfect for the bedroom. This look has a fresh, beachy feel that is versatile and works with minimalist and boho styles.
White and Blue + Teal
Teal and blue are pretty close on the color wheel. They're both cooler colors and proven to be calming, reducing stress levels and helping you to sleep. So, this color palette is an excellent choice for the bedroom. But it looks just as stylish anywhere else in the house.
Make sure to go for colors with more contrast between them, such as dark teal and pale blue. Or you can go for a light teal with a dark navy shade of blue. That will make the colors stand out against each other instead of blending together.
If you have a pale or mid-blue, consider adding navy into the mix. As navy blue is such a dark color, it will help to balance your color scheme. It will add some style and visual interest to the room and help to anchor the space.
And you don't need to worry about colors clashing, as blue is such a versatile color. Almost all shades of blue look great together and won't compete against each other.
For example, you could go for an accent wall in navy blue. But if that's too much, opt for a cushy navy rug or some simple throw cushions. Play around with different shades to create a gorgeous monochrome color palette.
White and Blue + Sage Green
Blue and green are close together on the color wheel, so they have a lot in common. They're both cooler tones and are often said to be relaxing and calming.
It can be tricky to pair green with blue as the colors can compete with each other. But sage green is a gentle, muted shade that won't clash with your blue. Instead, it creates a soothing atmosphere with an organic, natural feel. Add some house plants, and you will have a simple and stylish room.
White and Blue + Peach
Peachy is a beautiful, fresh color that sits between orange and pink. And it's an excellent color to add to your interior design palette of white and blue! It is comforting and mellow without being too bright or flashy. Add splashes of peach to brighten your blue and white room and introduce some warmth.
White and Blue + Black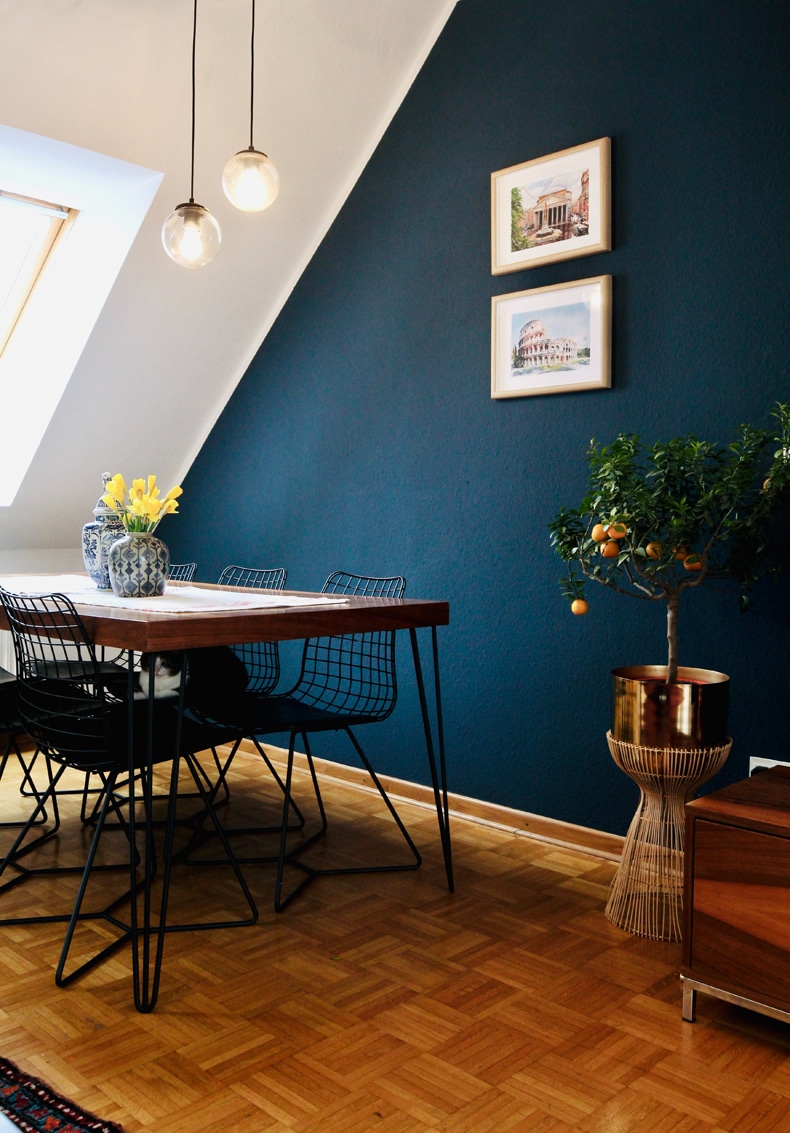 You can add black to a blue and white room for a modern, cool vibe. Black and white is a classic and timeless look, but it works just as well with blue added in. But I'd recommend choosing your shades carefully. As black is such an intense color, it's not a great match for darker blues like navy. Otherwise, the room could become overpowering and feel cramped and claustrophobic.
White and Blue + Yellow
You can add yellow to your color palette to create a striking effect. When combined with blue, these colors have high contrast and look amazing.
Adding yellow to a blue-and-white interior creates a fun, playful feel. Pastel shades are soft, mellow, and beachy, while bright shades feel modern and bold.
White and Blue + Red 
For a bold color scheme, why not add red to your white and blue room? Red and blue contrast strongly with each other for an interesting mix.
A pillar box red sofa or door frame will look eye-catching against a pale blue wall. But you can also pair vibrant red with deep blue for a colorful palette. This color combination feels nautical and classy, so long as you don't overdo it.
White and Blue + Turquoise
While turquoise is similar to blue, it's a distinct greeny-blue shade. This bright, cool, and calming color is the perfect choice for a beachy blue and white room. Turquoise is a great choice to brighten your room if you're using a muted blue. It will make it feel fresh, lively, and vibrant. 
Consider adding artwork featuring blue and turquoise – seascapes are perfect for this. Or scatter turquoise cushions and accessories throughout the room for that coastal feel.
The Wrap Up
Are you inspired to create a white-and-blue design for your home? These colors are cool and calm, making the most of any space. And with the right accent color, you'll have a gorgeous and stylish home.
Which color do you think matches best with blue and white? Let me know in the comments!
And follow Quiet Minimal for more home design tips and inspiration.