If you're looking for colors that match with white and brown in the home, you're in the right place. You might think that a white and brown room sounds a little boring.
But brown and white is a great color scheme for the home as it's neutral and versatile. And then, you can add an accent color to complete the look! 
So, you can decorate your home in any style that you like. It could be simple and minimalist, bright and boho, or cozy and traditional. But what colors should you pair with a white-and-brown color palette?
I've put together this article with tons of ideas for colors that go with white and brown. So, you can look through them and find the perfect accent color for your home.
Colors That Go With White and Brown
Are you wondering what colors match with white and brown? Then, you'll find plenty of inspiration and ideas here to use in your own home.
Browse these suggestions and see which ones appeal most to you. Then, let me know which color palette is your favorite in the comments below!
White and Brown + Passionate Red 
In interior design, red is a popular choice to pair with white and brown. It's a bold color that draws the eye, but it's also a warm color. So, it complements brown and creates a cozy feel.
You could go for a bright, pillar box red to add more energy to a room. Or you could tone it down with a rich burgundy or muted shade of red.
There are plenty of options for any design style, from clean and minimalist with pops of red. Or you lean into a classic, traditional style with dark wood furniture and a rich red accent color.
White and Brown + Soft Cream 
Are you looking for another neutral color to add to your white and brown room? Cream color is an ideal choice as it's a warm tone that complements brown. 
But it's also light and will make any room feel more spacious. You can create a gorgeous minimalist color palette of white, cream, and touches of brown.
White and Brown + Clean Grey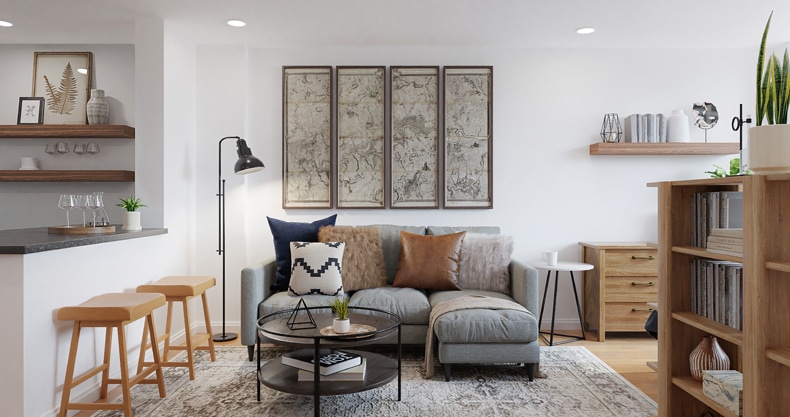 You can pair grey with white and brown for a clean, minimalist look. This color scheme is ideal if you don't tend toward bright colors and prefer a neutral look.
Grey, white, and brown have a lot of similarities so they can work well together. But pick your shade of grey carefully to complement your brown. 
As brown is a warm color, it will gel better with a warm gray rather than a cool shade.
White and Brown + Blush Pink
Are you looking for an accent color to pair with brown? You won't go wrong with blush pink. It's a soft, feminine shade that's neither too pale nor too bright.
It has earthy tones that work well with brown while also creating plenty of contrast. So, the result is a warm and inviting room where you'll want to curl up and relax.
Blush pink is perfect for a white and brown living room or bedroom. It's sophisticated and pretty without being too bold or flashy.
White and Brown + Sage Green 
Sage green is a gorgeous shade to pair with brown and white for an earthy vibe. Brown and sage green are organic colors that transport you to the natural world.
And we all know the benefit of inviting nature into your home. Recreate the look by pairing these two shades together for a harmonious look. Adding white elements will balance the room and ensure it feels bright and spacious. 
One idea is to go for a brown sofa against sage green walls. Or you could add smaller touches like throw cushions or curtains in a soft sage shade. Any way you pair these colors, they will look luscious together.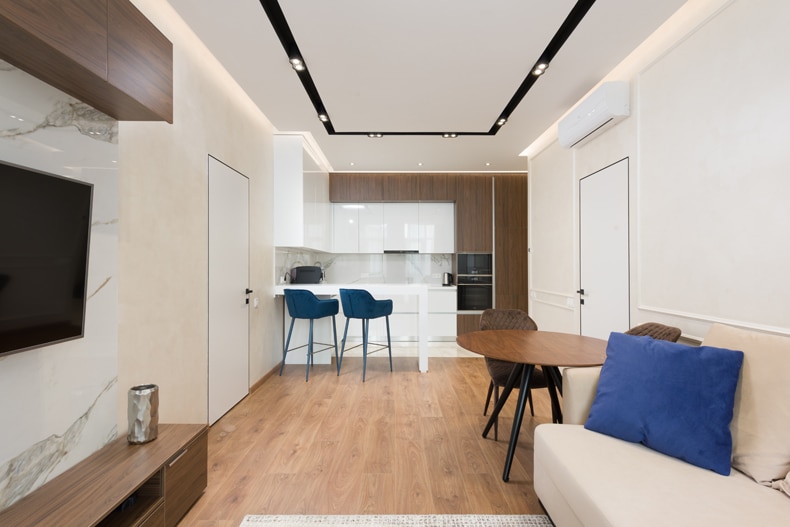 If you want to create a sophisticated room, navy blue is an excellent color to add to the mix. It's a color that is bold and elegant without being too flashy.
Navy blue works well with a dark chocolate brown – but only in small doses. As both these colors are dark, don't overdo it! Make navy blue an accent color rather than the primary color in the room.
You could go for an accent wall or some carefully chosen accessories. And you'll create a room that looks confidently stylish.
White and Brown + Sunshine Yellow
Sunshine yellow won't fail to make you smile. So, it's the ideal color to introduce to a white and brown room if you want to brighten it up! This color is bold but a little whimsical – it feels fun and refreshing.
A white and brown room can look a little traditional, but a few splashes of yellow will modernize it. So you'll feel more relaxed and laid back.
Yellow has even been shown to inspire creativity and make you more lively and energetic. But for that reason, it might not be the best choice for the bedroom.
White and Brown + Mustard Yellow
Yellow in any shade works well with brown tones. So if bright, sunshine yellow isn't your thing, why not go for mustard instead? This rich yet muted tone is warm and inviting.
It will add some color to your living room or bedroom without being too in your face. And it's the perfect complement to dark brown tones, balancing out the color scheme.
White and Brown + Forest Green
You can create a rich look by pairing white, brown, and forest green. The natural green and brown tones work well together and are gentle on the eye.
But as this shade of green is pretty dark, take care when choosing your colors. Pair it withl a lighter brown or use plenty of white to balance the room. Otherwise, it could appear too dark and overwhelming.
White and Brown + Burnt Orange
As burnt orange is another rich, warm color, it should be no surprise that it goes so well with brown. This color is an excellent choice to add to your white and brown interior design scheme.
It's inviting and cozy, with soft autumnal vibes that make you want to snuggle up and relax. So, you can use this color palette to create a stylish and comfy living room.
This color scheme is less commonly used in the kitchen. But it can also work well in a vintage-style kitchen. Pair it with natural wooden furniture and floral patterns to go full cottage-core.
White and Brown + Berry Purple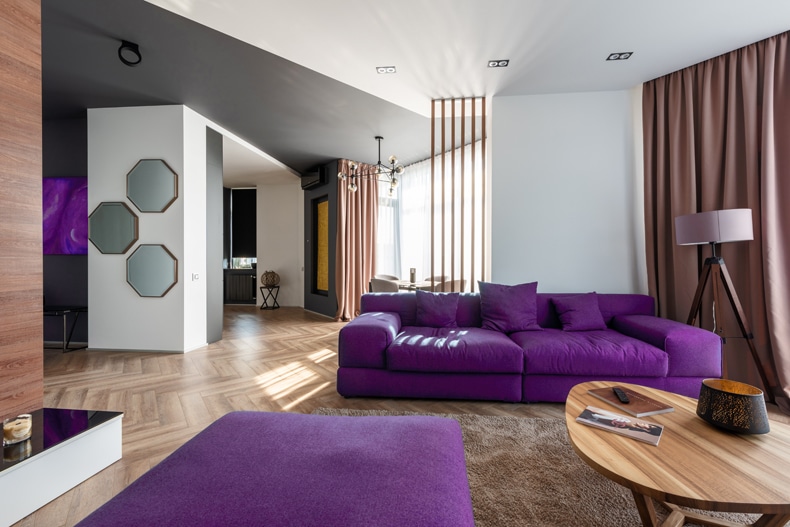 Pair berry purple with brown for a rich, stunning result. Purple is a bold, deep color that feels sophisticated and luxurious. So, it's ideal if you want to spice up a slightly dull living room or bedroom.
I recommend going for berry purple rather than a cool shade of purple. The warm tones of berry purple complement brown perfectly while contrasting with white. So, you create a dramatic, eye-catching look for your room.
White and Brown + Taupe
Taupe is a muted, neutral color with warm tones. As a result, it creates a calm and soothing atmosphere. Add taupe to a white and brown color scheme to create more visual interest without being bold and bright.
As taupe is pretty close to brown, these soft shades harmonize and make for a simple and attractive room. It's perfect for the minimalists or if you want to create a space with gentle, earthy vibes.
The Wrap Up
As you can see, you have loads of options for colors that match with white and brown. Go for cream or beige for a neutral look, or spice it up with teal or berry purple! So you can pick out the perfect accent color to create your desired style.
Let me know which colors you think look best with white and brown. And follow Quiet Minimal for more interior design and minimalist living tips!