Do you wish to infuse a bit of retro 1950s design into your modern home? Combining the two styles may seem intimidating, but it doesn't have to be!
You can inject some old-school charm into your home without compromising its modern aesthetic with a few simple tips. This article will explore how to mix and match the home's modern and retro 1950s design elements.
The decor of the 1950s was known for its bright, cheerful colors and bold patterns. From midcentury wallpapers to whimsical ceramic figurines, there's no shortage of ways to bring a touch of nostalgia into your living space.
And with the resurgence in popularity of all things vintage these days, it's easier than ever before to find unique pieces that fit your style. So whether you want a subtle nod to the era or an all-out homage, there are plenty of options!
Remember that modern furniture and appliances can also be incorporated into a retro-inspired home. By introducing elements from both eras – such as statement lighting fixtures or brightly colored rugs – you can create an eclectic look that feels classic and contemporary.
With these ideas in mind, let's dive into how to combine modern and retro 1950s design in the home!
What Makes the 1950s Design Unique?
1950s design is a classic and timeless aesthetic. In many ways, it was a reaction to the more modern designs of the previous generations. Characterized by its mid-century silhouettes and pastel colors, 1950s design is classic and contemporary.
Consider what makes this style unique as you create a space that combines modern and retro 1950s design. From curved furniture to bold geometric patterns, there are countless ways to incorporate 1950s design into your home without compromising on up-to-date aesthetics. These details will help you create a vintage and modern interior.
Remember, there are no rules when it comes to combining different styles! Whether you're blending traditional pieces with more contemporary ones or mixing bold patterns with neutral colors, be creative and have fun with it. After all, your home should reflect your personality and sense of style!
Understanding The Basics Of Retro Design
Retro design can transport us back in time, so understanding it is key to combining modern and retro 1950s design in the home. This classic era of design was characterized by iconic colors, shapes, materials, and textures that evoke a specific nostalgia.
Colors play an integral role in creating a distinct 1950s feel. Typical colors included warm hues such as mustard yellow, dusty pink, and sage green, which were often paired with classic black-and-white patterns or textures like checkered floors.
Lighting fixtures from this period were often large and unique, with interesting shapes like sputnik chandeliers or wall sconces with gooseneck arms.
It's essential to understand these defining characteristics when combining modern and retro 1950s design in the home. Both styles can create an inviting atmosphere that evokes nostalgia while still feeling contemporary when used together.
Tips For Incorporating Retro Design Into Your Home
It's easy to appreciate the nostalgic charm of retro 1950s design, but how can you incorporate it into a modern home? Understanding the basics is key.
When introducing retro elements into your home, it's important to consider balance. Too much of anything can make an interior look cluttered, so mix modern and vintage pieces equally.
If you need guidance on where to start, consider using classic colors and patterns like plaid or gingham. You could also opt for mid-century furniture pieces that will bring a sense of nostalgia.
To tie the room together, remember the finishing touches. Accessories are a great way to add personality without taking up too much space.
Look for unique pieces, such as vintage signs or wall art that will reflect your style while bringing a touch of old-fashioned charm. With these tips, you can create a timeless look combining modernity and retro appeal.
Using Furniture And Accessories To Create A 1950s Look
Combining modern and retro styles can be a tricky yet rewarding task. The 1950s provided a fantastic array of design elements that can help create a unique look in any home.
Furniture is the first key element when trying to create a 1950s look. From mid-century modern pieces to retro-inspired designs, plenty of options are available.
Choose furniture with curved silhouettes or bright colors like pink, yellow, or blue to add a touch of this era. You can also choose vintage sofas for an even more authentic vibe.
Accessories can also play an important role in achieving the perfect 1950s aesthetic. Look for items like framed art prints featuring bold abstract shapes or geometric patterns and textiles with retro patterns like polka dots or gingham checks.
Remember lighting fixtures, too! Go for sleek brass wall lamps or classic pendant lights with an industrial edge. These small details will make all the difference in creating a unique and timeless space.
By selecting furniture and accessories that embody the essence of the 1950s, you can create a beautiful interior that combines modern style with nostalgic charm.
Using Wallpaper And Paint To Create A 1950s Design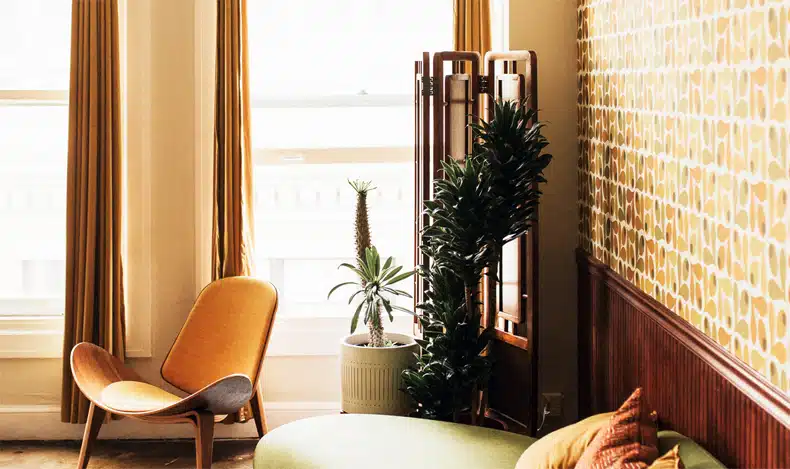 When combining modern and retro 1950s design in the home, wallpaper and paint can be effective. Wallpaper has the potential to make a statement and transport you back in time.
For example, classic floral patterns are popular for creating the perfect 1950s look. Additionally, polka dots or stripes can also be used to add a touch of nostalgia.
But, some prefer paint when designing their rooms with a 1950s flair. It's a great way to achieve an authentic look without being over budget.
You can use bold colors such as pastels and muted hues to add character and style to any room. Furthermore, it's easy to experiment with different colors until you find the right one that works for your space.
With wallpaper or paint, it's possible to create a unique design that reflects your style while still evoking memories of the 1950s era.
Whether you opt for classic patterns or bright colors, you'll surely capture the essence of this iconic decade in your home decor.
Choosing The Right Lighting To Enhance 50s Vibes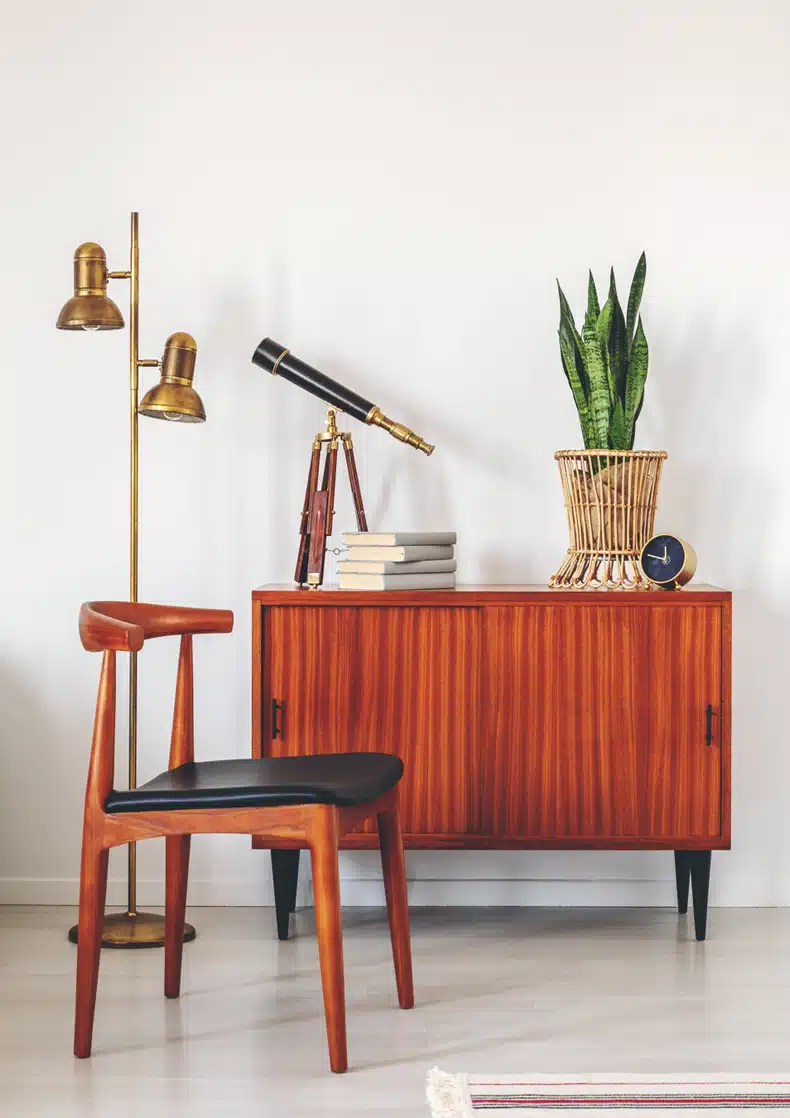 Lighting is important in creating an authentic 1950s look in your home. It can help set the mood and atmosphere you are looking for. When choosing the proper lighting for this particular design style, several options are available.
One of the most popular choices is period-style fixtures with a definite retro vibe. Pendant lights, wall sconces, and chandeliers work well in this type of space.
Combining different lighting types will help create a more dynamic look while keeping with the vintage aesthetic.
Accent lighting is another excellent way to enhance the 50s vibes in your home. You can use string lights or fairy lights around furniture or artwork to add a touch of sparkle.
Depending on your design style, you could also opt for more modern fixtures such as LED strips or track lighting. Whichever option you choose, it's important to balance functionality with aesthetics.
No matter what kind of lighting you decide on, it's sure to bring the perfect finishing touches to any retro 1950s design scheme in your home!
Bringing 1950s Style Into Your Kitchen
The kitchen is the best place to begin when combining modern and retro 1950s design in the home. A simple way to bring 1950s style into your kitchen is to use colors inspired by the era.
Bright, bold colors like red, blue, and yellow are perfect for creating that 50s vibe. You can also add accessories like vintage-style appliances and furniture pieces with chrome accents.
Another way to add a touch of 50s style is through lighting. Look for light fixtures with an old-school feel, and opt for warm tones such as yellow or orange for a retro look.
Chandeliers and pendant lights are great options for enhancing the atmosphere of your kitchen in a 1950s style.
Mixing and matching different elements is the key to the perfect combination of modern and retro 1950s design. Experiment by blending different colors, textures, accessories, and lighting fixtures until you achieve the desired look.
1950s Design In Bathrooms
Bathrooms are one of the critical spaces to bring a 1950s-inspired look. Adding classic style with modern touches, like bold patterned tiles, vintage-look fixtures, and period-style lighting, is easy.
A few well-chosen pieces can make all the difference in creating a 1950s bathroom. Consider adding a bright-colored sink, retro taps, shower heads, and vintage wallpaper. For an extra touch of class, consider a clawfoot tub or pedestal sink for the perfect period look.
But remember that it's essential to strike the right balance when combining modern and retro elements. A vintage charm can go a long way in bringing your 1950s design dreams to life – be sure not to go overboard!
1950s Design In The Bedroom
Regarding 1950s design in the home, the bedroom is a great place to start. This is because it's a space where you can get creative and combine modern and retro elements. Plus, it's one of the most important rooms in the house — a place for relaxation, rest, and quality time with family.
There are various options to achieve a 1950s feel in the bedroom. Consider adding vintage furniture, such as nightstands or dressers that feature modern mid-century designs.
You could also hang up the era's artwork or add wallpaper with a 1950s motif. If you're looking for something more subtle, consider adding classic accents like textured pillows or curtains that feature bold colors like pink or turquoise.
Combining Modern And Retro 1950s Design In The Home
Modern elements such as sleek lighting fixtures or abstract art can provide a contemporary contrast that gives the room an eclectic vibe.
Meanwhile, furniture pieces like mid-century dressers and headboards offer a nod to retro design.
Combining these two elements in one space makes it possible to simultaneously achieve a modern and vintage interior style.
Incorporating elements of 1950s style into the home is an excellent way to create a distinctive décor. From bright colors and bold patterns to classic silhouettes, there are many ways to bring this era into your living space without feeling stuck in the past.
A carefully curated mix of new and old items can help create an on-trend look that feels yours uniquely.
Conclusion
In conclusion, incorporating 1950s design into the home can add character and style. Combining modern and retro elements is a great way to ensure your home has a timeless feel.
With the right furniture, accessories, wallpaper, and paint, you can create a unique look that will last for years. You never know what beautiful results you'll get! So go ahead and try out some creative combinations of old and new.
Follow Quiet Minimal on Pinterest for more home design tips and inspiration.