Your bedroom is such a personal space, so you want to make it feel cozy and unique. Here's a list of cool things to have in your room!
When you're thinking of cool room accessories, it will depend on your interests and style. So, browse this list of cool things to decorate your room. But remember, not all these suggestions will work for you. So, be selective and pick out the accessories that appeal to you for your room!
There are all sorts of cool things to decorate your room. From kids' rooms to teen and adult bedrooms, you'll find something for everyone. There are some great ideas for things you could give as gifts, too!
Cool Things to Have in Your Room
So, you've been wondering – what are cool things to put in your room? Maybe you want to make your space look more interesting, or you need ideas for your kids. Either way, here's the ultimate list of awesome things to have in your room!
Detachable Shelf for Your Bed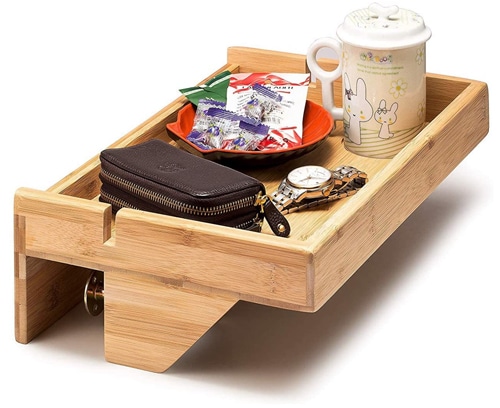 ---
A detachable shelf is a handy addition to your room. It's useful and practical, especially if you're short on space. You can keep all your essential items nearby while you're in bed. It's the perfect size for your phone, clock, drink, and a book or your iPad.
This sturdy bamboo shelf is strong and also looks cool. And even better, it has USB ports to charge your devices, so it's multipurpose. Other useful features include a cup holder and slots for your phone and iPad.
Plus, it's quick and easy to install and remove, making it ideal for students. It doesn't leave any permanent damage.
Tablet/Phone Holder
We've all had days when we just want to chill in bed and catch up on a few shows. If that sounds familiar, then you need this great tablet pillow stand.
It has three different viewing angles and works with most tablets, phones, and iPads. So, you can lay back and relax while streaming videos or scrolling through social media.
It's lightweight and compact, so you'll feel comfortable. And you can even take it with you when you travel. The removable cover comes in handy if you have any spills. Just take it off and chuck it in the washing machine.
And when it comes to cool stuff to buy for your room, it's pretty cheap. You'll find yourself using this tablet holder ALL the time, so it's a real bargain.
---
Nanoleaf Rhythm Lights Starter Kit
If you're after some fun, unique lights, you can't get better than Nanoleaf. This starter set includes 13 hexagonal lights that you can arrange in any shape or order. So, you can create an amazing personalized design for your room.
But what's really cool is that they have sensors that pick up on any music you play. Then, the colors transform and change colors to the rhythm of your music.
These lights are super bright and have more than 16 million different colors to choose from. So, you can adapt the lighting depending on your mood. You can also control the lights manually or via voice control (e.g., by using Alexa).
And if you're worried about installing them, it's very straightforward. No tools are necessary – you simply use the mounting tape included.
---
Aromatherapy Diffuser
An aromatherapy diffuser is one of the coolest things to add to your room. That's because it can help you relax, destress, and make your room feel like a refuge from the world.
And this diffuser is not only practical but also beautiful. It has a gorgeous 3D glass design that makes this diffuser a decorative piece for your room, too.
Plus, it doubles up as a humidifier and a night light. So, this little affordable gadget deserves a spot in your room. It can help you sleep better, feel calmer, and focus better if you're working or studying.
It has a quiet mode, timer settings, and safety features to prevent it from overheating. All you need to add is your favorite essential oils, depending on your mood. An aromatherapy diffuser also makes an excellent gift for a friend or loved one.
---
Retro Lava Lamp
There's nothing more retro than a lava lamp to channel those vibes. This classic design with a silver base will look cool in your bedroom!
As the wax heats, it moves up and down the lava lamp in a mesmerizing way. You may find yourself hypnotized by its relaxing movements.
This purple and yellow color combo are bright and fun. And its size is perfect for your desk or nightstand. It provides a gentle, low-light ideal when you're winding down for the day.
---
Programmable Window Blinds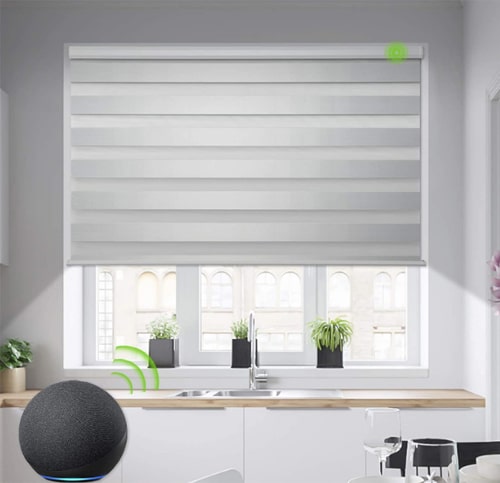 When it comes to stuff to get for your room, smart window blinds are about as cool as you can get. These window blinds are programmable, so they can open and close at set times.
So, you can close your blinds without even getting out of bed. But you can also be sure that you'll never miss an appointment again. These blinds will open at a pre-programmed time, so you're up bright and early and don't oversleep.
They're also easy to install with no tools necessary. The blinds come with remote control and are compatible with Alexa.
These smart window blinds will ensure that you get a better night's sleep. They're made from a combination of sheer and blackout fabric. So, you can adjust the lighting to suit the time of day. They provide privacy and can block out any natural light while you're sleeping.
---
Soft Heated Blanket
There's nothing cozier than snuggling up with a soft blanket on those cold winter nights. But a heated blanket takes it to the next level!
This gorgeously soft blanket heats up quickly. So, it will keep you toasty warm in your room. It's made from smooth flannel and cozy sherpa velveteen. You'll love wrapping up in this fantastic blanket.
But it's also energy efficient and automatically turns off after four hours. So, you don't need to worry about it overheating. Plus, it's easy to take care of as it's machine washable.
This soft heated blanket is practical and can double as a decorative throw. It's a perfect minimalist accessory for any room and just what you need for those winter months.
---
Iridescent Rainbow Floating Shelves
Floating shelves are a great way to add more storage to a bedroom. And these iridescent rainbow shelves are as fun and colorful as they come! They will brighten up any room and are perfect gifts for kids and teens!
These shelves are both practical and decorative. They're made from strong acrylic, so they are stable and can hold plenty of weight. Plus, you'll be happy to hear that they're easy to install, although you will need to drill into the wall.
---
Night Sky Projector Lamp
This great little projector is perfect for relaxing in the evening. Turn it on, marvel at the night sky, and learn to spot the constellations simultaneously. It's calming, educational, and even creative, as you can draw your own designs using the whiteboard pen.
This projector lamp is ideal for children, teens, or anyone who finds the night sky amazing. It also has several lighting settings in different colors. You can cycle through the various effects or keep it on a specific mode. Plus, you can set the volume as desired and adjust the brightness to suit your needs.
---
Waterproof Bluetooth Speaker
When I was considering things for my room, I knew a Bluetooth speaker was non-negotiable. It allows you to listen to music or stream movies with excellent audio. So you can wave goodbye to tinny music from your phone speakers with this handy gadget!
Plus, it's compact, lightweight, and affordable. So, it's perfectly suited to a minimalist home.
Even better, you won't need to worry about spillages with this waterproof speaker. And as it's portable with long battery life, you can take it with you. The suction cup holds it firmly in place, and you can even take it into the shower.
---
Lamp/Bluetooth Speaker Combo
As multipurpose gadgets go, this one is pretty impressive. It doubles up as a lamp, Bluetooth speaker, and wireless charging station. So, you can listen to music while you charge your phone.
The lamp has adjustable settings, so you get the perfect ambiance. You can choose between seven different colors, and it's very easy to control.
So, it's another great minimalist pick for your room. It's space-saving and economical, making it one of the coolest items for your room.
---
Photo Clip Light String
Twinkle lights are a cozy and enchanting way to light your room. But these light strings take it to the next level by adding photo clips. So, you'll always have your favorite people and special moments on display.
These photo clip light strips will bring a smile to your face and make your room feel special. They're a simple and effective way to personalize your room. So, they make a thoughtful gift for students away from home.
And as they are dual purpose, they're ideal for a minimalist room. Plus, they're easy to hang – no DIY necessary!
---
White Noise Machine
A white noise machine is a compact little gadget (so it's a great minimalist thing to have in your room).
It's a great choice as it can help you sleep, so you feel more rested. It blocks sounds around with white noise so you don't get disturbed by other distracting noises. It's multipurpose as it can also boost your concentration as you work or study.
This little white noise machine has 20 different settings depending on your preference. You can choose from white noise, brown noise, nature sounds, and more. It's simple but effective and could really improve your quality of life.
---
Mini Fridge
There's nothing more luxurious than having a mini-fridge in your room. You'll be the envy of all your friends, with snacks and drinks on hand.
This mini-fridge is compact and can hold up to six cans or loads of snacks and sweet treats. Plus, it's convenient if you're a student sharing a kitchen with your roommates. It's quiet and energy-efficient, making it perfect for yoru bedroom.
---
Floating Desk & Shelves
A floating desk is a smart solution if you're short on space. This compact, wall-mounted desk doesn't take up any floor space and has built-in shelves.
So, you can store your books, stationery, and more here. But it also provides you with a decent workspace for studying, writing, and more.
With its simple white design, it looks sleek and minimalist. It will suit any room, from kids to teens and adults. This desk is a fantastic use of space that will allow you to turn your bedroom into a multipurpose room.
---
Hanging Door Organizer
Do you always forget where you put down your keys or wallet? Maybe you never remember to take your sunglasses with you when you head out the door?
Then, you need this smart little door organizer. It holds all your essential items, so you never forget where you put them.
Instead, you can put them into the organizer as soon as you come into the room. And you won't have that mad scramble to look for them when you're already running late.
This door organizer is cheap and doesn't take up any extra space. It hangs on your door handle and has little pockets to hold your important items. You can clip your keys on the lobster clip so you always know where they are.
A door organizer is such a simple thing, but it could be a game-changer for you!
---
The Wrap Up
So, there you have the ultimate list of cool things to buy for your room. With these suggestions, you'll soon have the coolest room around. But you can also personalize it to make it unique and special – just for you!
Plus, you'll have loads of gift ideas of things to get for your room. So, you can pass on these gift ideas when your birthday or Christmas rolls around!
Do you have any suggestions to add to this list? Let me know in the comments below!
Make sure to follow Quiet Minimal on Pinterest for more interior design and minimalist tips!