Have you ever been in a room that had the perfect lighting? Ambient lighting can give any room a cozy, inviting atmosphere. It can give any area a sense of sophistication and refinement. Here we'll explore four easy ways to incorporate ambient lighting into any room in your house.
If you're looking for tips to make your home more inviting, ambient lighting should be at the top of your list. Light fixtures can change the look and feel of a room. They can make it look amazing and feel cozy.
There are lots of choices for adding ambient lighting to your home decor. You can use table lamps, overhead fixtures, and more.
It's easy to make your home look great–no experience needed! You don't have to buy expensive furniture or fixtures, either.
In few steps, you'll learn how easy it is to use ambient lighting to enhance any living space! Read on for some great ideas on how to bring life and light into every corner of your home.
Consider Room Size And Layout
When planning ambient lighting for a room, consider the size and layout. Knowing the room's dimensions will help you choose the right lighting. Use ambient lighting to make the room pleasant without overpowering other features.
Adding ambient lighting is easy with wall fixtures, like sconces or flush-mount lightboxes. These lights will provide an even level of light in the room and create a warm, cozy feel.
You can also install dimmer switches for more control over the brightness. This means you can adjust the atmosphere to suit your needs.
Chandeliers make a room look beautiful and provide natural light. Candles and string lights create a calm atmosphere and can show off special features.
Plan and be creative; it will fit your desired style and serve its purpose.
Take Advantage Of Natural Light
Taking advantage of natural light is an easy way to incorporate ambient lighting into any room. Natural light is a great source of illumination that can be used to create a warm and inviting ambience in a room.
It can also help reduce the need for other forms of artificial lighting, making it an cheap choice too.
Maximize natural light by installing larger windows, if possible. Smaller windows will provide less light than larger ones. Think about the placement and size of windows when deciding how to use natural light.
During the day, sunlight moves around and lights up different areas. You can observe the changes in the sun's position and the impact it has on the lighting of your surroundings.
To get more natural light in your room during winter or cloudy days, get sheer curtains or blinds. These help to filter out harsh rays while still allowing plenty of sunshine into the room. Think about installing skylights or solar tubes for more light and energy savings.
Natural light is a great option if you want beautiful lighting in a room. It's an affordable way to get either soft or bright light.
Choose The Right Light Fixtures
Choosing the right light fixtures for ambient lighting is important for any room. You can choose light fixtures that create a warm, inviting atmosphere, or light fixtures that give off a bright, cheerful feeling. The lighting you choose can make a difference.
There are lots of options out there, so consider all the alternatives before settling on a course of action.
You can select from a variety of fixtures such as pendant lights. Chandeliers, floor lamps, table lamps, wall sconces and more. Each style offers its own unique atmosphere and look.
Additionally, consider the type of bulb you use in your fixture. Incandescent bulbs give off a soft light. Whereas LED bulbs make a brighter light that can be changed with dimmers or color changing.
Choose a light fixture that fits your design and gives the room the lighting you need. Mix and match the elements to create an atmosphere that is both attractive and inviting.
Incorporate Lamps And Lanterns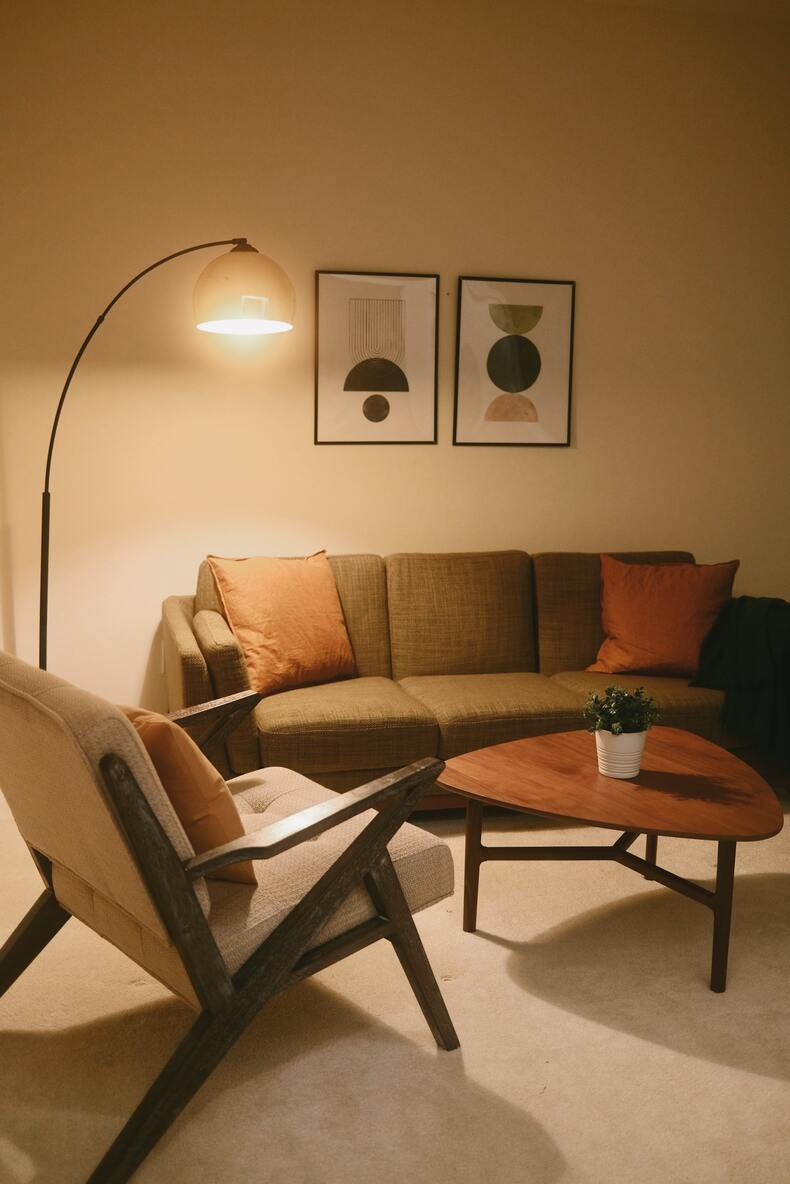 When incorporating ambient lighting into a room, lamps, and lanterns are a great way to go. These types of fixtures provide more than illumination. They also bring a sense of style and personality to the room.
Choose a fixture that harmonizes with your design. This will create the lighting you need for the atmosphere of the room.
Lamps are often used for task lighting. But they can also create a lovely atmosphere if placed around a room. Put several small lamps around the edges of your living room. This will provide soft lighting without diminishing the main light in the center.
Lanterns are also great for giving off ambient lighting. You can hang them at different heights or cluster them together. This will create interesting shadows and patterns on walls and ceilings.
Before choosing a light fixture, think about how much light is needed in the area. Plan ahead to choose lighting that will not only make your space bright, but also make it look better.
Use Different Types Of Lighting
Now let's talk about using different kinds of lighting. We already discussed lamps and lanterns. This can be an excellent way to create a cozy atmosphere as well as adding more interest to the space. It's important to choose lighting fixtures that fit your style and purpose.
You could use wall-mounted sconces or pendant lights for task lighting or to accent areas. Recessed lights are great for lighting up a room without taking up too much space. You can also make use of dimmers to adjust the amount of light in each area.
Omit, ambient lighting is an easy way to bring warmth and atmosphere into any room. You can combine different lamps and lights to get the look you want while still having enough light.
Conclusion
The right kind of ambient lighting can completely transform a room. Whether you choose a single light fixture or many sources of light, the options are endless. It is your prerogative to use the space and create an atmosphere that's perfect for your needs.
Remember to layer lighting to create different effects. I'm sure you can create a lovely space with the perfect lighting using these easy tips.
So go ahead – take some time to experiment with different types of lighting in your home.
Make sure to follow Quiet Minimal on Pinterest for more interior design and minimalist tips!