If you have a brick home, you'll know that these buildings are pretty special. They look authentic and historical, with a specific type of charm and style. But it's not always easy to pick a paint color that will match your bricks.
I'm not just interested in interior design – I'm also fascinated by the exterior of houses. The outside of your home is what creates the first impression – and you want it to be a good one!
So, you need to pick the right exterior brick and paint color combination for your house. But choosing the best color to complement your bricks can be a tough decision.
It will depend on the exact color of your brick house and your preferred style. Bricks can vary in color from red to gray, brown, white, or tan.
But there's the perfect brick color to pair with any shade of brick, so don't worry! Read on to find all the best exterior house colors with bricks.
Best Exterior Brick And Paint Color Combinations
Here's a whole range of exterior house colors with brick combinations that will look amazing. These colors come together and complement each other to create an attractive look. 
So, you won't need to worry about colors clashing or competing with each other. You'll know that you've got a cohesive brick-and-paint color combo if you go for something from this list.
Exterior Bricks Combined with Cream Color

You can't go wrong with cream when paired with almost any color brick. This color is clean, fresh, and bright – but without feeling too harsh or clinical.
It's a softer, warmer color than white, so it can feel more inviting. And that's just what you want when you're coming home after a long day!
Cream will look gorgeous against a red brick house. But it can work just as well with orange, brown, or even gray bricks. It's a fantastic color for your house trim, doors, and shutters. You can also use it for larger areas like sidings and soffits, as it won't become overpowering.
But there is one downside to using cream to paint the exterior of your house. As it's such a light color, it'll show the dirt quickly. So, you'll need to keep up on the maintenance and commit to repainting every so often.
Exterior Bricks Combined with Black Color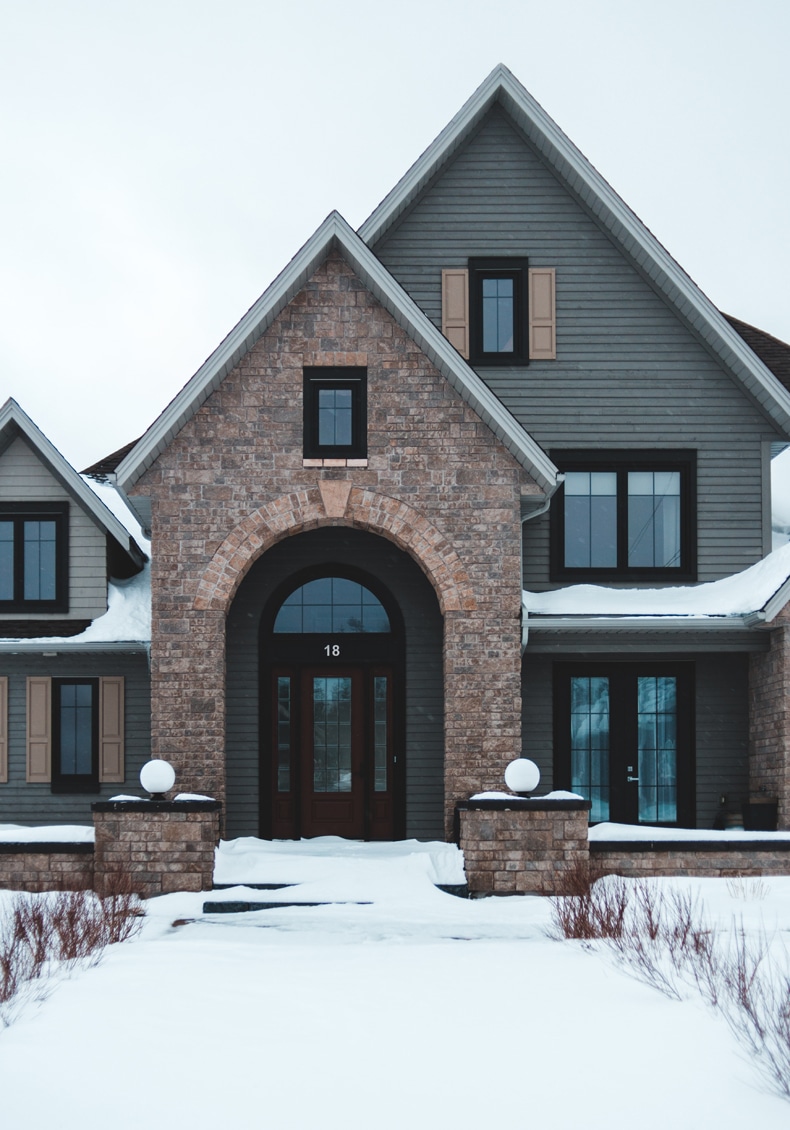 If you want a low-maintenance, classic color, black fits the bill. It's a strong, dominant color that will bring class and sophistication to any house.
Exterior Bricks Combined with Warm Brown Color
A warm shade of brown is the perfect complement for a red brick house. It will complement the warm red tones of your bricks for a cozy farmhouse look.
Exterior Bricks Combined with Dark Brown Color
If you want to make more of an impact, you could go for dark brown paint. It goes without saying that this will stand out more than a lighter shade. But it still hits those warm, neutral tones that work so well with brick houses. So, it's bold without being daring.
Dark brown is a great option if you want to paint a few smaller details on your house facade. It adds some visual interest – but avoid using it for large areas like sidings.
Exterior Bricks Combined with Beige Color
Beige is another excellent color to consider for an exterior paint color. It's a neutral shade with a pleasant warmth, and it won't vie with your bricks for attention.
So, it maintains the charm and simplicity of a brick house while adding a pretty contrast. It's not too light or too dark – so it's neither overwhelming nor too hard to keep clean!

Whether you want to go all out and paint your whole house or just the sidings, why not go for navy? This color is simple and sophisticated but also demands attention. So, your home will look stylish with a splash of navy paint.
The deep, rich color pairs well with red brick – especially in small doses. But if you're feeling brave and ready for a change, you could paint your whole facade this color!
Exterior Bricks Combined with Blue-Gray Color
Blue-gray is a calm color that will contrast nicely with red bricks. But it also pairs just as well with a white, black, or gray brick house.
This cool color is soothing and gentle, bringing to mind the sea and the sky. It's perfect if you want to create a coastal look for your home. And as it's a subtle color, it won't compete or clash with your bricks for attention.
Exterior Bricks Combined with Teal Color
I love how teal looks against a brick house. This color is a little mysterious and magical, and it's an unusual choice for a house facade. So, you can create a unique look by using teal paint on your house exterior.
Teal works with many other colors, from gray to brown and red brick. It's close to green on the color wheel, so it's even considered a complementary color for red.
You could go with a lighter teal for a modern feel and a rich contrast. And a bright or deep teal will add a real pop of color – although I would recommend using it in small amounts.
Exterior Bricks Combined with Pure White Color
Although white might not be for everyone, it creates a dazzling contrast with a red brick facade. Pure white on your trim, shutters, windows, and doors makes for a modern, stylish look.
So, you can freshen up your home with a lick of bright white paint. But be prepared to stay on top of the maintenance to keep it looking fresh and new in the long term!
Exterior Bricks Combined with Forest Green Color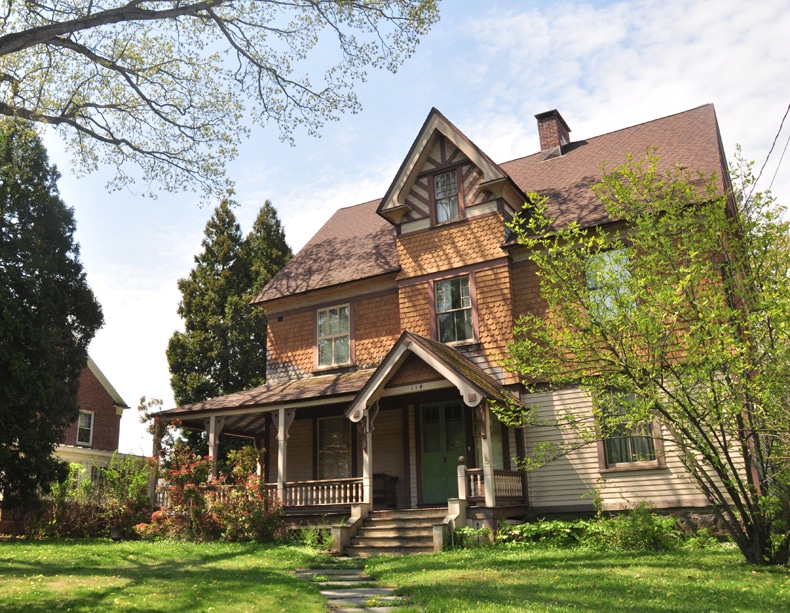 You might think that a deep green would be too bold or dark for your red brick house. But this color conveys sophistication and confidence. Not to mention that red and green are complementary colors.
But you do need to use this color with care. It's a darker green, so you don't want to cover too much of an area with such a dark shade. Otherwise, it could look overwhelming and make your home look drab and dreary.
So, I would stick with using forest green for your front door and shutters. Any more than that, and a lighter color will work better.
Exterior Bricks Combined with Sage Green Color
Sage green is a light green that is soothing yet fresh. It contrasts nicely with red bricks and works just as well with many other shades.
This color has lots of energy, but it's also not too bright or overpowering. It looks especially attractive if you have a lawn or shrubs out front. These colors will harmonize with the natural tones of sage green to create a charming look.
The Wrap Up
I've noticed that it's not easy to pick the right paint colors for a brick house – especially when you have red bricks. This color is strong and dominant, so choosing the right color palette can be complicated.
But with the options on this list, you should have a good head start. You'll be able to compare these colors with your house in mind and pick the best option.
Consider all the details, such as your home's architecture, time period, and style. All these factors will help you choose the best paint and brick color combination for your home!
Most importantly, you should feel excited and happy when you see your home. But you may also want to create a certain feel – for example, classy and minimalist or bold and bright.
Let me know which of these brick-and-paint color schemes appeals most to you! Share with me in the comments below.
And follow Quiet Minimal on Pinterest for more home design and decor tips!