Decorate the front porch of a farmhouse by using a rural, vintage, traditional or modern décor style. Use wood or cast iron in furniture, railings, and accessories.
Vintage pieces like wooden and enamel items, flowers, memorabilia, and books are all ideal decorations for the porch.
The front porch of your farmhouse is the first impression guests will have of your taste in décor. So, decorate this area to make guests feel welcome and create a space for your family's comfort and enjoyment. Below are some creative and easy-to-do farmhouse front porch decorating ideas.
Decorating the front porch of your farmhouse is exciting, and with so many available pieces of furniture and accessories, you can create a perfect porch area. Read on for some lovely decorating ideas.
Decorating A Farmhouse Front Porch
A farmhouse porch usually brings a feeling of nostalgia, taking you back to your childhood days filled with playful laughter and family time. You can keep this ambiance by using vintage pieces to decorate the porch.
Or you can stick with the rural feel or give the area a more modern look. Whatever your preference, below are some exciting ideas to decorate a farmhouse front porch.
Set The Tone With An Old-fashioned Bench
Place an old-fashioned or vintage wooden bench with a backrest on the porch to set the scene for a homey and country feel. Depending on the size of your farmhouse porch, you could have two benches, one on opposite ends of the porch.
Create a comfortable and cozy look by adding large plump cushions and chunky woolen throws on the benches. The look will be warm and inviting.
Use An Outdoor Sisal Rug
A large sisal rug in front of the farmhouse door will look lovely on a front wooden porch welcoming visitors to the home. You can fill large copper pots with dried flowers and place these on the rug in front of the door.
Show Off An Old Wheelbarrow
A wheelbarrow is always associated with a farmhouse. Looking around in vintage shops or garage sales, you will be pleasantly surprised at what you find. Wooden wheelbarrows or an old trolley will look good on the porch.
Fill the wheelbarrow with potted flowering plants in all shades of color. Choose seasonal plants that can be changed to ensure you always have fresh blooms on your porch.
Use Candelabras For A Touch Of Romance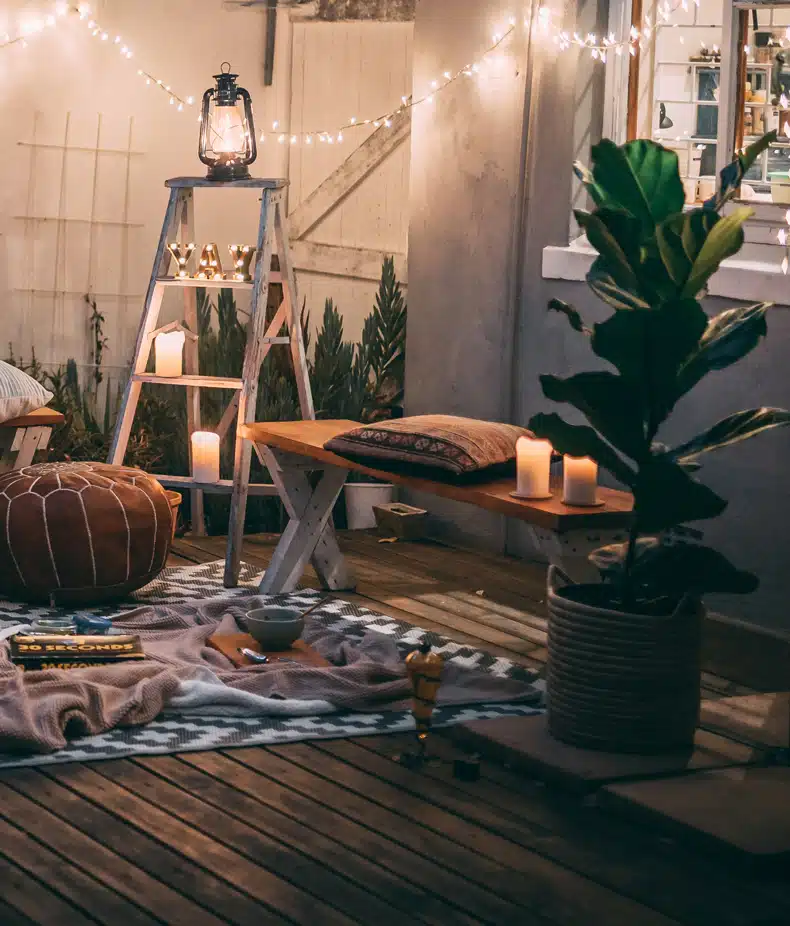 Large floor candelabras will look stunning on the front porch of a farmhouse. Choose candelabras with beautiful intricate patterns made from forged iron.
Add lovely scented candles in a shade of your choice. When lit at night, these gorgeous candelabras add a romantic and mysterious ambiance to the farmhouse porch.
Add A Railing To The Porch
Use a pretty railing to semi-enclose a farmhouse's front porch, offering privacy and framing the area. You could erect a balustrade made from beautiful wood for a natural look or a wrought iron railing for a more vintage look.
You can paint the iron railing white or black or any color that will match the outside finishings of the farmhouse.
Build A Daybed For The Porch
Add a daybed to the furniture on your farmhouse porch. This will be another comfy seating area where the kids can take a nap. Place lots of pillows on the daybed for a comfortable backrest and a soft mohair blanket to snuggle under.
There are many daybeds to choose from at the stores, or you could be creative and build your own.
Hang Pots Of Flowering Plants
Beautiful flowering plants hanging under the porch eaves will create a lovely frame for the front entrance of a farmhouse. Choose plants like petunias, geraniums, and pansies in various colors.
Or keep the look uniform and opt for one type of plant with blooms of the same color. You can hang the basket or container from a tension rod or use an extender hook.
An Old Bookshelf Filled With Nostalgia
Place an old bookshelf against the wall on the front porch of your farmhouse. Keep the rustic look by not sanding down any scratches or stains.
Place books from your childhood or bygone farming days and any utensils or knickknacks on the shelves. You can also fill a few old jugs or pottery containers with dried flowers and herbs from your garden and place this on top of the bookshelf.
Display Vintage Enamelware
Vintage enamelware like basins, buckets, jugs, and dishes will look great on a wooden porch. Use the bucket to store umbrellas or gumboots for rainy days.
Plant herbs and flowers in the jugs and fill the basins with small gardening tools, a floppy sun hat, garden gloves, and moisturizing hand cream. You can place enamelware on the wooden floor or a long wooden dresser.
A Rocking Chair Is Timeless
A farmhouse porch would be empty without one or even two rocking chairs. You can paint the chair white, black, or navy blue for a more modern feel.
Add a pretty embroidered pillow and a brightly colored crocheted blanket for a nostalgic touch. On a small table next to the chair, place interesting magazines and a bowl of oranges or lemons from the orchard.
Wooden Crates For Storage
Every farmhouse will have a fireplace, and the best place to store logs is on the front porch. You can use old wooden crates used for the harvest to store the wood.
Make a rustic display by standing some crates upright to hold lanterns, potted plants, or other decorative ornaments. You can fill some crates with toys and games for having fun on the porch.
Hang Wind Chimes
Hanging wind chimes on the porch is said to bring good luck. There are beautiful wind chimes you can buy that are made from wood, metal, bamboo, glass, or porcelain. Or, if you love DIY projects, you can make your own wind chimes. You could use glass bottles for your wind chimes which will look lovely on a farmhouse porch.
Hang A Unique Timepiece On The Wall
Father time waits for no one, but it is also a steady assurance that life is ticking along. As a reminder, hang a large, spectacular, and unique clock on the porch wall.
You can choose a rustic look with a swinging pendulum or a cock that crows every hour. A clock with a funny face or a more modern feel will look equally stunning against the porch wall.
Brighten Up The Front Door
A brightly painted farmhouse front door will spruce up the porch and make a bold statement. You can choose burgundy, bright blue, or even a sunny yellow.
Add tall plants in brightly colored pots on either side of the door to showcase the stunning color. A bright-colored door will give the farmhouse a new look and welcoming feel.
Conclusion
Choose a rustic, modern, vintage style or a combination of these styles to decorate a farmhouse porch. Beautiful wooden benches and rocking chairs decorated with soft pillows and throws are ideal seating areas.
Use old crates and enamel containers to store gumboots, toys, wood for the fireplace, and garden tools. Add lots of pretty flowering plants and some wind chines to create a charming porch area.
Follow Quiet Minimal on Pinterest for more home inspiration and ideas.