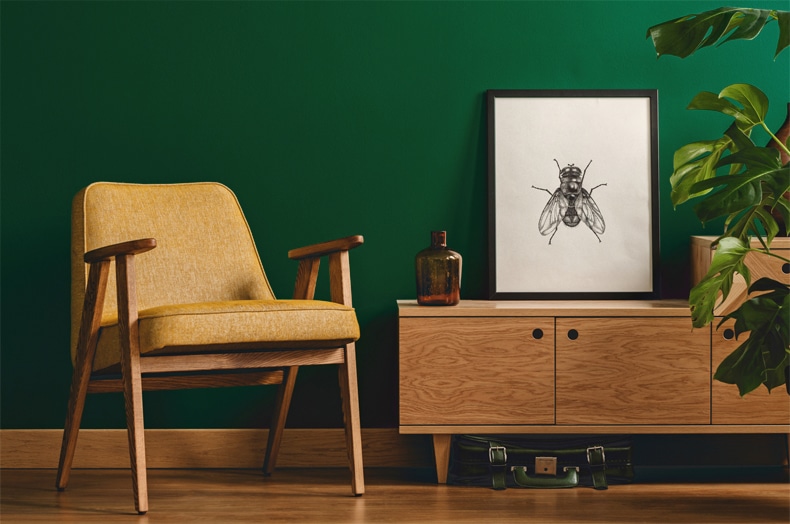 Forest green is on-trend at the moment in the interior design world. There are many ways you can use this rich yet earthy color to add some style to your home.
But what are the best forest green complementary colors? Which colors will work best when paired with forest green in your home?
I've pulled together more than 10 different color palettes using forest green. So, read on to discover the best complementary colors to match with forest green.
12+ Complementary Colors for Forest Green
Forest Green + Burgundy
Burgundy is an obvious choice to pair with forest green if you like rich, vibrant colors.
That's because burgundy is a deep, dark red color. And if you look at the color wheel, you'll see that red is directly opposite green. This means these colors will complement and contrast with each other.
I recommend adding in a lighter color to balance out your room if you use forest green and burgundy. Both these colors are rich, vibrant, and on the dark side. So, using colors like cream or tan can make your room feel airy and open, rather than dark and crowded.
Forest Green + Brown
Brown is a subtler color to combine with green. And in doing so, you can create a warm, earthy color palette and a cozy atmosphere.
If you're looking for a neutral color to pair with forest green, brown is an obvious choice. You'll channel natural vibes without having any clashing colors.
Brown furniture will work nicely with forest green walls or seating. You can add a lighter brown or beige rug to complete the look.
Forest Green + Sage Green
You can use a lighter, contrasting green with forest green to create a fresh and earthy color palette.
Sage is perfect for this, as it's a paler shade that isn't too bold or bright. So, it won't compete with forest green for attention.
Instead, it creates a nice harmony and lets the deep forest green shade come through.
One example of how to do this effectively is going for sage walls. Then, you can add some focal pieces in forest green, such as a gorgeous velvet sofa.
You can play around with these colors and layer them for a modern and sophisticated look.
Forest Green + Mustard Yellow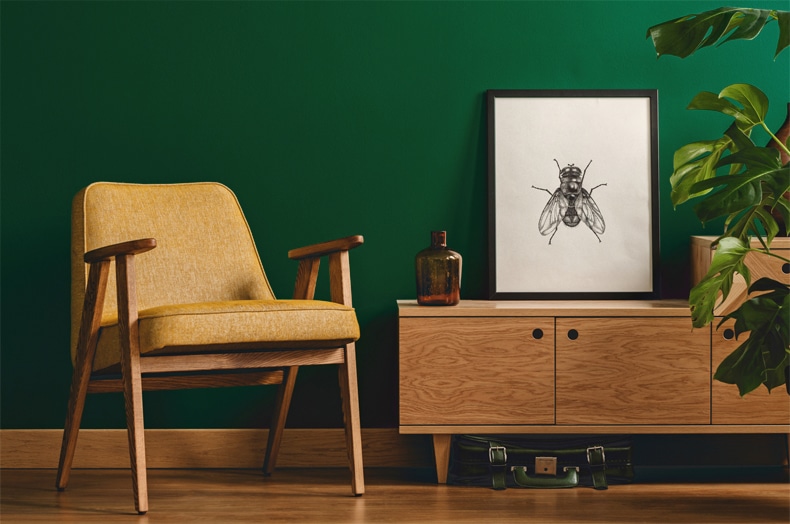 Mustard yellow can create a bold and bright color scheme when combined with forest green.
As yellow and green are next to each other on the color wheel, we call them analogous colors. So, these colors have similar hues and create a nice harmony when used together.
Mustard yellow is a warm, rich color that's also lighter in tone than forest green. So, it makes the deep green color stand out, while the mustard yellow really shines.
You could use forest green as your main color, and then add some fun accents in yellow.
One note – try to choose colors with a similar saturation. That will make them work nicely together, so your yellow shade doesn't look washed out.
Forest Green + Vibrant Pink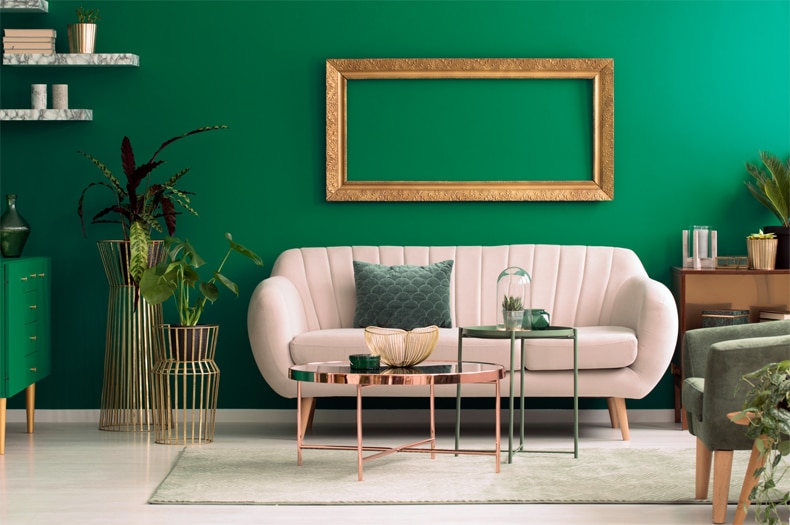 If you're a bright color lover, consider combining forest green and vibrant pink.
A deep pink or magenta color will create an interesting contrast with forest green. The result? A bold and sophisticated look that's not for the faint of heart.

This look is by no means minimalist, but it's fun and stylish. By using these rich jewel tones together, you can appreciate each color even more.
Forest Green + Light Blue
If you prefer the pastel look, add some light blue accents to your forest green room.
Or, you could use pale blue as your base color. Then, you can scatter some fun pops of forest green around.
They will become focal pieces that draw the eye against the subtler blue background.
Forest Green + Royal Blue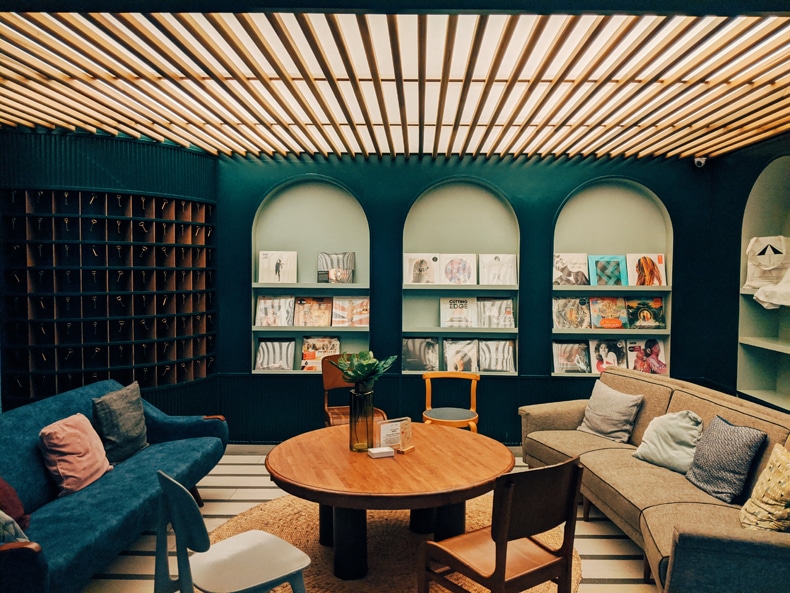 Another option is to go for a vivid royal blue shade.
This look is vibrant, with deep, saturated colors. It works well in a larger room, such as a living room or bedroom.
You can create an exciting look with royal blue and forest green, two equally gorgeous colors.
But make sure you have lots of natural light coming in! When using darker colors, you need to ensure that your room still feels light and airy.
So, avoid going for lots of heavy, bulky furniture if you choose this color scheme. Aim for minimal curtain hangings to allow your rich jewel tones to shine.
Forest Green + Charcoal Gray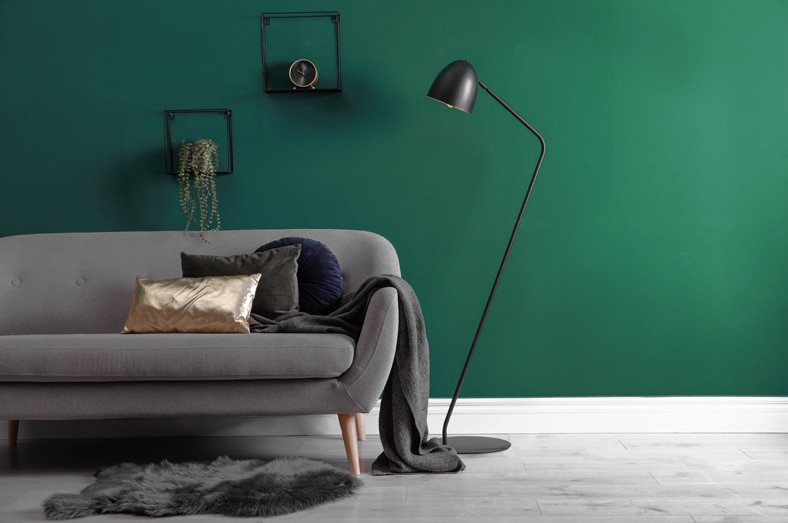 If you're more of a minimalist, you could pair charcoal gray with forest green. You'll make your room look stylish and sophisticated without being too brash or bold.
It's hard to find a color that doesn't go with gray. But forest green, in particular, looks stunning when combined with charcoal.
But if you want to brighten up your room, you could go for a light gray instead.
Forest Green + Purple
Purple is a rich, deep, mysterious color. It's like forest green in many ways, as a deep jewel tone.
So, you can pair these two colors for a unique look that's a little bit moody. This color combo has gravitas and a real chic feel.
Choose a cooler-toned purple to harmonize with forest green, also on the cool end of the spectrum.
Prefer a whimsical look? You could instead contrast the deep green with a light, fun lilac shade. 
Forest Green + Blush Pink
Blush pink and forest green are an on-trend color combination right now. The soft, feminine blush shade complements the deeper forest green.
So, you get the combination of the feminine and the masculine. Together, they create a stylish style that can work in any room.
And as blush pink is a paler color, you don't need to worry about the colors clashing. When combined with darker colors, forest green can become overpowering. But this is a safe color palette for your home.
Forest Green + Black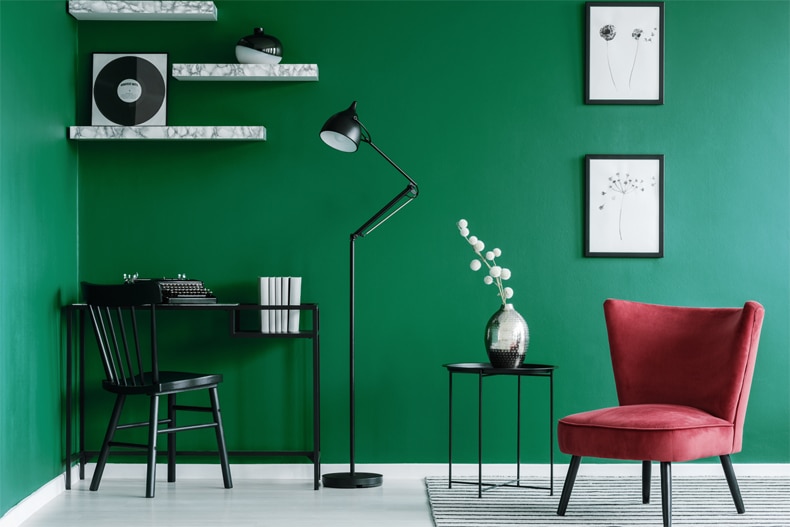 If you want to tone down any forest green elements, black is a wise choice. It's neutral and dark, so you'll create a stylish and cool color scheme.
You'll need to be brave to use forest green and black together, though. Otherwise, you might worry that your room will look too dark and dingy.
But when done well, this look is classic and sophisticated. One option is to go for forest green walls and black accent pieces. For example, a black rug or fixtures will look classy without being too overpowering.
Forest Green + Burnt Orange
Burnt orange is another stunning shade to combine with forest green.
Interesting, orange and green are triadic colors – the final color being purple. So, these colors can look amazing when used together.
Burnt orange is a warm color, while forest green is a cool temperature color. As a result, they create a great contrast against each other. Each color stands out more when used in combination.
And burnt orange and forest green make an earthy, nature-inspired color palette.
So, consider adding some burnt orange touches to your forest green room.
Forest Green + Peach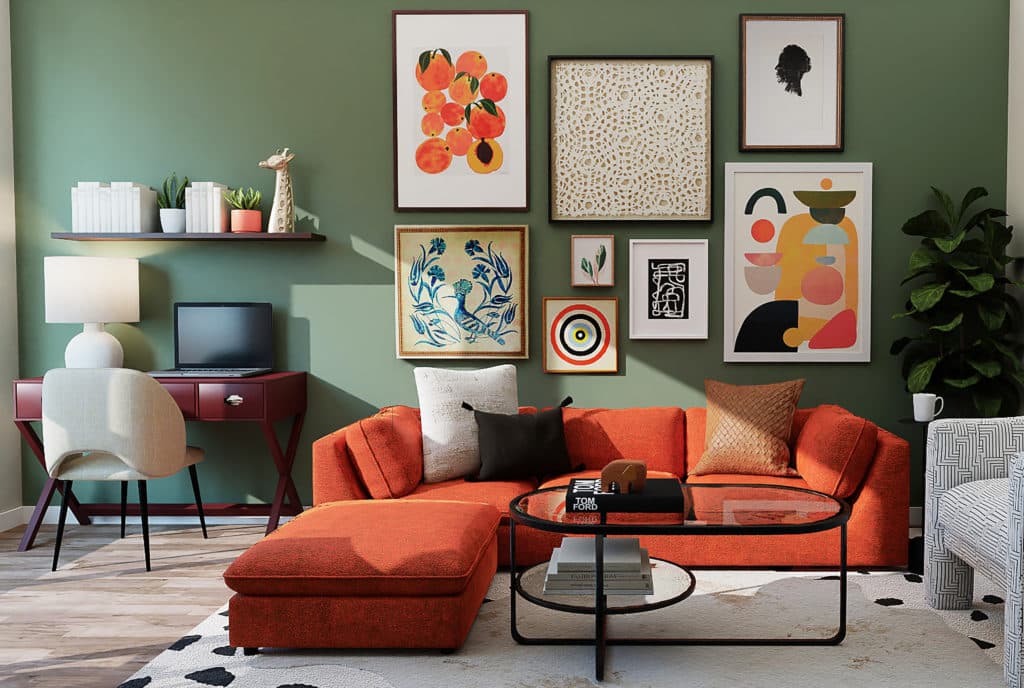 As with blush pink, peach works in much the same way. This color contains orange, pink, and yellow shades.
And as a result, it will make forest green look even more intense than when used alone.
Plus, peach is a rich and juicy color that is very stylish right now. It works best when used as an accent to add a little pop of color to your room.
Forest Green + Berry Red
Berry red can be the perfect complement to forest green. Together, these Christmas colors bring to mind the festive holiday season. They look rich, warm, and welcoming.
Referring again to the color wheel, red and green are complementary colors. So, they have high contrast and will make the other stand out more. This contrast creates a bold, eye-catching look.
The best shade of red to pair with forest green is a rich, saturated berry color. This warm red will make your cooler forest green shade look more inviting. So, it's ideal for creating a cozy setting.
The Wrap Up
As you can see, there are so many complementary colors for forest green.
You could go for a bold color scheme or something more minimalist and sophisticated. The choice is yours!
So, browse through and take your pick.
Which of these forest green complementary colors is your favorite? Let me know below!
Make sure to follow Quiet Minimal on Pinterest for more minimalist & interior design tips for your home!