For all their appeal, French closet doors have a few disadvantages. When they're open, they take up too much room.
There are alternatives for limited room space, including pivot and bifold closet doors.
There are attractive, versatile closet options like curtains, macrame, and a French screen.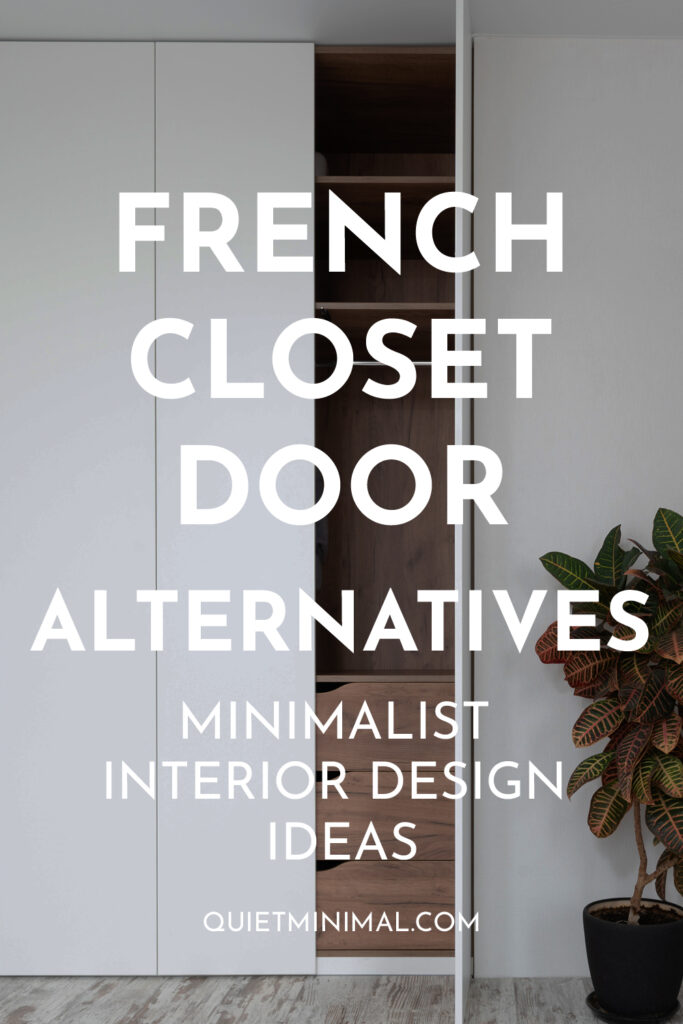 French closet doors have a slight frame and glass windows. They give your room an airy, charming quality. A French door feature is their outward opening from the middle frame.
French closet door alternatives will offer increased space and diverse styles.
Although functional, French closet doors are not inventive and efficient. Various innovative door designs will provide extra space in accessible, affordable ways.
French Closet Doors Alternatives
French closet doors have a distinct, recognizable character. Their double-door design has an old-school sophistication. An advantage of French doors is that the glass panes create an illusion of space. It's inviting and open.
Unfortunately, French doors require more room as their hinges allow them to open fully. They're also costly and challenging to install. In addition,
French doors appeal to a specific aesthetic that may no longer suit your interior design.
The following is a list of French door alternative options. These also present a variety of options applicable to your French doors. These include contemporary French closet doors with frosted glass, mirrored French, or a French style with a pivot hinge.
Bifold Closet Doors
Bifold closet doors are two panels that fold into each other when opened. These panels are mounted on a track inside the door frame. The bifold option is excellent at preserving space.
Their design is innovative and suitable for any area. Bifold closet doors have a discreet, secretive appeal if painted in neutral tones. Moreover, they're affordable and available.
Mirror Closet Doors
Mirrored doors are practical and decorative. If the space is limited, mirror closet doors are a great space-saving technique. They reflect the light, opening the room and filling it with energy. Mirror closet doors are timeless.
Pivot Closet Doors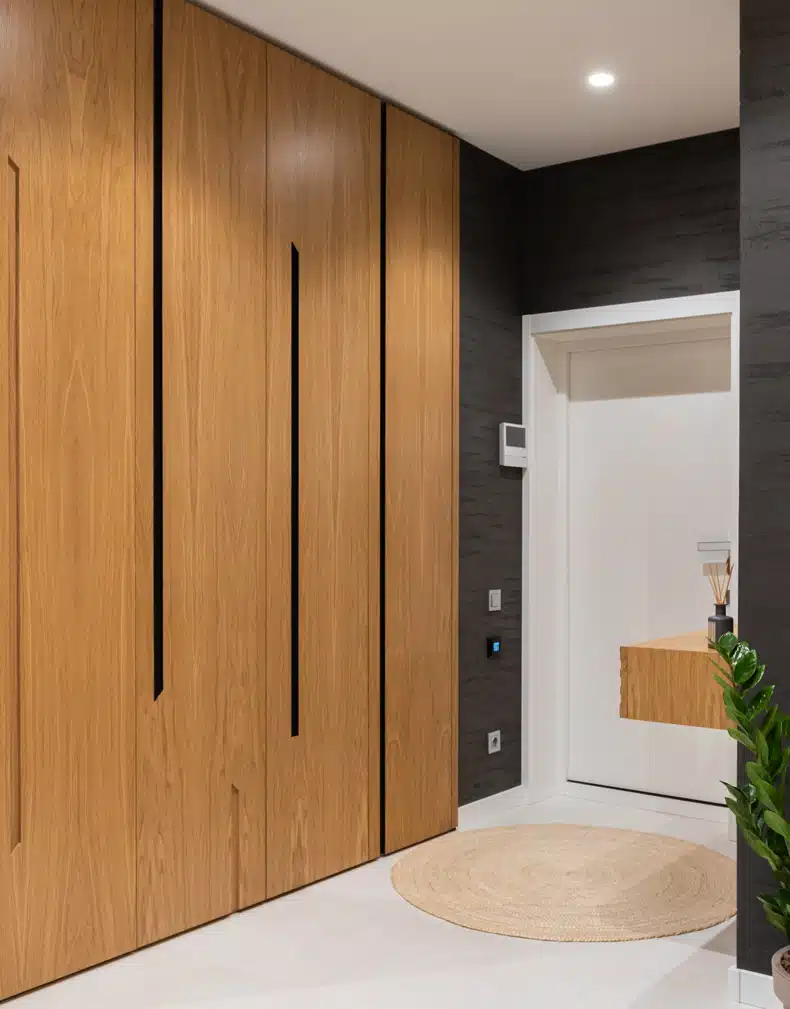 Pivot closet doors have a space-saving advantage over French closet doors. Pivot doors rotate in both directions. These doors save up to 50% of space and have push openings on either side.
One disadvantage of pivot doors is their expense. They're twice the price of French doors due to their intelligent design.
Swing Shelves/ Bookcase Doors
Swing shelves are an inventive solution to closet space and alternate door options. The additional shelves are fitted to the door's frame and provide extra storage.
However, they're cumbersome to open and close, especially if burdened by too many items.
Bookcase doors are fun and exciting. Contemporary trends are celebrating storage as a style option. With vintage hats, decorative hand mirrors, and an array of accessories, storage is an art.
This display space can align to the frame hiding the closet space.
Versatile Closet Door Options
The following is a list of unconventional closet door alternatives. These creative, simple options provide unique, off-brand styles to your room.
Curtains
Curtains are suitable and effective for any room and don't take up space when opening them. Installing curtains is simple and cost-effective.
Access is easy. Curtains could be chic, boho, bohemian, or specific to your taste. There are many approaches to customizing curtains.
These convenient, versatile closet door options have a few drawbacks. They may appear tacky and not agreeable with your room's decor.
Curtains could also become ragged and frayed, especially after too many washes.
French Screen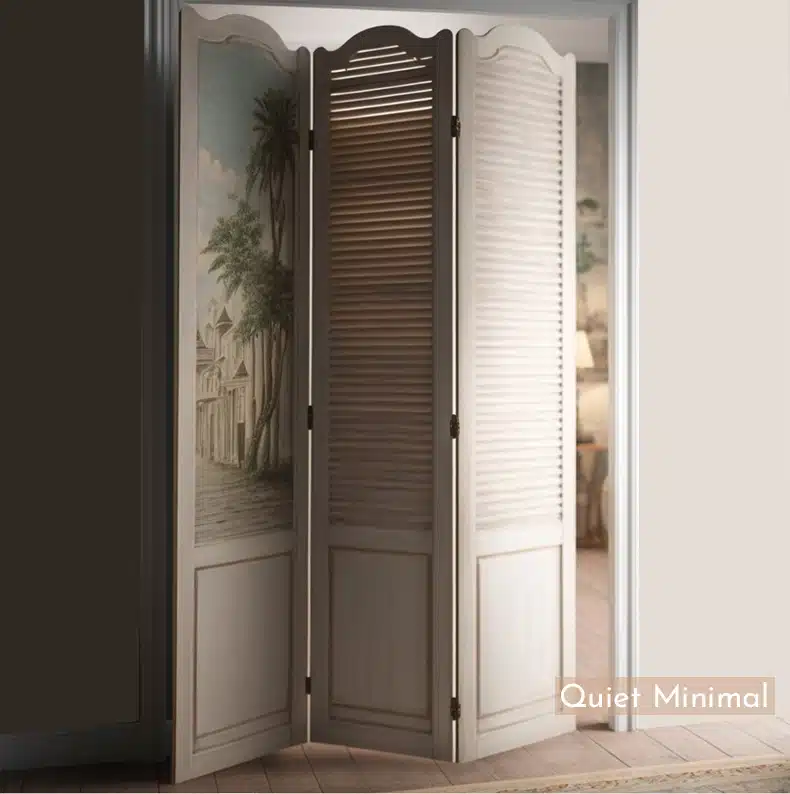 A French screen is simple, elegant, and timeless. These are an excellent home décor investment, as they're also convenient room dividers. French screens are stylish and tasteful. You don't need to bother with installations or DIY projects.
Macrame
Macrame is a curtain-like textile produced from crochet knots and weavings. Its style is boho chic, adding elements of texture and character, lending a specific mood to your room.
You can craft a macrame for your space. It's a valuable skill, and there are many designs available.
Conclusion
Generally, French closet doors have a double-door design, transparent glass paneling, and outward opening. A significant drawback to the French doors is the amount of space they occupy.
French closet door alternatives include bifold, pivot, mirror, swing shelves, and versatile options like curtains, macrame, and a French screen.
Follow Quiet Minimal on Pinterest for more home inspiration and ideas.