Full sun annuals are the perfect plants to brighten your garden all summer long.
You can grow them in pots or the ground – either will work well. Flowering annuals are ideal if you're short on space and want flowers that will last all season.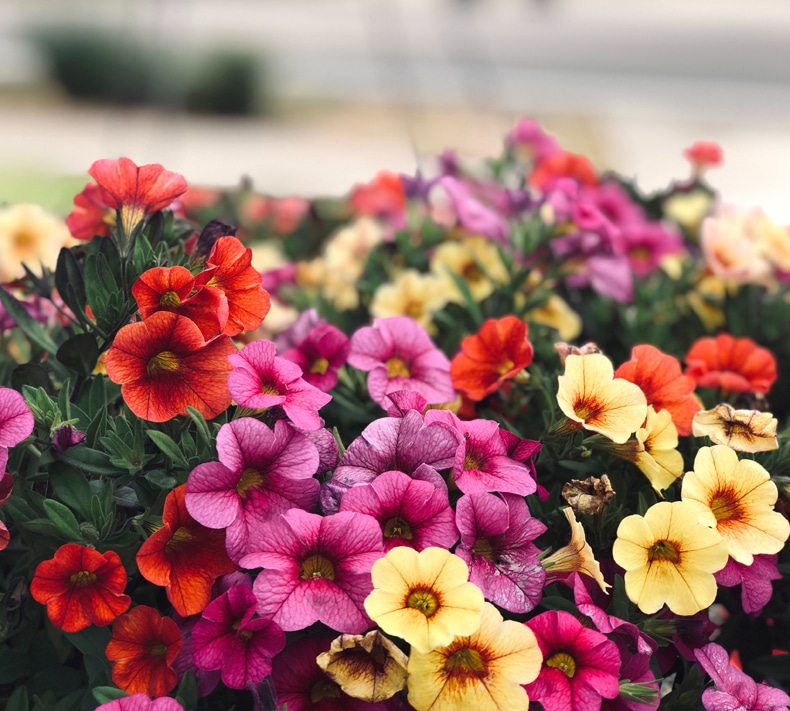 If you have a sunny garden, these plants will thrive and won't wilt from all that sunlight.
But they will also bloom for longer, rather than wilting within a few days. So, that makes them an excellent investment for your garden.
So, here's a detailed guide to full sun annuals that bloom all summer. You'll find easy-grow varieties perfect for any gardener, no matter your experience.
What are Full Sun Annuals?
Annuals are plants that bloom throughout the season. You can plant them early in the spring, and they will continue to bloom even into the fall months. So, that means you have to do less maintenance and get a beautiful garden all summer!
One thing worth noting is that annuals can't survive cold winters and won't regrow the following year. But there are positives to that. You can grow different annuals every year to experiment in your garden. That allows you to keep it interesting.
And annuals bloom like crazy, which means more flowers for you to enjoy. They do this with the goal of setting seed, but you can deadhead to stop seeds from growing. And that will mean even more energy the plant will put toward growing flowers.
You might be wondering what 'full sun annuals' means. That tells you these plants can withstand direct sunlight and even thrive.
You'll find that a rare quality, as most plants tend to prefer some shade and indirect sunlight. Otherwise, they can wilt, suffer, and even die with too much sun exposure.
But not with full sun annuals. You can plant these annuals in a sunny spot and know they will thrive and look amazing.
10+ Gorgeous Annuals That Bloom All Summer
Here are the best full sun annuals that will look glorious in your garden all summer! With over 10 varieties to choose from, there's something for everyone here. 
Cosmos
Cosmos is a delightful flowering annual for your garden. And even better, it's ideal for beginner gardeners. Cosmos is easy to grow from seed and very low maintenance. So, you don't need to be green-fingered to have a thriving garden.
You'll find cosmos comes in a variety of shades. It has small flowers, but they grow in abundance. Plus, it will continue to produce flowers until well into late summer.
Cosmos needs well-draining soil and average watering – not too much, not too little. But it's also very forgiving, so you don't need to worry too much about it!
It can grow up to 4 feet in height, so you may need to stake it for extra stability.
Petunias
Petunias are another bright, fun flower to plant for summer color in your garden.
They look gorgeous in pots, hanging baskets, or in the ground. So, you have plenty of options for how to plant your petunias.
These flowers come in every shade, from pale pink to vivid blues, purples, and reds. You could plant a few different varieties for a rainbow effect. They even come in some unique bicolor options.
And the best part? Petunias keep on giving all the way through to the first frost!
Caring for petunias is pretty straightforward. You may need to cut down very long stems – they will soon regrow with new flowers.
Give your petunias a boost from an all-purpose fertilizer once in a while. Also, make sure the soil is well-draining.
Cypress Vine
The cypress vine produces beautiful, eye-catching flowers that look like bright red stars. These vivid flowers stand out against the light green leaves for a strong contrast.
But do note that the cypress vine can grow very tall, up to 15 feet. And you won't get any flowers until it reaches its full size, so you'll need some patience. But it's well worth the wait to see the cypress vine when it starts to flourish.
Due to its height, a cypress vine will need a trellis or some kind of support to prop it up. It thrives in well-draining soil and needs an average amount of water.
Amaranth
If you're looking for something a bit different, consider going for amaranth. A less common garden plant, amaranth looks gorgeous and fares well in full sun.
Amaranth produces long, thin blooms that are striking. They're a nice change from your regular summer flowers.
These flowers last for up to 10 days on the plant. But you can also cut them and preserve them for longer. They keep their vivid colors even when cut and dried, so they can make a nice floral arrangement in the home.
Angelonia
The beautiful, delicate flowers of the angelonia will look amazing in your garden. And this plant can cope with constant direct sunlight and hot temperatures. So, it's surprisingly hardy!
Angelonia produces copious flowers in pretty shades of pink, white, and purple. The flowers have a unique shape that draws the eye. It blooms all summer, so it will brighten your garden for many months.
You can plant angelonia in pots or hanging containers, as it only reaches around 1 foot in height. It grows best in well-drained soil.
Pentas
Pentas produce clumps of little star-like flowers. Their quantity and delicate shape are beautiful against the deep green leaves.
These annuals are easy to grow and popular with pollinators like butterflies. But they're also deer-resistant and grow well in pots or the ground.
While pentas need plenty of water, they thrive in full sun and well-draining soil. Plant pennies after the last frost, as they don't like cold temperatures.
Zinnias
Zinnias are gorgeous flowers with layers of petals creating a ruffled texture.
They come in jewel tones of pink, orange, yellow, and red. These bright colors will bring bees, butterflies, and even hummingbirds to your garden.
Zinnias grow well in various conditions, including full sun and high heat. And they bloom from spring to fall, so why not plant a few in your garden?
Cupflower (Nierembergia)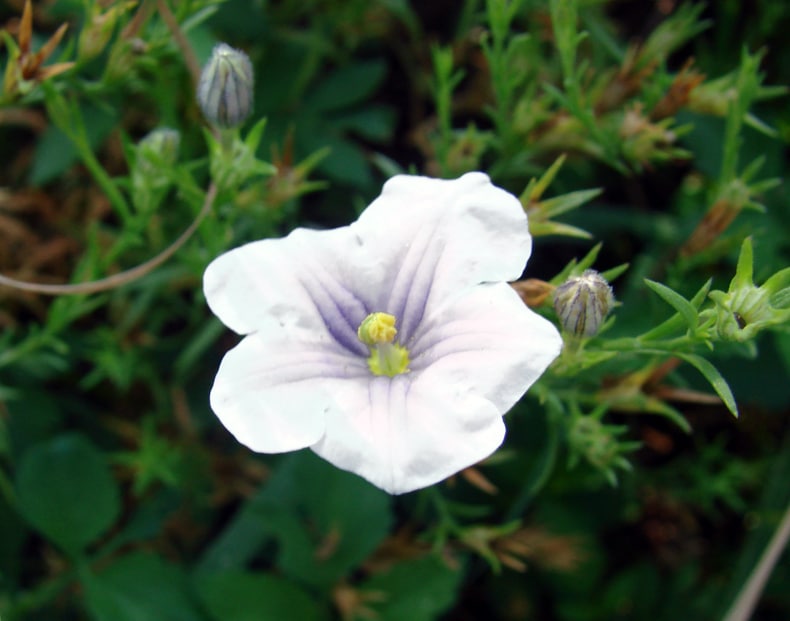 The cupflower belongs to the nightshade family, and its proper name is Nierembergia.
Its flowers are purple, blue, or white, and it's an excellent option for planting in containers. Or, you could line your fence or pathways with cupflowers. Either way, it's easy to grow.
Cupflower fares best in rich soil and needs frequent watering. Using mulch can help the ground stay moist and cool for longer. It grows quickly and can form low-lying clumps.
Celosia
Celosia is a vibrant plant that comes in a rainbow of colors. Most commonly, you'll find bright red celosia, which resembles little flames. Even the name alludes to this, as celosia means burning in Greek.
But there are many varieties of celosia, from yellow and orange to pink or purple. So, you can find the perfect one for your garden.
Whichever type you choose, celosia flowers last for several weeks. So, you can make the most of them for longer.
Celosia are also popular among pollinators like bees and butterflies. If you're looking to invite more wildlife into your garden, celosia is an excellent choice.
While you can plant celosia in containers, that will limit their growth. But in the ground, they tend to expand and can take up a lot of space. So, where you plant them will depend on how much room you want to give to these vivid flowering annuals.
Begonias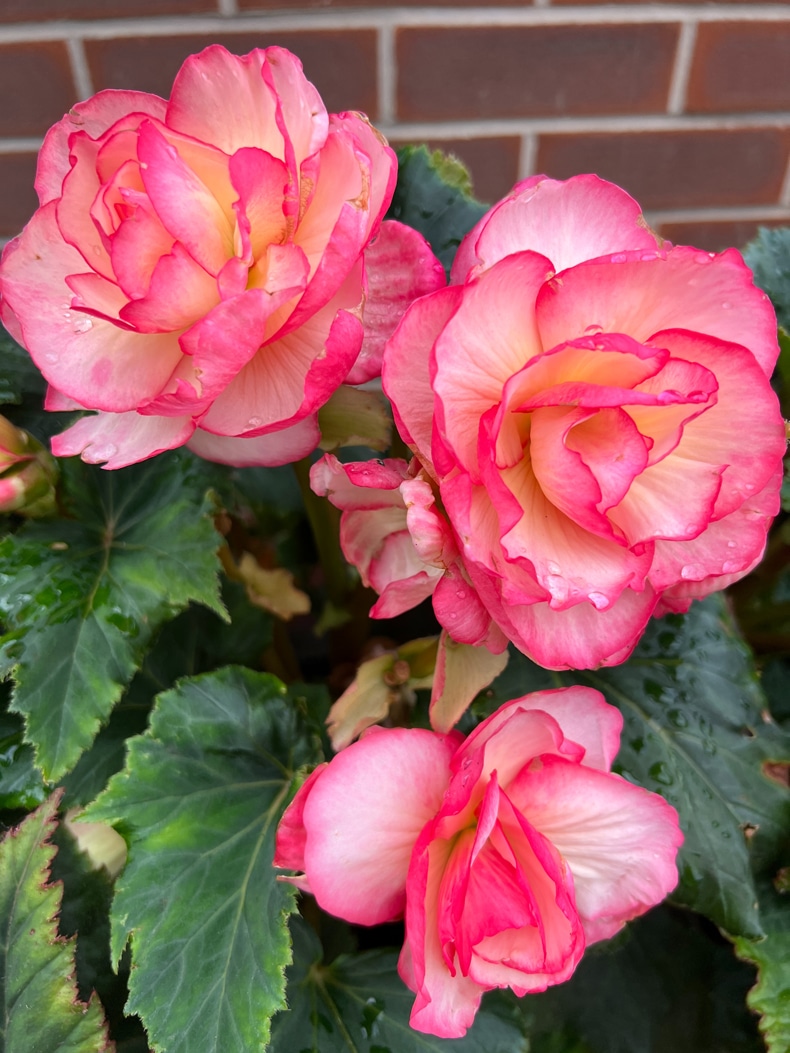 Begonias are a favorite among many gardeners due to their gorgeous, two-tone leaves. They come in pink, red, yellow, or orange and look stunning in every shade.
These full-sun annuals can grow up to 12 feet, adding height to your garden. But they work just as well in smaller pots and hanging baskets.
Take care, though – these flowers are toxic to many animals, including cats and dogs. So, it's better to avoid them if you have any four-legged friends.
Marigolds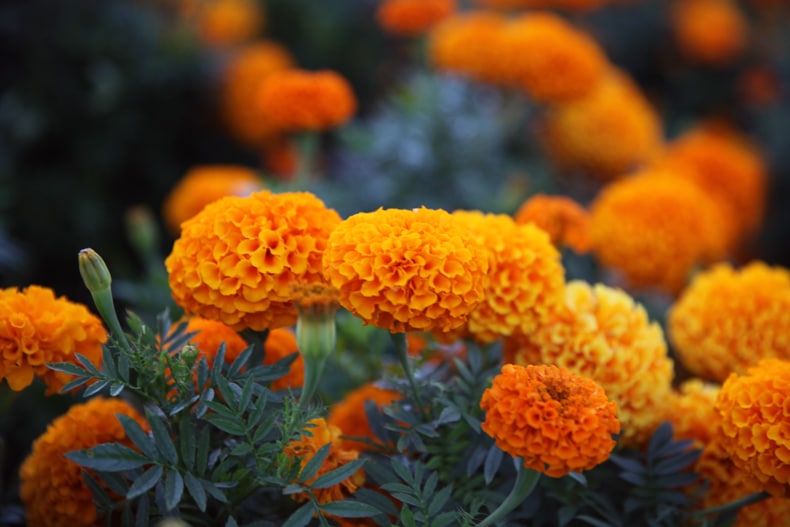 Marigolds are bright, beautiful orange blooms that are sure to bring a smile to your face. They're also simple and easy to grow from seed or a starter plant.
This annual can survive high temperatures and droughts. But expect the best results if you water it on a regular basis.
You'll find short or taller varieties of marigold, depending on your need. Tall marigolds look gorgeous in flowerbeds, while smaller ones are perfect for pots.
The Wrap Up
You have so many options for beautiful full-sun annuals that will bloom all summer. So, browse through and take your pick.
Make sure to note what each plant needs – soil conditions, watering, etc,. Then, you can plan when and where to plant them to create a gorgeous summer garden.
Let me know your favorite full sun annuals in the comments below.
And follow Quiet Minimal for more home and garden tips.
Follow Quiet Minimal on Pinterest for more home design and minimal living content.