Are you dreaming of a minimalist retro 1950s kitchen but worried about the cost? You don't need to go broke to create the look you want! With these budget-friendly tips and tricks, you can have the perfect retro-inspired kitchen in no time.
Do you want to bring a touch of mid-century modern style into your home? Well, it's easier than you think! With a few simple changes and careful shopping, you can create a beautiful 1950s-style kitchen without spending a fortune.
From statement lighting to clever storage solutions, there are plenty of ways to capture that classic look without breaking the bank.
Ready to get started? Keep reading for our top tips on creating a minimalist retro 1950s kitchen on a budget – so you can enjoy all the charm without stress!
Identifying Your Aesthetic
When creating a kitchen, it's essential to figure out your aesthetic. Look for inspiration from the decade itself. For a minimalist retro 1950s kitchen, you'll want to focus on clean lines and neutral colors.
Consider iconic furniture designs like the Eames Chair or Arne Jacobsen's Egg Chair. When shopping for furniture, look for modern takes on these classic designs.
Next, you'll need to consider texture and color. Stick with neutrals like whites, grays, and blacks for an elegant look that won't overwhelm the space. A few accent pieces in bolder hues can add a pop of color while keeping things minimalistic. 
To keep costs down, search online or second-hand stores for vintage finds in good condition that fit your design plan.
Finally, choose materials wisely when decorating your kitchen. Consider natural materials like wood or bamboo and sleek metals such as stainless steel or copper to tie together the look of the space.
Setting A Budget
When setting a budget for your minimalist retro 1950s kitchen, it's essential to consider both form and function. This means finding a balance between aesthetics and practicality. You want your kitchen to look great, but you also want it to be functional and serve its purpose.
It's also important to consider the areas of your kitchen that need the most attention. Do you need new appliances? Are you going to buy new furniture?
Or will you be remodeling some aspects of the space? Once these questions are answered, you can estimate the budget you need to be allocated for each area.
Remember, there are plenty of ways to save on remodeling costs without sacrificing design. Shopping at thrift stores or online consignment sites can help you find unique items at an affordable prices.
Opting for DIY projects such as painting cabinets or refinishing furniture can give your kitchen an updated look while staying within budget.
No matter what route you take, ensure your budget is realistic and consider the materials, labor costs, and other expenses associated with creating your dream kitchen.
Shop Around For Second-Hand Items
As you plan out the retro 1950s kitchen of your dreams, it's important to remember that shopping around for second-hand items can make a huge difference.
You don't need to go overboard with brand-new furniture and appliances – plenty of used items can give your kitchen a classic, vintage feel.
First, check out thrift stores in your area for deals on furniture and decor. You never know what kind of gems you'll find! It could be an old-fashioned dresser or a brass teapot. Best of all, You can purchase these items at a discounted price.
Take time to research online as well. Many sites offer pre-owned pieces from the 1950s era, like tableware and chairs. Plus, you can often score some great discounts if you put in some effort.
So keep an open mind when searching for furniture and accessories for your retro kitchen – second-hand items may be the key to making it come together within your budget!
Choose A Color Palette
You can achieve an authentic look with the right color palette without spending too much. Here's how to pick shades that evoke the era.
Think about what will work best with your existing furniture or appliances. Start by looking at classic 1950s colors – muted pastels, bright yellows and oranges, and earthy tones are all popular choices.
These colors should complement each other rather than overpower them. Consider adding a pop of color with accessories such as curtains, rugs, or artwork.
Remember to keep it simple: An overabundance of colors can distract and detract from the aesthetic. Stick to two or three hues that work together and use accents to add interest and texture. Following these tricks, you can create a beautiful vintage-inspired kitchen quickly!
Select Retro-Style Appliances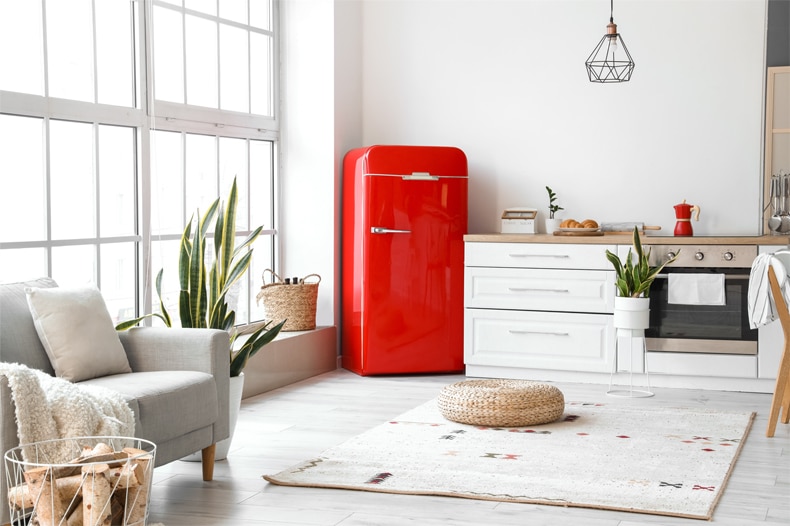 Selecting the right appliances can make all the difference when creating a retro 1950s kitchen on a budget. Since many of these appliances are unavailable in stores, finding ones that match your color palette and fit your budget is essential.
Consider purchasing vintage-style small appliances such as toasters, blenders, and mixers. These items are often found at antique stores or online marketplaces like eBay.
If you don't want something too old or worn down, you can opt for modern replicas of retro designs. This option is particularly cost-effective since you'll be able to get the aesthetic without the hefty price tag that comes with some vintage products.
Finally, consider investing in more oversized items such as ovens and refrigerators. Opting for newer models with retro designs is usually your best bet. Not only will they be more efficient than older models, but they'll also be cheaper than buying a vintage one if you're on a budget.
Refresh Cabinets And Countertops
Refreshing cabinets and countertops is an important step. There are several ways to do this without breaking the bank. First, you can repaint the existing cabinets and countertops with colors from the era. This will give your kitchen a unique look while staying within your budget.
Another option is to buy new cabinet and countertop fixtures that match the retro style. You can look for vintage pieces at thrift stores or flea markets. Or, you can find modern replicas of classic items at home improvement stores. Both options will create an authentic look that won't break the bank.
Finally, you can add vintage accessories like knobs and handles to complete the look. This is an easy way to upgrade your cabinets and countertops without spending too much money. With a few simple touches, you'll have an amazing 1950s-style kitchen in no time!
Find Vintage Furnishings
Now that you have updated the cabinets and countertops, it's time to find some vintage furnishings. Vintage pieces can add a unique kitchen flair while maintaining its minimalist vibe.
Look for an old-fashioned table and chairs set, retro appliances, or even an art deco lamp. If you want to add more of a statement piece, try searching for a retro 1950s refrigerator or stove.
These will be more costly than other vintage finds but will significantly impact the kitchen's design. You can also look for inexpensive ways to give older appliances a new look, like painting them with bright colors or adding new hardware.
No matter what type of furniture you choose for your minimalist retro 1950s kitchen, make sure it fits the style and is manageable.
Choose The Right Flooring
The floor can make or break the aesthetic and feel of the room, so finding something that fits within your budget and matches the aesthetics of your kitchen is vital.
While many options are available for flooring, hardwood floors are a popular option for this kitchen style. Hardwood floors give off an authentic vintage vibe that will help create your desired look.
If you're on a budget, you can find quality laminate or engineered wood flooring options that still look amazing in the space.
Add a small area rug in front of the sink or stove to complete your retro kitchen look. This will add warmth and color to your space without breaking the bank. You can also switch out area rugs if you choose a different style later.
Add Decorative Touches
Adding decorative touches to your kitchen is a great idea to tie the room together and create a cohesive environment. It's also a great way to add retro flair to your kitchen.
Plenty of affordable options will help keep your budget in check while still giving you an eye-catching 1950s style.
When looking for decorations, focus on items that evoke classic retro style. Consider hanging vintage kitchen prints or framed artwork on the walls. You could also look for refurbished antiques or collectibles to use as unique statement pieces.
Additionally, consider items such as colorful dish towels, tablecloths, and runners to give your kitchen an extra touch of personality and warmth.
Remember lighting! Retro-style wall sconces or period-inspired pendant lighting can brighten the space and enhance your minimalist 1950s design.
Final Touches And Maintenance
The last step is to add the final touches and maintain the look. Small details help tie together the design. This could include adding a vintage wall clock or a retro-style appliance for a pop of color.
Keep these decorative elements simple, as the focus should still be on keeping things minimalistic. And to maintain the minimalist concept, it is important to keep clutter and mess in check.
This means having designated storage areas for all items that are not in use and ensuring that surfaces are clean and organized. Additionally, it's also important to update appliances and fixtures every few years, so they remain in good condition.
Conclusion
Creating a minimalist retro 1950s kitchen on a budget is certainly possible. Creativity and determination allow you to have your dream kitchen without breaking the bank.
Start by identifying your aesthetic. Decide what look you want to achieve and then set a budget. Shop for second-hand items and choose a color palette that fits the era. When selecting appliances and furnishings, go for retro-style pieces.
Remember to choose the right flooring as well. Add decorative touches like vintage-style accessories—or repurposed furniture pieces to give your kitchen that extra special touch. Finally, ensure regular maintenance on all items to keep them looking their best.
With these tips and ideas, you can create a fantastic minimalist retro 1950s kitchen on a budget!
Follow Quiet Minimal on Pinterest for more home design tips and inspiration.