You might not associate bohemian interior design with minimalism. But it's possible to blend these two looks to create a gorgeous and sophisticated bedroom!
Cozy knits, greenery, and natural materials already feature in minimalist design. You get a minimalist boho fusion by layering in textiles and a few eclectic elements!
But you don't have to go all-in for bohemian interior design. You can preserve an airy, minimalist style for the best of both worlds. The trick is to mix a neutral color palette with some carefully chosen boho pieces. What's not to love?
You can combine boho goodness and the calm feel of a minimalist room with a few simple tips. This guide will show you how to create a minimalist boho bedroom you'll love!
These tips and inspiring visuals will have you itching to redesign your bedroom ASAP!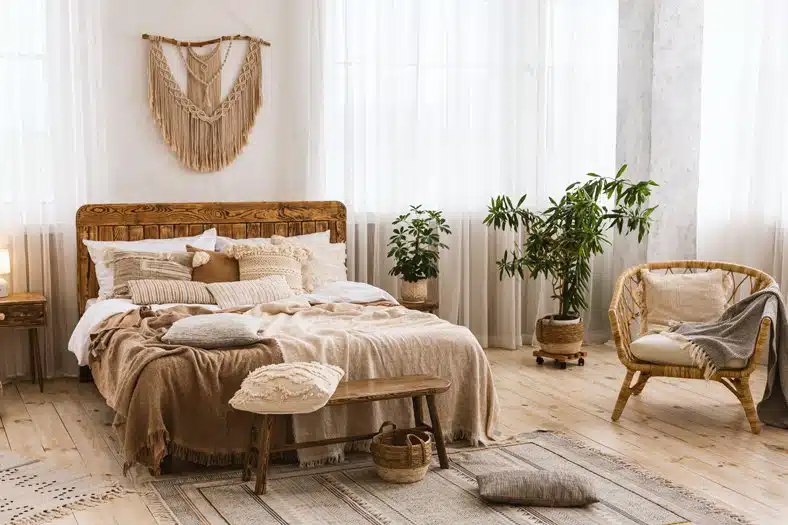 Image / Shutterstock
What is Boho or Bohemian Decor?
Bohemian design, commonly known as boho, first came out of Paris in the 19th century. It was pioneered by artistic types who prided themselves on being free spirits.
As a result, the boho style is defined by the lack of rules and structure. You'll find eclectic yet inviting rooms bursting with textiles, colors, and decorations.
A bohemian room shouldn't look polished or neat. A little untidiness makes it feel more lived-in, comfortable and inviting. Find out more about different interior design styles here.
If the boho style appears, read on to discover how to turn your bedroom into a bohemian dream.
How to Create a Minimalist Bohemian Bedroom
If you love the idea of blending minimalism and boho-chic, read on! Here's a simple guide to creating the perfect minimalist Bohemian bedroom.
Keep Your Walls Clean and Simple
First of all, you'll need to select the paint color for your walls. This decision will affect the overall look of your room, so it's good to start here before you get into the details.
Boho bedrooms look great with a lighter shade on the walls, like white or cream. That will allow your decor and accent pieces to shine through and prevent an overload of colors.
Boho style tends towards maximalism, so you need to balance it out by keeping your walls simple. Otherwise, you could end up with a cluttered, busy look. 
Clean white walls are the perfect backdrop for the other elements in your room. It will also highlight any natural light and make your space feel bigger and brighter.
I recommend going for a warmer white shade to complement the wood and textiles so common in boho design.
Choose an Accent Color
Minimalist homes tend to have very calm, neutral color schemes. You'll see a lot of whites, creams, and natural shades like beige.
But when combining minimalist and boho elements, you can invite more color into your home!
The best way to add color while maintaining a minimalist feel is by choosing an accent color.
Then, you can use your accent color throughout the room to brighten it up and create that boho look. (Without overloading the space with too many different shades!)
The accent color you choose is entirely up to you. It could be yellow for a bright, fresh, and happy look. You could go with pink for a more feminine room or teal to add more depth.
You don't have to pick a bold, bright color, though. Pastel or lighter shades are also fine and can suit a minimalist bedroom. The choice is yours!
The accent color throughout the room creates a visual pattern and cohesiveness. You could use smaller accent items or go big and paint a whole wall with your chosen color.
Selecting the best boho room decorations
Decorations are essential in any boho room. But to keep it minimalist, you should pick them out carefully. You want every item to serve a purpose, whether that's practical or decorative.
By reducing the number of decorations you have, you allow each one to shine. If it's cluttered among other items, it's easy to miss the beauty of an individual piece.
Let's start with greenery! Pot plants are just at home in a minimalist or boho room, freshening the space. A pop of green will introduce more color into a simple color scheme.
You can play around with the placement of your plants. Larger plants look amazing in natural, wicker baskets at floor level. Wicker and rattan items exude boho flair while also being practical.
But you could also add a floating shelf of trailing plants for an incredible feature wall.
I'll explore more types of decorative items such as wall hangings and art below!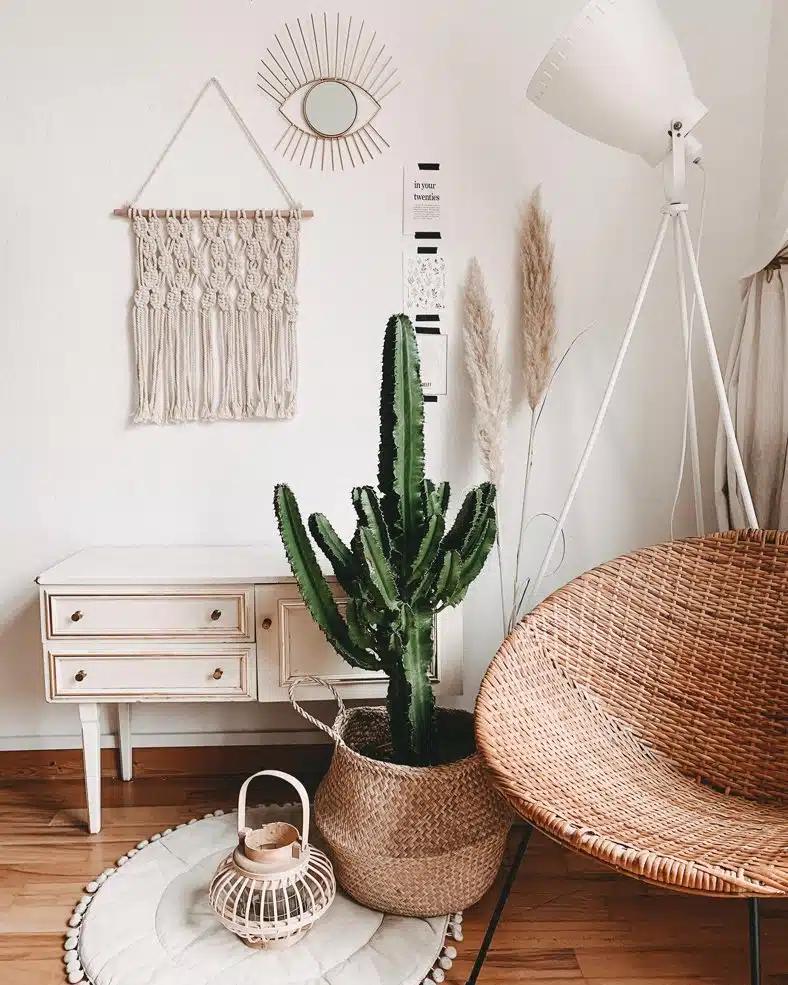 Image / Alyssa Strohmann
Layer it up
Use layers to create that cozy, inviting ambiance of a boho bedroom. Go all out with your bedding and soft furnishings for that lazy-chic look. It will make you want to snuggle down and stay put in your room!
You can layer up your bedding, cushions, and rugs. Combining different textiles creates a unique and elegant look with a lot of depth.
To keep it minimalist, keep to a limited color palette, e.g., cream, beige, and gray. These colors complement each other and are similar enough to look natural together.
Or, you can introduce your accent color against the backdrop of your white bedding. Don't use too many colors at once to avoid it looking too busy or overwhelming.
Rugs are another item that can look amazing when layered effectively. Start with the main rug under your bed, and add in smaller runners or area rugs. Choose colors and patterns that complement each other to avoid any clashing.
Image / Shutterstock
Boho style is all about the accents
To create that minimalist feel, you want to have lots of open space and uncluttered surfaces. You can introduce boho-chic with a handful of thoughtfully selected items.
An accent will become a focal point in the room, drawing the eye. It's what takes a room from bland to sophisticated and stylish.
Great examples of boho accents include a wicker chair, gorgeous rug, or fluffy cushion. These accent pieces add detail to your room without overloading it.
A boho light shade or wall hanging can also have this effect. But you don't need all these items at once!
So, don't feel like you need to include everything mentioned in this article. Think of your rooml and decide what it needs. Which area is a little basic and needs some attention? Where do you want your eye to go?
It's better to be selective. So, pick out one or two boho accent pieces that you love!
Image / shche_ team
Invite natural light in
Natural light is essential in both minimalist and boho styles. So, you'll want to design your room to make the most of this vital element.
Consider where your windows are, and design your room to maximize the natural light. Use sheer white curtains (tassels and sequins are an optional extra!)
You should get a fresh, airy feel to your room, with lots of open space and freedom of movement.
Avoid bulky furniture that could block any daylight or cause shadows. Instead, opt for low-lying furnishings that invite you to kick back and relax.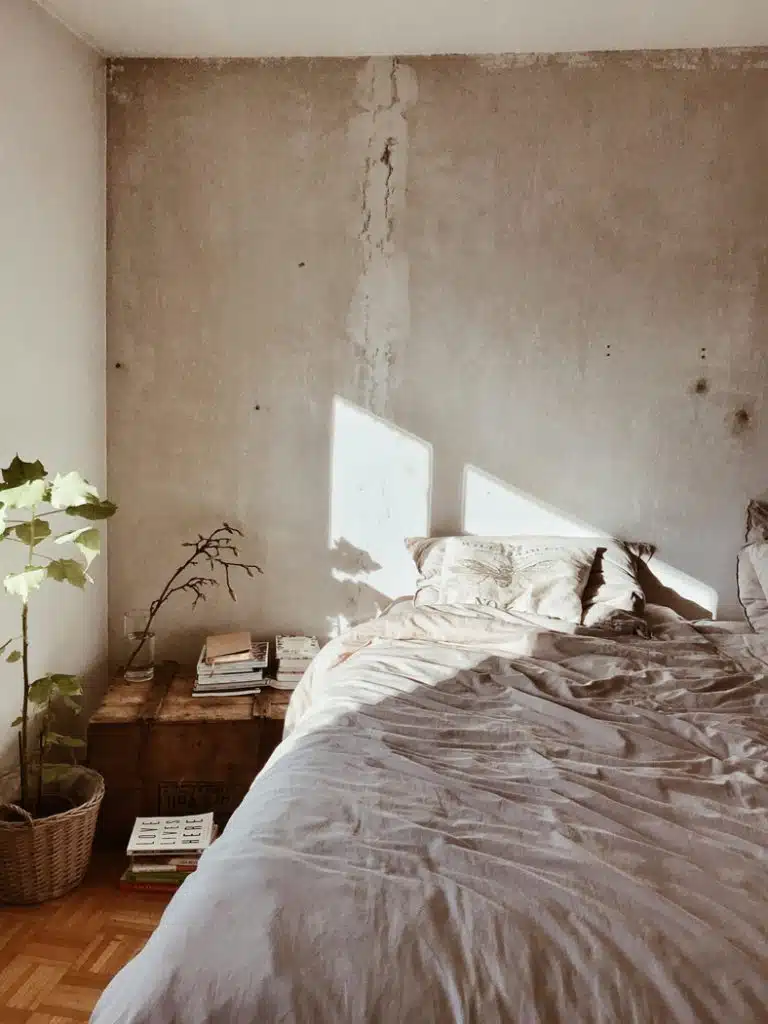 Image / nine koepfer
Boho = Eclectic; Mix it up!
In keeping with boho style, you don't need everything to be matchy-matchy. Be brave and unconventional, and mix it up a bit.
You could use contrasting textures and materials, for example. Or, you could play around with the placement by propping artwork or a mirror against a wall.
Don't worry about breaking rules; in boho design, there are no rules! So long as you keep those minimalist principles in mind, you can do whatever you like with your space.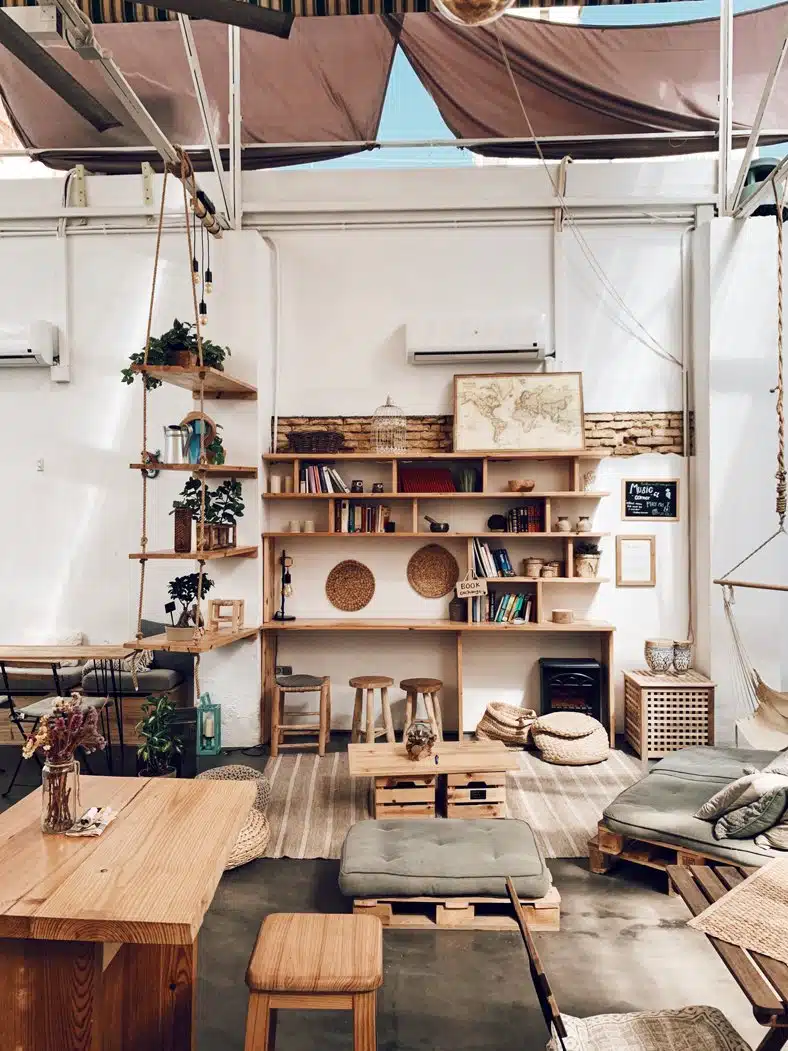 Image / Howie Mapson
Less is More
A gentle reminder: You don't need fancy or expensive furniture for a minimalist boho bedroom.
It's possible to achieve a beautiful room using simple materials like pallets. You could whip up a DIY pallet bed and spend nothing at all!
The 'less is more' minimalist concept also applies to your room as a whole. Boho interior design tends to lean towards a more cluttered and busy look. But just because you have space, it doesn't mean you have to fill it. Let your items breathe, and you'll appreciate each one more.
With your boho accent pieces and clean minimalist look, you get an amazing fusion of styles!
The Details Make the Room
You've got your clean white walls, layered textiles, and accent pieces. But it's the little details that add the finishing touch.
That could be the intricate weaving of a macrame hanging piece or the patterns of a soft rug on the floor. It could be the beautiful textures or the perfect placement of a pot plant.
It's these details that will set your room apart and make it look chic.
Image / Shutterstock
Play with Patterns, Shape, and Form
Funky patterns and shapes are crucial to boho bedrooms. Whether that's the curvy frame of a rattan bedstand or chunky organic knits, don't be afraid to experiment.
Unusual shapes and forms add more interest and keep it visually appealing. You can use shapes and patterns to brighten up a room without overloading it. It gives the eye something to linger on in a minimalist space.
For example, you could display baskets on the walls to showcase their circular shapes. Or, you can play with contrasts, like in this image. The organic leaf shapes against the clean rectangular shape make it stand out.
Image / Shutterstock
Make it Personal
This is your bedroom, so it should feel personal. It's your little oasis from the outside world.
Don't be afraid to show this in your interior design! Select a few sentimental items for display or celebrate a hobby or interest you hold dear. Minimalism doesn't have to mean utilitarian!
Showcase your style and make it your own. Reflect yourself in the items you choose to create a space where you'll feel happy and at home.
Don't Neglect Your Walls
You may have chosen a clean, simple shade of cream or white for your walls. But that doesn't mean that they should stay stark and bare!
You can use wall hangings and art to brighten your walls and add another layer of decoration. Macrame hangings and ornate mirrors have a very boho vibe, as do rich wall tapestries.
You're not limited to any specific type of art, either. Feel free to mix it up with a funky, eclectic display – it doesn't need to match.
But if you want to preserve that minimalist feel, don't go overboard. Balance out any wall decorations with plenty of white space, too.
Image / Uliana Koliasa
The Essential Guide to Boho Bedroom Furniture
How to Choose a Boho Bed
A bed is the most important feature of any bedroom, so you want to get it right! Choosing the right bed will ensure that your bedroom looks boho, chic, and minimalist!
Low profile beds work wonders in a boho bedroom. They create the illusion of space by emphasizing the walls and height of the room. You'll find low beds and platform beds in both minimalist and boho bedrooms.
Wood and rattan beds are popular choices to create that boho-chic look. Look for curvy, flowing shapes and warm, lighter wood colors to keep your room airy and fresh. Vintage styles can also look great if you shop around and find something that suits your room!
But if you don't have the budget for a new bed, it's not essential. You can give your old bed a makeover with comfy cushions, gorgeous bedding, and a string of twinkle lights.
If cash is tight, you could even DIY the look with pallets. They can look surprisingly stylish in a boho bedroom! Just make sure you sand them down first for safety.
Selecting the Best Boho Bedding
Now, we come to one of the most critical elements of a boho minimalist bedroom: The bedding!
A key principle of boho style is that it shouldn't look too perfect or polished. Instead, the bedding should be inviting, comfortable, and practical. You'll want to snuggle up at every chance you get!
The first step is to choose a duvet with ruffles, tassels, or pleats to add texture. Duvets are functional and easy to wash but look great.
Linen bedding is also perfect, as it helps you achieve that rough and ready look, wrinkles and all.
Then, add a soft throw or chunky knit blankets to create a layered effect. These layers provide comfort and warmth and should look relaxed and natural. It doesn't matter if it's slightly off-center or ruffled. (In fact, this will perfect your boho bedroom look!)
Add in Pillows & Cushions
Next, you need pillows and some extra throw cushions, too! For your regular pillows, look for high-quality cotton or linen and cozy colors.
Then, mix it up with some cute throw cushions, ideally something with tassels and sequins. Work that accent color in again, if possible!
Just don't overdo it if you want to blend boho with minimalism. Keep it to 2-3 cushions, so it's pretty yet practical. If you like to update your room, changing the pillow and cushion covers is a quick and easy way to keep it looking fresh.
Image / Shutterstock
Use Rugs to Soften the Space
Every boho room should have a rug (or two or three!). A rug will make the room feel even cozier, soft, and welcoming.
The best rugs for a boho bedroom are thick and cushy. You could go for a faux fur rug or an Oriental rug in rich colors. Choose one that complements the room's color scheme.
I would recommend starting with a rug under the bed. The rule here is to make sure that it's larger than the bed itself by at least a foot – more if possible!
Depending on how large your bedroom is, you could add in an area rug. Another option is to layer it up with runners down the side of the bed. Use patterns and shades that blend nicely together for a cohesive look.
Artwork and wall hangings
Now, it's time to pick out some decorations for the walls! If you went for a simple white or cream, adding a wall hanging can brighten your room.
You could go for a traditional tapestry or a rich artwork. A gallery wall of smaller paintings can also look fantastic.
Plants
Don't forget plants! If you want to keep your room minimalist and boho, then plants are the best decor you can get.
You could go for a hanging shelf with lots of smaller pot plants like succulents and cacti. A large fern with long sweeping tendrils can also look gorgeous.
Plants are great for a boho minimalist room. They are excellent feature pieces that bring the calm and freshness of nature into your room. You can never have too many plants!
Image / Brina Blum
Night tables & dressers
When choosing a night table or dresser for your boho room, don't worry about getting matching pieces. Instead, you can go for something contrasting for an eclectic and unique look.
Rattan or wooden nightstands will look amazing in a boho bedroom. But don't rule out antique pieces or a table with slight imperfections. Distressed or aged wood fits with the relaxed, anything-goes boho style.
You can also get creative and improvise a night table with a vintage suitcase or small chair. If you want to keep costs down or reinvent your existing furniture, you could DIY a boho night table.
Lighting
The lighting is the final piece in the puzzle of your boho room. Consider going for a chandelier for a boho-chic look that will make your room look glamorous.
Other popular styles include fabric light shades or anything with beads or a woven style.
One of the simplest ways to add that boho touch in a minimalist room is with a string of twinkle lights. It's low-cost but creates that magical and inviting look.
Boho Decor Tips for Your Other Rooms
Now, you know everything there is to know about creating a gorgeous boho bedroom! But you don't have to stop there.
You can continue the boho style throughout your house with a few simple tips!
Use Lots of Textures
As mentioned above, it's all about textures in boho interior design. Think rugs, wall hangings, throws, blankets, tapestries.
And don't just pick one of these options! You can go all-in (if you like). An abundance of textures creates a comfortable, lived-in feel.
If you want to keep it minimalist, go for a neutral color palette. Then, you can layer in different textiles without it looking too overwhelming.
Choose Low-Profile Furniture
Any boho room should invite you to kick back and relax. It's all about enjoying the moment and living your best life.
That's why low-profile furniture is so popular. Go for low sofas, beanbags, and daybeds where you'll want to lounge, chat, read, or dream.
Handicrafts and homemade items can perfect this look. Consider snagging this beautiful patchwork ottoman or a Moroccan-inspired leather pouf.
By keeping your furniture low, you allow air to circulate freely for a fresh, flowing interior. You also create more room for wall hangings, trinkets, and plants!
Image / Orlova Maria
Mix and Match Patterns
Boho rooms are rich in patterns and colors. You don't need to stick to just one design, either.
But you do want a cohesive element that pulls it all together. I recommend choosing a color scheme such as reds, golds, and beige. By using those colors throughout your room, it will come together cohesively.
Remember to balance out any busy areas with white space, too. Otherwise, they can all blend in together, and you can't appreciate each separate item.
Image / Shutterstock
Opt for Light and Bright Colors
For a boho minimalist room, you'll want to avoid using lots of dark colors. Light shades like white or cream create lots of white space for your decorative items to stand out.
For furniture, lighter wood looks more relaxed and inviting. In contrast, dark, heavy furniture feels traditional and formal. You want to create that cozy feel while allowing free movement of air through the room.
Accent colors are also crucial in boho minimalist rooms. You can scatter your chosen shade throughout in textiles and feature pieces. You could even upcycle a vintage item with a fresh splash of color!
Image / Roberto Nickson
Final Thoughts
You can follow these simple tips to create the perfect boho minimalist bedroom. Cozy boho elements and an airy, minimalist feel will make your bedroom your favorite place to be!
A relaxed style and few design rules make it easy to introduce boho to your own bedroom. But by keeping it minimalist, you get a fresh and relaxing space with less clutter.
Let me know what you think of the minimalist boho look. How will you incorporate this style in your bedroom? Share with me in the comments!
Follow me on Pinterest for more minimalist design tips and inspiration! I'll share only the best products and resources for your minimalist lifestyle and home.