So, you've decided to embrace minimalism and declutter your home. But, you don't know where to start or how to declutter your room or bedroom. No matter how much you want to declutter, it can feel overwhelming to take that first step.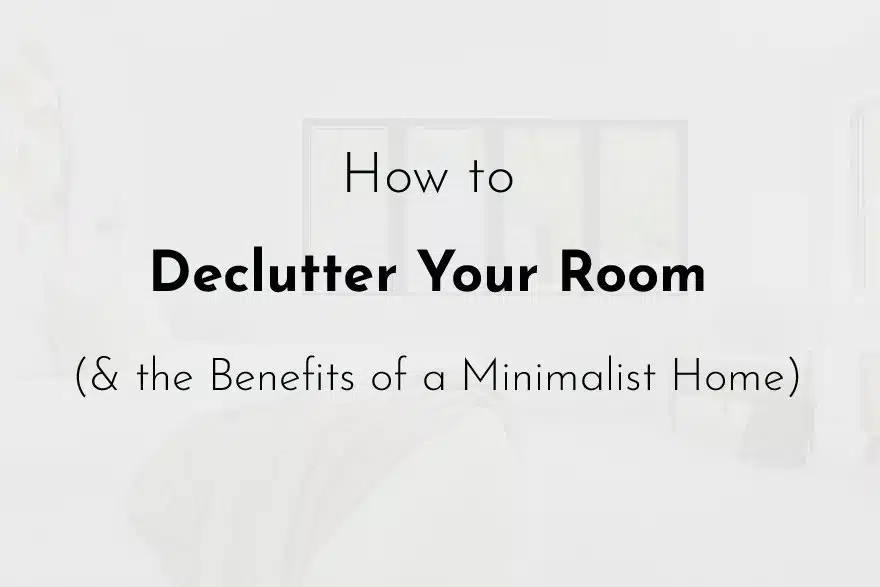 But you'll be so glad you did once you've cleared the clutter and reclaimed your space. If you're still on the fence about whether you should declutter, here are a few reasons why you should give it a go:
You'll have more time to do what you enjoy, as you'll spend less time cleaning and tidying.
You'll find things more quickly, knowing where everything is.
A clutter-free space is less stressful.
You'll feel more productive, calm, and inspired.
You can focus on what really matters – on making memories rather than on material items.
Your space will look fresh, clean, and gorgeous.
Are you convinced now? Then, let's get stuck into my simple steps to declutter your life!
The Minimalist's Guide to Declutter a Room in 8 Steps
You want to create a minimalist house but don't know how to declutter your room. It's hard to part with sentimental items and feels like a massive project.
That's where my decluttering tips come in! I'll break it down into stress-free steps on how to organize your room and what you should clear out.
Choose Which Room to Declutter
First of all, you need to decide which room to declutter first. This decision will be personal and will depend on a few things.
You should pick a room you use often, and that won't be too much work to make you lose motivation. (I don't recommend starting with the garage or the closet of doom, or you may give up too soon!)
A bedroom is a good place for your first minimalism declutter. It's a room you use daily, and clutter can quickly build up.
But once you've decluttered, it will have an instant effect. Your bedroom will feel calmer, and you'll sleep better and feel more rested.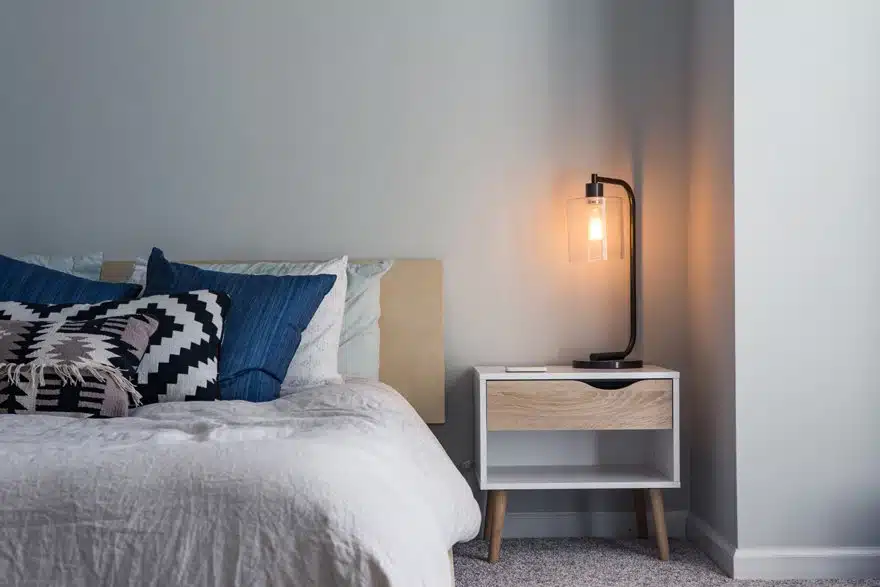 Image / Christopher Jolly
Your bedroom will become a cozy place to retreat from the world. That's why I recommend starting with your bedroom – it's a big win that will motivate you to keep going!
Let's move on to my next how to declutter bedroom tip.
Split your room into smaller zones
Before you get stuck in, you need to break your bedroom into different zones. Each zone should be small enough to complete in one burst of decluttering.
For example, your bedside table would be one zone, and your closet would be another. If you have other shelving, baskets, or surfaces, they should be a separate mini-task, too.
If you tackle your entire room at once, you're more likely to lose momentum and give up. But with smaller tasks, you'll get a sense of achievement every time you finish one.
Those feel-good endorphins will fuel you and encourage you to keep going. But if you need to split your decluttering between different days, it's also easier to manage.
Work through the entire zone from start to finish. That means emptying it and sorting through what you want to keep. Then, you need to tidy up, and you're done.
If you start decluttering your whole bedroom, you'll pull everything out at once. At some point, you'll run out of time or get bored, leaving you with more mess than when you started.
But if you split your room into smaller zones, you'll know what you can get done in the time you have. When you need to stop, your room won't be in utter chaos.
Don't skip this step – it will set you up for success to declutter your home!
Set up your Decluttering System
Now, you're almost ready to start sorting and tidying your room. But before you do, you should set up a simple system to sort through all your stuff.
You'll need to decide whether each item should stay, go, get donated, or sold on.
Image / Sarah Brown
You'll also find things you need to put away in other rooms. I recommend putting them all in a basket and tidying them away later. Otherwise, you'll get sidetracked in another room, and you won't get the job done!
So, you should have four different containers to allow you to sort as you go. If you dump all your decluttered items into one box, then you still have the massive job of sifting through it all.
It's much better to stay on top of it as you go when you have the motivation to deal with it. Otherwise, it will all end up dumped in a bag in the corner and nagging at you every time you see it.
Here's what you need for efficient decluttering:
A trash bag for anything empty or damaged
A container for items you want to sell
A bag to collect items to donate
A basket for everything you need to tidy away in your house
You can use these containers as you work your way through the room. Then, you have everything you need at hand.
It will also make it easier to reach those tricky decisions and prevent any overthinking.
Remember – you're decluttering for a reason! If you don't need it or use it, it's better to move it on.
Start big for the greatest effect
You've divided your room into zones and set up your system. It's time to start!
Before you start sifting through your closet or drawers, take a deep breath and look around your room.
Start with larger items because they will have the biggest impact straight away. They're quick wins that will motivate you to keep going!
Take a look and see if you have any bulky furniture, electronics, and other unnecessary items in your room.
If you can swap chunky furniture for a minimalist bedroom set, you'll free up a lot of space. You could even earn some cash by selling unwanted items on eBay or Facebook Marketplace.
Then, your room will be a true minimalist bedroom with lots of clean lines and white space.
Clear your surfaces first
The next step in how to declutter a bedroom is to clear your surfaces.
The key to a minimalist space is empty surfaces. You know where to start if you have knick-knacks and mislaid items all over your bedside table or dresser.
This visual clutter will affect you most in your day-to-day life. You'll see it every time you enter the room, and you won't feel as relaxed. Your bedroom should be your sanctuary from the world.
Tackle that clutter by sorting it into your four containers. Only leave out one or two carefully selected items that fit in with the room's decor and look beautiful.
Next, tackle your closets and drawers
Now you're getting the hang of it! You're ready for the biggest task – decluttering your closets and dressers.
The best way to tackle any storage areas is by emptying them. It sounds like a nightmare, but you can't declutter what you can't see.
You need to sort through everything to get a handle on your closet and dresser. Make sure that you give yourself enough time to get the job done.
It's up to you to decide how many things to have in your room. But remember why you're decluttering in the first place.
Aim only to keep items that you need and use regularly, and keep the result in mind for motivation!
Invest in smart storage solutions
You don't have to part with everything to have a minimalist home. But you do want to keep your items tucked away to maintain those clean surfaces and empty spaces.
So, you're confused about how to organize a room with too much stuff. That's why you need to invest in some smart storage solutions!
The good news is that there are tons of storage options these days. You can buy great under-bed storage drawers to hold all your extra linen, sheets, or shoes.
You could add a nice bench at the end of the bed to sit on. But go for a smart design that opens up to store your shoes out of sight.
Don't forget to maximize the space in your closets, too. You can put hooks on the inside doors or add hanging organizers for your smaller items.
These storage hacks will allow you to make the most of your minimalist bedroom.
8 Amazing Benefits of Having a Minimalist Home
If you are new to minimalism, you might wonder what the fuss is about. Why should you spend the time decluttering and clearing out your home?
The benefits of a minimalist home can improve almost every aspect of your life. Minimalism will enhance everything from your health to your relationships.
Here are some of the most impactful benefits of a minimalist home:
1. You don't have to clean as much
With clean surfaces and fewer possessions, your home will be much lower maintenance. You can stay on top of the cleaning in much less time.
There's no more finicky dusting of ornaments and time lost to tidying things away. Because everything has its own space, it's easier to tidy as you go.
Then, you can just run the vacuum around and quickly wipe down surfaces. And you're good to go!
2. You'll have more time
As a result, you'll have more time to do what you do want to do. No one wants to spend their free time cleaning, but it's often what happens in our consumerist society.
Instead, you could pick up a new hobby or a walk in the fresh air. You'll have more time to nurture your family relationships or for essential self-care.
3. You'll know where everything is
No more being late because you couldn't find an essential item or lost your keys.
In a minimalist house, you know exactly where everything is and can locate it in seconds. So, you'll cut down on brain fog and get out the door much faster in the morning.
Life will feel easier overall.
4. You'll spend less money
As you adapt to your minimalist home, you won't want to clutter it up with stuff. So, you'll be more intentional about what you buy.
You will also value each item more and take good care of it. So, you might find that your possessions last longer and you don't need to replace them as often.
That could mean less financial stress and even allow you to work less. Or maybe you can afford to go on holiday with the money you save.
Either way, you'll appreciate having more cash in your pocket.
Image / Alexandra Gorn
5. You'll experience more gratitude
Living minimally isn't about getting rid of everything. It's nurturing a deep appreciation for what you have, which makes you feel grateful.
Many people are chasing gratitude in the relentless, noisy world we live in. But in a minimalist home, you'll appreciate every item and feel grateful for having what you need.
6. You'll be more focused and productive
Visual clutter can be distracting and sidetrack you from the most important things. Once you've had a clearout, you may find that you're more productive and get more done.
7. You'll feel calmer and more peaceful
Minimalist spaces inspire calm and peace of mind. You can enjoy your time and space without any visual clutter.
8. You'll have a beautiful home
Your home will be a refuge from the world, a beautiful space that you're always ready to come back to at the end of the day.
You can make the most of your house without lots of big, bulky furniture and unnecessary items.
Plus, having friends and family over will be easy, as your home is always presentable.
If you enjoyed this infographic, feel free to share THIS PIN to your Pinterest Minimalism or Organizing Boards
Final Thoughts
Decluttering your room and your home is not as difficult as it sounds. All you have to follow these simple steps, and you'll soon have a gorgeous minimalist aesthetic.
There are so many benefits of a minimalist home. You don't have to commit to strict minimalism to experience the advantages of less clutter.
You'll feel more productive, focused, and calm. Plus, you'll gain more time in your day, rather than wasting it on tidying and cleaning.
Let me know what you thought of this guide to decluttering your home below! If it resonated with you, share it on social media, too.