If you're looking to add a little boho flare to your studio apartment, but don't have the budget of a top interior designer, don't worry – You can do it!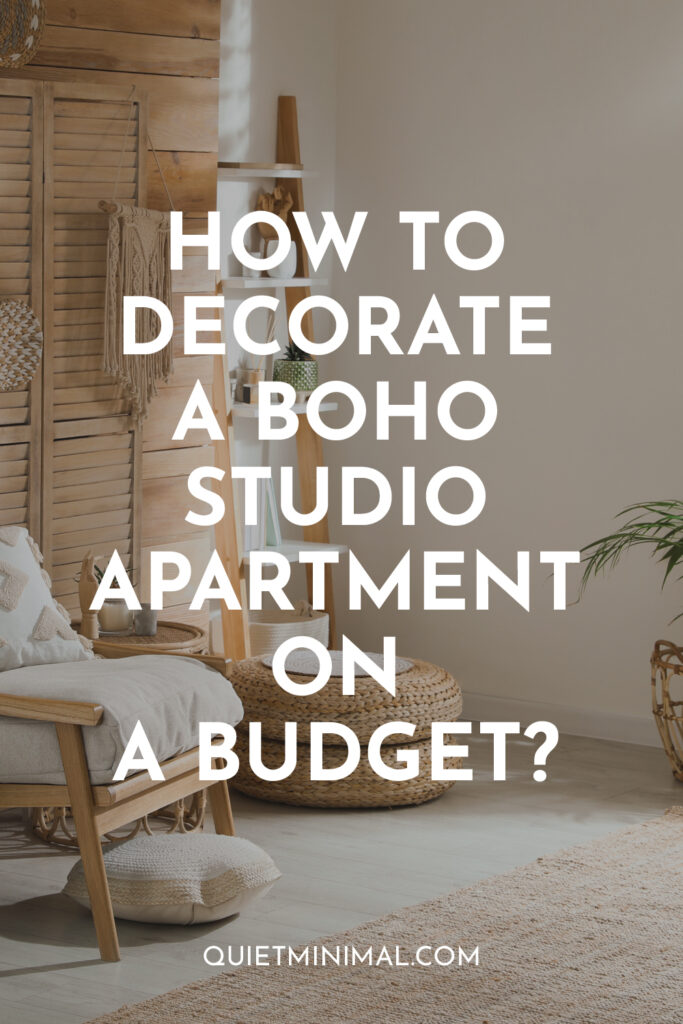 Decorating on a budget is not complex as it seems. You can create a fantastic boho-inspired space that won't break the bank with a few tips and tricks.
Whether starting from scratch or looking for ways to spruce up your existing decor, this article will help you get the look without going over budget. Here's how to decorate a boho studio apartment on a budget.
The first step in creating an affordable boho-inspired look is to find pieces that are both inexpensive and stylish. Look for items at thrift stores, online marketplaces, or even garage sales.
You'd be surprised at how much unique furniture and home decor you can find if you dig deep enough.
This is also a great way to save money since most of these pieces are often cheaper than their retail counterparts.
Also, choose accents that reflect your style while sticking to neutral tones like white, grey, and cream. Neutral colors help create an atmosphere of serenity, perfect for any bohemian-inspired room while allowing you to add splashes of bright color throughout your space with accent pieces like pillows, rugs, or wall art.
With all these tips, you'll soon have the perfect bohemian studio apartment without breaking the bank!
Understand The Basics Of Boho Design
When decorating a boho studio apartment on a budget, it's important to understand the basics of boho design. Boho style infuses a space with an eclectic mix of patterns, textures, and colors that reflect your personality.
This can be achieved with vintage pieces, secondhand finds, and store-bought items that have been upcycled. Yet, it is essential to create a unified look by sticking to one or two core colors or styles throughout the space.
To create a budget-friendly boho aesthetic in your studio apartment, think outside the box about furnishings and décor. Look for items at thrift stores and online marketplaces such as eBay and Craigslist.
You can even transform plain items into something special with simple DIY projects like stenciling or painting. Additionally, you can refresh old furniture or accessories by reupholstering them with new fabric, replacing existing hardware, or giving them a new paint job.
By combining vintage pieces with modern touches in creative ways, you can create an inviting space that reflects your unique style without breaking the bank.
Focus on Furniture And Decor Purchases
Next up in decorating a boho studio apartment on a budget is prioritizing furniture and decor purchases. It's essential to focus on the most necessary pieces instead of accessories that could come later.
Start by looking at the space layout, and decide what type of seating arrangement works best. A living room or bedroom set might be worth considering, depending on the size and shape of the apartment.
Once you've settled on your seating arrangement, consider other items, such as tables, rugs, and lamps. These can create a cozy atmosphere and provide practical storage solutions for small spaces.
Opt for natural materials like wood or rattan for an authentic boho look. , choose fabrics with bold patterns or colors to bring out the vibrancy of your design scheme.
Remember that thrift stores are always an option when shopping for unique items too! Mix different styles when picking out accessories like pillows or artwork. This will add visual interest while still keeping within your budget constraints.
Shop For Secondhand Furniture And Decor
Shopping for secondhand furniture and decor is a great way to decorate a boho studio apartment on a budget. This can help you save money while still getting the look you want. Plus, thrifting can be a fun experience that lets you get creative with your style!
When looking for secondhand furniture or decor, it's important to watch for pieces that match your bohemian space's aesthetic. Aim for comfortable and unique items, like an armchair with embroidery details or colorful throw pillows. These items will give your space character without breaking the bank.
It's also worth considering DIY projects when shopping secondhand. With some paint and creativity, you can turn a piece of furniture into something special.
And if you need help figuring out where to start, plenty of online tutorials can help guide you through the process. So don't be afraid to make something yourself – it'll add a personal touch and save money too!
Choose The Right Color Palette
When it comes to upgrading a boho studio apartment, one of the key components is the color palette. Choosing the right colors can give the room a cozy atmosphere while still being budget-friendly.
How do you select a color scheme that won't break the bank? Start with neutrals in both furniture and decor. Then, add pops of color with accent pieces like pillows, rugs, and artwork. This way, you can switch out accents as your tastes change without spending too much money.
The real trick is to get creative when searching for affordable options. Look online for discounts or consider upcycling items from thrift stores or flea markets.
Find Inexpensive Textiles And Fabrics
Choosing suitable fabrics and textiles can often be challenging when decorating on a budget. It's crucial to find pieces that are both affordable and stylish. To do this, you can look for secondhand items or shop in thrift stores or flea markets. You can also find great deals on vintage items online.
When selecting fabrics and textiles for your boho studio apartment, focus on natural materials such as cotton, linen, wool, leather, and jute. These fabrics have a relaxed feel that will fit with the bohemian style. You can also look for items with interesting textures, like macramé wall hangings or shaggy rugs.
Also, remember to add some bright colors and patterns to your space. Look for fabric prints like ikat or paisley in shades of blues and greens to give the room an authentic boho feel. Colorful pillows and throws will give your apartment a unique look while keeping it within budget.
Incorporate DIY Projects
DIY activities can be a great way to add unique and stylish elements when decorating a boho studio apartment on a budget. Incorporating these projects doesn't have to be difficult either. Creativity and simple materials can add some eye-catching pieces to your space.
One option is painting old furniture or adding colorful accents. This could include spray painting an old chair or table or adding new hardware like knobs and handles. You can also repurpose old items by giving them a new life as something else. You can turn an old bookcase into an entertainment center or use fabric scraps to make wall art.
Try experimenting with plants in the room. Not only do they bring in a natural element, but they can also be quite affordable when purchased from local nurseries.
If you're feeling creative, make your hanging planters from mason jars or baskets! Incorporating DIY projects into your boho studio apartment will help give it personality.
Make Use Of Natural Elements
You'll want to use natural elements to finish your boho studio apartment on a budget. This will bring an organic feel to your space and add texture and warmth that you might not get with other materials. It's also an affordable way to create a unique look.
You can do this in a few ways. Adding plants is a great way to introduce nature into the mix – think leafy greens or succulents for low-maintenance options. You could also hang some dreamcatchers or macramé – both inexpensive and easy to find in craft stores or online.
Finally, opt for natural materials when it comes to furniture and décor – like wood, wicker, jute rugs, or stone trinkets.
You can achieve the perfect boho look without breaking the bank using these techniques! Your apartment will be filled with earthy tones and plenty of charm – all while sticking to your budget.
Use Wallpaper And Wall Art
Next, consider adding wallpaper and wall art to your boho studio apartment. Wallpaper can be an easy way to add texture and pattern to a space without breaking the bank. Opt for removable wallpaper if you don't want to commit to it long-term – that way, you can switch it up in the future.
When it comes to wall art, there are many inexpensive options available. Look for prints at thrift stores or flea markets, or even create artwork with supplies from the craft store. You could also use photos taken on your travels – framing them is a great way to personalize the room and add a pop of color.
Omit, when decorating a boho studio apartment on a budget, there are many ways to create an inviting atmosphere. From natural elements to wallpaper and wall art, you can quickly transform your space into the perfect home away from home.
Strategically Position Lighting
One way to decorate a small boho apartment is by positioning lighting around the space. Lighting can be used to bring focus to certain elements and brighten up the room. It can also add depth and create an inviting atmosphere.
You can save money when choosing lighting fixtures for your apartment. Consider scouring online or local thrift stores for secondhand options. Incorporating lamps, pendant lights, or even string lights can be great accent pieces and add a personality to the room.
Try experimenting with different heights and angles when positioning the lighting fixtures in your studio apartment. You could place lamps on either side of the bed or hang string lights above the couch as an accent piece. The possibilities are endless! It's about finding what works best for you and creating a comfortable and inviting atmosphere.
Accessorize With Thoughtful Touches
Accessorizing a boho studio apartment doesn't have to break the bank. There are many ways to inject character into your space without spending too much money. You can give your home a personalized touch by selecting pieces representing your style.
When it comes to accessorizing, look for items that speak to you. Think about what makes you feel comfortable and happy in your home and find pieces that complement this feeling. For example, incorporate bright art prints or plants into the room for a cheerful vibe if you love the color. Or, if you prefer more subtle tones, opt for neutral-colored accents such as cushions, throws, and rugs.
The key is to use decor accessories sparingly — pick out curated pieces that will last and won't make the room look cluttered. Incorporate some handmade items like macrame wall hangings or woven baskets for an eclectic edge. And add some personality with vintage finds or souvenirs from your travels.
Conclusion
Decorating a boho studio apartment on a budget doesn't have to be challenging. Understanding the basics of boho design, prioritizing furniture and decor purchases.
Use natural elements, wallpaper, wall art, positioning lighting, and accessorize with thoughtful touches. You can create a beautiful space that expresses your style and fits your budget.
You'll be amazed at how much character you can bring to your space with a few chosen items. Applying these tips and tricks allows you to create an inviting home that is yours without breaking the bank.
Take it slowly and savor the journey! Your dream boho studio apartment is within reach with patience and creativity.
Follow Quiet Minimal on Pinterest for more home design tips and inspiration.