Your kitchen island is a focal point in your kitchen, so let's make it a real show-stopper! Your kitchen island is a functional space for preparing and eating food. But that doesn't mean it can't look gorgeous, too.
Here are ideas and suggestions for how to decorate a kitchen island. There's something for every design style, so read on to find the perfect decor for your kitchen island.
10+ Ideas for Decorating Your Kitchen Island
Here are some tips for decorating your kitchen island. You'll find suggestions for any style, whether you have a boho kitchen or a minimalist space.
From over-the-top centerpieces to practical designs, you're sure to find a look you love. Let me know which of these ideas stands out most in the comments below!
Create a Breakfast Bar
A practical use of your kitchen island is to create a dedicated breakfast bar. All you need are some high bar stools, and you can grab a quick snack before you head out. This space is also ideal for drinks or chatting with your kids. The casual atmosphere will set everyone at ease.
A Fancy Table Setting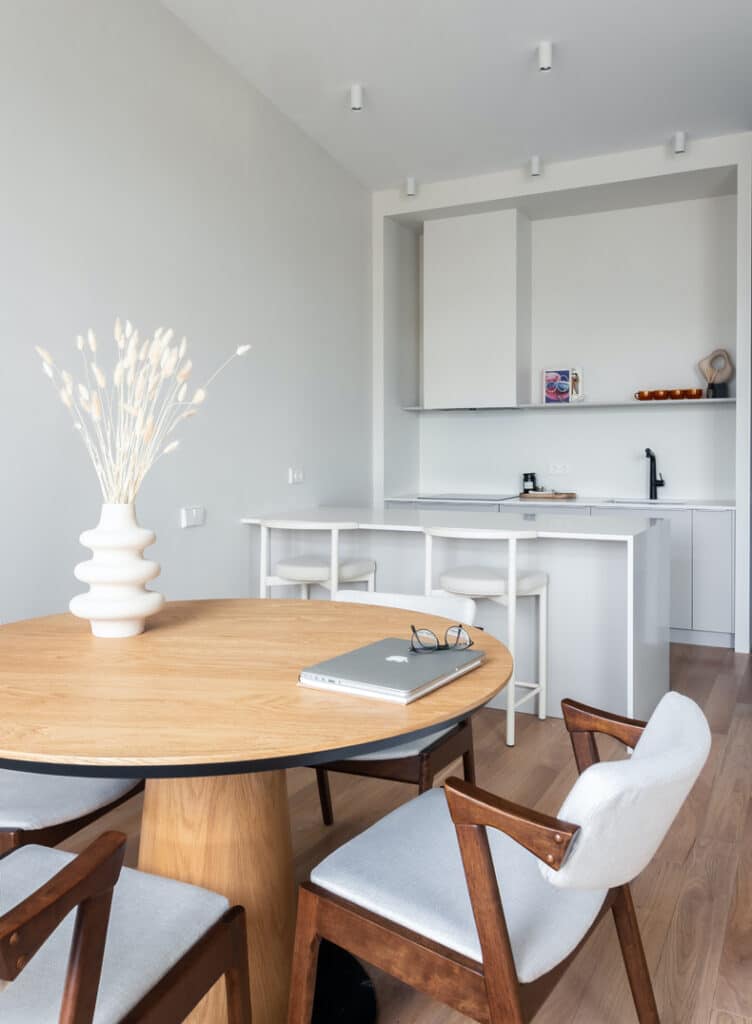 Why not lay out a fancy table setting on your kitchen island? It will instantly elevate the vibe in the room. Go all out with placemats, wine glasses, cloth napkins, and silverware.
Make it look like you're ready for a dinner party at the drop of a hat! You'll feel much more sophisticated and enjoy spending time in your polished kitchen.
Display your Kitchenware
If you own some prize ceramics or a pretty tea set, why hide them away? Your kitchen island is a perfect place to showcase your favorite kitchenware!
The same goes for that stylish marble chopping board that's always in use. Why put it away between uses? Instead, you could make the kitchen island its permanent home. Then, it's always within reach and will look amazing at the same time.
Treat Yourself (And Your Kitchen) to Fresh Flowers
Fresh flowers will refresh any space and look perfect in the kitchen. So, why not treat yourself to a bunch of your favorite blooms? Put them in a vase of your choice for a simple, classic look for your kitchen island.
Will it be roses, tulips, or even an orchid? You can create a unique, personal look in your kitchen depending on your flowers & vase combo.
Make Your Fruit and Veg a Design Feature
What better to decorate your kitchen than a gorgeous array of fruit and veg? Nothing would be more relevant or attractive in a kitchen! Display your produce in a rustic basket or a large fruit bowl to make it a design feature on your island.
From orange carrots to red beets and green broccoli, fruit and veg come in every shade of the rainbow. You'll need to keep them handy for snacking or your next meal anyway. So, why not let them shine and show off all those rich organic colors?
Go Minimalist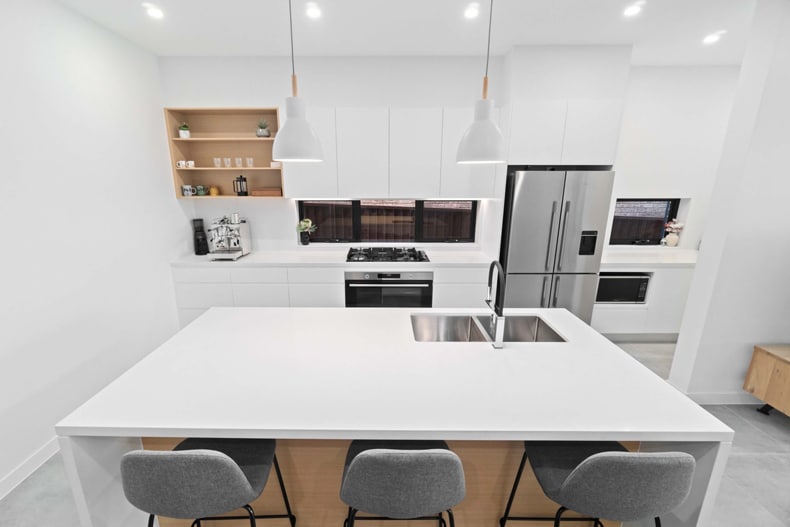 One way to make your kitchen island look incredible is by keeping it minimalist. Even more so if you have a gorgeous marble countertop. So if you prefer a subtle design style, clear your counters.
As the minimalist saying goes, less is more, and that's often true in the kitchen. If you already have a busy kitchen, you can counteract that with a minimalist kitchen island. Not only will your kitchen feel spacious, but it will look effortlessly sophisticated.
Have Snacks At Hand
You can't go wrong with a snack board to pick at when you're in the mood. The kitchen is a room for cooking, eating, and bonding over food.
So, lay out a thick wooden board or snack tray with some little treats like olives, bread, crackers, and cheese. It's perfect if you're hosting guests or feeling hungry before the next meal.
Plus, it's a simple way to make your kitchen look and feel welcoming and stylish!
A Simple Monochrome Kitchen Island
One cool option for your kitchen is to lean into the monochrome look. If you have a black countertop, keep your kitchen cabinets white. This will create a dramatic, high-contrast effect that looks modern and edgy. It's ideal for any contemporary or minimalist kitchen.
Complement Your Kitchen Color Palette
If you have a strong color scheme, keep that in mind when decorating your kitchen island. You have two options here. Either stick to the color scheme by using one of the existing colors in your palette. Or you can go bold with a rich contrasting color that will draw the eye!
Both of these ideas can work well in your kitchen. But keep in mind how it will all come together. You want it to look cohesive and harmonious rather than jarring – so no clashing colors, please!
Lay Out a Decorative Tray
A simple way to decorate your kitchen island is with a large tray. That way, you can choose a few accessories like a vase, candles, or other pretty items. Then, you have the option to rotate them depending on the season.
For example, you could lean into holiday decor or switch up the color scheme. But it's easy to swap them out on your tray. Plus, on a practical note, it's easy to move if you need more food prep space.
White Marble & Metallic Accessories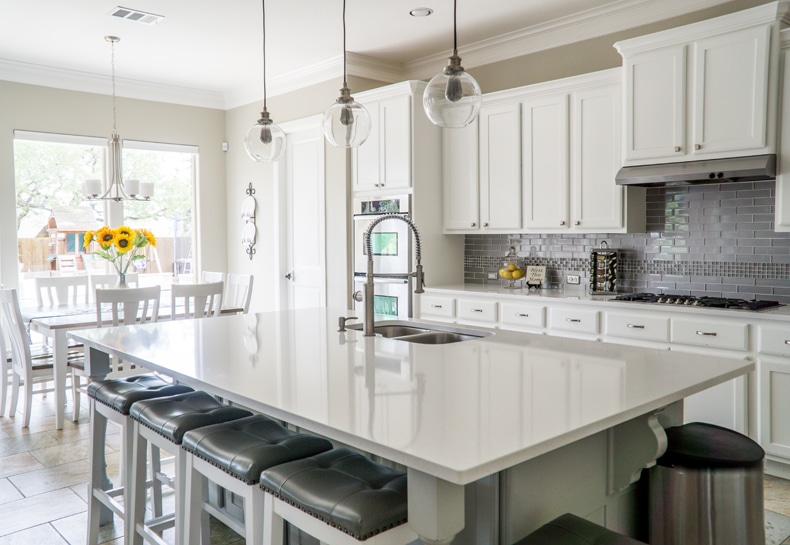 This combination is sophisticated and stylish! If you're lucky enough to have a white marble countertop, complete the look with sleek metal hardware. A warm tone like gold or copper will balance the cool shades of your white marble island.
It will look simple yet luxurious, so you don't need to add other accessories. Let each stylish element shine!
Go For A Bold Pendant Light
The lighting is crucial over a kitchen island. Whether you use it for food prep, snacking, studying, or working, you'll need a well-lit space. Pendant lights will look incredible while providing all the light you need.
There are all sorts available, from antique chandeliers to modern metal designs. So, you're sure to find the perfect pendant light for your kitchen island. From boho rattan pendants to cozy styles for the farmhouse look, you'll be spoilt for choice.
Decorate With Trip Mementos
If you've traveled abroad, you'll have some incredible memories. So, why not use one of your souvenirs to decorate by placing it center stage on your kitchen island? It will bring back great memories every time you see it!
Plus, it might even encourage you to try out some international dishes. So, it's one of the perfect ways to channel inspiration and variety in your kitchen!
A Rustic, Natural Centerpiece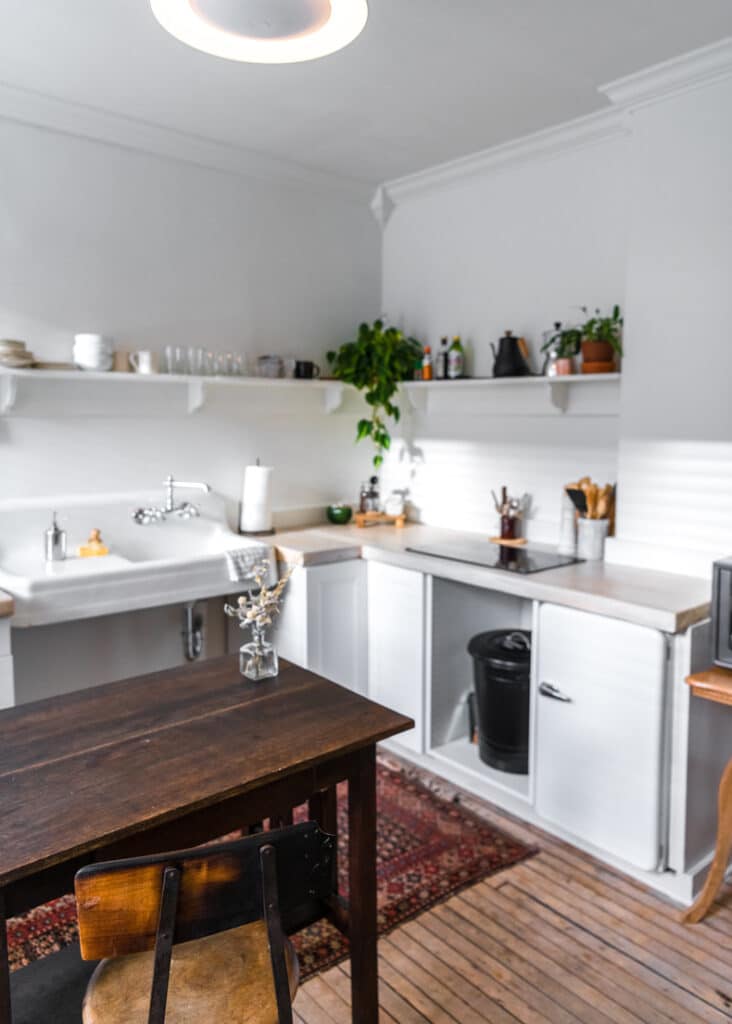 If flowers aren't your thing, that doesn't mean you can't bring nature into your kitchen. Why not arrange a few twigs in a tall jar to create that rustic vibe?
Or opt for natural wood stools and wooden coasters for that organic feel. It's cozy, relaxed, and a little rough around the edges. Perfect for a farmhouse kitchen or a more masculine style.
The Wrap Up
Hopefully, you've found some sparks of inspiration for your kitchen island! There are many ways to decorate a kitchen island to make it the centerpiece of your kitchen. So it's the perfect place to showcase your design style – but it can also feel a little daunting!
With these tips, you should have a good idea of what will look amazing on your kitchen island. Let me know which of these kitchen island ideas you like best in the comments below!
And follow Quiet Minimal on Pinterest for all the latest home & garden tips and content.