A beige sofa doesn't have to be boring or dull
You can decorate your living room with a beige sofa to make it minimalist, relaxing, bold, or funky
Here are some ideas to help you create the perfect living room with a beige sofa!
A beige sofa is a classic and timeless piece for your living room. As beige is a neutral color, there are many different ways you can decorate and accessorize the room.
So, you can create a cool, minimalist living room or a bold, bright space. It all depends on your personal style! Whatever look you prefer, you'll find tips and ideas below.
And even if you don't love your beige sofa, you can jazz it up and make it look stylish. So, read on for suggestions on how to decorate a living room with a beige sofa.
10 Gorgeous Living Room Ideas With Beige Sofa
The Neutral Look
Do you prefer a neutral look without strong colors or bold patterns? There's something to be said for soft neutrals. Not only are they calm and soothing, but they also open up the space. So, this look is ideal if you have a smaller living room to optimize your living space.
You can layer different tones and shades of neutrals to make it visually attractive. For example, play around with beige, gray, cream, and white textures. You could layer a throw and cushions on your sofa and add a cozy rug too. Your beige sofa will complete this look for a stylish neutral living room.
Opt for a Feature Wall
But if you prefer a bolder look, consider going for a feature wall. Choose an intense, contrasting color to paint the wall behind your sofa. That will draw the eye and frame your sofa, making it stand out even more.
Be brave when selecting the color for your feature wall. Vibrant shades like red, forest green, teal, or navy blue will look amazing! And as you're only painting one wall, it won't overwhelm the room.
Choose Your Floor Color to Match Your Beige Sofa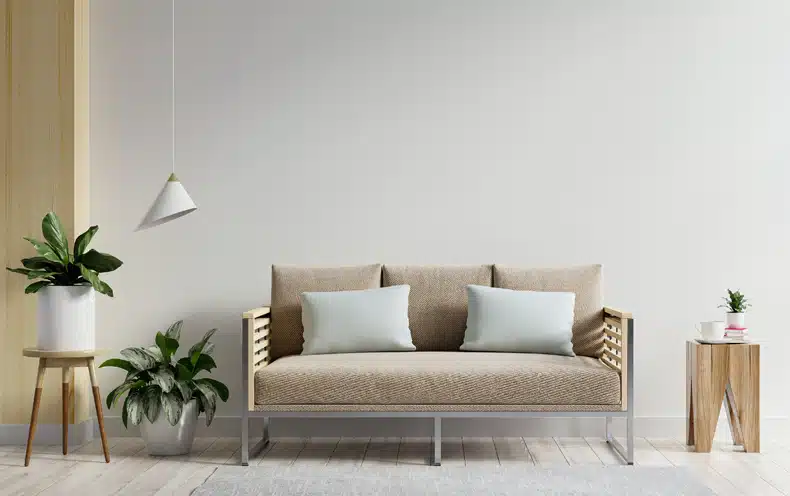 If you're redecorating your living room, one key decision is which floor or carpet color to choose. As you have a beige sofa, the good news is that most colors will match it.
So, it comes down to the look you want to create in your living room. If you want a cool, breezy, and minimalist space, you can go for a light color like gray or another shade of beige. That will make your room feel larger and more spacious.
But you could go for a darker shade to add some contrast. Charcoal gray looks amazing against beige, while a warm brown will make the room feel cozier.
Hang Some Eye-Catching Artwork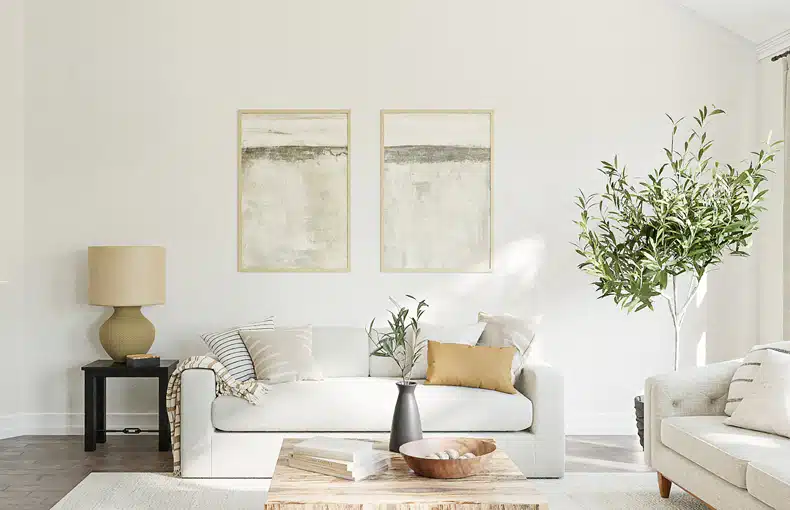 A beige sofa might not be the most exciting thing in your room. But it's an excellent backdrop for other accent pieces without distracting from them.

For example, you could pick a large art print to hang behind the sofa. The bigger, the better! You could go for a landscape, a bright abstract piece, or any other style you love.
As the sofa is a focal point in any living room, it instantly draws your eyes toward your chosen artwork. And you won't need to worry about it competing for attention. Instead, it will stand out even more against your neutral beige sofa.
Create a Photo Collage
Another idea is to create a photo collage on the wall behind your beige sofa. For this, you could either select prints by a professional photographer. Black and white shots look classic and stylish!
Or, you could create a personalized photo wall to mark special moments in your life. Choose photos that are meaningful and feature your loves ones.
Not only will this look spectacular, but it will cheer you up every time you see it! It's a way to create a truly unique and gorgeous living room where you'll love to spend your time.
Go Bold – Add Rich Colors
You might be tempted to play it safe when it comes to your color palette. But you don't have to pair beige with other neutral shades unless you prefer the minimalist look. Instead, it makes an excellent backdrop for bright colors or darker shades.
So, you can go for rich, vibrant shades like forest green or purple. Don't feel the need to downplay your sense of style. These colors will contrast with your beige sofa, creating balance in the room.
Jazz It Up With Patterns or Wallpaper
A beige sofa doesn't have to set the tone for the entire room. For example, you could use fun patterns to spice up the space.
Black and white patterns pair well with beige furniture, making it more modern and trendy. You can find curtains or rugs in beautiful black-and-white designs to suit your style. Browse the selections until you find something that appeals to you!
And if you find plain walls boring, why not opt for wallpaper? There are tons of gorgeous modern patterns nowadays. So, it's the perfect way to jazz up your living room. You can go darker or lighter, a bold or smaller, more intricate pattern – it's up to you! 
Choose a Rug to Anchor the Sofa
A rug is an essential piece to help anchor and frame your sofa. That's especially important if you have a beige sofa and light walls. It's easy for all your elements to blend together if you're using similar colors. So, place your sofa over a large rug in a darker, contrasting color.
Keep your color scheme in mind when choosing a rug. For example, if you have gray walls, you could go for a complementary navy rug. Or, if you have a warm color palette, a burnt orange rug will look amazing!
Accessorize With Cushions
Looking for another way to make your beige sofa more interesting? Don't forget the interior designer's favorite item – throw cushions!

This simple step will make your beige sofa infinitely more stylish and eye-catching. Choose a few throw cushions in contrasting colors. You could go for navy, blue, and gray shades – or add a pop of color with yellow or pink! Patterns or striped cushions are also lovely additions.
But most importantly, keep your color palette in mind to ensure it all comes together nicely.
Add a Modern, Minimalist Coffee Table
If you prefer a hyper-modern design style, look for a minimalist coffee table. Look for one made from metal with clean lines and either a glass or solid metal top.
This industrial-style table will stand out against your soft beige sofa. It's the complete contrast to its warm tones and curved edges. Adding a modern coffee table will make your room feel more masculine and a little edge.
The Wrap Up
As you can see, a living room with a beige sofa doesn't have to be boring or outdated at all. Instead, consider your beige sofa the perfect backdrop for your ideal living room.
A beige sofa is one of the most underappreciated pieces of furniture around! But the neutral beige color gives you creative freedom in designing your living room. So, you can decorate and accessorize the room in any style and create a gorgeous space.
And if you're looking for more accent colors that go with beige, check out my article here.
Let me know which of these ideas appeals most to you! Share how you'll decorate your living room in the comments below.
And follow Quiet Minimal on Pinterest for more home design & decoration tips and inspiration.