Are you looking for a fresh and unique way to decorate your home? Do you love the Art Deco style's sleek lines and bold designs? Here are ten tips on incorporating this timeless style into your home.
Art Deco is an iconic design movement that began in the 1920s and 30s. Its bold geometric shapes, bright colors, and luxurious materials make it one of the most popular interior design styles. With these tips, you can add a touch of Art Deco glamour to any room in your home!
From lighting and furniture to fabrics and accessories, there are many ways to bring this classic style into your living space. Do you want to go all out with a full-on Art Deco look or add subtle touches here and there? Read on for some great ideas on decorating with Art Deco flair!
Understand The Essence Of Art Deco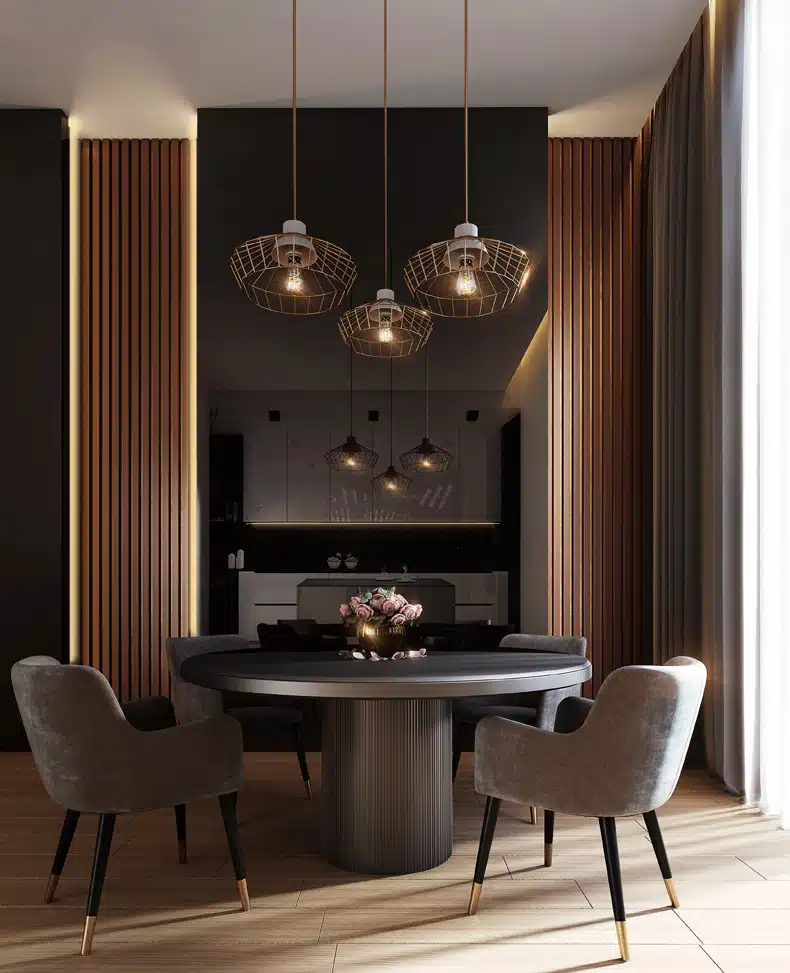 Art deco is an iconic style that stands out from the rest. It's bold, loud, and makes an immediate impact. Understanding the essence of this style is key if you want to get it right.
The art deco look is luxurious and glamorous, with bright colors, geometric shapes, and metallic accents being core elements. Bold patterns can also play a role in this aesthetic.
It's important to note that art deco isn't about looking flashy – it should be tasteful too. Think of it as the balance between luxury and sophistication.
Incorporating art deco into your home doesn't have to be complicated. Start by finding out what elements are most important to you, such as furniture or artwork, and consider how they could fit into your theme.
Use accessories like rugs, curtains, and wall hangings to add depth to your desired look.
Choose A Color Scheme
When exploring the art deco style, it's essential to establish a color scheme. To find the right colors, look at traditional art deco pieces and see what hues they feature. You can also take natural inspiration and incorporate colors that mimic those found in nature, like blues and greens. This tip will provide a foundation for the rest of your décor.
When choosing your colors, consider how you want to use them in your home. For example, if you're looking for a bold statement piece, consider using one or two primary colors in more oversized furniture items and then adding accents with secondary colors.
If you prefer a more subtle look, use neutral tones throughout your space but add small pops of color with artwork and accessories.
Whatever approach you take to your color scheme, remember that it should reflect your style. Feel free to experiment with different shades and combinations until you find something that speaks to you.
Select Appropriate Furniture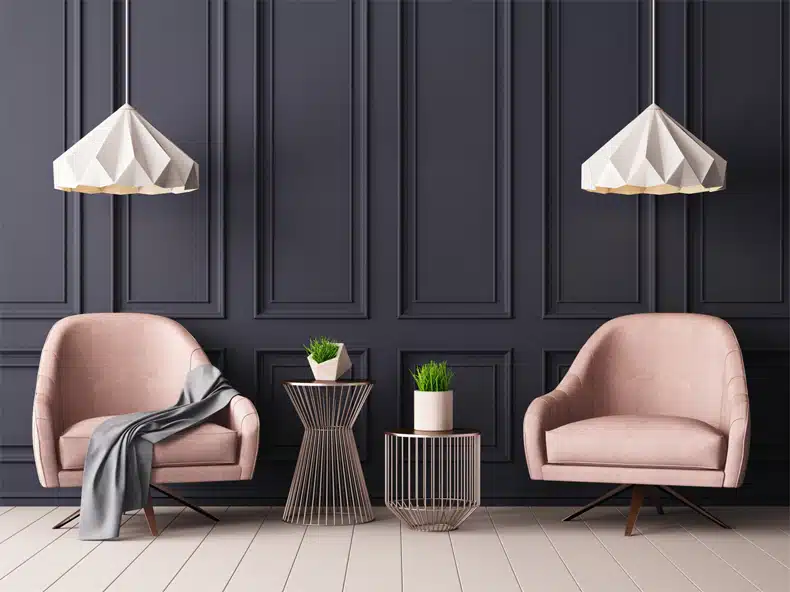 Once you have chosen a color scheme for your Art Deco decor, it's time to select the furniture. The type of furniture you choose will depend on the size and shape of the room. Here are some ideas and tips to help you make your selection:
Choose sleek and angular pieces with geometric shapes and strong lines.
Opt for upholstered furniture made from leather or fabrics with art deco designs like chevrons, stripes, or geometric patterns.
Look for furniture with chrome, nickel, or brass accents that feature curved legs and arms.
Consider adding vintage pieces to give the room an eclectic feel.
Remember that less is more when selecting furniture for your Art Deco space; opt for a few statement pieces rather than overcrowding the room with too many items. Additionally, feel free to mix modern elements into traditional pieces.
Combining old and new styles can create an exciting and unique look that reflects your taste. Finally, ensure all items are well-proportioned, so they don't overpower the entire space; this will also help maintain harmony in your home design project!
Add Finishing Touches With Accessories
Moving on to the fourth tip, let's talk about how to add finishing touches with accessories. Art Deco interiors are known for their sophistication and glamour, so the accessories you choose must match this aesthetic.
From mirrors to wall art, lighting fixtures to sculptures, there is a world of options for adding decorative elements.
For instance, opt for a mirror framed in brass or gold-plated metal if you want something more classic and timeless. This is an excellent way of bringing out the Art Deco character of your space. Plus, mirrors are great for reflecting light and making small spaces appear larger.
But if you're looking for something bolder and more daring – why not go for a statement piece like a modern chandelier? It will create an eye-catching focal point in your room! And remember wall art: hang up some vintage prints or photographs to give your home an authentic Art Deco look.
These finishing touches will take your home from ordinary to extraordinary – all while staying true to the Art Deco style.
Incorporate Art Deco Artwork
Incorporating art deco artwork into your home is an easy way to add character and style. You can use it as a focal point for the look. Artwork featuring geometric shapes, bold lines, and bright colors will work well within an art deco space. You can find original vintage pieces if you wish to embrace the era completely.
When displaying art deco artwork, it's best to hang larger pieces on walls with relatively neutral colors or patterns. You could create a gallery wall with multiple smaller pieces hung in a pattern for a truly eye-catching effect!
You can also use smaller pieces throughout the room, either on shelves or in nooks.
It's important to note that art deco artwork should not dominate your space. Instead, you should use it strategically and combine it with other design elements, such as furniture and accessories, for balance. With this approach, you'll get the most out of incorporating art deco artwork into your home.
TIP: Consider incorporating vintage decor from the era into your home alongside your chosen artwork; this will help create an authentic yet modern art deco style!
Stick To A Monochromatic Look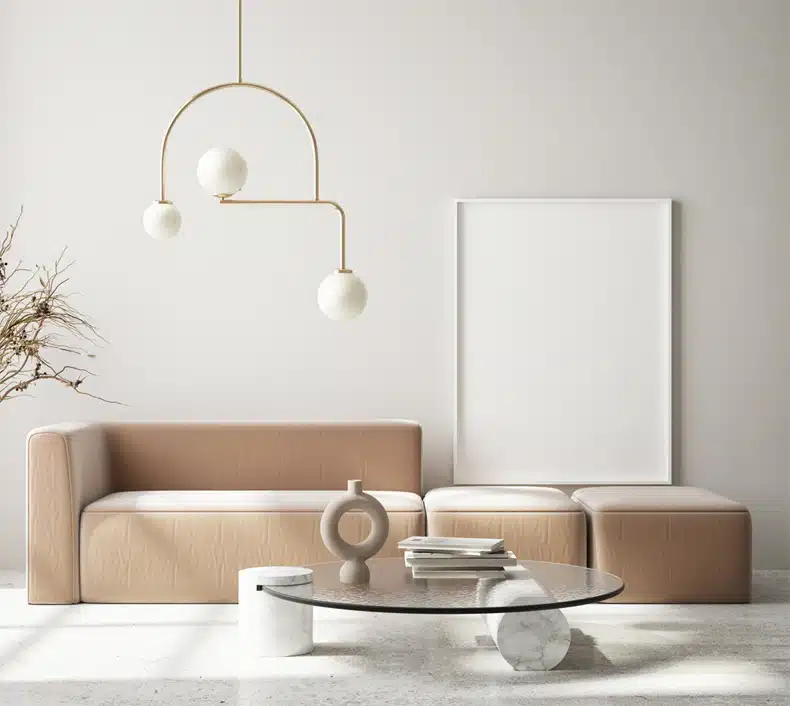 Sticking to a monochromatic look is essential when incorporating art deco style into your home. You can achieve this by focusing on one color palette and using furniture, accents, and artwork that complement each other.
A monochromatic look will help create a unified aesthetic throughout the room that's in line with art deco principles. In addition to sticking with one color palette, adding touches of metallic accents will draw attention to the art deco design elements in the room.
Gold and silver accents add a luxurious feel to the space while staying within the same color scheme. These metals usually come in various shapes, adding attractive visual interest and texture to any area of your home.
Using a monochromatic look and metallic accents helps you create an environment that pays homage to classic art deco styles without overwhelming the room with too many colors or textures.
Create A Focal Point With Bold Wall Art
It's time to take your art deco style to the next level. Bold wall art is essential to create a focal point in your room. Whether you opt for an iconic painting or a one-of-a-kind sculpture, ensure it captures the eye and ties the overall look together.
You don't need to break the bank when looking for wall art. Look for pieces that feature geometric shapes, bold colors, and exciting textures to bring out the best of your art deco style.
Remember to mix and match different styles – this can add an extra layer of sophistication. Thrift stores and vintage shops are great places to start searching.
To make a statement with your wall art, consider grouping multiple pieces together in an arrangement on one wall. This will create a dynamic scene that exudes classic elegance.
Use Geometric Shapes
Geometric shapes are the foundation of the art deco style, so incorporating them throughout your home will create a cohesive look. This could include adding patterned wallpaper with geometric designs.
Painting some simple shapes on the wall is an option. You could also opt for furniture with angular lines, such as tables and chairs made from chrome or glass.
No matter how you incorporate geometric shapes into your space, ensure it complements the other elements in the room. For instance, if there are a lot of curved pieces of furniture and artwork, opt for softer angles that won't clash with the rest of the design.
Consider adding accents such as throw pillows or rugs in various geometric patterns to add texture and visual interest to any space.
When working with art deco style, it's important to remember that less is more when it comes to geometric shapes. You'll achieve an aesthetically pleasing art deco look by finding creative ways to add these shapes to your home décor.
Keep things balanced by carefully considering where you place each piece to avoid making any area too busy or overwhelming.
Incorporate Mirrors For Added Drama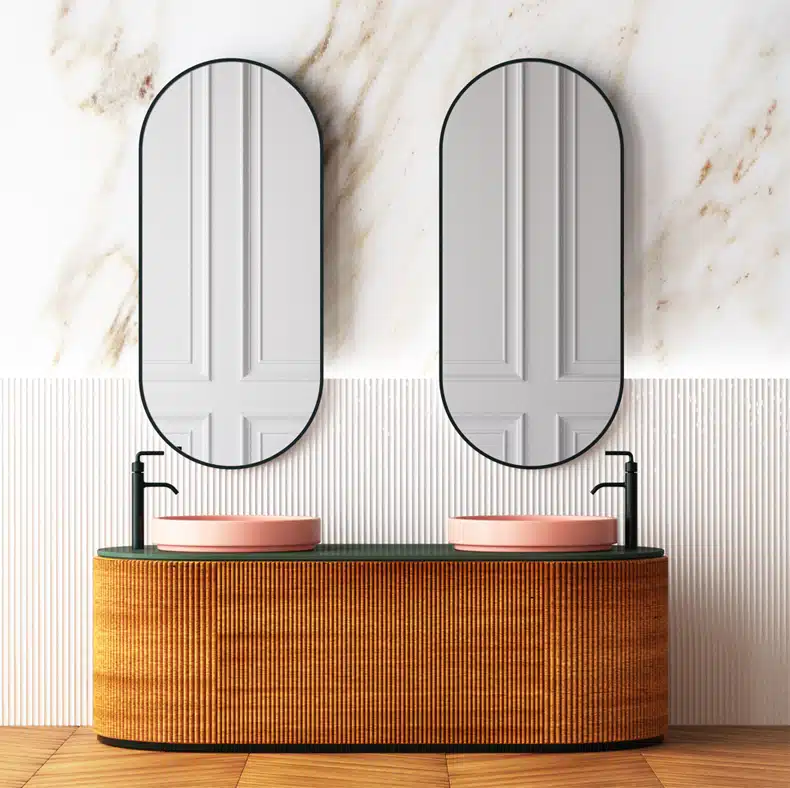 Adding mirrors to your home decor is an excellent way to incorporate art deco style. Mirrors provide a touch of elegance while adding drama to the room.
They can be used as feature pieces or incorporated into a gallery wall. Here are some ways you can use mirrors to bring art deco style into your space:
• Feature Mirrors: You can use them as statement pieces and place them in the center of a room or above a mantelpiece. Look for round, rectangular, or octagonal-shaped mirrors with geometric detailing or metal frames for an art deco look.
• Gallery Wall: For an eclectic look with art deco vibes, create a gallery wall using metal framed rectangular mirrors and other artwork such as prints and paintings. Make sure to mix up the sizes and shapes of the frames for added visual interest.
• Accent Mirrors: Incorporate smaller accent mirrors into storage cabinets, bedside tables, and dressers for subtle touches of art deco style without overwhelming the space.
Using mirrors in your home decor is an easy way to elevate your design scheme while introducing Art Deco style. You can choose one large feature mirror or several accent mirrors.
Consider The Use Of Lighting
To complete the art deco look in your home, consider lighting. You can use lighting to create dramatic focal points or to add ambiance and atmosphere. Here are three ways that you can incorporate lighting into your art deco design:
• Use wall sconces and chandeliers to add a touch of glamour. Wall sconces are ideal for highlighting key areas of the room, while chandeliers bring a sense of grandeur and sophistication.
• Experiment with different colors and shapes of lights to create interesting visual effects. Art deco style often incorporates geometric shapes, so choose light fixtures with this in mind.
• Incorporate decorative lamps into the design scheme for an unexpected twist. Table lamps are great for reading nooks and other areas requiring task lighting. You can use floor lamps as an accent or ambient lighting for larger spaces.
Lighting is an integral part of art deco design, so it's worth finding pieces that fit your theme and enhance the space visually and functionally.
Conclusion
To conclude, the art deco style is a timeless and elegant way to add character to any home. By incorporating these ten tips, you can transform your living space into one that reflects this classic design era.
You should begin by understanding the essence of art deco and choose a color scheme to set the mood for the rest of your decorating project.
From there, selecting furniture complementing the theme is essential for creating a cohesive look. Accessories like artwork and mirrors are great for adding subtle touches of elegance that bring out the best in your art deco design.
With all these components combined, you can achieve the perfect art deco-inspired home!
Follow Quiet Minimal on Pinterest for more home design tips and inspiration.