Have you ever noticed the space above your kitchen cabinets? It's a great place to add a little flair and personality to your kitchen, besides, it can be difficult to decide on a beginning point. Decorating the area above your kitchen cabinets can be challenging.
But don't worry – I'm here to help! In this article, I'll share my tips and tricks for transforming this neglected area into an eye-catching display you'll love.
Are you ready? Let's get started! The very first step is selecting the right decorations for this spot.
Think about what kind of look or theme you're going for.
Do you want something classic or modern? Are there any colors that would fit in with the rest of your kitchen design? Be sure to pick items that will look great together and complement each other.
Once you've chosen the decorations, it's time to figure out how best to arrange them on your cabinet tops. Scale is key here – make sure each item fits within its allotted space without overpowering everything else around it.
If necessary, measure out where each item should go before beginning so that everything looks balanced when you're done.
Now that you have all these tips and tricks in mind, it's time to start decorating! With a little bit of patience and creativity, transforming this area into something special is easier than ever before.

Measurement Of The Space
Ah, the age-old dilemma of what to do with the space above your kitchen cabinets! To solve this problem, I suggest we start with some measurements. After all, you don't want to make a costly mistake by buying something that doesn't fit!
So let's get out the tape measure and look at your upper kitchen corners. It's time to determine how much space is available for your decorating pleasure.
Now that we have these figures, it's time to start thinking about what type of decorative item would look best above our cabinets. We could go big and bold or small and subtle; the options are endless.
a a look at some photos or magazines for inspiration. It's also good to note that there are tons of DIY ideas out there on the internet if we're feeling creative!
When selecting items to place in your newly decorated space, it's important to remember that balance is key. You'll want pieces that bring harmony and interest without overwhelming the eye.
The last thing you want is for things to look cluttered or too busy – especially since this area won't be often seen up close.
Now that you have your measurements, let's think of some great ways to make this area look amazing!
Choosing A Theme
When choosing a theme for the space above your kitchen cabinets, you have many options. First, pick something that reflects your personal style. This could be anything from a rustic farmhouse look to a modern industrial vibe.
Think about the colors and patterns that you like best and go with those. If you're feeling adventurous, you can mix different elements together to create a unique look.
Another important factor to think about is how much space you have available. You don't want to overwhelm the area with too many items or decorations. Instead, focus on a few key pieces that will make an impact without overcrowding the area.
For example, if you have limited space, consider using wall art or framed photographs instead of large items like vases or sculptures.
If you're looking for something more permanent than wall art or photos, then why not try painting the area above your cabinets? You can use bold colors to make a statement or neutral shades for a more subtle look.
keep in mind that whatever color you choose should complement the rest of your kitchen decor and furniture.
Finally, don't forget to accessorize! Hang some decorative plates and maybe even some greenery to give it an extra pop of color and texture.
There are so many creative ways to spruce up this often-overlooked area in your kitchen – let your imagination run wild!
Utilizing Color And Pattern
Decorating the space above your kitchen cabinets can be quite a challenge. But by utilizing color and pattern, you can transform this area into something wonderful. To start off, pick a palette that complements the rest of your kitchen.
You could choose bright colors to create an eye-catching contrast against neutral walls, or go for soft pastels for a more subtle look. Your choice of hues will depend on the kind of atmosphere you'd like to create – bright and cheerful or cozy and inviting?
Next up, think about patterns. A patterned wallpaper can add character to your kitchen without overwhelming it. Or if you prefer something more subtle, why not try adding colored accessories?
These could range from dishes and bowls to tea towels and curtains. Whatever your preference, careful use of patterns can give your kitchen a unique personality that reflects your style!
When you want to hang items above your cabinets, use shelves or wall-mounted shelving units. This way, you can change things around whenever you feel like sprucing up the room with different pieces!
Lighting Considerations
It's time to think about lighting for your kitchen cabinet decor. Will you use task lighting or ambient lighting? Task lighting gives direct light for tasks like cooking or reading a recipe. Ambient lighting is more for providing light in the room.
Your next step is to choose a fixture that will complement the style of your kitchen cabinets. You can go with something classic like an overhead pendant light or something modern like a recessed LED light.
Consider how much wattage you want and whether you want anything dimmable.
Next, consider how best to hang the light fixture above your cabinets. Depending on the height of your ceilings, there may be various ways to suspend your fixture.
For example, if you have higher ceilings then you may need to use a longer chain or cable than if they were lower ceilings.
Finally, consider any safety issues when installing lights above kitchen cabinets. Be sure to install electrical wiring and check for fire risks before turning on the lights.
Using Floating Shelves
Floating shelves are an excellent way to decorate the space above your kitchen cabinets. They provide an attractive and modern look that will enhance the style of any kitchen. Plus, they're easy to install and don't need any specialized tools or skills.
When you shop for floating shelves, look for ones made of sturdy materials, such as wood or metal. This will ensure the shelves can hold any items you place on them.
When installing your floating shelves, make sure to measure the area so you know exactly where you want each shelf to go. It's also important to consider how much weight each shelf can hold before adding too many items.
Once everything is in place, it's time to start decorating! You could use this space for plants, cookbooks, pictures, or whatever else fits with your kitchen's style and décor.
Add decorations such as knick-knacks or plants to make your shelves stand out. Potted plants can make your kitchen look fresh and inviting.
Display glassware or items with simple lines and neutral colors for a more streamlined look. No matter what type of décor you choose for your shelves, make sure it complements the rest of your kitchen design.
Whichever route you take with your floating shelves, they'll be sure to add a unique personality and style to your kitchen space!
Choosing Storage Solutions
Now that you've got the perfect floating shelves for your kitchen, it's time to consider what storage solutions to use! The possibilities are endless. From baskets and jars to shelves and racks, you can create a unique and stylish look above your cabinets.
First of all, think about the size of your space. If you have a smaller area to work with, then go for smaller storage containers like wire baskets or glass jars.
They'll look great lined up neatly on the shelf and will be able to store all your kitchen essentials in an organized way.
For larger spaces, consider adding some shelves or racks. You can get creative here and choose something that reflects your style. Whether you want a rustic wood shelf or funky metal rack, there is sure to be something out there that will bring life to your kitchen.
Of course, if you plan on using these shelves as display pieces, then you want to make sure they're kept clean and tidy. Add a few decorative pieces like plants or candles. Anything that will help keep things looking neat and presentable! With this simple step, you can transform the look of any kitchen space.
Installing Cabinetry Or Cupboards
Once you have chosen the type of cabinets or cupboards that work best in your kitchen, it's time to put them in. Installing them correctly and securely is essential so that everyone using them is safe.
Start by measuring and marking out where the cupboards will go on the wall.
When drilling and installing screws, it's important to be mindful of any pipes or wires behind the wall – you don't want to drill through them! Once all your cupboards are installed and secured, you can begin decorating your new space!
Now that you have a blank canvas above your cabinets, there are plenty of options for decoration. You could hang artwork, add some shelves for displaying plants or knick-knacks. Or even add a row of floating shelves to store spices or dry goods. Accent lighting can also be used to create an inviting atmosphere in your kitchen.
Finally, why not try adding some decorative molding along the top edge of the walls above your cabinets? This will give a finished look to the room while also helping to emphasize any decorations you choose.
Add Texture With Woven Baskets
Now that you have installed your cupboards, it's time to move onto the next phase of decorating your kitchen. One option to do this is by adding texture with woven baskets.
The unique texture of a handwoven basket will give any room an interesting and eye-catching touch. Not only that, but baskets can also be used for storage.
You can fill them with all sorts of items, from cookbooks and spices to kitchen towels and decorative items. This makes them practical as well as aesthetically pleasing!
Mix and match different sizes, shapes, and colors of baskets to create a unique look above your cabinets. Group several baskets together to add interest to the space.
There are lots of different types of baskets on the market, so you don't have to limit yourself to one.
If you like a minimalistic look, you can use natural elements such as twigs or branches to create texture and interest. Be sure to choose pieces that match your space and your style. Ultimately, what matters is that you love the outcome!
Go Vintage Eclectic
Going vintage eclectic with the space above your kitchen cabinets is a great way to add some unique, yet timeless style to your home. I'm talking about taking a little bit of grandma's house and combining it with some hipster vibes.
To start, you'll want to choose a few vintage pieces you can mix and match for an eclectic look.
You could go for mismatched plates, or maybe even some antique jars. There are so many options, so don't be afraid to experiment!
Next, you'll want to think about how you're going to mount these pieces on the wall. You could hang them using picture frames or wire hangers. Make sure that whatever method you use fits in with your style.
If you think it would look better with the piece itself, then go for it! make sure it's secure before hanging anything up.
Consider adding plants or lights too to mounting the pieces. Small succulents in antique pots are perfect if you have a lot of natural light coming in from the windows.
Try string lights around the cabinets for a modern look. This will give it a cozy feel while also highlighting all your vintage finds!
When deciding what to put above your kitchen cabinets, ensure it fits your style and decor. Take the time to find pieces that speak to you—you'll be glad you did once everything is put together!
Selecting Décor Items
There's no one-size-fits-all approach when selecting décor items for the space above your kitchen cabinets. You can choose items that reflect your personality and style, or pieces that will add a touch of sophistication to the room.
Whether you want to go bold and daring or subtle and understated, there are plenty of options to choose from.
When looking for décor pieces for this area of your home, think about what kind of statement you want to make. The type of items you select will depend on the size and shape of the space, as well as your personal taste.
Adding texture is also an important part of decorating this area. You can do this by using a variety of fabrics such as thick curtains draped over the top shelf or a rug underneath.
Try hanging many strands of fairy lights across the top shelf for an even more dramatic effect.
This will create an eye-catching display while also providing much-needed warmth in the room.
Think about how you want your kitchen to look and feel. Then, choose décor elements (like colors and patterns) for the top of your cabinets that reflect you. Put some thought into it and you'll end up with a beautiful kitchen that will make people take notice!
Arranging Items For Visual Interest
Once you've decided what kind of items you want to display on your kitchen cabinets, it's time to arrange them for visual interest. Start by considering the shape and size of each item.
For example, if you have a large decorative plate, it should be placed at the center of the area above your cabinets so that it stands out. Then, add smaller items like framed photos or vases around it. This will create a more balanced look.
You should also think about color when arranging your items. Try to incorporate different shades and hues so that the space has a more cohesive feel and look.
If you have many similar items, try grouping them together for a creative and eye-catching look. You can also use books or trinkets as dividers between different objects and help separate them from each other.
When arranging items, make sure they are close enough. Aim for an attractive design with a natural flow that looks nice. Adjust placement until you're happy with how it looks.
Secure with adhesive strips or mounting hooks. With these tips in mind, you can easily create a beautiful space above your kitchen cabinets!
Creating A Gallery Wall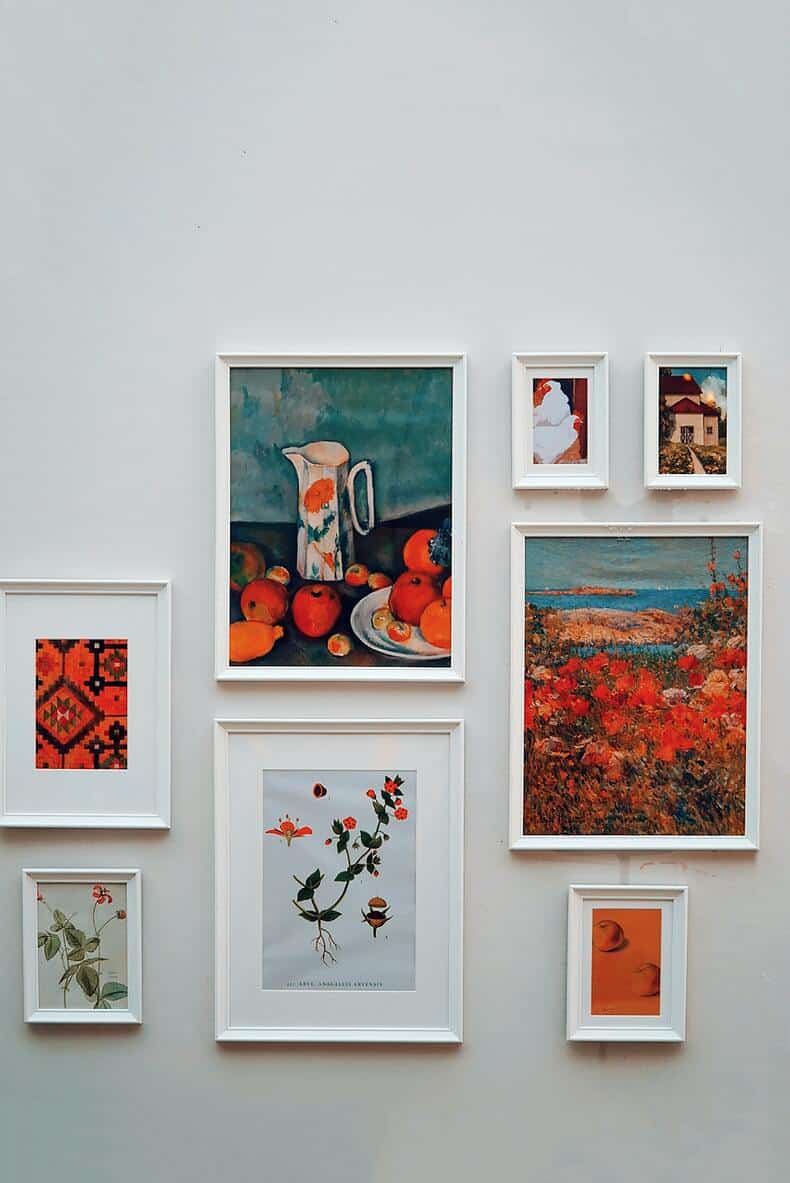 Give your kitchen a unique look by displaying framed artwork above the cabinets. It can be done with a few simple steps. First, gather all the pieces you want in your gallery wall.
This includes artwork, photographs, and other items you'd like to display.
Then, plan out how you want the pieces to look on the wall. Use graph paper or something like map out the arrangement to look balanced and cohesive.
Next, hang up all the pieces in their designated spots. If you're using nails or screws, ensure they are firmly in place so everything stays put.
Finally, step back and admire your work! There's no better feeling than seeing artwork hung up and knowing that it looks great in its new home! You may also want to use something like Command Strips for a less permanent option.
Adding Artwork
Artwork is an excellent way to create a beautiful and unique statement.
Artwork can range from classic oil paintings to modern abstract pieces. Whatever you choose, make sure it fits with the theme of your kitchen and home.
The size of the artwork depends on the space above your cabinets. If there's little room, you can use smaller pieces arranged together or in a gallery wall.
If you have more space, try using larger art pieces that stand out and draw attention.
Consider adding artwork with special meaning or importance to you, like family photos or prints from local artists. This will help personalize the area and give it a more inviting atmosphere.
Think about how the artwork complements existing colors in your kitchen. The right piece can pull together your kitchen's look and create an aesthetically pleasing display.
Placing Mirrors In The Space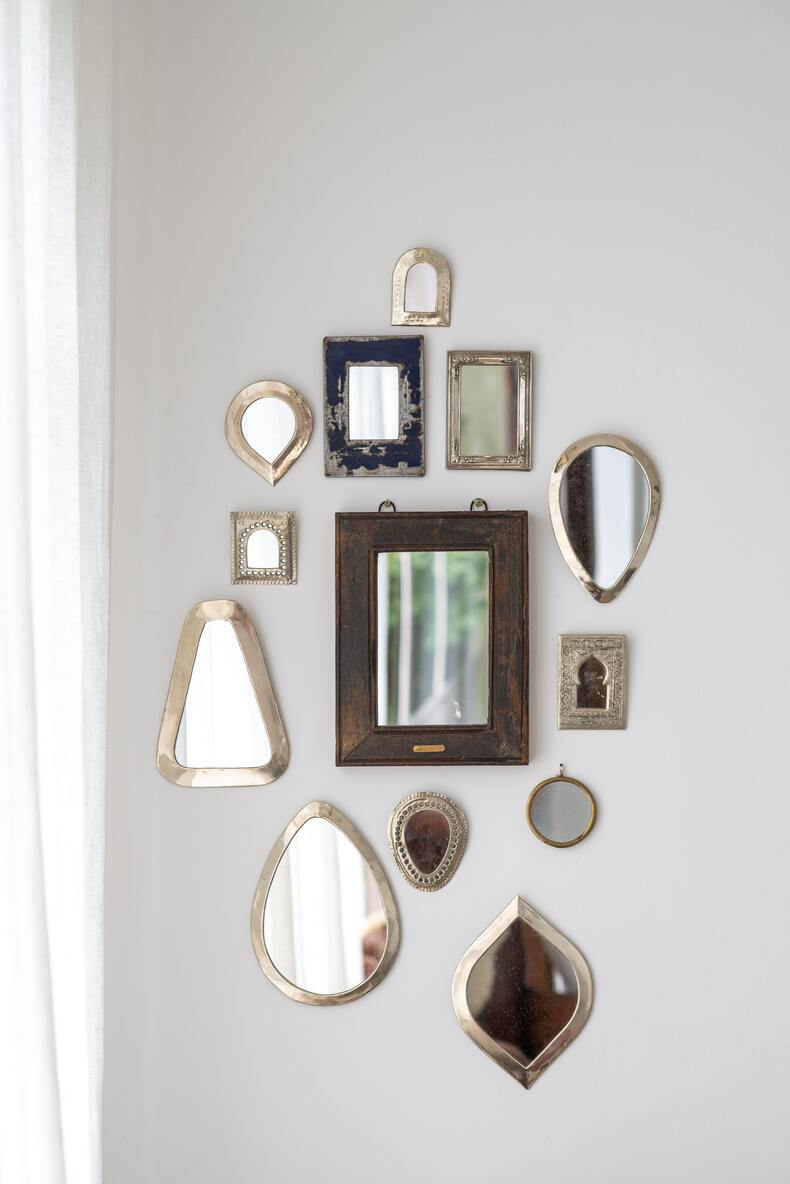 Using mirrors to decorate the space above your kitchen cabinets is an easy and effective way to make the area look larger. Mirrors are a great way to reflect light, making any room appear larger and brighter.
They also add depth to a room, creating an illusion of more space. When choosing mirrors for this purpose, pick ones large enough to fill the entire space above the cabinets. Smaller ones will be less effective in making the area look bigger.
It's also essential that you choose a mirror style that fits with your kitchen's design. A modern kitchen may look best with frameless mirrors, while a classic kitchen may need framed mirrors with detailed designs.
Group several small mirrors together or join many mirrored panels for a stylish look above your kitchen cabinets. Be sure to pick the right size mirror – too big or too small won't look good.
Hanging Plants From The Ceiling
Hanging plants from the ceiling is a great way to add vertical greenery to your kitchen. You can hang them in front of or behind your cabinets, depending on the look you want to achieve. Plus, it's an easy and cheap way to spruce up any room.
I love hanging plants in my kitchen because it adds a touch of nature and warmth that I find comforting. I love trailing ivy or pothos plants. They are so pretty with their lush green leaves cascading down.
To get started, you'll need some hooks and chains for hanging the plants from your ceiling beams or joists. If you don't have access to those beams, you can always use a hanger-style pot holder for suspending the pots.
Once you have everything installed. make sure to water the plants regularly so they stay healthy and vibrant!
Choose a hanging plant for your kitchen and make your space cozier and inviting! The greenery will stand out amongst the stainless steel and countertops.
So why not give it a try? You won't regret having an enchanting view above your cabinets as soon as you. walk into your kitchen every morning!
Conclusion
When it comes to decorating the space above your kitchen cabinets, there are a lot of options. You can make your kitchen stand out by adding lighting and choosing décor pieces.
This will create a unique and attractive look. The key is to find what works best for your own personal style and aesthetic.
One way to do this is to play with color and pattern. You can add pops of color throughout the room or keep it neutral and use more subtle patterns. It all depends on what you love! Do you prefer bright, bold colors?
Or are you more drawn to softer tones? No matter what you like, you can find something to fit in your space.
Don't forget to consider storage solutions when decorating above the cabinets. Organize your home for a happy life! Make sure all items have their own place, whether on open shelves or in cupboards.
Do you have enough storage space for all your items? Can you keep them tidy and out of sight? These are important questions to consider before starting any project.
At the end of the day, decorating above your kitchen cabinets is all about making it yours – so have fun with it! What kind of look would best suit your kitchen?
How can you express yourself through décor? No matter what you choose, it should make you happy when you enter the room.
Make sure to follow Quiet Minimal on Pinterest for more interior design and minimalist tips!