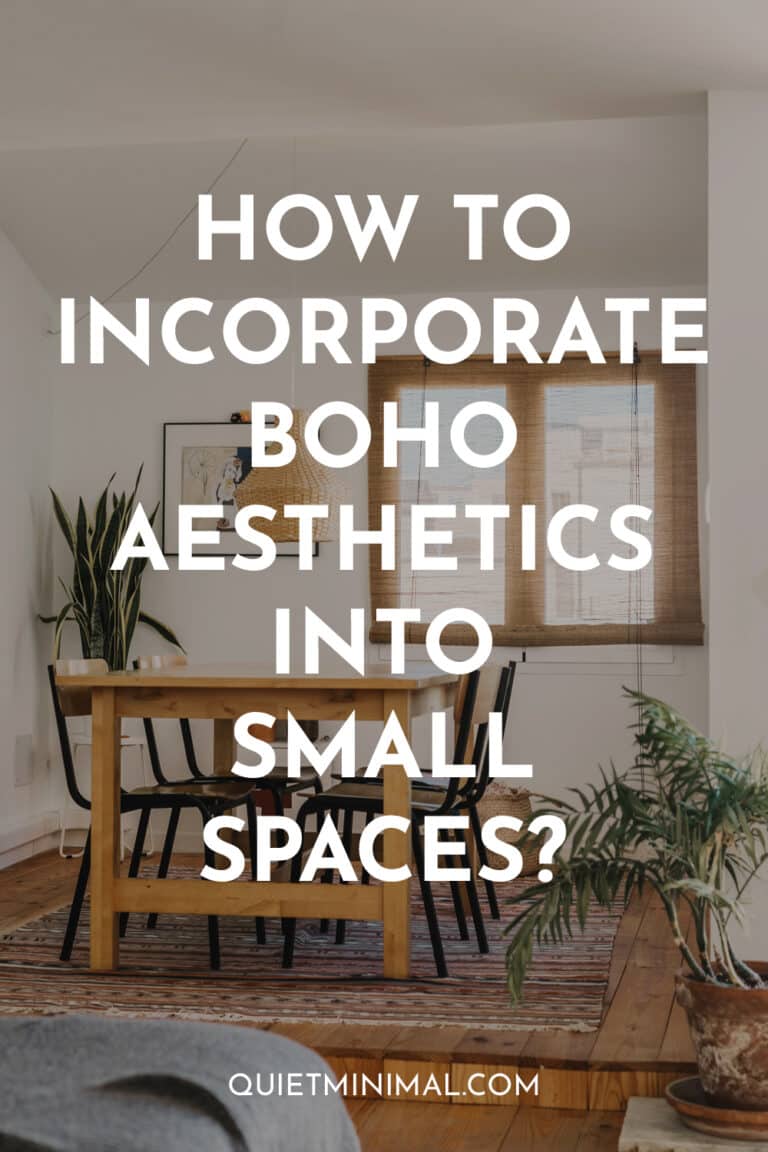 Do you live in a small space and love the Boho aesthetic? Don't worry. It's possible to bring this style into your home – no matter how small! If you want to add some unique touches to your place, but need more space to work with, then you've come to the right place.
I'm here to show you how to incorporate Boho aesthetics into your small space.
Add texture and color to your home with rugs, throws, and wall hangings. Try different lighting fixtures and furniture that can be used for storage.
Get creative and explore the endless possibilities of Boho decor in every room! The trick is knowing what pieces will work best for your space and how to arrange them for the greatest impact.
Adding Boho elements to your home takes little time and can greatly impact your living space. 
So let's dive in and see how we can transform even the smallest spaces with this free-spirited style!
Defining Boho Aesthetics
It's essential to understand what boho aesthetics is. Boho style often involves combining vintage, rustic, and eclectic items creatively and uniquely. It's all about creating an environment that feels both comfortable and inviting so that you can express yourself.
One way to incorporate boho aesthetics into small spaces is by using bright colors and patterns. You could add a few plants for some greenery and bring in some textiles like rugs or curtains in fun prints or colors.
If you want to take it further, add some unique furniture pieces like rattan chairs or woven baskets. This will help give the space a cozy, lived-in feel.
Finally, remember lighting! Lighting plays an important role in any space as it can help set the mood and atmosphere of your room. Think about adding string lights that twinkle or floor lamps with cool bases to finish off your boho room!
Finding Inspiration
Finding inspiration is the second step in incorporating boho aesthetics into small spaces. This can be a fun and creative process, and I'm here to help you.
A great way to begin is by searching for images that capture the boho vibe. Look for images of cozy rooms with eclectic pieces, layered textures, and bold colors.
You can also find plenty of examples on social media platforms like Pinterest or Instagram. One thing to keep in mind: remember that not every item must be a matchy-matchy set. The more eclectic your space is, the better!
Gather ideas, then narrow them down to create your own boho look. Start by making a list of items you want to incorporate into your space:
1) Textiles – Rugs, curtains, throws, wall hangings
2) Furniture – Choose pieces made from natural materials like wicker or rattan
3) Accent items – Think potted plants and other decorative touches
4) Colors – Embrace bold colors such as teal, coral, and mustard yellow
5) Lighting – Incorporate unique lamps or chandeliers for warmth & ambiance
Now it's time to combine all these elements and turn your vision into reality! Use what you've learned about boho aesthetics as a guide but feel free to mix things up.
After all, this is YOUR unique space! Try different textures and objects, and have fun! Find something that reflects your style.
Incorporating Boho Aesthetics Into Your Space
To make a small space boho-style, focus on creating a unique atmosphere that reflects your personality and taste. To do this, look at the walls and floors – they provide an essential backdrop for the rest of the decor.
For example, consider using wallpaper with bold patterns or bright colors to create a bohemian vibe in a small space.
If you have hardwood floors, rugs can add texture and make the space more inviting. Remember furniture when decorating. Find unique and comfortable pieces, like vintage chairs or couches with interesting fabrics.
Finally, pay attention to the importance of accessories! Look for items with interesting shapes, like mirrors or art pieces, that can be hung on the walls.
Plants are also great for bringing life into any room. You can even use items like macramé hangings or dream catchers for an extra touch of boho flair.
TIP: When selecting accessories and decor for your boho-inspired space, remember that less is more! Make sure to overcrowd your small room. Choose one or two standout items instead. This will give your space a cozy and inviting feel.
Maximizing A Small Space
You have a plan for boho decor in your space. Now it's time to figure out how to use your space best. This can be tricky, but there are still plenty of ways you can work with what you have.
First off, look for furniture that doubles up as storage. If you have little room, use your furniture for multiple purposes. This is a great way to maximize your space's use.
You can get furniture with extra storage. An ottoman, bench with secret compartments, bed, couch with drawers, or shelves underneath might be a good choice.
Maximizing small spaces is easy! Get furniture with many uses, like a trunk, coffee table, wall-mounted desk, and shelves. 
Need more storage? Thin metal shelves fit between two walls. Remember to use vertical space!
Hanging shelves on the walls is a great way to show off your boho accessories while freeing up floor space.
These are a few ideas for making the most of a small space while incorporating boho aesthetics — so get creative and start designing!
Accessorizing With Boho Decor
It can be challenging to bring in the elements of boho style in a small area, but it is doable. Let's take a look at how to accessorize with boho decor!
Don't go overboard. There's no need to overcrowd a small space with bohemian decor. Pick out one or two pieces that stand out.
This could be an ornate wall hanging, a colorful tapestry, or a macrame plant holder. These will bring your room to life without feeling cluttered.
Next, pick out some smaller items that still capture the spirit of boho style. Think about adding cushion covers or throws with intricate patterns and vibrant colors.
Or go for some dreamcatchers or decorative plates. They still need more space and beautifully pull the whole design together.
So there you have it – with these tips, you can incorporate boho aesthetics into your small space! Now all that's left is for you to experiment and see what works best for your unique style and taste.
Conclusion
Living in a small space is challenging, but it doesn't mean you can't make it beautiful. You can add a boho style to your home by being creative and using the right decorations.
Start by finding inspiration for your desired look. Choose pieces that speak to you and will bring out the boho vibe in your space. Think of organizing and storing items to make the most of the space. This can also add to the look of the room.
Add colorful rugs, pillows, wall decorations, and plants to give your small space a boho look. You don't need a lot of cash or space to get the boho look. Be creative with what you have. 
Follow Quiet Minimal on Pinterest for more home design tips and inspiration.