Are you looking to bring a unique, eclectic vintage vibe into your home? Wall art is an excellent way to enhance the atmosphere of any room in your house. You can transform your walls into a unique work of art.
From colorful gallery walls to one-of-a-kind pieces. There are endless possibilities for creating an eclectic vintage vibe with wall art.
This article will discuss some creative ideas for creating eye-catching wall art. This will bring you joy and contentment every time you look at it.
Let's discuss how color can create a retro feel in any space. Bright colors such as yellow, pink, and blue are classic choices for a vintage look. But feel free to experiment with other shades as well.
Mix and match different colors or stick with one color palette if that speaks to your soul. If painting is not your thing, why not try paper collage? Use scraps of paper from magazines or old books and arrange them in interesting shapes on your wall.
The result will be a unique piece of wall art that would make any artist proud!
Let's talk about incorporating vintage elements into your wall art. Whether it's an old postcard from another era or a flea market find. Including these items in your design adds character and depth to the look.
You could frame a piece of fabric from the 1940s. Or hang up an old poster advertising a show from long ago; the possibilities are endless!
You can create awe-inspiring wall art in no time while adding personality to your home.
Shopping For Unusual Vintage Art Pieces
Shopping for unique and unusual vintage art pieces is a great way to start. Many options are available. From paintings, framed prints, and photographs to sculptures and wall hangings.
What's more, when you shop for vintage art, you get a one-of-a-kind piece that adds character and charm to your home.
Select vintage art pieces that resonate with your personal style. You can create an eye-catching gallery wall that's sure to add personality to your home.
You can mix different shapes, colors, textures, materials, and sizes for a unique look. You can also combine old and new pieces for a well-balanced eclectic vibe.
Besides shopping for vintage art pieces, you can repurpose items like plates or teacups into wall decorations. With some creativity and imagination, the possibilities are endless!
So have fun exploring the world of vintage art. And let your inner artist shine through as you craft a stunning space that reflects your style.
Incorporating Modern Art With Vintage Elements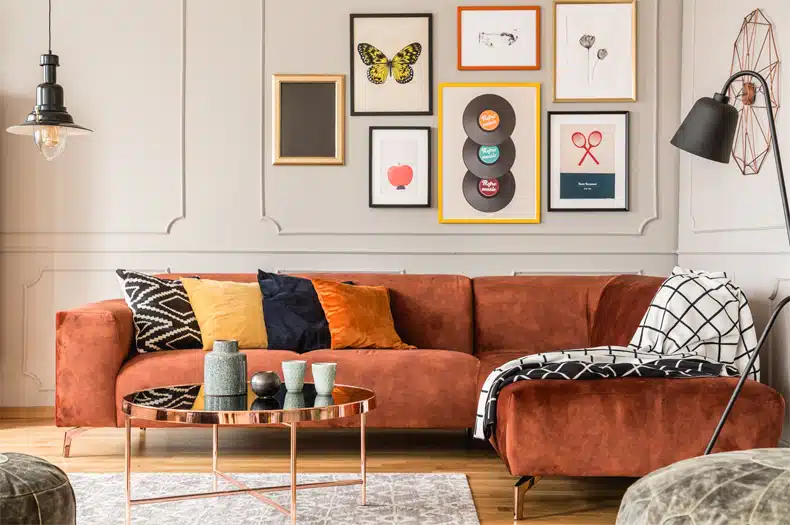 Now, let's move on to incorporating modern art with vintage elements. This is an essential step in creating an eclectic vintage vibe. With this method, you can make your wall art unique and stand out from the rest.
Select pieces that have modern designs that contrast with the vintage elements. This could be a bold color palette or a more abstract work of art. You may find some pieces that you can upcycle or repurpose in some way.
Next, consider how to incorporate these into your wall art design. Think about how you can layer different pieces together. Pieces such as overlapping prints or adding many layers of frames.
Consider adding plants or other items to add depth and texture to your wall art display.
Once you have your selection of pieces ready, it's time to assemble them onto the wall! Take your time when arranging these items. And ensure that everything looks balanced and cohesive.
Feel free to get creative and play around with different combinations. Until you find something that suits you!
Using Repurposed Objects As Wall Art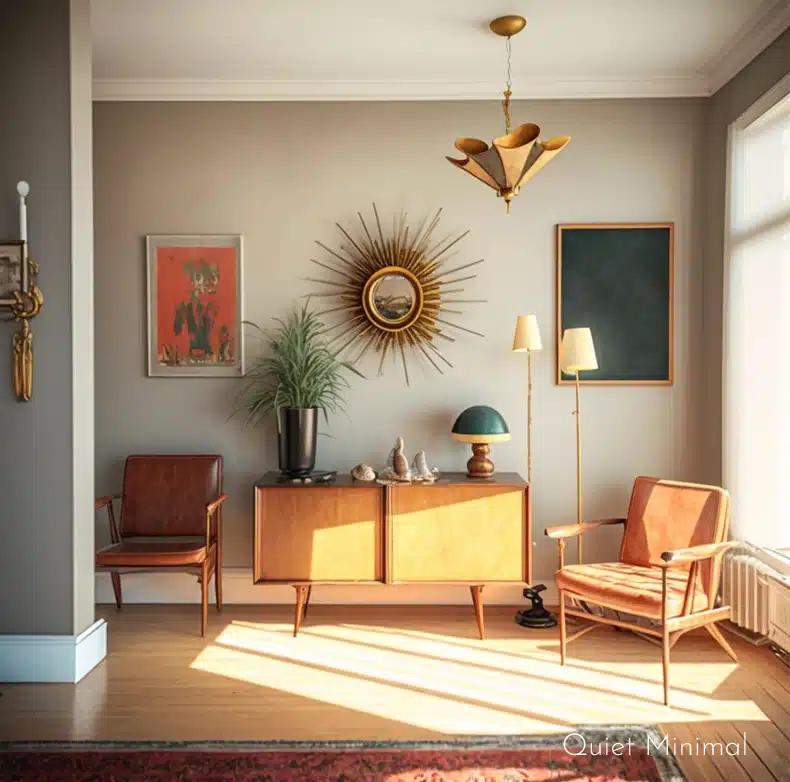 When creating an eclectic vintage vibe, repurposing objects for wall art is a great way to bring the room together. This help adds a unique touch to your space. And it also encourages creativity and resourcefulness.
You can repurpose items like old books, mason jars, or vintage plates to bring a new life to these everyday objects. You could even use buttons or fabric scraps for an added personal touch. It's all about coming up with forward-thinking and creating exciting combinations.
This kind of wall art allows you to create something one-of-a-kind. And will capture the attention of anyone who walks into the room. All while staying true to the eclectic vintage vibe you're aiming for!
Crafting Custom Art With Found Objects
Coming up next is crafting custom art with found objects. It's a great way to give your wall art an eclectic, vintage vibe. Here are three items you can use to craft this kind of artwork:
• Old CDs or records – You can reshape them into unique sculptures on your walls.
• Beads and trinkets – Upcycle these items by stringing them together in a pattern or shape. You can also get creative with different elements to create something unique.
• Wooden boards – Sand down old wooden boards and paint them. And then add embellishments like decoupage or fabric patches for a dash of vintage charm.
Perfection is not required when crafting custom art with found objects. Embrace the imperfections, as it will give it more character and charm!
This art should reflect your style and personality, so let your imagination run wild. You could even get creative with materials such as paper mache or tissue paper for a textured look.
It's time to start creating a one-of-a-kind wall art piece that tells the story of who you are! With these tips, you'll have an eclectic, vintage vibe in no time.
Combining Textiles And Paintings For Eclectic Wall Art
Let's explore the idea of combining textiles and paintings for eclectic wall art. This is a great way to bring that vintage vibe into your home.
You could hang a picture frame with some fabric stapled onto it. Or choose one large painting and frame it with different pieces of fabric. The possibilities are endless!
Combine it with craft materials such as paper mache, buttons, beads, and glitter. Add whatever inspires you, and create something unique!
Don't be afraid to mix different colors and fabrics together. This will help add texture and depth to your artwork.
Remember: no matter your choice, you can make it special by infusing it with your creative flair. You don't need expensive materials or professional skills. Use your imagination and have fun!
Conclusion
It's all about creating something special for you and your space. An eclectic vintage vibe in your home with unique wall art is a beautiful way to express yourself.
Incorporate modern art with vintage elements. Use repurposed objects as wall art or craft custom art with found objects.
Or combine textiles and paintings. You'll find that combining these different elements will bring out the best in each other.
And always remember – have fun! Enjoy the process of exploring different ideas and finding pieces that bring you joy.
Follow Quiet Minimal on Pinterest for more home design tips and inspiration.