So, you're lucky enough to have a patio in your outside space.
I love my patio – it's the perfect area for having a drink, eating al fresco, or entertaining friends. But without a patio cover, I found that I was limited to using it on fine, sunny days. And depending on where you live, they can be few and far between.
Even when the sun did shine, it would often get too hot, and I would need to retreat inside. Or clouds would appear, and rain would spoil the fun.
And that's when I knew I needed a patio cover to get more use out of my patio. But I didn't have hundreds to spend on an expensive patio cover. So, I decided to research some cheap patio cover ideas that still do the job.
And I found some excellent inexpensive patio cover ideas. So, I've put together this guide to help you choose the best cheap patio cover for your garden.
You don't need to splash out and spend your savings on a patio cover. Instead, there are loads of inexpensive patio covers that won't break the bank. And if you're like me and don't mind DIY handy, you can save even more cash by building it yourself.
So, if you're looking for patio cover ideas on a budget, you're in the right place. Read on to discover a range of cheap patio cover ideas, from ready-made to DIY options.
10 Cheap Patio Cover Ideas
Here's a list of inexpensive cheap patio cover ideas to offer inspiration.
You'll find tons of options, including do-it-yourself patio cover ideas. Not only do these ideas look amazing, but they'll also save you a lot of cash.
Browse these suggestions and let me know your favorites in the comments below!
A Fabric Patio Cover
One of the quickest and simplest options is also one of the cheapest – a fabric patio cover. You can create a fabric canopy or shade sail over your patio to provide shade and shelter.
You'll find ready-made fabric canopies in garden stores. But if you have a sewing machine, you can save even more money by DIYing it.
All you'll need is fabric, PVC piping, an electric drill, and some hooks.
First, sew a pocket for the piping along the edge of the fabric. Next, drill a hole at each end of the pipes. Then, you can slide the piping into the pocket and attach it to the wall with your hooks.
If you want to see how it could look, check out this video for inspiration! 
A Pergola
A pergola is an elegant patio cover that will create an amazing outdoor eating space. It has a simple design of columns and a wooden structure with beams across it.
The idea of a pergola is to put pots at the bottom of each column. Then, you can choose climbing plants that will grow up the structure and cover it with leaves. It's these plants that provide shade while looking picturesque.
A pergola is ideal if you want a patio cover to provide shade from the summer sun. However, it's not waterproof and won't protect you from rain showers.
You'll also need patience while the plants grow – even if you choose fast growers! The pergola will provide very little shelter until the plants cover the top of the structure. Here are some of the best plants for pergolas to get you started.
You can hang some pretty lights from the pergola to add more interest. A chandelier or Moroccan lantern would look amazing! It's the perfect way to create a cozy evening atmosphere and make your outdoor space feel luxurious.
An Attached Structure
One of the simplest ways to create a patio cover is by attaching it to your house. If your patio is right next to your home, you can choose a cheap patio cover. Then, all you need to do is attach it to the walls securely.

This kind of patio cover requires little in the way of building or DIY. So, it's quick, easy, and affordable. You can find many types of covers that will attach to your house with bolts. Most of them are adjustable, and some will even retract, giving you more versatility!
An Umbrella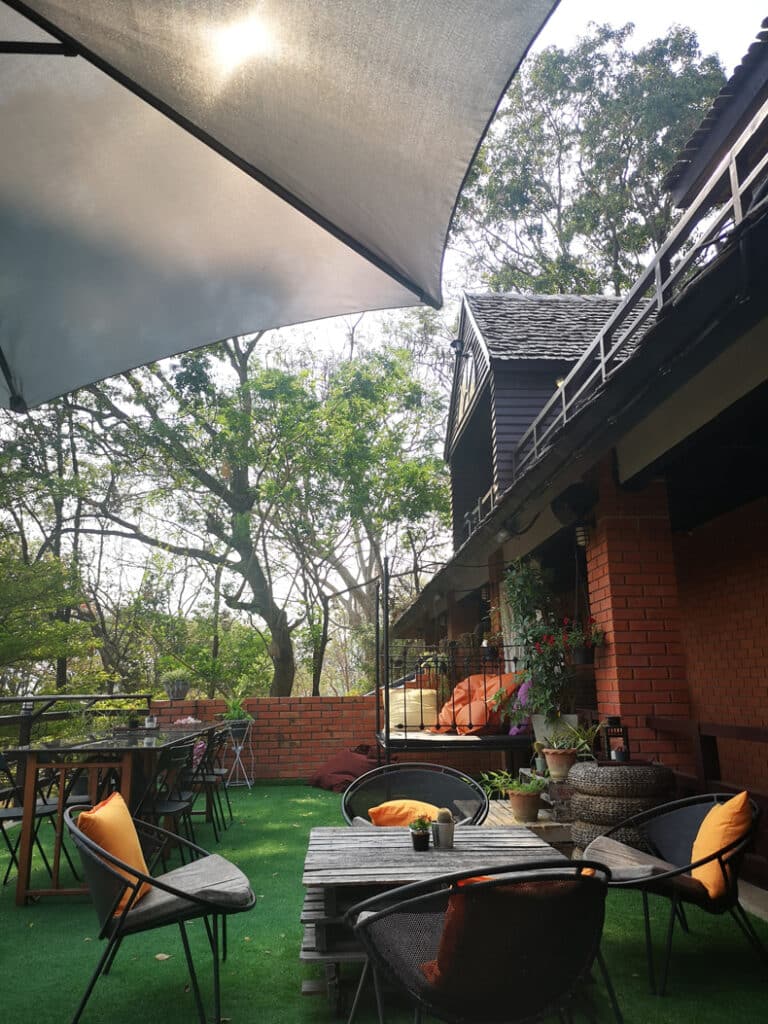 A large umbrella is an excellent option if you want a cheap patio cover on a budget. You can buy parasols and umbrellas from any outdoor store. They will come with a weighted base to prevent them from blowing away in windy conditions.
But while an umbrella provides shade on sunny days, it won't protect you from the rain. And compared with other options, they only cover a small area. So, you'll need to keep adjusting them as the sun moves throughout the day.
An Aluminum Patio Cover
With the cost of living rising and timber prices at an all-time high, you might want to avoid using wood. In that case, consider going for an aluminum patio cover.
Not only is it much cheaper than wood, but it's simple and easy to DIY. Check out this tutorial on how to build an inexpensive aluminum patio cover: 
A Veranda
If you're willing to put in the effort, a veranda is an excellent alternative to a patio cover. It serves the same purpose of providing shelter but is more permanent.
So, what exactly is a veranda? It's a roofed section that extends along one side or around an entire building. Often, a veranda has a raised area, but you can also build a veranda over the patio you already have.
If you are feeling brave, you could have a go at DIYing a veranda. This task is best suited to those with some construction experience. But you can follow a step-by-step guide to show you how to do it.
A Wooden Patio Roof
A simple patio cover is a wooden roof over the desired area. You can DIY this or get someone in to put it up for you. Either way, it's straightforward and won't take long to create.
There are loads of online tutorials showing you how to build a wooden patio cover. So, you can have a go even if you're new to DIY.
But one downside of a wooden patio roof (or any opaque material like metal) is that it blocks the light. So, it can feel pretty dark under there.
A Patio Cover with a Translucent Roof
If you don't want to block out all the sunlight, you should consider a translucent patio cover.
One of the best options is to build a patio cover from polycarbonate, a translucent material. That gives you the advantage of protection from rain but still lets the sunlight through.
Polycarbonate panels are sturdy, waterproof, fairly inexpensive, and easy to use. And as a bonus, they also provide UV protection from the sun. So, they make a great alternative to traditional building materials.
An Adjustable Gazebo
This option is quick, simple, and versatile. You'll find many freestanding gazebos that you can buy ready-made and just need to erect. So, you can pick one that suits the size and style of your patio.
An adjustable gazebo is practical, allowing you to take it down whenever you want. Plus, it's simple and means you won't need planning permission. So, the entire process is much quicker and very inexpensive.
A Prefab Patio Cover
If you don't want to have to build or DIY anything, consider getting a prefab patio cover. It's a simple solution to protect your patio from the elements.
It will work out more expensive than many of the DIY options. But there are some inexpensive prefab covers out there if you shop around.
So, you'll save time, effort, and the stress of building a patio cover – especially if you're not into DIY. And you'll be able to use your patio more throughout the year.
A Stone Ceiling
If you want a permanent outdoor structure, consider going for a stone ceiling over your patio. That will convert your patio into an outdoor room you can use in all conditions.
It's a given that building a stone roof will take a lot more time and effort. But it can be pretty inexpensive if you source the materials and build it yourself!
Plus, it will look impressive and protect you from wind, rain, snow, and sun. So, you can make the most of your outdoor patio space.
How to Choose the Best Inexpensive Patio Cover
As you can see, there are many options for cheap patio covers. At first, I was overwhelmed by all the different types to choose from.
So, how can you narrow it down and choose the best inexpensive patio cover for your garden?
There are a few factors to consider. First, rule out any of the ideas you don't like the look of. You need to choose something that will look amazing over your patio!
You'll also need to think about how large your patio is. What will work over the space you have? And do you want something quick and easy or more substantial?
Then, consider how much work will go into each option and what you're willing to do. For example, are you handy with tools and open to DIY it? For my part, I was happy to do some DIY, but I didn't want to build a structure from scratch.
Or do you want a readymade option? Maybe you're willing to pay someone to build a wooden or stone roof over your patio.

These options range from very cheap to more expensive – so make sure to factor in the cost. How much are you willing to spend, and which patio covers suit your budget?
These questions will help you choose the best inexpensive patio cover for your needs.
The Wrap Up
Your patio is prime real estate in your home. And with the right cover, you can use it throughout the year – come rain or shine.
Now, you have loads of DIY inexpensive cheap patio cover ideas! So, which one are you leaning towards for your patio? Let me know in the comments below – I'd love to hear how it goes!
And follow Quiet Minimal on Pinterest for more interior design and minimal living tips.