You might think that there's not a lot you can do with your kitchen ceiling. But think again!
There are tons of kitchen ceiling ideas to suit every home and style of interior design. (Check out my guide to the 10 most popular interior design styles here).
So if you want to choose the right kitchen ceiling design for your home, read on. The right type of ceiling design can spice up your kitchen and make it look very modern and stylish.
Or, you might prefer to go for a cozy and traditional look that feels very welcoming. And if you have a small kitchen, certain kitchen ceiling ideas can make it feel much more spacious.
I've collected loads of different kitchen ceiling ideas for your home. Some are simple ideas you can do on a budget, while others are more elaborate.
So, browse through these kitchen ceiling ideas and see what appeals to you. It should give you a good idea of what types of kitchen ceiling designs would work best in your home. Then, take your pick (and let me know which one you choose in the comments below!)
The Complete List of Kitchen Ceiling Ideas
1. Regular Ceiling
If you've no idea what to do with your ceiling, then you could keep it as it is.
A basic white ceiling is simple and doesn't need any extra work. Then, you can accessorize it with some nice light shades. Plus, it leaves you open to go all out on the rest of the kitchen!
So if you're bored with your kitchen ceiling, here are some modern kitchen ceiling ideas. Take a look and see which styles you prefer for your home.
2. Tray Ceiling
A tray ceiling can make the room feel larger, as the ceiling appears to be higher.
It does this by having a lowered section around the edge of the rooms. Then, the higher central section makes the whole room look like it has more height.
Tray ceilings are quite a clever effect. They range from simple and minimalist to quite fancy designs. However, they can be done a little heavy-handedly sometimes.
But if you choose carefully, a tray ceiling could be an excellent addition to your kitchen. It's a good choice if you want to make your small kitchen feel larger.
3. Vaulted Ceiling
A vaulted ceiling will only work if you don't have a room directly above your kitchen. That's because vaulted ceilings are very high, so they need plenty of space above them.
And if you don't already have a vaulted ceiling design, installing one could take a lot of work. You might need construction workers to rebuild the top half of the room.
But the work will pay off when it comes to the finished result. A vaulted ceiling can make your kitchen feel so much larger and grander. The kitchen will become a real gathering space and the ceiling a focal point.
4. Drop Ceiling
A drop ceiling is a rare choice for kitchens because it can make the room feel smaller.
That's because it's an extra layer below the true structural ceiling. As a result, it takes up more of the available space in your kitchen.
So, you might find that you don't have room for taller cabinets or that it feels a little claustrophobic. As a result, I wouldn't recommend a drop ceiling.
Drop ceilings are sometimes necessary in offices and industrial buildings. The reason is that they can hide unsightly pipes and wires.
But there's no need for that in your home, so skip the drop ceiling and check out some other kitchen ceiling ideas.
5. Groin Vault Ceiling
You'd be forgiven if you thought this name was a little strange – it is. But groin vault ceilings can look very luxurious and impressive.
Groin vault ceilings are also commonly referred to as cross vault or double barrel vault. It's a very elaborate type of ceiling that was seen in old, formal buildings. For example, it is often found in churches, stately homes, and even cathedrals.
It has curved surfaces that create vaulted spaces in the ceiling. It looks very grand, with arches that come together almost in the form of a cross.
So, you need special training to put in a groin vault ceiling. It's very intensive, and as a result, it's also pretty expensive.
That means most people won't go for a groin vault ceiling in their kitchen. But if money isn't a barrier, a kitchen could look spectacular with this ceiling design.
6. Two-Tier Ceiling
A two-tier ceiling is just what the name suggests. You have the regular ceiling, with another tier below it in a specific area of the room. So, you get a two-level ceiling design.
For example, you could add a wooden section to the ceiling in a part of your room. In a contemporary home, light or blonde wood tends to look best. That's because dark wood can seem a bit too formal and make the room seem smaller.
A two-tier ceiling is a smart, modern way to create different areas in your room. When done right, it can look very stylish.
It's a great way to add an interesting detail without making the room seem too busy or crowded.
7. Shed-style Ceiling
A shed-style ceiling is a very distinctive look. But it's not always so easy to achieve, either. That's because a shed-style ceiling slopes down to one side.
So, you need the right kind of room to create this ceiling design. Because you don't want to rebuild your whole house just to get that shed look!
A shed-style ceiling can look quirky. But others find that it makes the space feel a little cramped or closed in. It all comes down to personal preference with shed-style ceilings. You either love them or know that this look isn't for you.
8. Ceiling with Beams
Exposed beams can look very classy in a kitchen. You'll find this type of kitchen ceiling most commonly in older buildings. The beams are often an original design feature.
But beams are also becoming popular even in modern kitchens. They can create a cozy, welcoming atmosphere, which is just how you want your kitchen to feel.
Natural wood beams look amazing as they are. But you also have the option of painting them white, black, or any other color you like. Depending on the style of your kitchen, the beams could look rustic or contemporary.
Whatever style you go for, a ceiling with wooden beams will be a focal point in your kitchen.
9. Glass Ceiling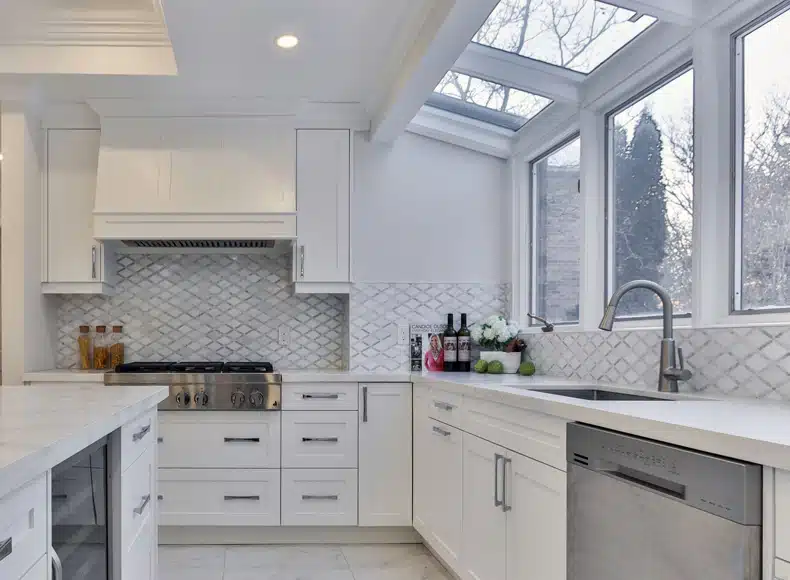 You might be a little confused, as a glass kitchen ceiling doesn't sound very practical. But this unique kitchen ceiling design really stands out!
This type of ceiling uses skylights or windows in the roof to create a gorgeous kitchen. It opens up the room by flooding it with natural light and giving you a view of the outdoors.

Of course, this type of ceiling will only work if you don't have another room above your kitchen. So it's only an option if you have a one-bedroom or a split level.
But a glass ceiling looks striking and very stylish. It's also a real focal point that will make your home unique.
10. Coffered Ceiling
A coffered ceiling is another classy kitchen ceiling design to consider. This style is very decorative, with a lot of texture for the eye. So, it looks interesting and becomes a design feature in and of itself.
So, what exactly is a coffered ceiling? It's quite an elaborate design consisting of recessed panels. It's like a tray ceiling but with more sections.
As a result, you get a 3D effect that draws the eye and adds depth to your kitchen. Coffered ceilings can look quite traditional and formal, with detailed decorative patterns.
But there are also some fantastic modern coffered ceilings out there. This style is becoming trendier, with coffered ceilings popping up all over the place. These simpler designs look stylish yet minimalist. 
11. Solid Wood Ceiling
If you're looking for wood kitchen ceiling ideas, consider going for solid wood. While a ceiling with wooden beams is more common, this look has a simple, rustic charm.
You'll find solid wood ceilings in many traditional farm buildings. But there's no reason why you can't have a solid wood ceiling in your home, too.
It uses wooden boards to create an exposed look where you can see the wood grain. You also get a nice contrast between the modern appliances and the natural wood.
12. White Wood Ceiling
A white wood ceiling creates a classy yet modern feel to any home. It has all the style of a traditional wood ceiling but without feeling too oppressive. Plus, you have the rich, natural texture of the wood to keep things interesting.
White is a perfect color for your kitchen as it conveys hygiene and cleanliness. And as always, a white ceiling will make your kitchen seem larger and more spacious.
But it also provides a blank canvas to decorate your kitchen in any way you like. You don't have to worry about the color of your walls or cabinets clashing with the ceiling.
If you go for a white ceiling, you might prefer to go for a different shade on the walls. A pastel color like duck egg blue makes a nice contrast. Too much white can make your kitchen look a little dull, so it's nice to mix things up.
Tiled Ceiling
Another common option for your kitchen ceiling is to have it tiled. It's a simple modern kitchen ceiling design with a huge variety of styles available.
You could go for sleek and simple, bright and colorful, or even patterned tiles. The choice is yours.
A tiled ceiling is quite an old-fashioned design that was seen as outmoded for a while. But stylish new tiles have modernized this look. So, you can make your kitchen look unique and suit your design style, too.
If you prefer a vintage-style look in your kitchen, that's easy to achieve with the right tiles.
Another benefit of a tiled kitchen ceiling is that it's very hygienic and practical. Tiles are easy to wipe down, and they won't stain or get damaged by the heat and humidity.
Ceiling Ideas for Kitchen FAQ
What color should I paint my kitchen ceiling?
There are so many options for painting your kitchen ceiling. While most people go for a simple and classic white or cream, you could spice it up a bit. 
For example, you could choose a color that complements the color on your walls. Or, you could pick up a shade from your tiles and use that. But remember that lighter colors make rooms feel more spacious. 
How can I clean my kitchen ceiling?
You can use a mixture of hot water, vinegar, and a dash of washing-up liquid. If you have a stepladder, you could use a regular sponge to gently clean your kitchen ceiling.
But if not, a mop comes in handy for cleaning those high places. Then, rinse out your mop, and wipe down the ceiling again to remove any soap or vinegar residue.
How high should a kitchen ceiling be?
The standard ceiling height is around 7-8 feet or 2-2.5 meters. But that can vary depending on your home design and when it was built. If you have a kitchen ceiling of at least 7 feet, that gives you plenty of space for your cabinets and storage.
Is a PVC Ceiling good for a kitchen?
You might wonder whether PVC is a good material for a kitchen ceiling, but the answer is no. That's because PVC can release harsh, toxic chemicals when it burns or heats up. 
So, it's not a suitable ceiling design for your kitchen. Check out the other kitchen ceiling suggestions above instead.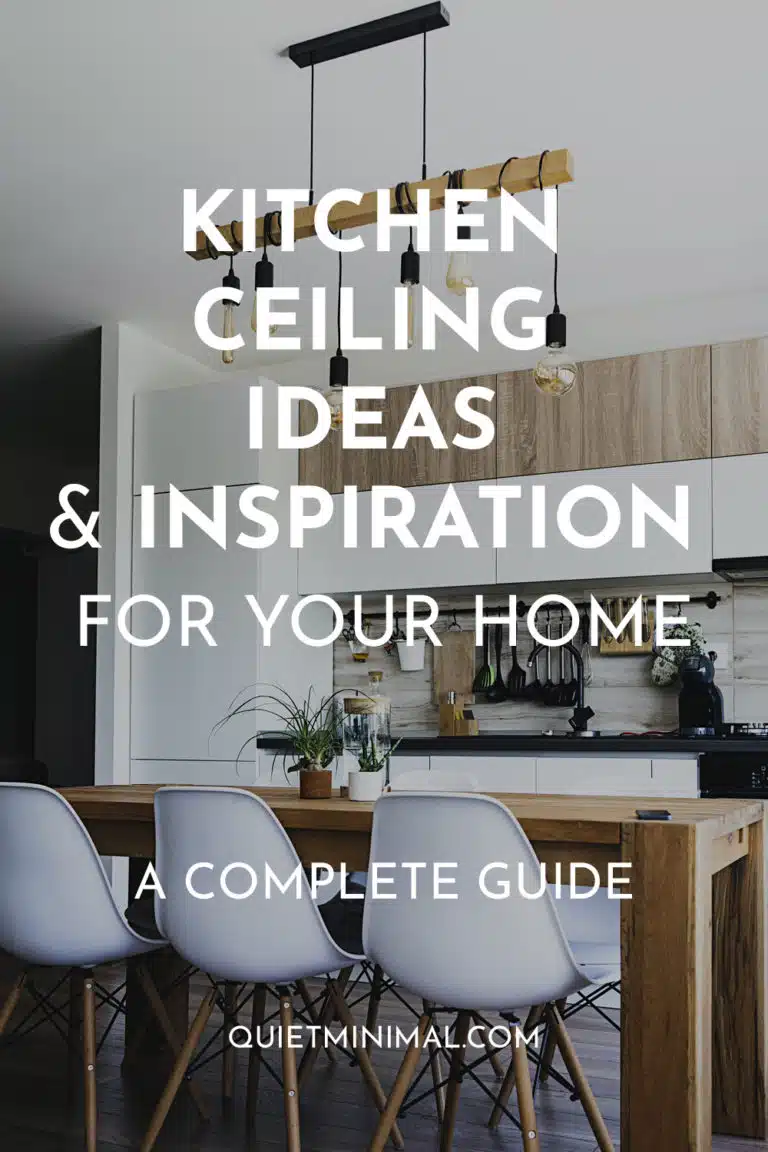 Final Words
As you can see, there are so many modern kitchen ceiling ideas. You'll find budget options and more elaborate (and expensive) decorative kitchen ceilings. But there's something for every budget and style!
If you're looking for a simple small kitchen ceiling design, you could go for a two-tier ceiling. That can help you divide up your small room and make the most of the space available.
Or, you could opt for a tray ceiling to make your room feel more spacious and taller.
Whichever kitchen ceiling design you choose, I'd love to know! Share with me in the comments below!
Then, make sure to follow Quiet Minimal on Pinterest for more interior design tips!