If you want to create an effortlessly stylish kitchen, you're in the right place. Grey cabinets and white countertops are a match made in heaven. It can work in almost any kitchen to create a sleek, modern look.
And as grey and white are such versatile colors, they will work with almost any color scheme. From neutral to bold, you can't go wrong with grey cabinets and white countertops. So, let's take a look at this chic style for your kitchen.
Why Do Grey Cabinets & White Countertops Look So Stylish?
Neutral color schemes are popular right now in interior home design. They are simple and chic, making the kitchen feel more open and spacious. A grey-and-white color combo is one of the most stylish palettes you can have in the kitchen.
Although grey and white can be very similar, you can also have a lot of contrast between these two shades. For example, charcoal grey looks amazing against pure white. You can also use varying shades of grey to create visual interest. And you can add an accent shade for a pop of color without worrying about colors clashing.
Pale Grey Cabinets + White Countertops
For a light, spacious kitchen, pair white with pale shades of grey. These similar colors create a roomy, bright, and fresh atmosphere. This look is perfect if you have limited natural light or a smaller kitchen, as it opens it up.
High cabinets will make the most of your wall space; opt for glass doors to showcase your kitchenware. Then, the cabinets become decorative as well as functional.
Charcoal Grey Cabinets + White Countertops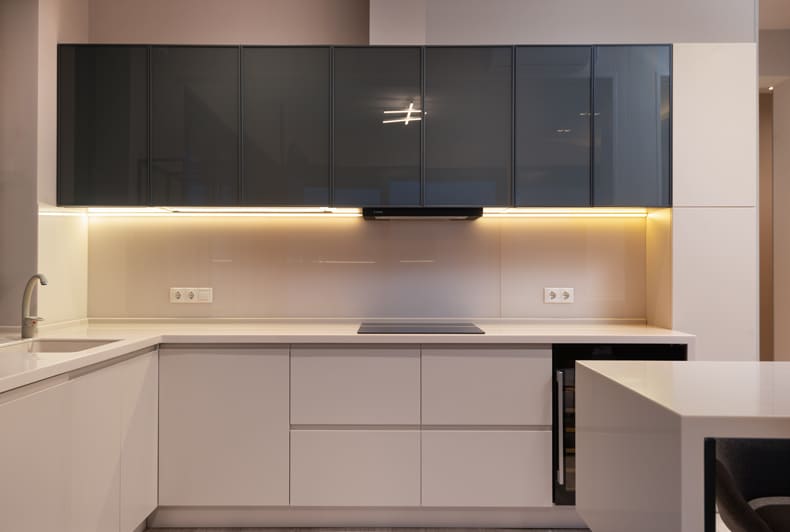 If you want more contrast, go for a darker grey color on your cabinets. Charcoal grey is a rich, deep grey that looks sophisticated.
This color palette creates a high-contrast look that stands out. As a result, your kitchen will look effortlessly stylish. It's also a warm color that counteracts the cool white granite countertops. So your kitchen won't look too washed out. Plus, it's low maintenance, as your dark cabinets won't show up any marks or grubby fingerprints.
Warm, Cozy Grey & White Kitchen Color Scheme
If you want to create a softer, traditional feel, opt for warm, rich shades of grey. They will stand out against your white walls and countertop while creating a cozy look.
This style proves that a grey-and-white kitchen doesn't have to be super modern and minimalist. It can also look great in a cozy farmhouse design. Pretty florals or a soft accent color like blush pink or sage green will complete the look.
Vintage Kitchen Island with Grey Cabinets and White Countertop
If you're fortunate to have a large kitchen island, grey and white is the perfect combination. A clean white countertop is an ideal space for preparing food. Then, I recommend going for a grey wash on your wooden cabinets. This creates a more rustic, vintage look.
Search local antique stores for pretty, detailed drawer knobs for the finishing touch. And your island will become a gorgeous centerpiece for your kitchen.
But if you prefer a more modern look, go for a solid mid-grey paint for your cabinets. Instead of door knobs for the cabinets, opt for a simple push system for a streamlined silhouette.  
The Wrap Up
Grey cabinets and white countertops are a match made in heaven for any kitchen. This color combination works well for a range of design styles. It suits any look, from modern and minimalist to industrial or warm and cozy.
So, you can make your kitchen your own while ensuring it looks sleek and stylish. And as the colors are so versatile, you can add other accent colors if you like.
Follow Quiet Minimal on Pinterest for more minimalist living and home design tips!