A minimalist black and white bedroom – but make it boho! Is it even possible? You'll soon discover that you can create a gorgeous minimalist black and white boho bedroom. And I'll show you how.
A minimalist bedroom is a space without clutter where you can relax and destress. It doesn't have too many distractions or details that make it look fussy. Plus, it's quick and easy to keep clean and tidy.
But boho interior design is more often associated with color, layers, and textures. It could be described as eclectic, bright, and perhaps even a little garish.
So, how can you combine minimalist and boho styles in your bedroom? And throw in a black-and-white color palette to boot?
It might sound like a hard ask, but this look works! Here are some simple tips to follow to create your minimalist boho black and white bedroom.
10+ Minimalist Black and White Boho Bedroom Ideas
Here are some ideas for how you can turn your bedroom into a minimalist boho space. I've got tips for using the black-and-white color palette effectively in a boho room. Plus, suggestions for how to pull it all together. Let's get started!
Start With White Walls
A minimalist boho room should feel fresh, airy, and breezy. You don't want to make it too heavy – so avoid using too much black.
Instead, I would recommend using mostly white, with some stylish black accessories. And that brings us to the walls. What color should you paint them?
Generally, white walls work best in a minimalist boho bedroom. They maximize the space and make it feel airier. Plus, they're the perfect backdrop for adding black accent pieces.
However, if you're feeling bold, you could go for one black feature wall. Doing so can help to anchor the space and create more contrast between your black and white colors. You'll capture that eclectic boho feel with rich contrasts and combinations.
If you like the sound of a black feature wall, you'll need to choose your wall carefully. Use one that has larger furniture against it, like your bed or sofa. You'll create an eye-catching visual with white furniture against the black wall. It will instantly draw your eye and set the scene for the room.
Layer in Some Black Accessories
So, you have the backdrop for your room. You've either gone for all-white walls to create a spacious, expansive look. Or you've opted for a dramatic black statement wall against white walls.
Now, you're ready to start adding accessories and fleshing out the room. With all-white walls, you need to add some contrasting black items to balance the space.
Think of smaller accessories like light fixtures, vases, a clock, or bedside lamps. Or you could go for a black metal bed frame and finish the look with clean white bedding.
Go for Light Wood Furniture…
When you're using black in a bedroom, balance and harmony are crucial principles to get right.
Combining black elements with dark wood could make your room overly dark. And with so many dark elements, it can even feel smaller and more cramped.
And that's why I recommend using light wood furniture in your boho bedroom. Not only does it look more relaxed and boho, but it will balance out the room.
…Or Rattan!
You can't go wrong with rattan in a minimalist boho bedroom. This natural material looks gorgeous and is perfect for the boho look. Plus, its light tones work well with a black-and-white color scheme. It won't compete or clash, instead adding a nice extra touch. 
Rattan is both practical and decorative. For example, you could go for rattan furniture like bedside tables and an armchair. Or you could source cute rattan accessories like a mirror or rattan chandelier.
Choose an Accent Color
You don't want to add too many different colors to your minimalist boho bedroom. A black-and-white color palette already has high contrast and is eye-catching. So, you don't want to overdo it.
But what can work really well is adding a metallic shade to brighten the room slightly. Warm tones like copper, bronze, or gold will work well with your existing color scheme. Plus, they add some warmth, coziness, and a little luxury to your room.
Other neutral shades like soft brown or sage green also work well. But remember to stick to one accent color so you don't have too much going on in the room.
Make Use of Your Wall Space
You don't want to clutter your minimalist boho bedroom too much. Any minimalist room should have enough space to move freely without feeling hampered. And that means keeping furniture to a minimum.
But you can make the most of your wall space! One way to do this is to create a feature wall by hanging baskets or hats above the bed. It's a handy way to store them, and it looks cool, too!
Another idea could be to install a shelf above the bed. If you're an avid reader, you could keep your books close by and never run out of reading material. Or you could create a gorgeous plant shelf, which brings us to…
Play with Texture
While you want to keep things simple in your color scheme, you can play around more with texture. Experiment with introducing different textures into the room. These can add a rich sensory element to the room and make it extra cozy.
Think blankets, cushions, rugs, and more for this. If you stick to the black-and-white color scheme, you don't need to worry about them clashing. So, you can layer them up and create that eclectic boho look!
Invite Nature In
No boho room would be complete without a few plants! You might not think of adding plants to your bedroom, but it works really well. Plus, by incorporating plants into your room, you can add a pop of color without being too flashy.
House plants also suit the minimalist design style. They are both decorative and beneficial, so it's a win-win situation!
You could go for a larger fern in a rattan basket on the floor. Or you could install some hanging plants or a shelf above your bed. This looks gorgeous and makes your room feel fresh and soothing.
Use a Rug to Center the Space
Another thing to consider is adding a rug to your minimalist boho bedroom. A rug can help to ground the space and make you feel earthed and centered.
You can find loads of gorgeous rugs with black and white patterns. So, you'll have lots of options to choose between. Depending on the ratio of black to white in the room, you might prefer a fully black rug. That can add some gravity to the room and looks great if you have all-white walls.
Add Some Artwork: The Final Touch
And now for the final touch – some carefully chosen artwork on the walls.
You can lean into your accent color and pick some canvases featuring this color. Or you could go for minimalist black-and-white photographs or abstract pieces. Alternatively, nature paintings in soft colors fits with this minimalist boho style.
Remember to pick art that appeals to you! It needs to fit with the room, but you'll be looking at it every day. So choose pieces that lift you up.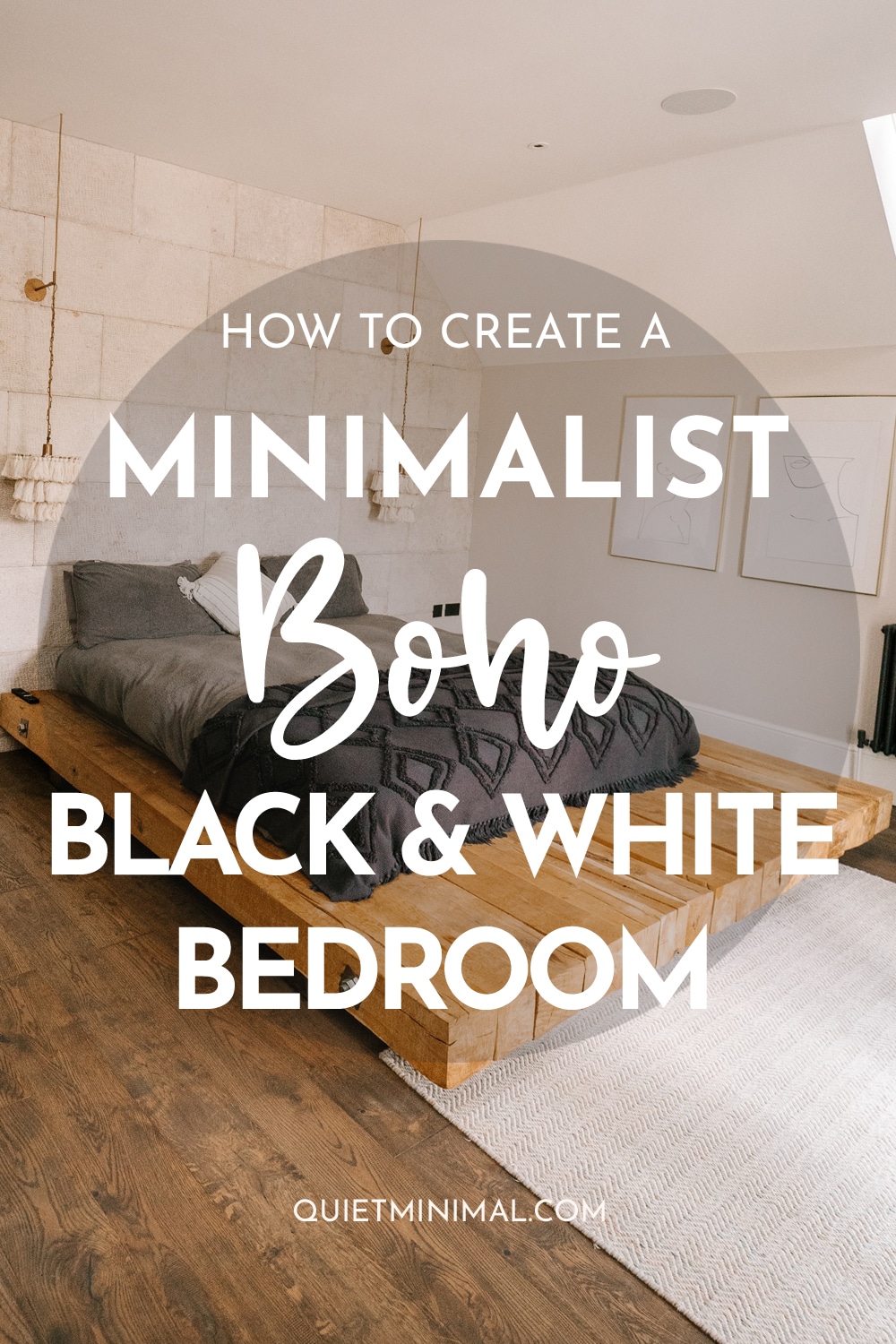 The Wrap Up
A minimalist boho bedroom looks chic and stylish with a black-and-white color scheme. It's both sophisticated yet calm and relaxing.
By now, you should have plenty of ideas for creating this look in your home. Let me know how you get on in the comments!
And follow Quiet Minimal on Pinterest for more home design & decoration tips and inspiration.