In a modern bohemian kitchen, you will see functional furniture and colorful decorations.
The modern bohemian design includes natural wood, woven grasses, and ceramic tiles.
Sometimes the décor is very quirky and includes old-fashioned or fun items.
Modern bohemian interior design highlights patterns, textures, colors, and natural elements. It includes personal favorites in a functional and sleek design.
When you choose a modern bohemian style in your kitchen, you choose things that make you happy. The kitchen will still be functional, and you will use modern appliances.
You can enjoy modern living but with cheerful objects. Below are some ideas for modern bohemian kitchens – including comfortable patterned rugs.
Modern Bohemian Kitchens Described
Modern interior kitchen design is sleek and functional. Think of flat stovetops and touch-screen appliances. On the other hand, bohemian is full of eclectic, colorful patterns and textures. Combining these two designs gives you a workspace that is ergonomic but vibrant.
You can create your own modern boho kitchen around something interesting. The design can be as bold or unusual as you want. It could be a fun appliance, intriguing wallpaper, a vintage tea set, or anything that makes you happy.
Ideas for a Modern Bohemian Kitchen
Below are some great ideas for modern boho kitchens.
Modern Boho Color Schemes
Modern bohemian uses neutral colors with flashes of color. Bright colors feature in decorations, cabinets, or appliances. The idea is to make a statement with opposing color palettes and textures.
Good base color combinations are blues, white, and neutrals. You can bring in shades of brown with wooden furnishings. Raw bricks can introduce other earthy colors. Sage is also a great, calming color combined with wood and neutrals.
Add emerald, red, or yellow to the cabinetry or the tiles on the wall or floor for a bold kitchen. For a calmer kitchen, you can use pastels.
Boho-Chic Appliances
You might find a retro refrigerator or a modern appliance in a bright color. A great idea is to include mint-colored appliances. Mint green was popular in the Art Deco era in the 1950s.
Table And Seating
A wooden table and seating are always popular in a modern boho kitchen. Think of plushy velvet or sentimental designs that you find pleasing. For example, you can use recovered dining chairs from the 80s to complement a modern table.
Or, you can have an old-fashioned wooden island painted red. For seating, you can use modern barstools.
Cupboards and Shelving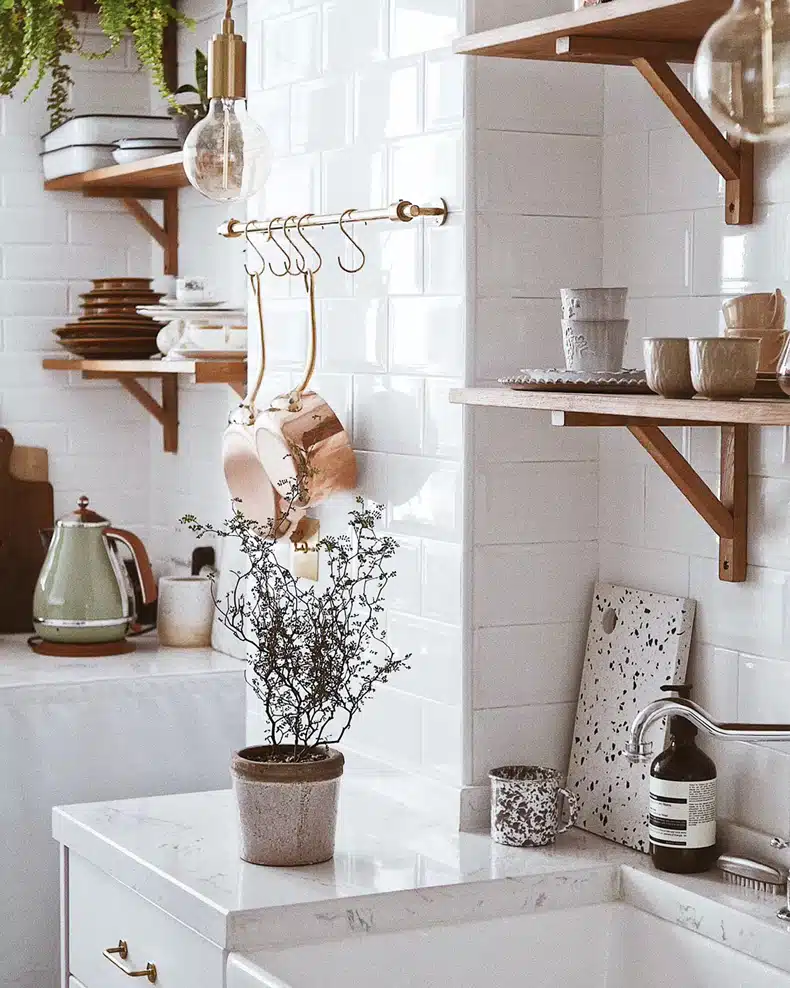 Modern bohemian kitchens use open shelving. Your cabinetry could be colorful yet contrasted with neutral tiles or stainless steel. Think of glass or wooden shelves against bright tiles for shelving. Copper-pipe structures for drop shelving are also popular.
Decorations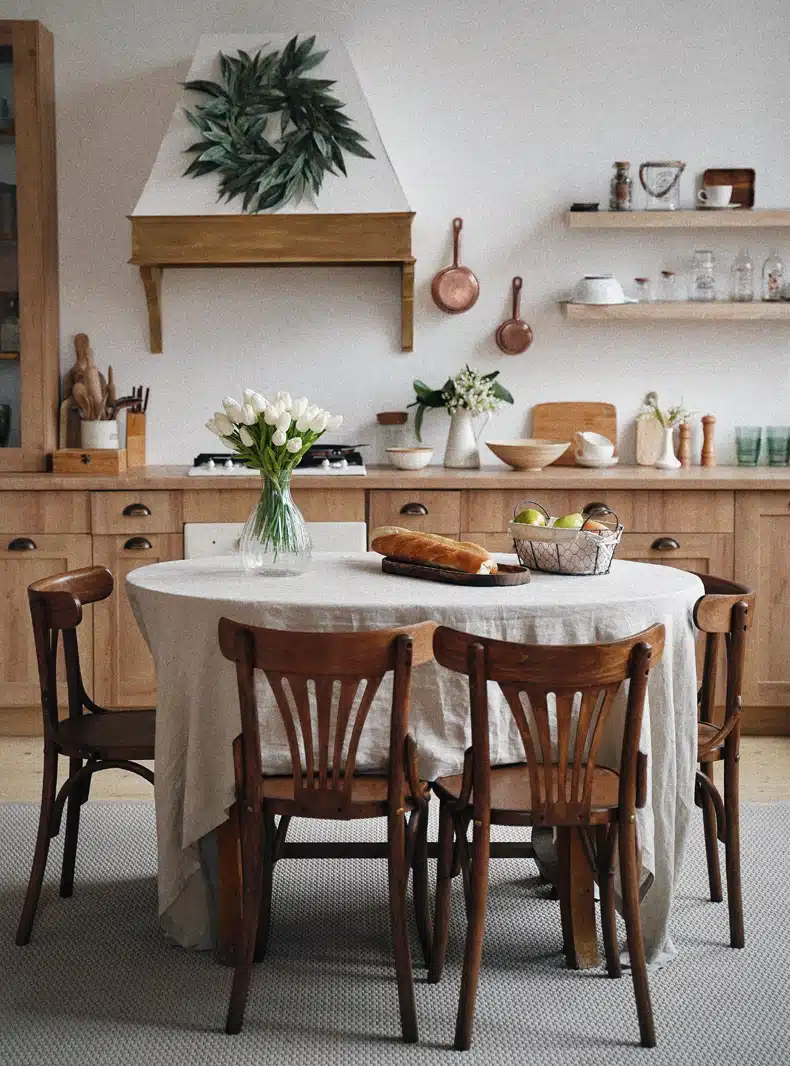 You can design your kitchen around one or more exciting decorations. Consider fun wallpaper, a vintage piece, or weird lighting or furniture. Popular features in modern bohemian kitchens are copper taps or farm-style basins.
Many modern bohemian kitchens have a patterned rug. A carpet in a contemporary kitchen is the first step in creating a modern boho kitchen.
Mediterranean-style décor is also great in a modern bohemian kitchen. The patterned ceramic tiles and terracotta pieces add charm and color.
When it comes to lighting, you can bring in texture with rattan shades or old-fashioned lights. Or you can upcycle old glass bottles or jars to create unique light fittings. These will create a warm ambiance in your kitchen.
Conclusion
It is easy to create a modern bohemian kitchen, and it need not cost you a fortune, either. You can use old items to introduce color, texture, and ethnic design into your kitchen. This style allows you to turn a modern kitchen into a fun space with quirky items that cheer you up.
Follow Quiet Minimal on Pinterest for more home inspiration and tips.