Have you been dreaming of creating a gorgeous modern boho living room? Then, you're in the right place.
I've collected some of the most stylish and on-trend modern boho looks in this article. There's something for everyone, whether you want just a touch of boho. Or maybe you want to remodel your entire living room in the modern boho style.
Either way, browse these suggestions to pick the perfect modern boho living room ideas!
And if you want to create a beautiful boho bedroom, check out my guide here.
What is Modern Boho?
Bohemian decor is known for its eclectic style, layered textiles, and funky colors. But it's not for the faint-hearted. This interior design style dates back to the period following the French Revolution. At this time, artists, writers, and free thinkers enjoyed a new, relaxed, and less formal style.
If you lean towards a simpler look, you might prefer a modern boho style for your living room.
Modern boho is a sleek and stylish update to the eclectic bohemian look. It uses the best boho elements while bringing this decor style into the 21st century.
So, what is modern boho? It's calm and minimalist, combining a simple aesthetic with gorgeous boho pieces.
It looks whimsical and a little carefree but polished and sophisticated simultaneously. So, you get the best of both worlds.
11 Modern Boho Living Room Decor Ideas
Here are tons of ideas and inspiration for your boho living room!
These tips will work for your boho apartment living room or house, regardless of your space.
So, feel free to take these ideas and tweak them for your style and preferences. These are just guidelines to get your creative interior design juices flowing!
1. Modern Boho Color Scheme – Natural Vibes & Earthy Colors
Let's start with the essentials. What colors should you have in your boho living room?
Your best bet is to go for earthy tones that channel natural vibes in your boho home. For example, browns, oranges, and greens all work well.
These colors will complement common boho materials like rattan and jute.
You can use these earthy colors as your backdrop. They will create a minimalist style so the room doesn't feel overwhelming.
Then, you can add some brighter jewel tones as an accent and a pop of color. That's a fun way to keep things boho and modern at the same time.
2. Add Some Woven Accessories
Woven baskets are one of the must-haves for your modern boho room. Not only are they cute, but they're practical too!
You can use a woven jute basket for extra storage. They also look great as an alternative to pots for your house plants.
Or, you could go all out with a woven jute rug as a centerpiece in your boho living room. You'll create a very earthy yet modern and trendy look!
3. Use Velvet Textiles in Rich Color
Once you've created your earthy color scheme, it's time to add some color. Think burnt orange or vibrant teal.
These colors will complement your color palette and add another layer of depth.
One of the best ways to do this is by choosing a sofa or armchairs in these rich colors. These are essential pieces of furniture, so you'll need to invest in them anyway.
So, why not take the time to select the perfect boho sofa or chair. And even better if you can find one upholstered in velvet!
Not only does velvet feel gorgeous and tactile, but it's sure to draw the eye. A velvet sofa will become a focal point in your living room while feeling cozy and luxurious.
But if you already have all the furniture you need, consider going for velvet curtains. Here are some chic boho curtain ideas to get you started.
4. You Can't Have Too Many House Plants in a Boho Living Room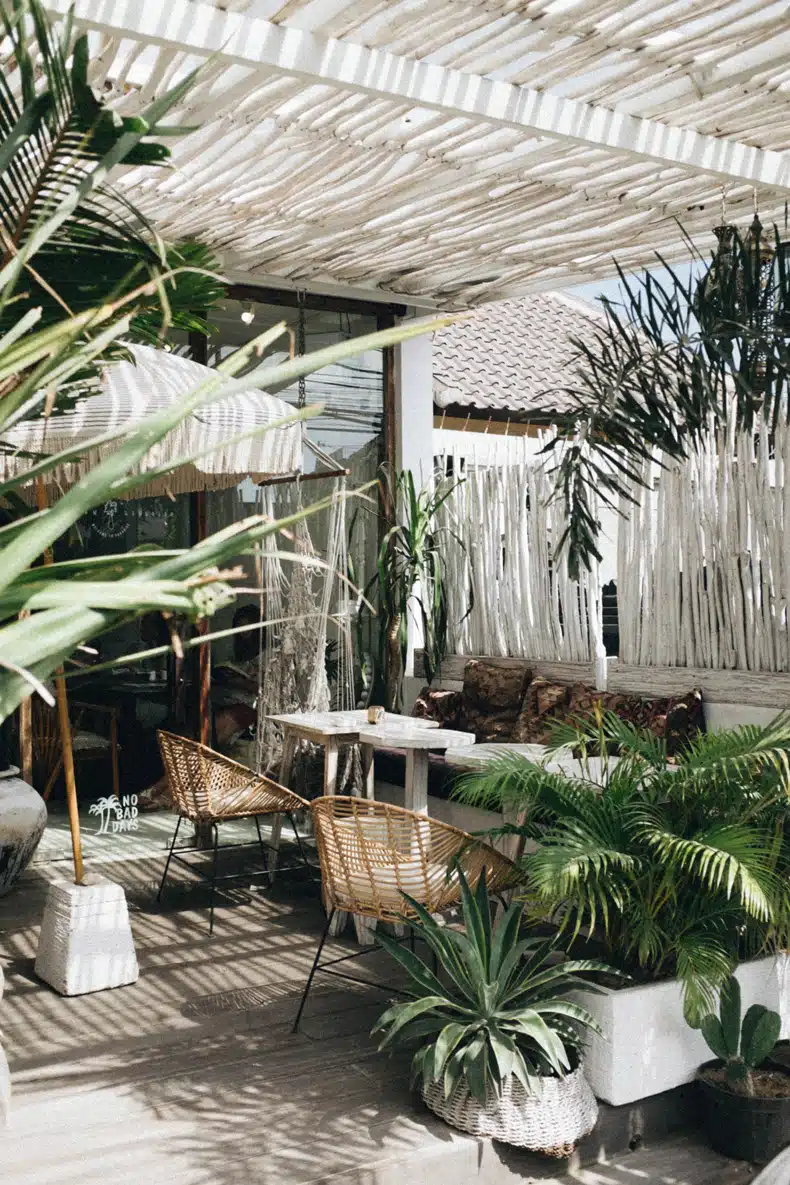 A common element in any boho home is house plants.
Trailing plants, large pot plants, cacti, succulents. Anything goes!
But adding house plants to your living room will add a breath of vitality and fresh air. They can also brighten up your space and make it feel lived in.
Ideally, go for plants that don't look too neat and polished. Bushy ferns or twining vines will look perfect! They will feel more natural and organic to match your modern boho look.
Looking for ideas on where to put your plants? Consider hanging them from the ceiling – check out my how-to guide here!
5. Opt for Clean Lines
Traditonally, bohemian style involves lots of overlapping textures. They range from cushions to rugs, wall hangings, and more.
But if you want to create a minimalist boho look, tone it down a bit. 
One way to do this is by choosing furniture with clean lines. For example, you could go for a sofa with a modern design rather than an ornate vintage piece.
In this way, you'll create a modern boho living room for the 21st century.
6. Scatter Throw Pillows Around
You can't go wrong with a few throw pillows. These convenient little accessories are ideal for brightening up your place.
You can use brightly colored fabrics or fun patterns. They're a great way to tie your colors together and make your color scheme work.
Or, you can go for simple neutral colors in cozy, rich fabrics. Wool, linen, cotton, and hemp are all strong choices.
These little touches will make your home feel warm and welcoming.
7. Macrame Accessories – a Must-Have
In any boho home, macrame accessories are essential. While macrame has been around for centuries, it really took off thanks to the bohemian style.
Macrame rose to popularity in the 60s and 70s. But it's having another renaissance right now!
So, look around for some cute macrame to add to your boho living room.
For example, you can find gorgeous wall hangings, light shades, and macrame curtains. They will create the perfect boho chic vibe.
8. Natural Wooden Furniture
Wooden furniture will complement your earthy, natural color palette.
You could opt for a deep wooden look or a lighter, bleached wood, depending on your style.
Either way, using natural wood is a great tip for your modern boho home. It's also a practical material for storage, cabinets, or a coffee table.
9. Keep it Light & Airy
You also want to maximize the natural light in your boho living room. That will make it feel fresh and airy.
So, opt for light fabrics around the windows, and don't block any light coming in. Use low furniture to allow the air to circulate naturally.
Choosing lighter colors like cream, pale yellow, and beige will make the most of the sunlight you get. So, if you have fewer windows, go for a color scheme that will make it feel brighter and sunnier.
10. Sparkly String Lights – the Perfect Boho Accessory
Natural light is essential for any home. But you can have a lot of fun choosing the right lighting for your living room, too.
You'll want a mixture of overhead lights and table or floor lamps.
But string lights could be the final touch to perfect your boho living room. They feel relaxed, casual, and a little magical, making you want to stay up late in their twinkling light.
11.Be Playful!
Don't forget that with bohemian style, there aren't any rules to follow.
So, here's your permission slip to be playful and have fun decorating your living room.
It's your space – you can make it work for you.
If you love it, your boho living room doesn't need to look like something in a home decor magazine. Make it your own, and you'll love your new style living room for years to come.
The Wrap Up
There you have loads of ideas for your modern boho living room. These tips and tricks suit any home, from an apartment or tiny home to a large family house.
So, have fun decorating your space. Let me know which of these suggestions is your favorite in the comments below!
And follow Quiet Minimal on Pinterest for more simple and effective home decor tips and content.