Whether you're buying your first home or building from scratch, the type of house will make a big difference.
There are so many different house names that it's easy to get mixed up. And each type of house comes with pros, cons, and unique features.
Understanding each house type will help you get a clearer idea of what you want or need.
Every individual and family is different. But with so many house types, you can find a home that's perfect for you.
A house type is defined by the structure and architecture of the building. As you can imagine, there are so many varieties of houses worldwide and closer to home.
This list of house types should clear up any confusion and help you decide which house type suits you best!
So, let's get stuck in and look at the different types of homes available to you.
20 Different Types of Houses You Should Know
1. Single-Family Detached House
First up is the most common type of home in the USA, the single-family house.
In 2020, there were 213 million single-family houses in the USA. In other cultures, the percentage of single-family homes is also significant.
These homes are detached, have access to the street, and may have a yard or garden. You can rent a single-family house or buy this kind of property.
The single-family houses popularity grew in the second half of the 20th century. People sought the American Dream in single-family homes in city suburbs.
2. Multi-Family House
Multi-family housing is less popular than single-family homes. But it still makes up a large percentage of houses in the USA. Over 24% of houses in the USA are multi-family homes.
These buildings tend to be larger and can be found in rural and urban areas.
They range from houses with an in-law suite to condominiums apartment buildings. We'll take a closer look at each type of these houses.
3. Duplex/Semi-Detached House
A duplex also goes by the term semi-detached depending on where you are in the world.
But despite the name, the type of house is the same. It's two living units separated only by an internal wall. 
Two families will live separately but within the same building. Each family has everything they need, including their own entrances, bathrooms, and kitchens.
A duplex can also refer to two homes within the same building but on different floors of the house.
In some cases, one person will own the properties and rent out one or both of them. But they can also be owned by two different people.
There may be a shared garden space, no outdoor area, or individual gardens. It depends on each property, so make sure to compare your options.
4. Terraced House or Townhouse
Terraced houses go by different names, such as row houses or townhouses. That can seem a little confusing, but it's actually quite simple.
It's a row of buildings joined together, and each one tends to be tall and narrow. They adjoin on either side with another townhouse, with shared internal walls.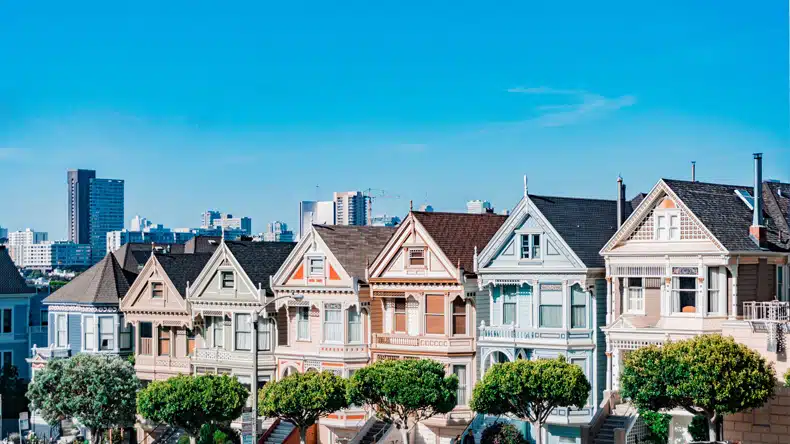 As the name suggests, townhouses are mostly found in urban areas, like towns and cities.
With less space available, urban developers chose to build up rather than out. So each house may have three or even more stories, but fewer rooms on each floor.
These homes have lots of stairs, so be prepared! Each townhouse started as a home for one family, but they have sometimes been divided up over time.
Townhouses can cost less than semi-detached or single-family homes. But in large cities, townhouses are often very expensive and highly sought after. One example is the upmarket and costly brownstones in New York.
The advantage of a townhouse is that it's often close to amenities within the city center.
5. Apartment
Apartments are single-family units within a larger building. The building itself is owned by a person or business entity, and each apartment is rented out.
It's easy to get confused between apartments and condos, but the main difference is in ownership.
In the USA, you can only lease an apartment rather than own it. But if you want to own a housing unit within a larger building, you'll need to look at condominiums. (More on that below).
Apartment buildings have many floors, accessed by stairs or an elevator. Within the building, there are shared spaces such as the hallways, stairs, and foyer. But if you lease an apartment, you're only responsible for the unit you lease.
When you live in an apartment, it's rare to have any access to outside space. If you're lucky, you may have a balcony.
Apartment buildings are most common in large cities where available land is limited. As a result, it's necessary to use vertical space and build up to provide housing for growing populations.
An apartment can range from basic to luxury housing units, and the price varies too.
The most highly valued apartment is often the penthouse suite at the top of the building. As you can imagine, the penthouse offers amazing views.
6. Condominium
A condominium is very similar to an apartment, as mentioned above. It's found within a larger building that contains lots of housing units.
The main difference is that you own a condominium instead of renting it. So, you can own the condo outright.
You can buy a condo to live in yourself. But having ownership allows you to invest in one and rent it out as an income source.
When you own a condo, you are only responsible for your individual housing unit. You don't need to maintain the exterior walls and shared spaces. But often, there is an extra annual charge to cover the maintenance of these areas.
The condominium building will have an HOA that will approve people to live in the building. They are also in charge of the maintenance and other communal aspects.
7. Split-Level House
In many ways, a split-level house is like a single-family home. It only differs in the construction, as the floors are staggered inside. This design is normally visible from the outside, creating a distinctive look.
A split-level will normally have a basement, although it may not be as deep as a regular basement.
On the opposite side of the house are the bedrooms, often located above the garage. A short set of stairs on each side takes you to the basement and the bedrooms.
You'll find most split-level houses in suburban areas, where they began popping up in the 1950s.
8. Ranch House
Ranch houses are common in rural areas, with this style of houses becoming popular in the 1930s.
Cliff May, an influential architect, made this style of buildings popular. But the original ranch houses date much further back in history, though.
These buildings tend to have a rustic look and sit low to the ground. As they're found in agricultural and countryside areas, they tend to be made from wood. Some other natural materials are used, too.
These ranch houses tend to have simple structures and large windows to let in natural light. A ranch house will often also have a porch, yard, and garage.
Other common features include overhanging eaves and vaulted ceilings. Inside, the layout tends to be open to create comfortable family living spaces.
9. Villa
Villas have become popular and the mark of people with money around the world. But villas have a rich history, dating back to ancient Roman country homes.
Villas tend to be associated with warm vacation destinations. They are set on a property with gardens around them and often have an internal courtyard.
Most villas are spacious and often located in the countryside or on the coast. Many, although not all, villas will have a swimming pool.
The single most common characteristic of all villas is their price. Villas are expensive properties that are seen as luxury homes.
10. Mansion
A mansion is another luxurious property that sets itself apart by its size and opulence. These homes originated from the English manor house but have spread across the world.
Over time, mansions have also grown in size as homes have become larger. It's possible that what was once considered a mansion would now only be seen as a large home.
There is some confusion over the exact requirements for a house to be considered a mansion. For example, some people state 5,000 sq. ft, while others claim it should be at least 10,000+ sq. ft.
Mansions tend to have a lot of bedrooms and bathrooms, as well as extra facilities. They may include parlors, banquet rooms, or more modern additions like a gym or home cinema.
Plus, their occupants often like to host guests. So, lots of extra bedrooms and bathrooms are necessities, too.
11. Bungalow
A bungalow is a one-level building that originated in colonial India. The name comes from 'bungales,' or the Bengali style of home.
British colonials began to construct bungalows when they returned to the UK. Then, the trend spread further around the world.
A bungalow tends to sit all on the ground floor, although there may be an attic room with a dormer window.
Other common features include exposed rafters and built-in cabinets inside. A front porch outside is also a frequent feature.
12. Cottage
A cottage is another type of home that originally came from the UK. It's a smaller building that traditionally had a thatched or tiled roof.
These houses were built for farm workers or servants on large estates and were simple but cozy.
The construction uses local natural materials like stone, thatch, and wood.
A lot of cottages were asymmetrical with low ceilings. Large fireplaces were common for both cooking and warmth. There would traditionally be a living space below and just one bedroom upstairs.
Most cottages would also have a garden around them. Here, people would grow flowers as well as fruit and vegetables to supplement their diet.
Nowadays, cottages are seen as cute and idyllic places to live. Cottages have popped up across the USA, inspired by the French and English styles.
13. Farmhouse
A farmhouse tends to be a brick building constructed on farmland for the farmer and their family. It was a practical and durable two-story house built to withstand the elements.
Many farmhouses are symmetrical or even boxy, but others have broken this role. That's because it was common to add on extra rooms as necessary when families expanded.
Within a farmhouse, you'll find large kitchens and big fireplaces in most rooms. As these houses were constructed before central heating, they tend to be cold in the winters.
14. Tiny Home
A tiny home is a newer type of house that is growing rapidly in popularity. With rising housing prices, people are turning to tiny homes to get them onto the property ladder.
Millennials and young families tend to be big fans of tiny homes. Other fans are empty-nesters looking to downsize. Shows like Tiny House Nation are fuelling this new phenomenon.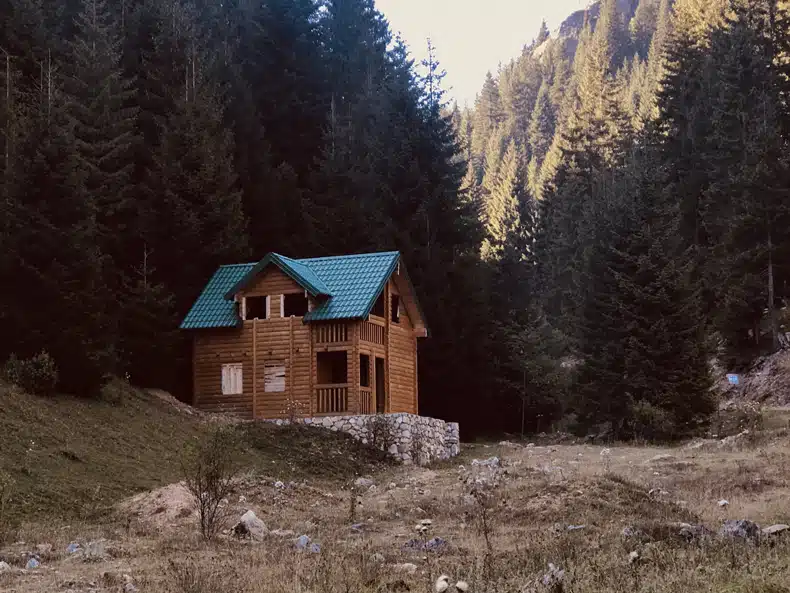 Tiny homes are exactly that – very small homes that are more affordable. They tend to range from 100 – 400 sq. ft and cost a lot less than a regular home.
Another advantage is that they are easier to clean and maintain.
You'll need to embrace minimalism to live in a tiny home. Tiny homes are very compact and limited in space. They often have multipurpose furniture and clever storage. But you'll need to be tidy and ready to declutter to live in a tiny home.
Tiny homes can be fixed or mobile, so you can move them from place to place on a trailer.
As for budget, they can start from as little as $10,000 but also go a lot more expensive. There is a trend for luxury tiny homes, too.
15. Container Home
If you're looking for a cheap option, you could consider renovating a container into a home. Container homes are still rare but growing in numbers.
They're made from steel shipping containers. So, this type of house is more sustainable as you're using existing materials.
Some people opt to DIY their container homes, but you can also buy a custom or ready-made container home.
If you choose this option, you'll need somewhere to place your container home. That could be land you own or rent.
As with tiny homes, they are compact and limited in space. But you can use two or more multiple containers and add on extras, like an outside deck.
A container home is modern and unique, and you can have fun designing and decorating it.
16. Camper Van or RV
Van life is becoming a popular phenomenon across the USA and further afield. It's when people sell up or rent out their homes (or choose not to buy one). Instead, they hit the road in an RV or camper van.
This lifestyle is more affordable than buying or renting a house or apartment. It also has the attraction of the freedom to travel and move around.
There are all sorts of camper vans and RVs to choose from. You'll find super compact options or more luxurious vehicles with more space and storage.
Some people even choose to DIY a regular van and turn it into a living space. It all depends on your budget, time commitment, and ability with tools.
You can find out more about the various types of campers and RVs here.
17. Mobile Home
A mobile home, also known as a trailer home, can be your permanent or holiday accommodation. They are much less expensive than a regular single-family home.
Mobile homes tend to come in single-wide or double-wide builds. The furnishings can vary a lot from basic to more upscale.
Although the name suggests mobility, these homes are not as easy to move around as an RV or camper van.
You can transport a mobile home by towing it to a location, but it's a big operation. So, it's not easy to do frequently.
Mobile homes aren't as safe and secure as a sturdier build, especially in a natural disaster. But their construction has improved in recent years, and they are a good cheap housing option.
18. In-Law Suite / Basement Suite
An in-law suite is a name given to a separate part of a larger family home. It was originally designed for visiting family members, as the name suggests.
But nowadays, you'll find in-law suites rented out to provide extra income to the home. It can help to offset the costs of renting or mortgage.
An in-law suite will often have its own entrance and facilities like a bathroom and kitchen. So, the inhabitants can live apart from the occupants of the main house.
You can find an in-law suite built onto the house to the side, above the garage, or in the basement. They often appeal to single people or young couples who can't afford a larger house or apartment.
19. Floating Home
This unusual type of home has become very fashionable and trendy. The hint is in the name – these homes are built on the water.
You can find examples of floating homes in San Francisco. The Sausalito floating homes started as lower-cost housing. But now, they are upmarket and offer amazing views.
Floating homes can be fixed in place or free to move around. This unique type of house offers the best of both worlds. It provides security, stability, and a different way of life.
20. Log Cabin
If you're after a rustic, romantic house, you could consider investing in a log cabin.
These homes first popped up as settlers moved west across the USA. They needed to build their own homes from the natural materials available to them.
As a result, most log cabins are simple constructions with a lived-in, cozy feel.
They are often located in rural surroundings, on the prairies, or in forests. So, they allow you to get up close and personal with nature. You can escape the hustle and bustle in a log cabin.
Many people buy log cabins are a second home or holiday home. You can also rent them out for shorter or longer periods, depending on your needs.
Common features of log cabins include low ceilings, exposed wood, and pillars. Many originally had dirt floors, but you'll find wood or stone floors nowadays.
Tip: save the image above to your Pinterest to re-read this article later!
Final Thoughts
This guide to the most common types of houses should give you a better understanding of the options. You'll know a bit more about the construction and history of each type of house.
If you're looking to buy or rent your own house, now you'll have a better idea of the right type of house for your needs. There's something for everyone, with conventional and non-traditional options available.
Let me know which type of house you'd like to live in. You can share your dream house in the comments below!
Then, follow me on Pinterest for more interior design and minimalism tips!