A narrow entrance hallway can be a difficult area of the home to decorate. I know this personally, as I have a very tight entrance hall in my house.
And that's meant I've had to get inventive with how I decorate it. So, I've put together this guide to narrow entrance hallway ideas you can use in your home.
Read on to learn how to make the most of this space with my ideas and suggestions. Some are tips I've used in my narrow hallway. And others are ones I've picked up along the way or admired in friends' houses.
You'll find suggestions for different ways to use the entrance hallway in your home. I've also got tips for making it feel bigger and smart storage solutions to optimize your space.
So, let's dive in and look at how to decorate your narrow entrance hallway.
Tips & Ideas for Your Narrow Entrance Hallway
Here are some simple tips and helpful ideas for your narrow entrance hallway.
I know how difficult it can be to make your narrow entrance hallway practical and look great at the same time. But it's possible with some careful thought and these tips to guide you!
So, browse these suggestions and pick the ones that appeal most to you.
Keep it Simple & Clutter-Free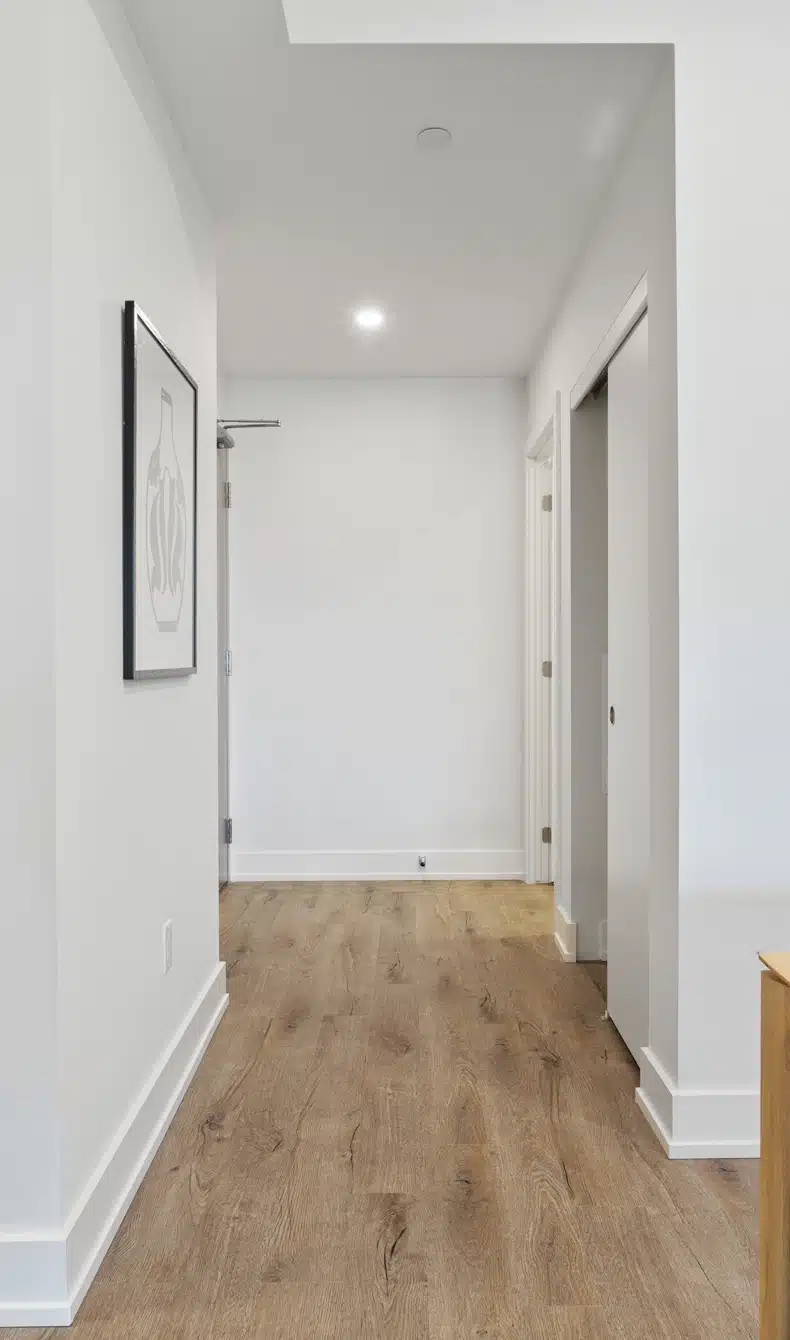 The first step for any narrow hallway is to declutter, declutter, declutter.
You'll need to clear away any odds and ends from your hallway. Then, your hallway will instantly feel bigger and more spacious.
My hallway was cluttered with shoes, coats, scarves, and bags. It also became a dumping ground for keys, letters, and all sorts of odds and ends. So, the first step was to have a big tidy up and find homes for all these things.
You don't want to step into your house to be confronted by tons of stuff. Clutter leads to stress, and that's not ideal as soon as you come home.
That doesn't mean you can't keep anything in your hallway. You can use smart storage solutions for your essentials like shoes and coats. You'll find tips for that below.
But first of all, you need to have a good tidy up. Anything non-essential shouldn't be in your hallway – find space for it in other rooms instead.
Choose Your Color Scheme
The next step is to choose the color scheme for your entrance hallway.
You have a few different options. Firstly, you could keep it very neutral and go for all white on the walls. Cream or off-white are other simple, minimalist options.
Using light colors in a small space will make it feel bigger and airier. You'll also make the most of any natural sunlight that comes in for a brighter room.
But you could also go for an earthy color palette made up of natural shades. Beige, blush pink, or pale green all work well in a hallway. Then, you can accessorize with natural materials.
And if you're into bright colors, I recommend choosing one bold color to go with. For example, seafoam green or royal blue can look amazing in a hallway.
But by sticking to one main color, it won't look too bright or garish as you come through the door.
Keep in mind that your hallway shouldn't clash with the rest of your home. You should aim to create a flow from the hallway to the downstairs rooms and the upstairs landing.
Divide the Walls
Another interesting technique is to paint your walls two different colors.
It's most often used when there's a dado dividing the walls into two sections. But you can create the same effect by using two shades of paint, even if you don't want to install a dado.
This use of two-tone colors helps to draw your gaze down the hallway and into the house. So, it can make your hallway feel larger and distracts from how compact it is.
Pick out a darker color to use below the dado to add some depth and interest to the hallway. Then, use a light shade like white or cream on the top half.
Doing this will change your perception of the room and make the ceiling look higher. Plus, it's a stylish look and a fun way to use color in your hallway.
Install Hooks in Your Narrow Hallway
You'll need to make the most of the wall space in your narrow entranceway. So, installing hooks is a great way to add more storage without needing any bulky furniture.
You can hang individual hooks, which is ideal if you're very short on space. For example, you might have room for a couple of hooks in an awkward corner.
Single hooks also allow you to arrange them at different heights. That can look stylish and is handy if you have a young family.
Or if you have more space, a coat rack can work well. You could go for a very compact design, like the Pinnig rack.
But the Tsujig hat rack is another excellent option, as it provides hooks and an extra storage shelf. You can even hang your coats on hangers from the rails. And as it's so high, it's unlikely to get in the way.
With so many options, you can find the perfect solution for your hallway.
Create a Catch-All Basket by the Doorway
A catch-all basket is an essential item for any hallway. But it can be tricky in a narrow space, especially if you don't have room for a cabinet. 
In that case, you could opt for a wall-hanging storage rack instead. For example, you could hang a pegboard and then customize it with accessories.
And then, you'll always have a place to put your keys and other essentials. So, you won't end up scrabbling around for them when you're already running late!
Plus, it's a cute and practical storage solution that takes up hardly any space!
Install a Memo Board or Blackboard
Another fun way to use your wall space in your narrow hallway is to install a memo board or a blackboard.
Having a place in the hallway to jot down notes or a quick shopping list is handy. And then, you'll see it before you head out the door.
Or, you could paint blackboard paint directly on the wall for a chic look. It's both stylish and functional! Check out this article for tips on how to use blackboard paint.
Then, you'll just need to keep some chalk handy for writing down messages and reminders.
Get the Lighting Right
An essential step for any narrow hallway is to get the lighting right. You want to make it feel bright and airy without blocking any natural light.
Choose interesting light fixtures, so they double up as functional and decorative.
It sounds counterintuitive, but a large light can make your hallway feel bigger. It draws the eye upwards and creates an illusion of space and grandeur.
So, don't feel like you need to stick to simple or boring spotlights in your entranceway.
Personalize It with Photos
One way to make your hallway feel cozy and inviting is by personalizing it.
Create a photo wall to display your favorite photos. That way, you'll be reminded of them each time you pass through your hallway.
It's a great way to decorate your hallway without overcomplicating it. And you'll create a special and unique space in your home that you might not otherwise use.
Get Inspired by Scandi Minimalism
Scandi minimalism is an ideal style for a narrow hallway. It focuses on clean lines, white walls, and practicality.
Going for an all-white color scheme will make your hallway feel fresh and uncluttered
You can invest in useful storage items like this Hemnes shoe cabinet. It's slim, so it will fit in even the narrowest spaces. And you can store your shoes without any visual clutter.
That allows you to keep your shoes and other essentials nearby but neatly hidden away. So, your hallway remains a calm and stress-free space.
Choose a Bench with Storage
If your hallway is large enough, a bench with internal storage is a handy addition.
It's somewhere to sit down and put your shoes on, but it does double duty by providing more storage space.
Multipurpose furniture is useful when you're short on space. And more storage is always helpful – especially if you have a larger household.
Add a Mirror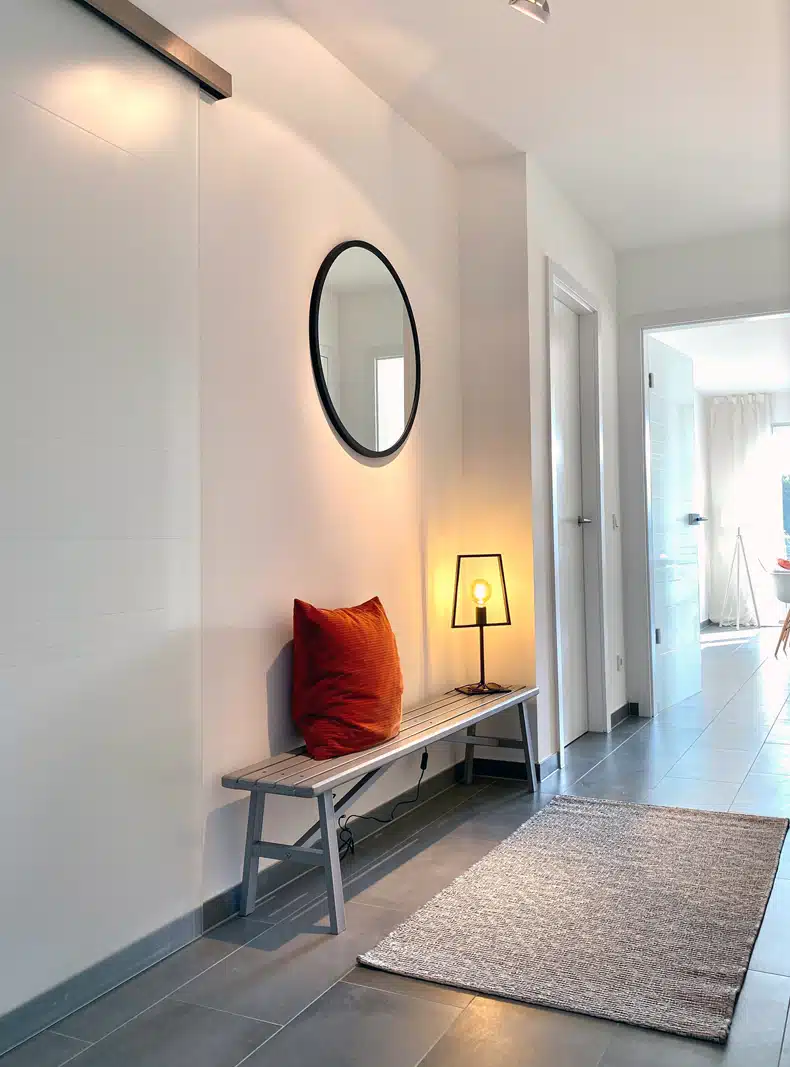 And the final tip is to make sure you hang a mirror in your hallway!
A mirror will create a clever illusion that your hallway is larger than it actually is. It will also reflect natural light and make the space feel brighter.
So, you can't go wrong with a mirror. Plus, it comes in handy when you need to do a quick outfit check before you leave the house.
The Wrap Up
A narrow entrance hallway is a tricky space to decorate. You want it to be functional and look neat, tidy, and welcoming.
By decluttering and using smart storage, I transformed my narrow entrance hallway. Now, it's much easier to keep tidy and looks much more appealing!
With these tips, you'll have tons of ideas for your narrow entrance hallway. Let me know how you get on with the decorating in the comments below!
Follow Quiet Minimal on Pinterest for more minimalist living and home design tips.