Scandinavian bathroom design is a hot trend in interior design lately. With its clean lines and simplicity, Nordic interior design is ideal for the bathroom. Here are some examples of Scandi-style bathrooms that could work for your home.
Scandinavian decor features calming color palettes and functional designs. It often uses pure white or lighter colors that open up a room and make it feel more spacious. And that's essential for a small space like the bathroom. Plus, pops of color or refreshing house plants add detail and visual interest.
If you're looking for Scandinavian bathroom design ideas and tips, you're in the right place. Browse these suggestions for incorporating a modern Scandi style into your bathroom.
Wondering how to instill some Scandinavian interior design style in your bathroom? Read on for tips and inspiration to create your modern Nordic bathroom!
Firstly, keep it simple. Scandi style boasts clean lines and a simple, minimalist design. It should be practical, clean, and spacious. And by following these tips, you can create this effect even in the smallest bathroom.
So, look for simple yet effective bathroom fixtures. Opt for a square sink with a cabinet or drawers underneath. That way, you'll have handy hidden storage for all your bathroom essentials. You'll have your bathroom essentials nearby but out of sight.
Also, you can forgo unnecessary items like a rug in your bathroom. It's not needed (and probably not hygienic).
Another example is to skip the tacky plastic shower curtain. Install a shower stall with a glass door instead. You'll create those clean lines and make the room look larger at the same time.
One idea to recreate that modern Scandinavian look is to go for floor-to-ceiling tiles. It's simple, low-maintenance, and easy to clean.
And if you go for white tiles, you'll have a dazzlingly bright, minimalist room. This look is ideal if your bathroom is on the small side – especially if you're in a tiny apartment. The effect will make it look larger, so you won't feel cramped or claustrophobic inside.
Go for all-white fixtures to complete the look. Silver taps and hardware complements the design as it doesn't break up the white, which could be jarring.
Go Gray for A Minimalist Nordic Bathroom Design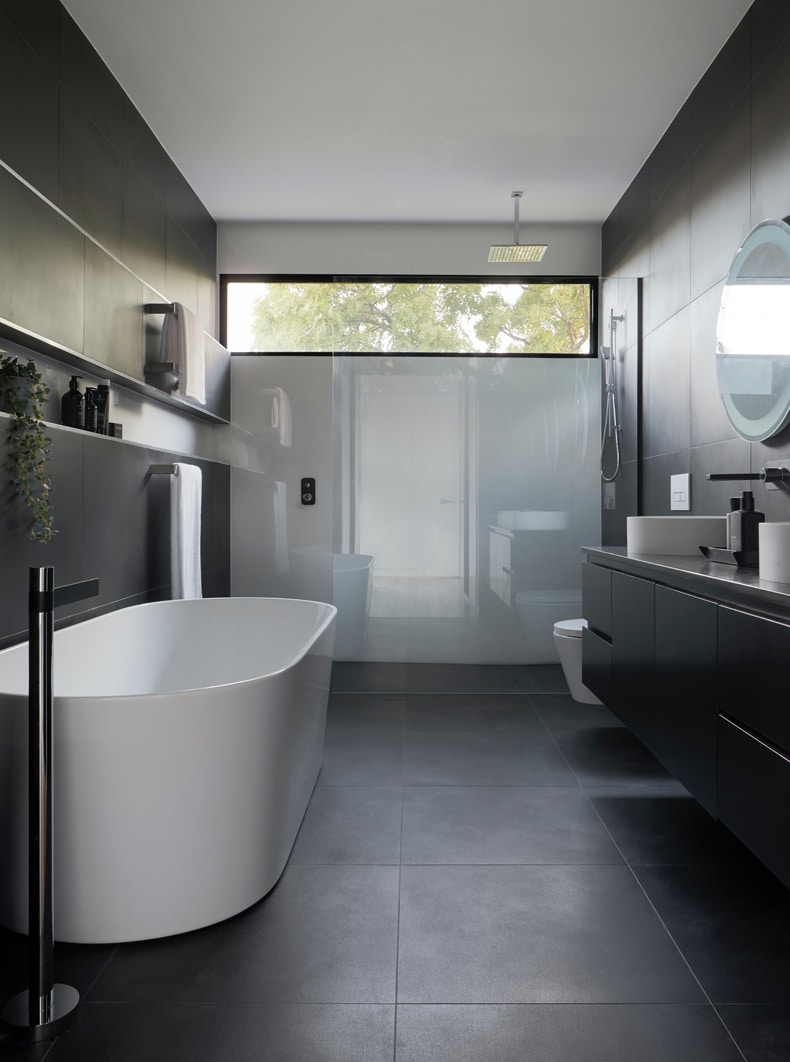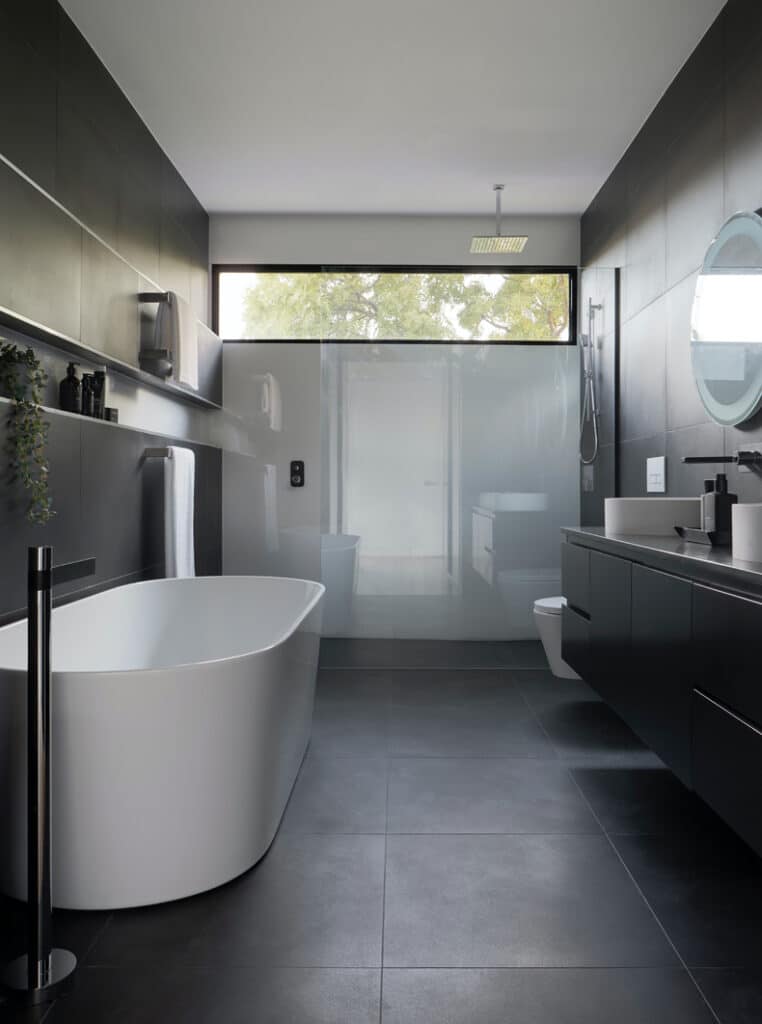 You don't have to stick to all-white for a Scandi-style bathroom. Gray is another popular color as it's versatile, calm, and minimalist. 
Plus, it breaks up the white used in your shower stall or bathtub and adds more visual interest. And as any gray will complement white, you could go lighter or darker – or use a range of shades.
Wooden Accents in a Nordic Bathroom
But if you prefer a warmer feel to your bathroom, don't worry. You can take inspiration from the popular sauna trend across Nordic countries.
In most Scandinavian countries, the sauna is a much-loved ritual. Saunas are small rooms made entirely from wood – and you can incorporate this look into your bathroom.
Adding some wooden accents will make your bathroom feel more inviting. Warm wood tones contrast with the bright whites often used in bathrooms. So, it softens the look and makes it a space for relaxing.
There are different ways you can use wood in your bathroom. You could opt for a wood-paneled bathtub if you're ready to go all out. But it'll look just as good if you go for smaller accessories, like a wooden mirror frame.
But if you want to go all out and recreate that sauna style, what about a wooden accent wall? You could use real wooden boards or fake wood lino to create the look. And you're sure to spend more time in your stylish Nordic sauna-style bathroom.
Use Fun Accent Colors in Your Bathroom
A Scandinavian interior design style bathroom doesn't have to be super minimalist. Nordic interior design often incorporates blue, orange, or red details. And these are fun colors to add to your bathroom!
I recommend picking one main accent color and making it a recurring feature. For example, you could opt for red towels and even source a mirror with a red frame.
This idea allows you to make your bathroom feel fresh and lively! The accent color will look even richer against your neutral background color. So, it's a great way to spice up your bathroom while keeping to the Nordic interior design principles.
Nordic Bathroom with Funky Floor Tiles
If you're ready to experiment with a bit of color, another option is to go for bright or patterned tiles. Cool colors like teal or blue look fabulous in a bathroom and fit in with the Scandi style. A colorful tile can brighten up an otherwise monochrome bathroom.
Or you could go for warm terracotta tiles for a natural burst of color. This look works especially well when combined with other natural materials. And it complements warm neutral shades like sand and beige for a softer, inviting look.
Incorporate Natural Materials
It's not just about minimalism in Nordic interior design. Utility and sustainability are other key features.
And that's why I recommend going for organic, natural fibers and materials in your bathroom. For example, you could use a rattan basket instead of a plastic container for your laundry. Or opt for a bamboo pot for your toothbrushes.
Not only are these items eco-friendly, but they look great. Hand-crafted items have a beauty all of their own. So, they serve dual purposes of practicality and decoration.
Consider an Earthy Color Palette
Just as natural materials work so well in the Scandi style, so do earthy, natural colors. You might assume that a Scandinavian bathroom has to be all-white. But that's not always the case!
Instead, you can opt for a color palette of earthy neutrals. You'll create the same minimalist feel and soothing atmosphere. But you can pick from rich, natural shades like salmon, sage green, brown, beige, and stone tones.
These colors work well with natural materials like wood, marble, and wicker. Choose a main accent color and one or two more neutral tones to create your color palette. And you'll have a gorgeous Scandinavian bathroom inspired by nature.
Cut the Clutter – Clever Bathroom Storage
One thing is true for any Scandinavian bathroom design. You need to cut the clutter!
A Scandinavian bathroom should be clean, tidy, and clutter-free. Your bathroom is probably the smallest room in your home, so it's easy for it to feel cluttered. And that's why it's crucial to keep things to a minimum in your bathroom.
Of course, you'll need some items in your bathroom – toiletries, towels, etc. So, the key is for everything to have its place. For example, you can install some hooks for towels and bathrobes on the wall or the back of the door.
And for anything else, that's when smart storage solutions come into play. You could buy an under-sink cabinet to tuck all your toiletries away. Or you could go for a mirrored cabinet with internal storage, which is even better as it's multipurpose.
Other than these essentials, remove anything not entirely necessary from your bathroom. You don't need knick-knacks hanging around in the bathroom. Move them elsewhere – you'll find your bathroom looks neater and is easier to clean, too.
(If you struggle to declutter, check out my list of minimalist bathroom essentials. It will guide you on what you really need in your bathroom and what you can skip).
Plants are another way to add a splash of color to your bathroom. Not only are they refreshing and uplifting, but they'll also help to purify the air.
You could hang a tropical plant above your shower or place a small air plant on your windowsill. But choose your plants carefully to ensure they can handle the warm, humid conditions! Here are some recommended plants for bathrooms to get you started.
The Wrap Up
There you have plenty of tips and inspiration for your Scandinavian bathroom design! Browse these suggestions and pick the ones that appeal most to you.
You could go for a super clean and minimalist all-white bathroom. Or you could jazz it up with a fun accent color or bright tiles.
Remember to keep surfaces clutter-free and use storage to make it feel more spacious and tidy. And you'll have your own stylish Nordic-style bathroom.
Follow Quiet Minimal on Pinterest for more home decor tips, inspiration, and guides.