So you want to create your ideal kitchen with white cabinets. The kitchen is one of the most important rooms in your home, and it should look just right! But what is the best wall color for white kitchen cabinets?
In this guide, I'll provide some of the best kitchen color ideas with white cabinets. So, you can browse through and pick the color palette that most appeals to you.
Because most importantly, you need to love your kitchen! Then, you'll feel happier and more relaxed spending time there. (We all need to eat every day, right?).
There are so many different options when it comes to colors for kitchens with white cabinets. So, you can make your kitchen your own and ensure that it will become your favorite room in your home!
The Best Wall Color for White Kitchen Cabinets
Choosing the colors for your kitchen isn't always simple – it feels like a huge decision. You might have been stuck wondering, "what color should I paint my kitchen with white cabinets?". If that's the case, you don't need to worry anymore.

Often, white is the default color for kitchen walls. And it can work with white cabinets (as you'll see below). But you might want to branch out and liven things up a bit with a contrasting color.
So, here are some popular kitchen paint colors with white cabinets. You could go for earthy and neutral, warm and inviting, or classic monochrome. There's something for everyone, no matter what your interior design style is!
Let's take a look at the best wall colors with white cabinets for your kitchen!
White for a Clean, Simple Look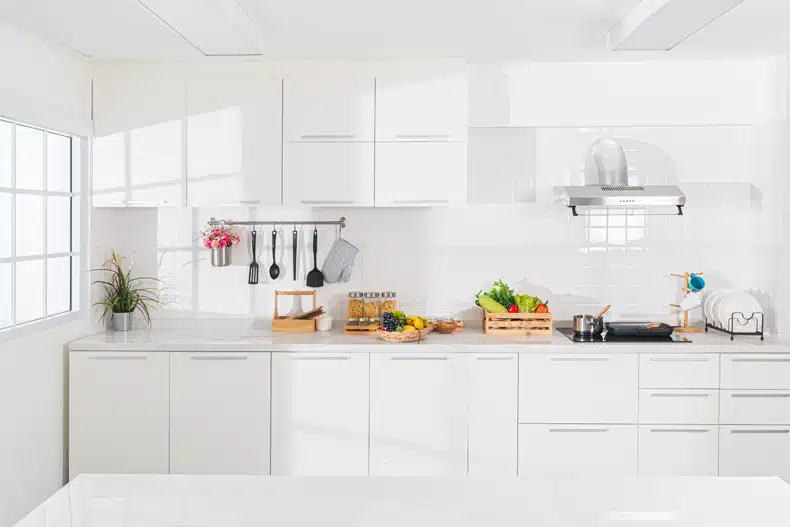 It might sound counterintuitive, but white on white works surprisingly well. Especially in a kitchen!
This simple yet bright color palette maximizes the light in the room. As a result, it makes it seem more spacious. So, this color scheme is ideal if you have a small kitchen and want to make it seem bigger.
A clean white look suits a kitchen well, as it should be a hygienic, clutter-free space. But it doesn't have to look too boring or samey.
You can introduce some contrast by adding different textures and materials. For example, you could go for marble countertops or a natural wood kitchen island.
And the kitchen hardware also creates a nice contrast against the white cabinets. You could go for shiny silver or matte gray taps and choose your cabinet handles carefully. That way, you'll create a stylish, minimalist look for your kitchen.
You can also play around with other design features, too. For example, pendant lamps can be a striking feature in your monochrome kitchen.
And finally, you don't have to go for the exact same shade of white. As with all colors, there are all sorts of whites, from cool whites to rich, creamy whites. So, you can mix it up while keeping your kitchen looking clean and stylish.
Grey for a Simple, Minimalist Look
If you're looking for a minimalist color scheme for your kitchen, consider a gray and white combo. Gray is a gorgeous neutral color that goes with almost every shade out there. But it also works wonders with white.
You might appreciate a simple kitchen design but find white on white too bright for you. In that case, gray is the obvious next choice.
This color palette is simple enough to suit any minimalist home. But the contrast between gray and white provides a lot of visual interest. So, you'll get a very elegant, understated look for the modern minimalist kitchen.
But you do have options when it comes to choosing the exact shade of gray for your kitchen. There are so many different gray kitchen paint colors with white cabinets.
For example, you could opt for a light gray if you want to keep your colors as neutral as possible. Light gray kitchen walls with white cabinets is an effortlessly stylish look. 
However, you could also go for a bolder color, such as deep charcoal gray. This rich shade makes a statement. It's bold without being too overwhelming. Or, you could use both light and dark gray in your kitchen by adding a feature wall in a darker shade.
Dark Blue for a Bold yet Calm Look
Have you considered going for dark blue walls against your white kitchen cabinets? Blue and white work well together as they balance each other out.
You might imagine that dark blue walls could be too overpowering for a kitchen. But when you factor in the clean white cabinets, they make the perfect contrast.
Not to mention that blue and white can channel a very nautical theme!
Dark blue is a cool color that has a very tranquil and calming effect. It's perfect if you prefer cooler shades to rich, warm colors like red, brown, and orange.
This look is bold, and it won't work in all kitchens. If you only have a tiny space, you should probably opt for a lighter shade. But if you have a generous kitchen with large windows, it's worth the risk of going for a deeper, darker color.
Blue and white provide a great background for metallic features in your kitchen. You can add in accessories in silver or gold, as both colors work well with this color scheme. For example, these pendant lamps could be the finishing touch for your blue and white kitchen.
Gray-Blue for a Light, Peaceful Look
If you're not feeling so brave with your color choices, not to worry. There are some great color schemes using lighter, more neutral colors. Following the blue theme, you could pair a lighter gray blue with your white kitchen cabinets.
This look is much lighter and brighter, but it still has the same peaceful feel. You can also create a beachy vibe with this color scheme. All you need to do is add some natural touches, like this rattan pendant light shade.
So, you can tweak this color scheme to suit your home. It could be clutter-free and minimalist, or warm, relaxed, and a little bit boho-chic. And it also works just as well in a mid-century modern or farmhouse home. This color palette is versatile, fresh, and uplifting, and you can personalize it to your style.
Beige for a Welcoming, Soft Look
Beige is often overlooked as it's such a neutral shade – some even call it bland. But this color can work well in a kitchen if you're after a warm look.
The cool white contrasts against the warmer beige, softening it. As a result, your kitchen will feel more welcoming, cozy, and inviting.
You might think that beige is an outdated color. But it can be used very effectively in modern homes without looking boring. So, don't be afraid to use this gentle, warm color in your kitchen. It will create a relaxing vibe while showcasing your white cabinets at their best.
Red for a Bold yet Stylish Look
So, you're into rich, bold colors, but you didn't think you could use them in your kitchen? Think again! You can create a stylish kitchen by combining white cabinets with red walls.
Your white cabinets will stand out against a rich red color on your walls. And this color is definitely eye-catching and bold if that's your style.
When using red in your kitchen, you don't want to introduce too many other colors. Less is more! Red is already a bright, bold color – so keep it to red and white.
You can have some small touches in gray or black, like the kitchen hardware. But don't add any other accent colors, or you risk it becoming too garish.
Black for a Classic, Monochrome Look
Black and white create a stylish, classic look when paired together. But how can you combine these colors in your kitchen? If you have white cabinets lining your walls, you can risk introducing black to your color scheme.
For example, you could go for black walls or tiles as a splashback. When done well, this color palette looks classy, clean, and elegant. Just make sure you consider the room as a whole and balance out the black and white.
A black and white kitchen won't be for everyone. But if you like making brave design choices, it can pay off in a stylish monochrome kitchen.
Orange for a Funky, Retro Look
You can channel a retro 70's vibe by painting your kitchen walls orange. Against your white kitchen cabinets, it will look funky and cheerful. You're sure to smile every time you walk into your kitchen. (So long as you like bright colors, at least!).
Orange is a rich, warm, and joyful color, often associated with happiness. And with its citrus vibes, it can bring freshness to your kitchen. You can take your pick from a bold, bright orange or a more muted peachy shade.
Yellow for a Fun, Bright Look
Sticking with the bright colors for now, have you considered yellow for your kitchen?
When you combine yellow walls with white cabinets, you'll have a fun and uplifting look.
But admittedly, it could be too bright for some people. This color palette isn't for the faint of heart. If you prefer a simpler style, check out these minimalist color palettes instead.
A yellow and white color scheme works well in the kitchen. It lights up the space and makes for a welcoming atmosphere. So, it's perfect if you spend a lot of time in your kitchen.
You have options when choosing the right yellow paint for your kitchen. For example, a lemon shade is fresh, bright, and light. But if you want a rich, deep yellow, go for marigold instead.
Or, you could use a pale yet warm shade like honey or saffron. Each paint color will create a slightly different look in your kitchen, so you can make it your own.
Green for an Earthy, Natural Look
Green is another natural color that pairs well with white kitchen cabinets. It brings freshness and an earthy feel to your room without being too bold and in your face.
If you have a larger kitchen, you could consider going for darker forest green. But sage green or mint green will work well in almost any kitchen, no matter the size or style. Or, if you prefer, you could go for a rich teal or sea-green color.
For those who love bright colors, you could choose a bolder green. Paint shades like apple or grape green will brighten your kitchen with a splash of color!
There's the perfect green color for any kitchen. But whichever you choose, this calm and earthy color will make your kitchen look inviting.
Rich Brown for a Cozy, Warm Look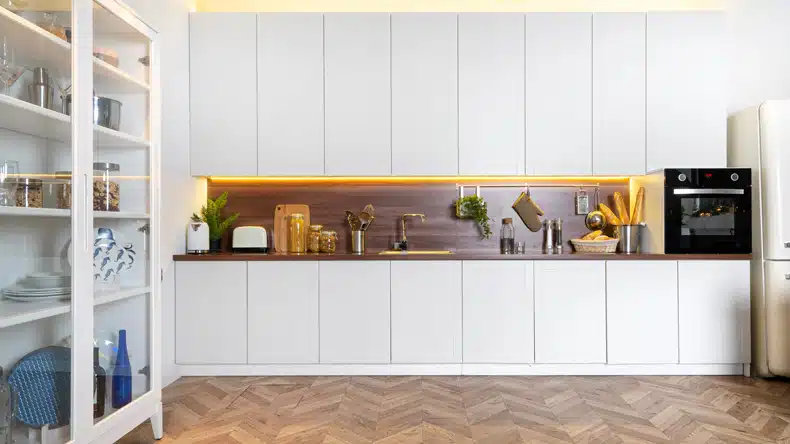 Finally, chocolate brown is one of the best colors for kitchens with white cabinets. The rich brown shade contrasts with the brighter white, balancing it out.
This color scheme is ideal for a farmhouse kitchen with natural wood and period features. But it can also work well in an industrial-style kitchen with exposed metal and brickwork.
Although chocolate brown is a darker color, it's a warm, deep shade. So, it feels more welcoming and less cool and clinical than black. It's softer, and as a result, it doesn't feel overwhelming. And that's why it works so well in the kitchen.
The Wrap Up
There are so many options for your kitchen with white cabinets. All these kitchen paint ideas with white cabinets offer potential. And there's something for everyone, from bold bright colors to warm, earthy shades.
So, all you need to do is decide which look would best suit your home and your personal style. Then, you can get started on your kitchen and enjoy your stylish new look!
It's sure to make you feel happier and more comfortable in your kitchen. So, you can get the best out of this room where we all spend time every day.
Make sure to follow Quiet Minimal on Pinterest for more minimalist & interior design tips for your home!