You might think that there is little room for creativity in the bathroom. Can you really show off your interior design skills in such a small room? And how can you set your bathroom apart if you have a plain rectangular room?
Every bathroom contains the same key features. It needs to have a toilet, a sink, and a bathtub or a shower.
It's surprising how much the bathroom floor plan can change the feel of the whole room.
If you're redesigning your bathroom, check out these rectangular bathroom floor plans. Even a small change in the layout can make a big difference in the bathroom. So, browse these ideas to give you inspiration for your bathroom!
10+ Different Layouts for Rectangular Bathrooms
A common belief is that a bathroom will look the same as any other bathroom. But that's not always true! Here are a variety of rectangular bathroom floor plans for your perusal.
As you look through these suggestions, you'll notice some crucial differences. There are many ways to design and set out a bathroom.
Read on to see some examples of rectangular bathroom floor plans. Then, you'll be able to decide which would work best in your home.
Double Sink Bathroom Layout
Have you ever dreamed of having a double sink in your bathroom, just like those fancy hotels? Having your own sink can make a big difference and simply feels luxurious.
And if you're sharing the bathroom with someone else, you won't need to take turns. It's much quicker to get ready for bed when you can each use your own sink!
This bathroom features a large double sink beneath a huge mirror. Black subway tiles on the floor create a chic mood, while gold metal hardware completes the look. Beyond the sinks, you'll find a full-sized tub and a toilet. A separating wall creates privacy between the sink and toilet area.
This bathroom layout is ideal if you have more space and want a sophisticated look.
Boho Bathroom Layout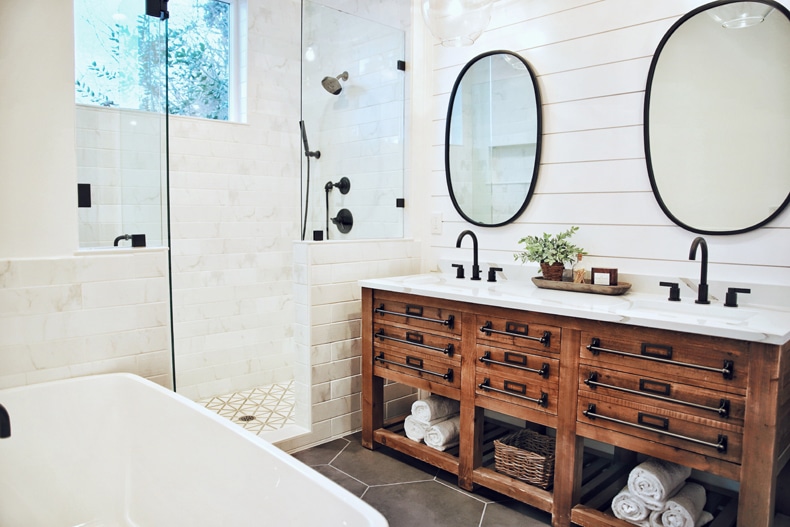 You can continue the boho look in your bathroom with a few simple steps. First, go for natural materials, such as this wooden flooring.
Then, add accessories in warm colors, like a rich orange rug and towels. Finally, don't forget to include some plants in the bathroom.
This boho bathroom has a large tub and a sink in the corner. Opposite, you'll see a toilet cubicle (ideal for more privacy) next to the shower stall. It's stylish and practical and perfect for any boho home.
Bright Bathroom
This bathroom uses brightly colored accessories to spice it up! It has a long marble sink next to a large tub, complemented by bright blue mats on the floor.
A ladder doubles up as a towel rack (cute yet handy!). Finally, a semi-enclosed shower stall with white subway tiles is opposite the toilet.
This bathroom has a relaxed beach vibe and is neither too minimalist nor too cluttered.
Small Bathroom
This simple bathroom contains everything you need. As you enter the room, you'll find the bathtub along the right-hand wall. On the left side is the toilet, and next to it is the sink.
Clean white tiles make the bathroom feel more spacious. There aren't too many decorative touches, as that could make a small room feel cluttered. Instead, it's minimalist and practical, perfect for a compact bathroom in a tiny home or apartment.
Tiled Bathroom
If you want to make an impact, go for patterned tiles like this bathroom. Using gorgeous white and black tiles on the floor is bold and eye-catching.
White sinks and a gleaming white tub complement the colorful tiles. A glass shower stall allows you to see those beautiful tiles even while showering. So, they become the focal point in the bathroom.
This bathroom feels modern and contemporary. If you're daring, you could go for a black feature wall to showcase those tiles even more.
Ensuite Bathroom Layout with Walk-in Shower
This luxurious ensuite bathroom is an absolute dream! Leading directly from the bedroom, this spacious bathroom has everything you could need.
Opposite the door, you'll see a double sink and mirror. Next to the sinks is a walk-in shower cubicle, providing more room and comfort. You can add a rainfall shower head for an even more relaxing experience.
Finally, you'll find the toilet opposite the shower, behind a small wall for privacy. Beside the toilet is a linen closet, so your towels are always close at hand.
Tiny Ensuite Bathroom
Not all ensuite bathrooms have to be huge. You can still enjoy the comfort and convenience of an ensuite even if you're tight on space.
This bathroom opens into a small space with a shower cubicle on one side of the door. On the other side are the toilet and a tiny sink. It has everything you need while using only the smallest space necessary.
Narrow Bathroom with Large Bath
You might wonder how to use the space effectively if you have a long, narrow bathroom. Then, this layout is for you. It only uses one side of the bathroom to allow for movement and stop it from feeling overcrowded.
You'll find two sinks along the left-hand side of the bathroom as you enter. Beside them is the toilet, again on the left-hand side. And finally, the large bathtub takes up the entire width of the bathroom at the end of the room.
Large grey tiles make the room feel more spacious. The same grey tones are repeated on the walls, with a darker grey in the bathtub. Make sure to avoid loud patterns or bright colors that will break up the room. Instead, you want it to look harmonious and complementary.
So, you can fit everything you need in the bathroom, even if it's a long, narrow space. Plus, it looks clean, neat, and chic!
Minimalist Bathroom with Shower Stall Layout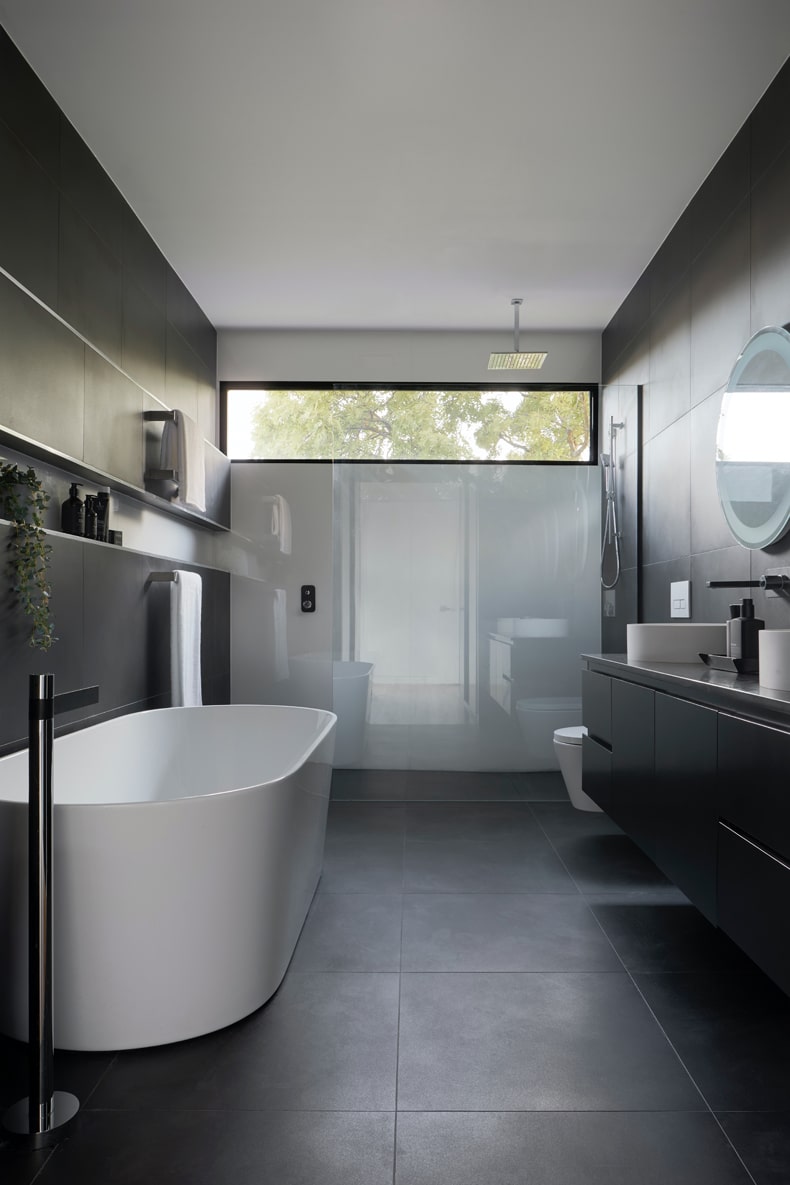 This ultra-modern bathroom could be for you if you prefer the minimalist design style. It's made up of a gorgeous, large glass shower cubicle, making the room appear larger.
Pale neutral tones make up the color palette, and under-sink storage hides any clutter. So, it's all smooth surfaces and white space. Recessed ceiling lights make it look bright without taking up any space. It's the perfect bathroom for any minimalist home.
Rectangular Bathroom With Freestanding Bath
This bathroom will suit anyone who wants to make a statement. It features a huge free-standing bath made from natural stone and marble. And even more notably, the bathtub is set diagonally across one corner of the bathroom.
Large windows on either side frame it to let in light (but with frosted glass for privacy). A ladder and a vanity table complete the unique look of this bathroom.
Across from the bathtub, you'll find a small separate room containing the sink and toilet. That's ideal for creating more privacy and comfort when using either facility.
The Wrap Up
As you can see, every bathroom is a little bit different. You can plan your bathroom according to your design style and personal preferences. But of course, you'll have to take into account how much space you have. Whether you have a small or large room to work with, you have a lot of freedom in how you use it!
Let me know which of these rectangular bathroom floor plans you like most! Share in the comments.
And follow Quiet Minimal on Pinterest for more home design tips and inspiration.