Who doesn't love the charm of a retro home style? You can create an inviting, cozy, stylish atmosphere with the right decorations and furniture. We've got you covered if you're looking for ideas to make your studio apartment look more retro! This article will provide ten tips for creating a cozy and stylish retro studio apartment.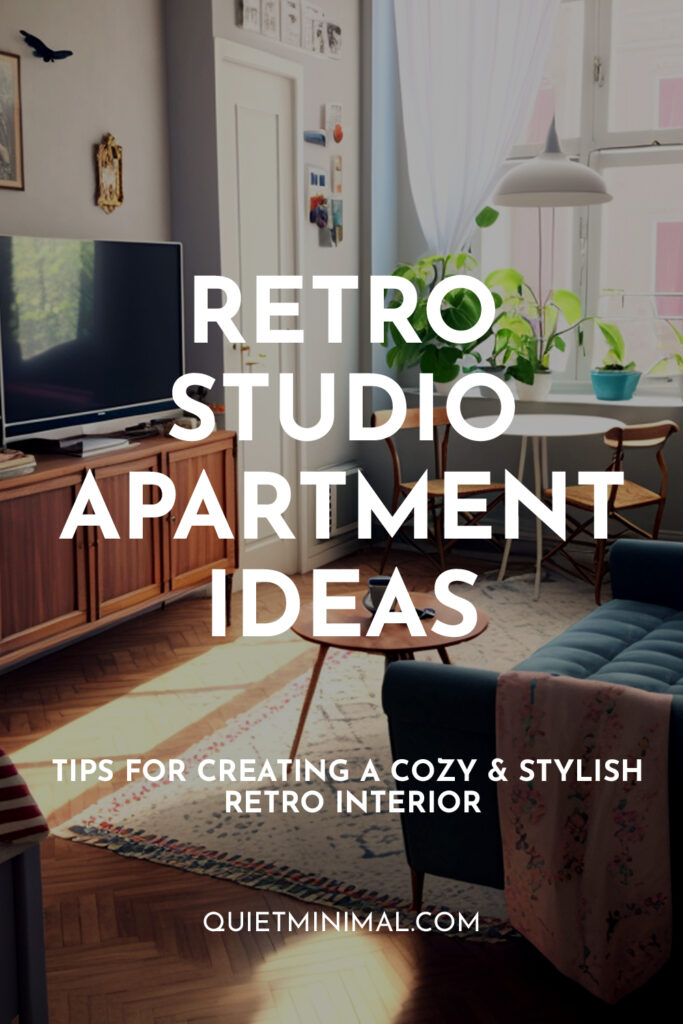 So, what are some of our top tips? First of all, choose furniture that has an iconic mid-century modern look. Think about adding elements like velvet couches and armchairs with tapered legs. Then, take advantage of the natural light that your studio offers by incorporating sheer curtains into your decor.
This will help open up the space and create an airy feel. And add some vintage touches to the room, like a bold rug or patterned wallpaper.
With our helpful tips, you'll be able to create a beautiful retro studio apartment in no time!
Choose A Color Scheme
When designing your retro studio apartment, color is vital. A great way to start styling your space is to choose a cohesive color scheme. Selecting colors that evoke the feeling of nostalgia and are in keeping with the retro style is an easy way to tie the room together.
Consider choosing a muted or pastel palette that reflects the era you are looking to emulate. Pick one primary neutral and one brighter accent, such as light gray walls with blue or yellow furniture pops, then add some classic patterns like polka dots and stripes for texture and visual interest.
When decorating, don't be afraid to mix old and new pieces for a unique look. Complement modern furniture with classic antiques and vintage accents for a cozy yet stylish atmosphere that will stand out from the rest.
Incorporate Fun Patterns And Textures
When creating a retro studio apartment, patterns and textures are vital. Incorporating fun designs can give your space a cozy and stylish feel. Look for geometric shapes or polka dots to add visual interest and texture to the room. Use wallpaper with bold colors, prints, area rugs, and throws with exciting patterns. Adding a few distressed pieces of furniture can also help you achieve a vintage look.
Using fabrics in different shades can bring in some color without overpowering the room. Choose items that match your existing color schemes, such as pastel pinks, oranges, blues, or greens.
Hang up curtains in coordinating colors or opt for patterned window treatments that catch the light when the sun shines through them. Soft pillows and throws in complementary hues will create a warm atmosphere while also adding visual appeal to your apartment.
All these elements work together to give your studio apartment the perfect retro vibe – one that is inviting yet stylish at the same time! With a few touches here and there, you can make your space look like it came straight out of a classic movie scene.
Introduce Retro Furniture
Introducing furniture with a vintage look can create the perfect atmosphere and ambiance. You can go for styles from the 60s or 70s and even get pieces that have been upcycled or repurposed. Investing in good-quality pieces will help bring an air of sophistication to your home.
Think about the colors and shapes of these items – they should blend in with your interior design scheme. Avoid modern pieces, as this will disrupt the room's aesthetic. Look for objects like armchairs, sofas, coffee tables, and sideboards with a classic designs that you can pair with modern accents for a unique look.
Make sure you accessorize your furniture with items that reflect the era. Look for lamps, artwork, rugs, and throws to enhance your retro look.
Display Vintage Accessories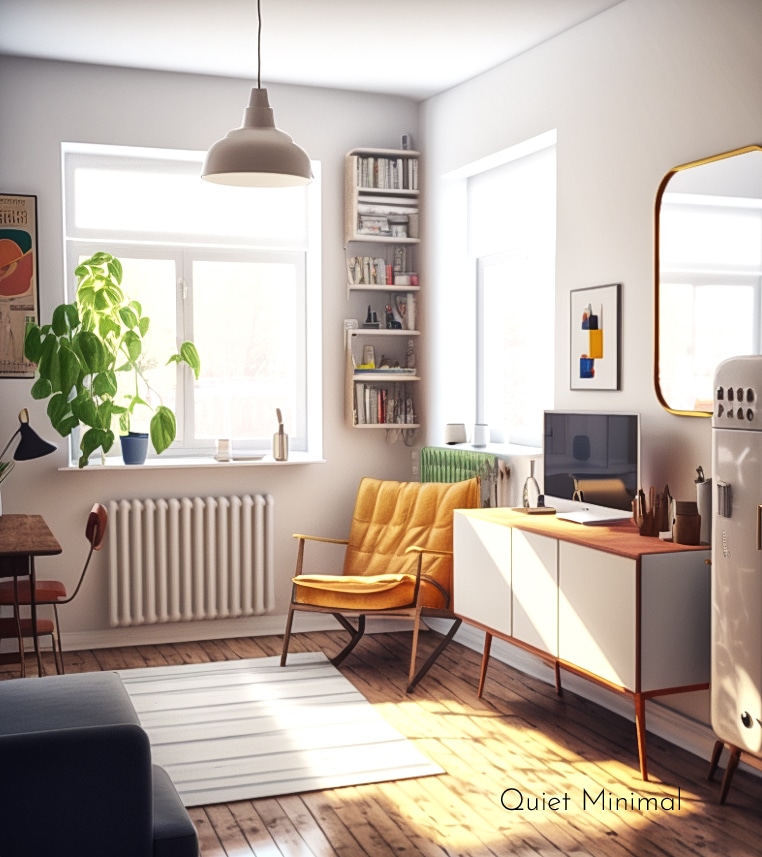 Next, it's time to accessorize the space. You can use vintage accessories to introduce a sense of nostalgia into the room and give it character. You can also use them to help tie together different vintage elements in the space. From fun planters or trinkets to colorful artwork or rugs, there are many options for creating an eclectic and cozy look with vintage pieces.
When displaying vintage accessories, it's important to remember that less is more. Adding too many elements can make the space feel cluttered and busy. Instead, focus on a few key pieces to help bring out the retro vibe without overwhelming the room.
Introducing some vintage furniture and selecting a few accessories can create a cozy yet stylish studio apartment with retro vibes!
Hang Artwork And Mirrors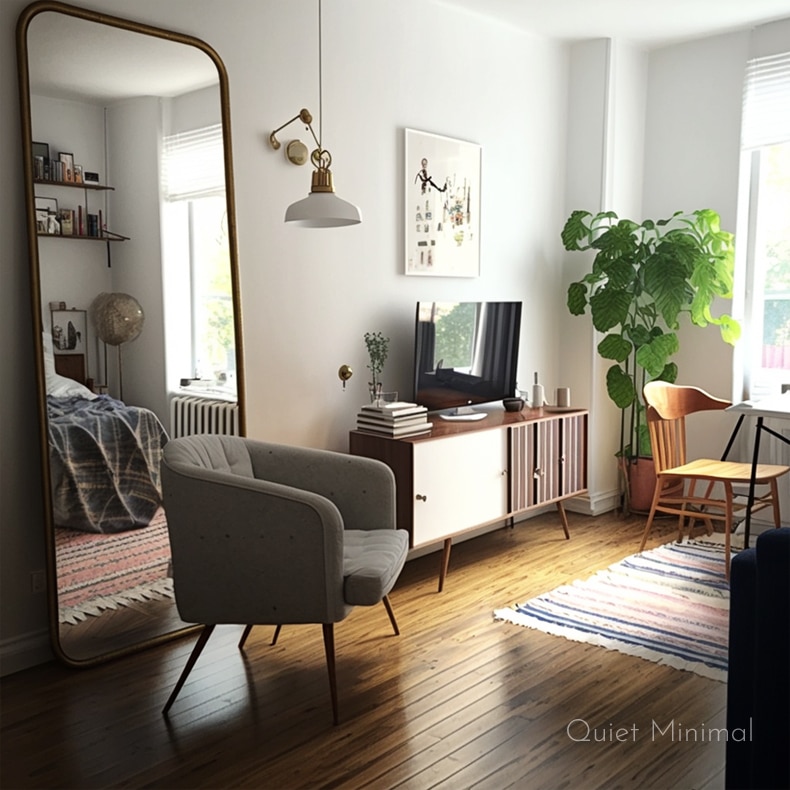 Hanging artwork and mirrors is a great way to give your retro studio apartment an extra dose of style. It's also a great way to make the space feel cozy. Not only can artwork add visual interest, but you can also use it to tie different elements in the room together. For example, you could hang artwork that features similar colors to those found in furniture or other decorative items.
Mirrors are another excellent way to boost the coziness factor of your retro studio apartment. When choosing mirrors for your space, consider selecting ones with unique frames that fit your decor theme. Placing them around the room will help make it look bigger while reflecting light and adding depth.
Adding artwork and mirrors can be a great and easy way to create a stylish and cozy atmosphere in your retro studio apartment. Whether you opt for vintage pieces or something more modern, these two elements will bring life and personality into the room.
Use Shelving And Storage Solutions
It's time to take advantage of storage solutions. Shelving is a great way to keep things organized and out of the way while also adding a touch of style. Adding shelves can create an attractive display for your books, photos, and other decorations. You can also use boxes or baskets to store extra blankets and pillows.
For even more visual interest, try incorporating some open shelving. This allows you to show off items that you want to highlight while keeping other things tucked away. Utilizing wall-mounted shelves is also a good option if you have limited floor space.
Including functional yet stylish pieces in your décor will help bring the entire look together. Rustic wood shelves are a classic choice for retro-inspired studios and can be styled in many ways, depending on your taste.
Add Plants For A Natural Element
Adding plants to a retro studio apartment can bring life and energy to the space. Not only do they give the room a natural element, but they also help purify the air and make it more inviting. Plant shelves or hanging planters are great solutions that only take up a little of your floor space.
You can even choose plants that fit your retro apartment's style. For example, adding cacti or succulents will give it a modern feel, while ferns and ivy will have an old-fashioned vibe. Whatever type of plant you decide on, be sure to pick one that fits your lifestyle; some plants need more care than others.
You can transform your retro studio into a cozy and stylish retreat with a few simple additions! Plants are aesthetically pleasing and provide plenty of practical benefits for a small living space. They can help create privacy by blocking out unwanted noise from outside and reducing stress levels through their calming presence.
Layer Rugs And Carpets
Layering rugs and carpets is a great way to add style and comfort to a retro studio apartment. Not only will the textiles bring in some color, but they can also make the space feel cozier. For example, adding a more extensive area rug to a smaller one will add depth and dimension. Then, if you want to take it a step further, you could use two-sized rugs in different colors for an eye-catching effect.
Carpets act as insulators for sound and temperature, so if your room is too chilly or loud, give this trick a try! You could use one large rug instead of many to achieve the same result. Besides aesthetics, you can also add layering rugs as insulation for hardwood or tile floors.
To ensure your layered rugs look their best, consider investing in some quality materials. Natural fibers like jute or wool are durable enough to withstand regular foot traffic while still being cozy underfoot – perfect for creating that retro aesthetic!
Incorporate Soft Lighting
It would help if you noticed the lighting when creating a cozy and stylish retro studio apartment. Soft lighting can create a calming atmosphere while also adding a touch of sophistication. There are many ways to incorporate soft lighting into the room – from hanging pendant lights to using warm-toned bulbs in lamps. Not only does this help establish the mood for the space, but it can also help make it feel more intimate.
Another great way to add soft lighting is through floor lamps or string lights. You can place Floor lamps near seating areas or corners of the room to create a warm and inviting atmosphere. String lights are beneficial in smaller spaces as you can use them to outline furniture and other design elements.
As a bonus, these lights come in many different shapes and colors, allowing you to customize your space according to your unique style preferences.
The use of soft lighting is essential when designing a retro studio apartment; it will bring warmth and comfort while ensuring that the aesthetic isn't too overwhelming.
Accessorize With Throw Pillows And Blankets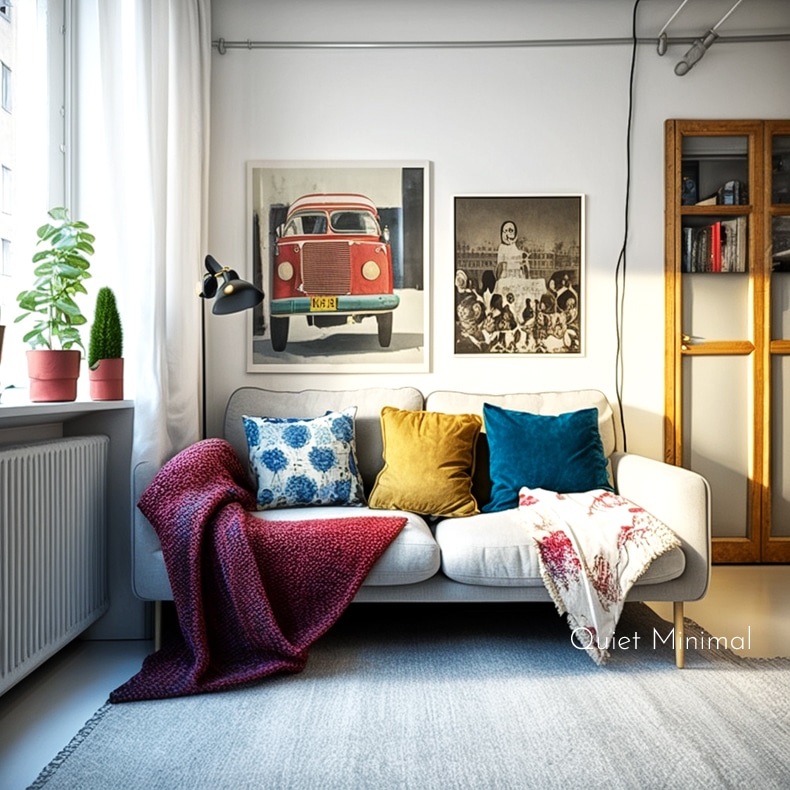 Adding throw pillows and blankets can make all the difference when accessorizing a retro studio apartment. Not only do they add texture and color to the space, but they also create a cozy atmosphere. Placing a few pillows and blankets around the room is easy to achieve a warm and inviting vibe.
Pillow combinations in fun patterns are perfect for adding personality to any design scheme, while soft throws draped over furniture pieces can add a touch of luxury.
You can also use blankets as wall hangings or table coverings for added décor. Throws in bright colors can bring life and vibrancy to an otherwise neutral space, while muted tones create a more serene atmosphere. Consider using vintage fabrics with intricate designs for a special touch of retro nostalgia.
Adding throw pillows and blankets to your retro studio apartment will give it a finished look that's both stylish and inviting. With these simple accents, you'll be able to create the perfect place for relaxing in style.
Conclusion
Creating a retro studio apartment can be a fun and exciting project. Whether starting from scratch or looking to make changes, these tips will help you create the perfect cozy and stylish home.
You can give your space an instant throwback feel by choosing a color scheme, adding patterns and textures, incorporating retro furniture, displaying vintage accessories, and hanging artwork and mirrors. Adding plants, layering rugs and carpets, using soft lighting, and accessorizing with throw pillows and blankets will complete your vision.
You'll love watching your space come together as it becomes the perfect place to relax after a long day. You can create a unique inter that came straight out of the past with creativity!
Follow Quiet Minimal on Pinterest for more home design tips and inspiration.